Pitching Proves Dominant as Barons Take Game Two From Smokies
Written by Andrew Smith KODAK, Tenn. - The Barons pitching staff tossed a gem on Wednesday night as they defeated the Smokies by a final score of 3-1. The Smokies got on the board first, as a two-out BJ Murray double in the first inning brought home Luis Vazquez, making
Comeback Kids Strike Again as Smokies Take Game One Against Barons
Written by Andrew Smith and Jacob Woods KODAK, Tenn. - The Smokies erased a three-run deficit late on Tuesday night to take the series opener from the Barons. It didn't take long for the scoring to get started, as the Barons took a quick 2-0 lead in the top of
Crow-Armstrong Plays Hero as Smokies Outlast Biscuits in Extras
Written by Andrew Smith and Jacob Woods KODAK, Tenn. - On a night where pitching reigned supreme, Cubs' top prospect Pete Crow-Armstrong delivered in the tenth inning to give the Smokies their fourth straight win. The scoring got started quickly, as Luis Vazquez hit a solo home run out to
Tennessee Smokies Announce 2023 Promotions and Giveaway Schedule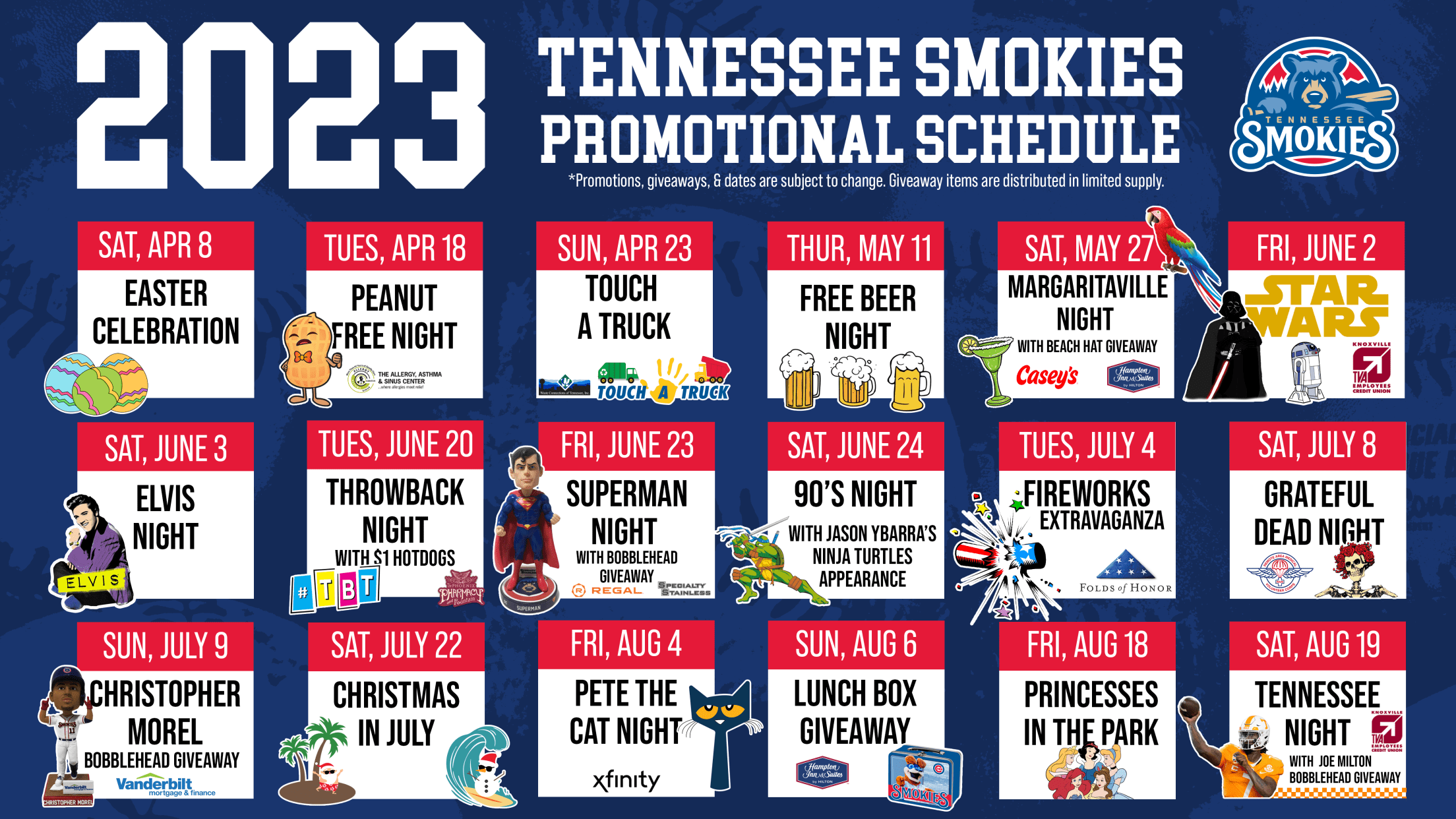 SEVIERVILLE, TN - The Tennessee Smokies today announced the club's 2023 full promotions schedule for home games at Smokies Stadium. The promotional schedule includes seven giveaway dates, and 18 firework shows. Tickets for all Tennessee Smokies home games are on sale online at smokiesbaseball.com, by phone at (865) 286-2300, and
Tennessee Smokies announce inaugural 'Clay Clash' presented by KaTom Restaurant Supply benefiting The Pat Summitt Foundation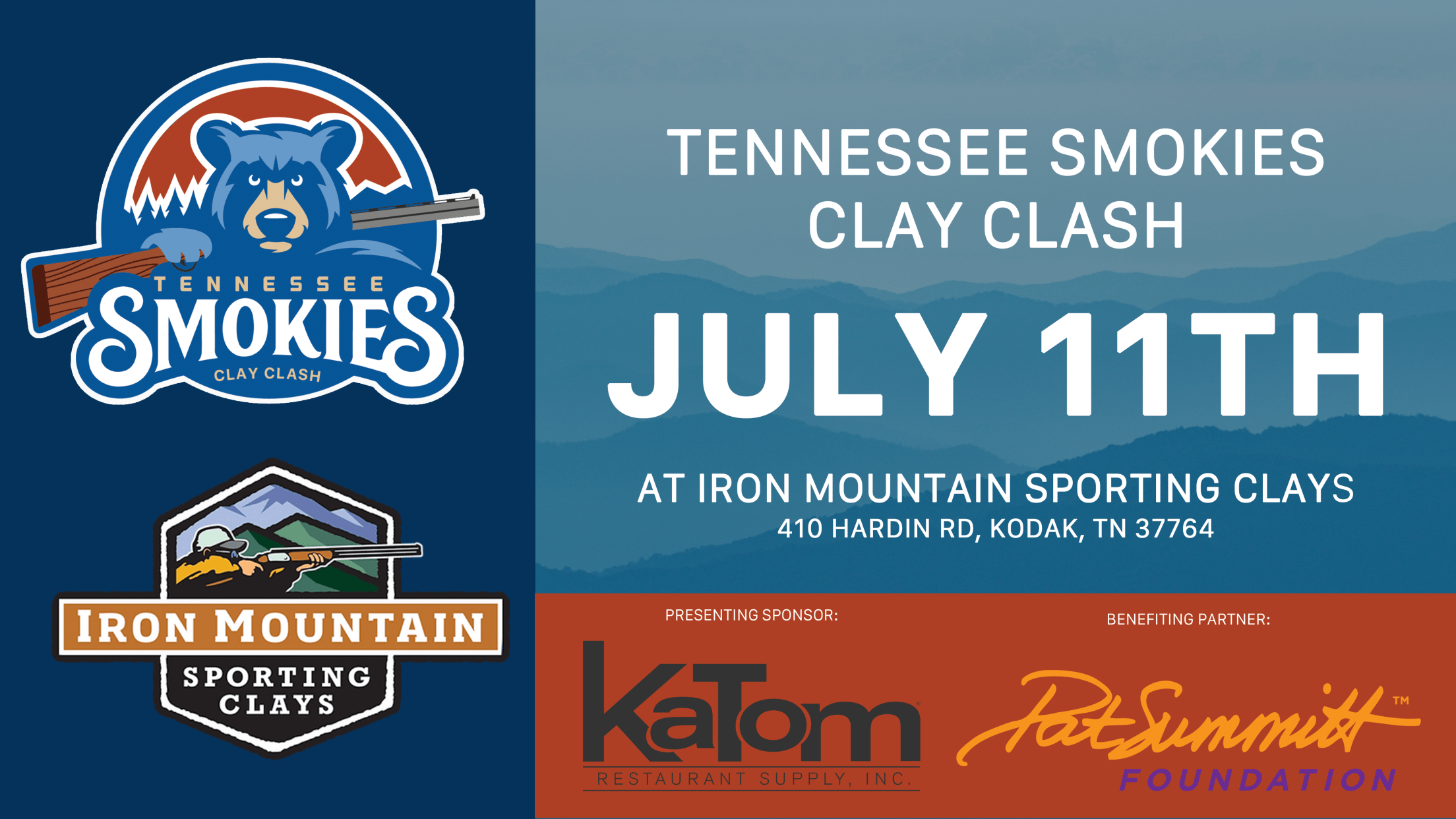 SEVIERVILLE, TN - The Tennessee Smokies have announced the team will host its inaugural 'Clay Clash' presented by KaTom Restaurant Supply on July 11, 2023 starting at 9:30am. The clay shooting contest will take place at Iron Mountain Sporting Clays located at 410 Hardin Road, in Kodak. A silent auction
Owen Caissie Walks it Off To Complete Five Run Comeback
Written by Jacob Woods KODAK, TN-The Smokies saved the best for last as a 5-run bottom of the ninth brought home the win for Tennessee. The game's scoring started thanks to a failed pick-off attempt at first that allowed Ronny Simon for Montgomery to get all the way to third
Smokies Wallop Trash Pandas in Game Three
Written by Richie Juliano MADISON, AL - The Smokies walloped the Trash pandas with a 19-2 victory on Thursday night. The Smokies set season highs with 19 runs and 18 hits, with 8 of the 9 Smokies starters in the lineup recording a hit. Tennessee's middle infielders Luis Vazquez and
Tennessee Survives Late Comeback to Win Game Two in Rocket City
Written by Richie Juliano MADISON, AL- The Smokies drew first blood for the second consecutive game with a solo-home run from Haydn McGeary, which was his first Double-A home run in just his second game as a Smokie. The Rocket City Trash Pandas responded with a home run of their
Smokies Win Fourth in a Row in Birmingham
Written by Richie Juliano Birmingham, AL- The Tennessee Smokies extend the winning streak to four after a 5-1 victory late on Thursday night. Tennessee got another gem of an outing from starter Ben Brown, and the bullpen did its job to close it out. The Smokies got on the scoreboard
Smokies Bats Stay Hot in Win Over Birmingham
Written by Richie Juliano Birmingham, AL - The Smokies won game two of the six game series in Birmingham with a convincing 9-1 victory over the Barons this afternoon. The Smokies out-hit the Barons 10-3, with a pair of home-runs from Cubs top prospect Pete Crow-Armstrong and Chase Strumpf. The
Smokies Late Comeback Falls Just Short as Lookouts Take Game Two
Written by Jacob Woods KODAK, Tenn. -The Lookouts struck first on Wednesday night at Smokies Stadium as James Free snuck one over the right field fence to drive in the first and second runs after Jacob Hurtubis reached on a walk earlier in the inning. A base hit in the
Homeruns Fuel Offense for Smokies in Win Over Chattanooga
Written by Jacob Woods KODAK, Tenn. - On a night where Pete Crow-Armstrong hit his first homerun of the year, the Smokies (5-5) never let up and out-paced the Lookouts (6-4) by a final of 9-5. Pete Crow-Armstrong got the ball rolling for the Smokies in the bottom of the
Tennessee Smokies Announce 2023 Opening Day Roster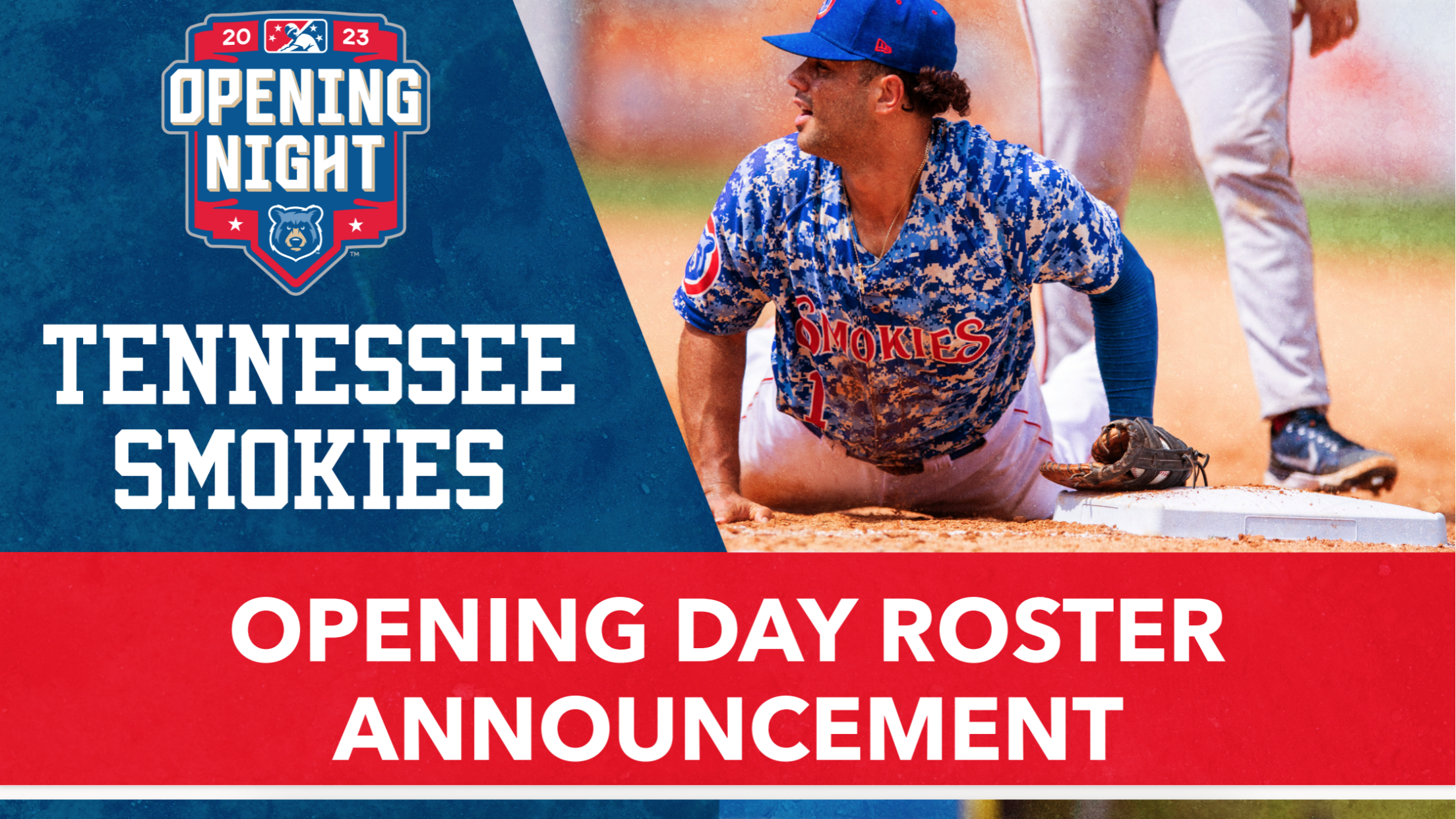 SEVIERVILLE, TN - The Tennessee Smokies, in conjunction with the Chicago Cubs, have announced the initial 2023 season roster. The team features numerous top 30 prospects in the Chicago Cubs organization, and returning faces to Tennessee. The roster is comprised of 15 pitchers and 15 position players to begin the
Smokies Crush Biscuits to Even Up Series
Written by Richie Juliano Montgomery, AL - The Tennessee Smokies (4-3) recorded their most single-game runs of the season, in an 11-5 win over the Montgomery Biscuits (4-3) on Friday night. Tennessee struck first on a Jordan Nwogu solo home run, in the second inning. Montgomery evened up the score
Smokies Shut-out Barons to Clinch Opening Week Series Win
KODAK, Tenn. - The Tennessee Smokies (2-1) one-hit the Birmingham Barons (1-2), in a 6-0 win on Saturday night, at Smokies Stadium. Smokies starting pitcher, Ben Brown, struck out the side to begin the game. In the bottom of the first, Miguel Amaya hit his first home run of the
Aliendo's Magical Night Ends in Walk-off Fashion
Written by Jacob Woods KODAK, Tenn. - The Smokies avenged their opening-day loss to the Birmingham Barons with a 10-9 win on Friday night in walk-off fashion. On the board first were the Birmingham Barons with a line drive double to left field that went all the way to the
Tennessee Smokies Announce Second Annual 'Smoky Mountain Rivalry' and Emerald Youth Middle School Jamboree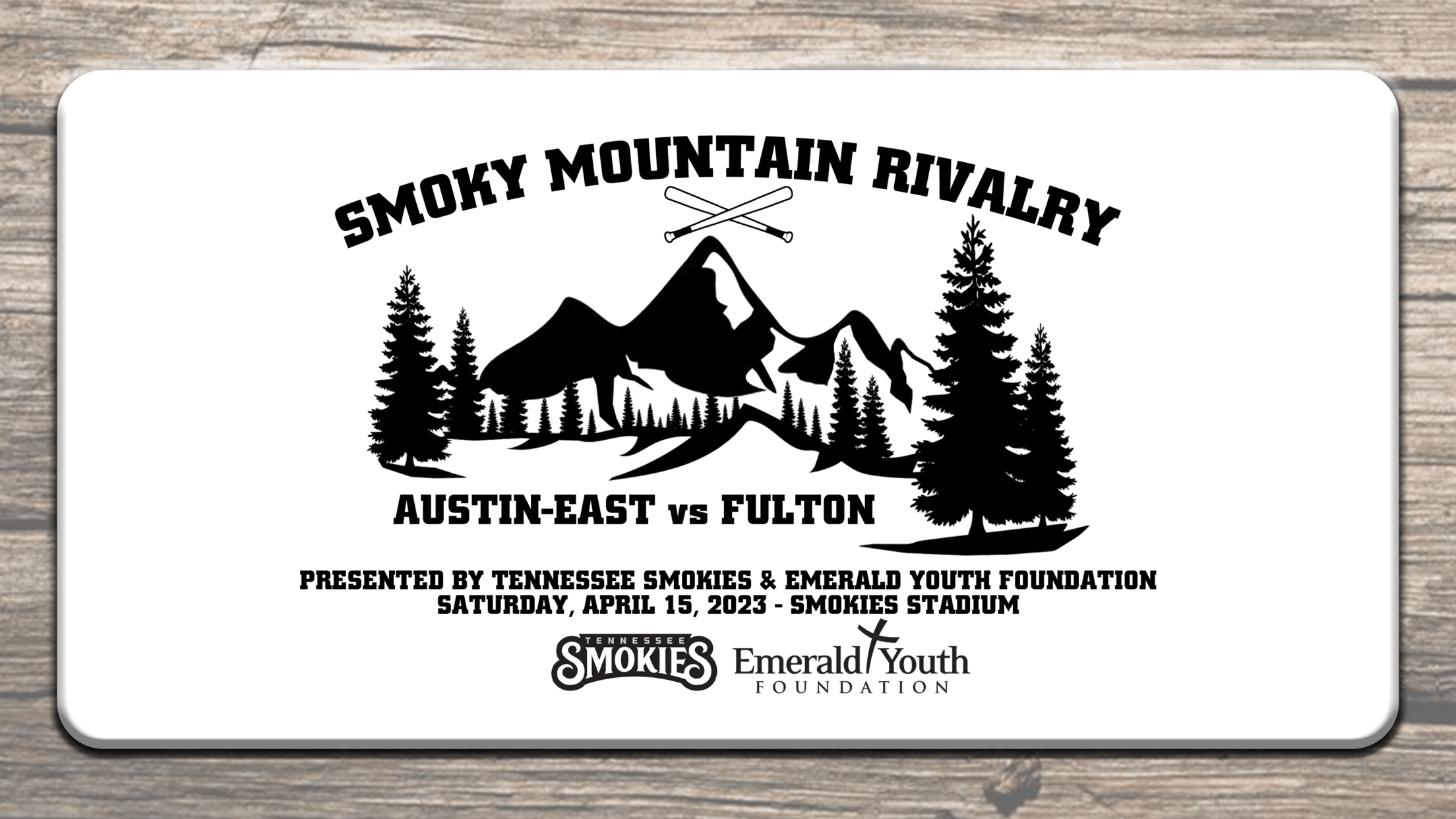 SEVIERVILLE, TN - The Tennessee Smokies have announced the team will host the second annual 'Smoky Mountain Rivalry' baseball game between Austin-East Magnet High School and Fulton High School at Smokies Stadium on Saturday, April 15, 2023 at 7:15pm. The game will be preceded with the Emerald Youth Middle School
Smokies Fall on Opening Day
Written by Jacob Woods KODAK, Tenn. - The Smokies opened the 2023 season Thursday in disappointing fashion with a six-two loss to the Birmingham Barons at Smokies Stadium. Birmingham struck first in the top of the second inning on a throwing error by catcher Miguel Amaya. The Barons stole second
Tennessee Smokies Announce 2023 'Fandemonium' Fan Fest for April 1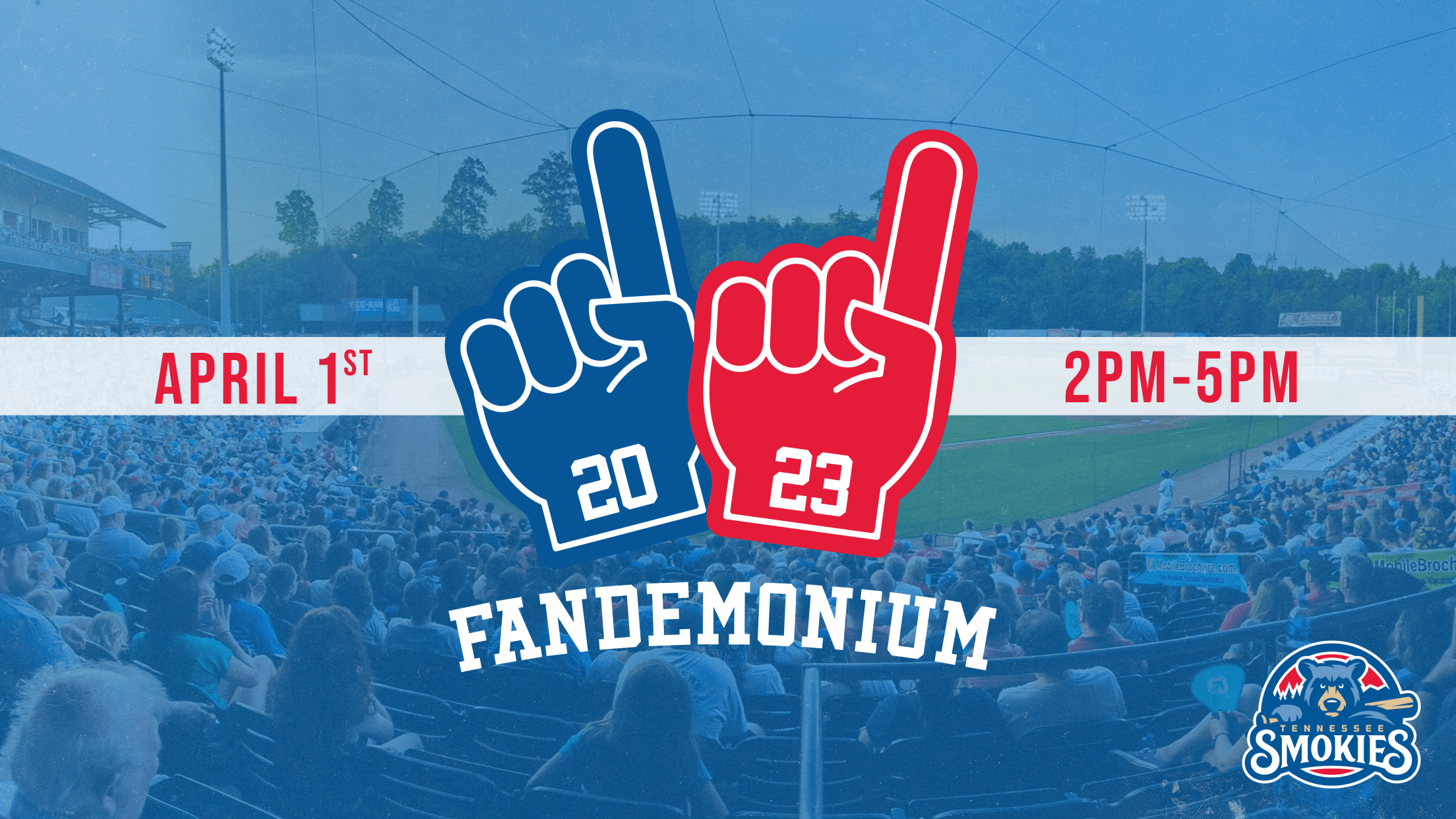 SEVIERVILLE, TN - The Tennessee Smokies have announced they will host their 'Fandemonium' Fan Fest on Saturday, April 1 from 2:00pm-5:00pm at Smokies Stadium. The event is free for all attendees. The first 500 fans through the gates will receive a free voucher to any 2023 Smokies April home game.
Smokies Final Four Ticket Plan: Who Will Cut Down the Nets?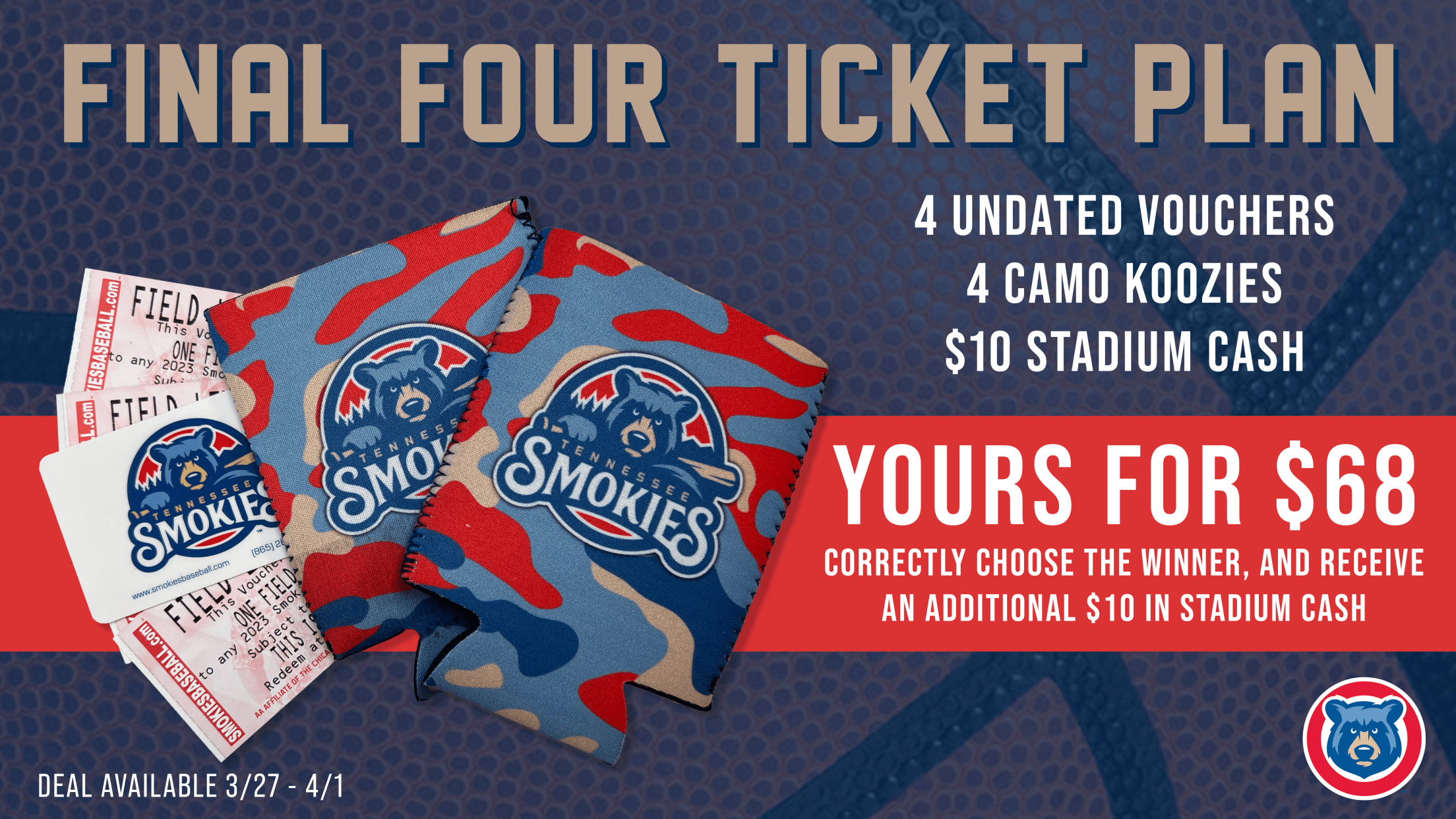 The Final Four is almost here! Now that your bracket is totally busted, earn some redemption with our Final Four Package! Now it is time to look into your crystal ball and predict a winner. Purchase this plan, and you could score bonus Stadium Cash! All four plans come with
Tennessee Smokies Become Cashless Venue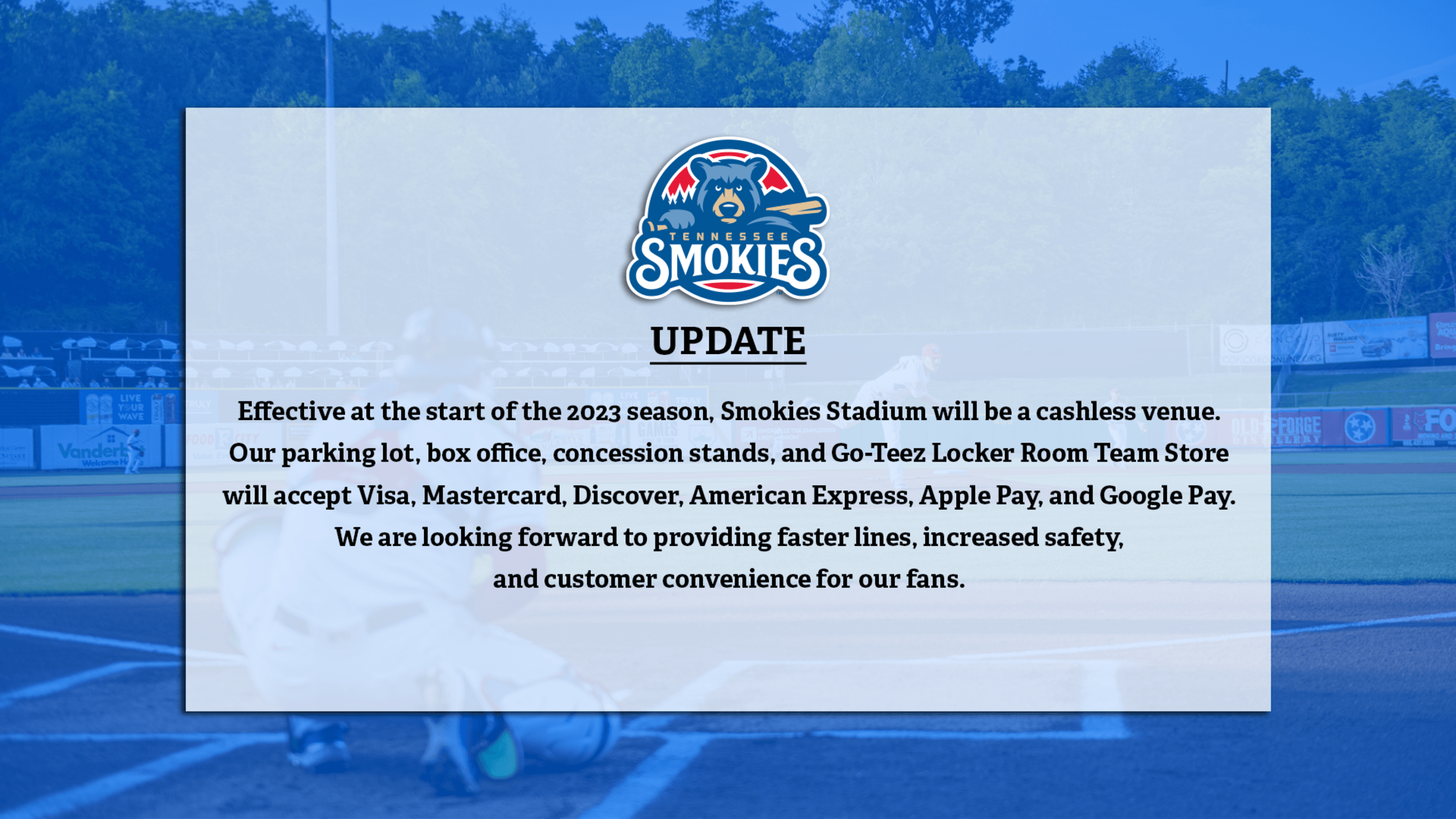 SEVIERVILLE, TN - The Smokies announced today that Smokies Stadium will be a cashless venue beginning in 2023. This includes transactions involving tickets, food and beverage, merchandise, parking, and all other parts of a Smokies game or event. The decision to go cashless follows 29 of the 30 Major League
Cubs Announce 2023 Minor League Coaching Staffs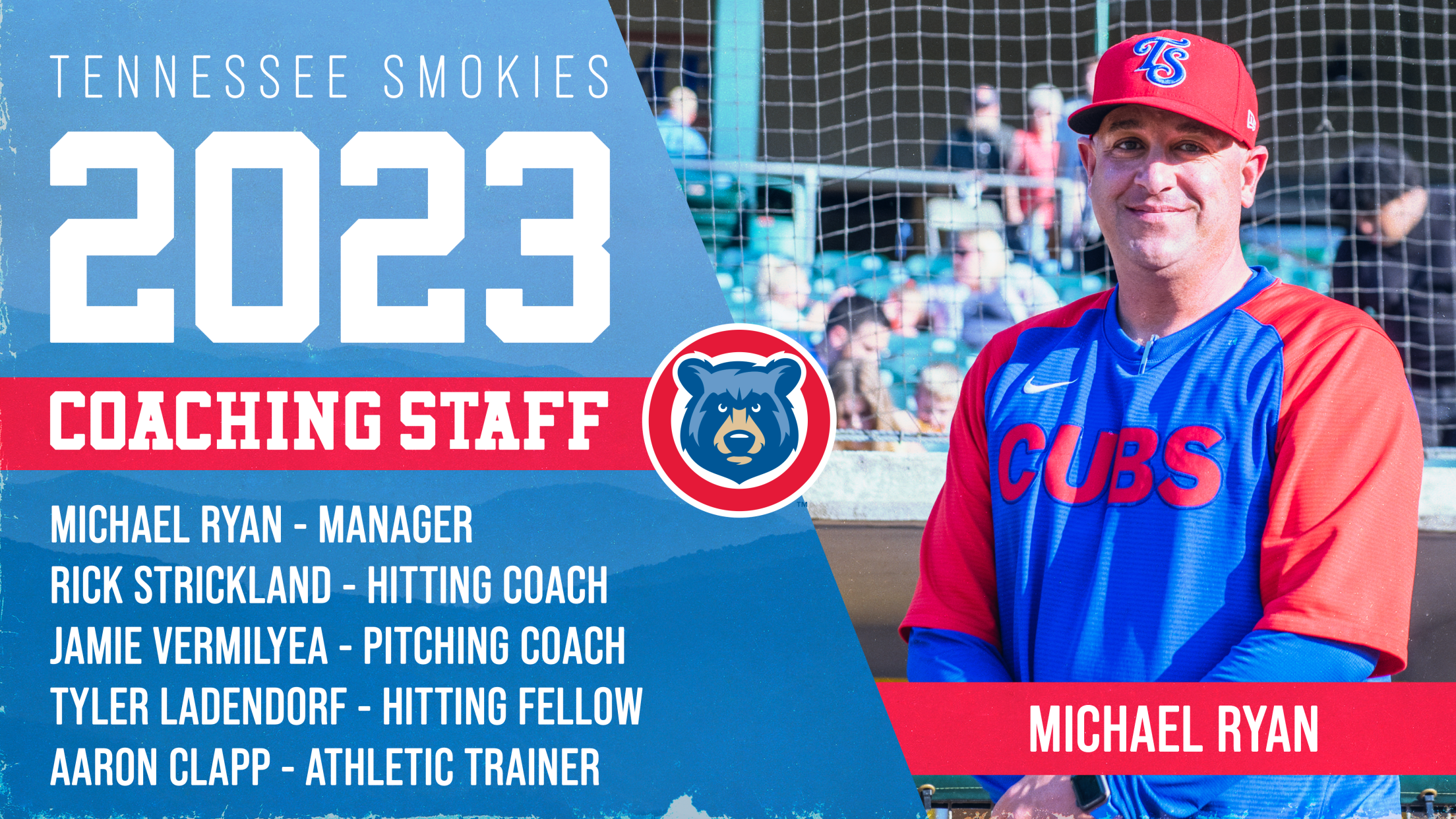 CHICAGO – The Chicago Cubs today announced their minor league managers and coaching staffs for the 2023 season. A detailed list of each club's managers and coaching staffs are included on the following page. The Cubs minor league clubs include Triple-A Iowa, Double-A Tennessee, High-A South Bend, Low-A Myrtle Beach,
Monday Mailbag (2/13/23) - Homer Appearances, Dirt & Video Board Messages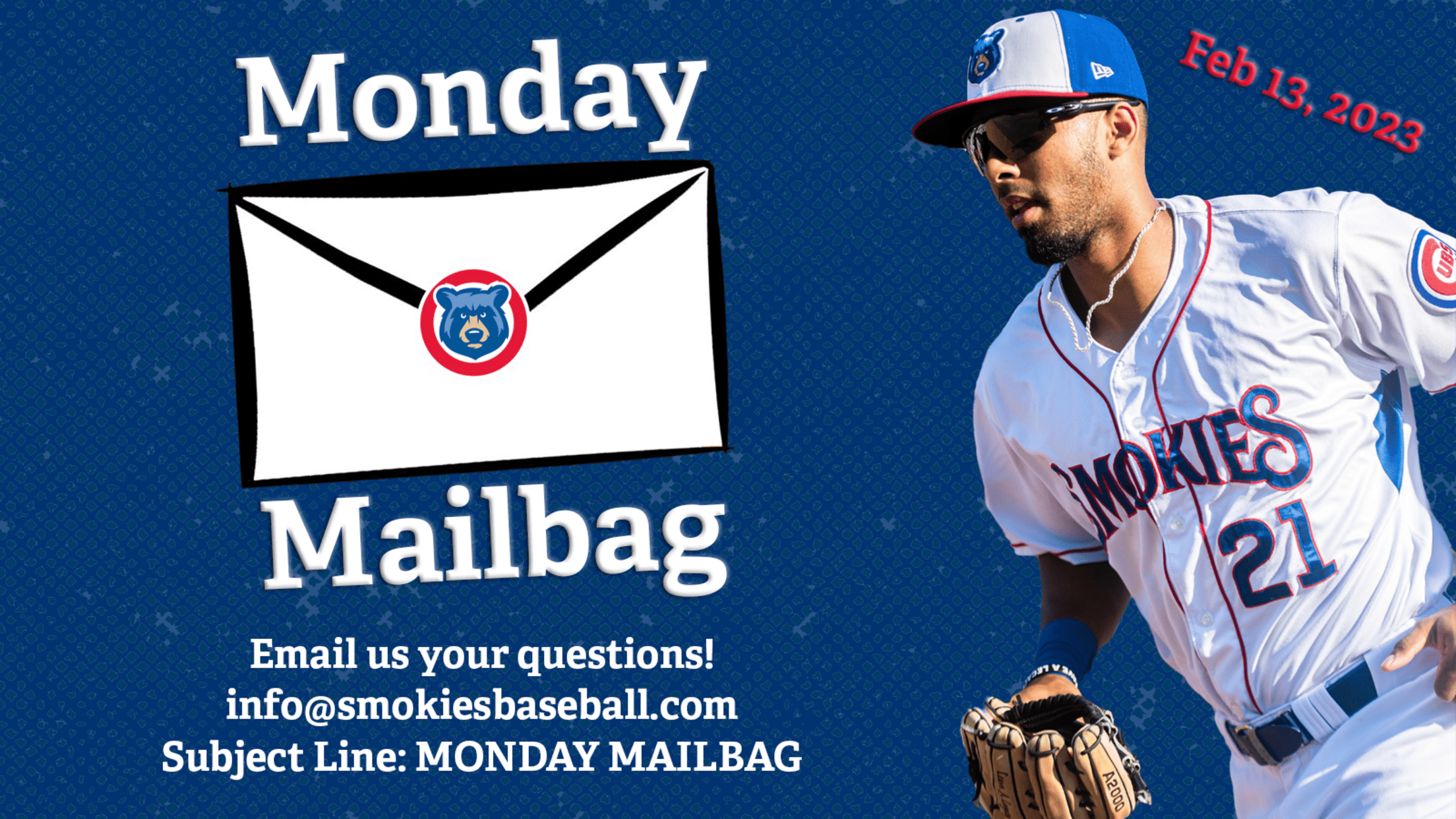 Time for another Monday Mailbag! Want to know how long the grass must be for a game, or what new ballpark treats we have lined up for next season? Email us any time at [email protected] with the subject line MONDAY MAILBAG. Here is this week's mailbag! Q: "How can you
14 former Smokies players were invited to Cubs Spring Training.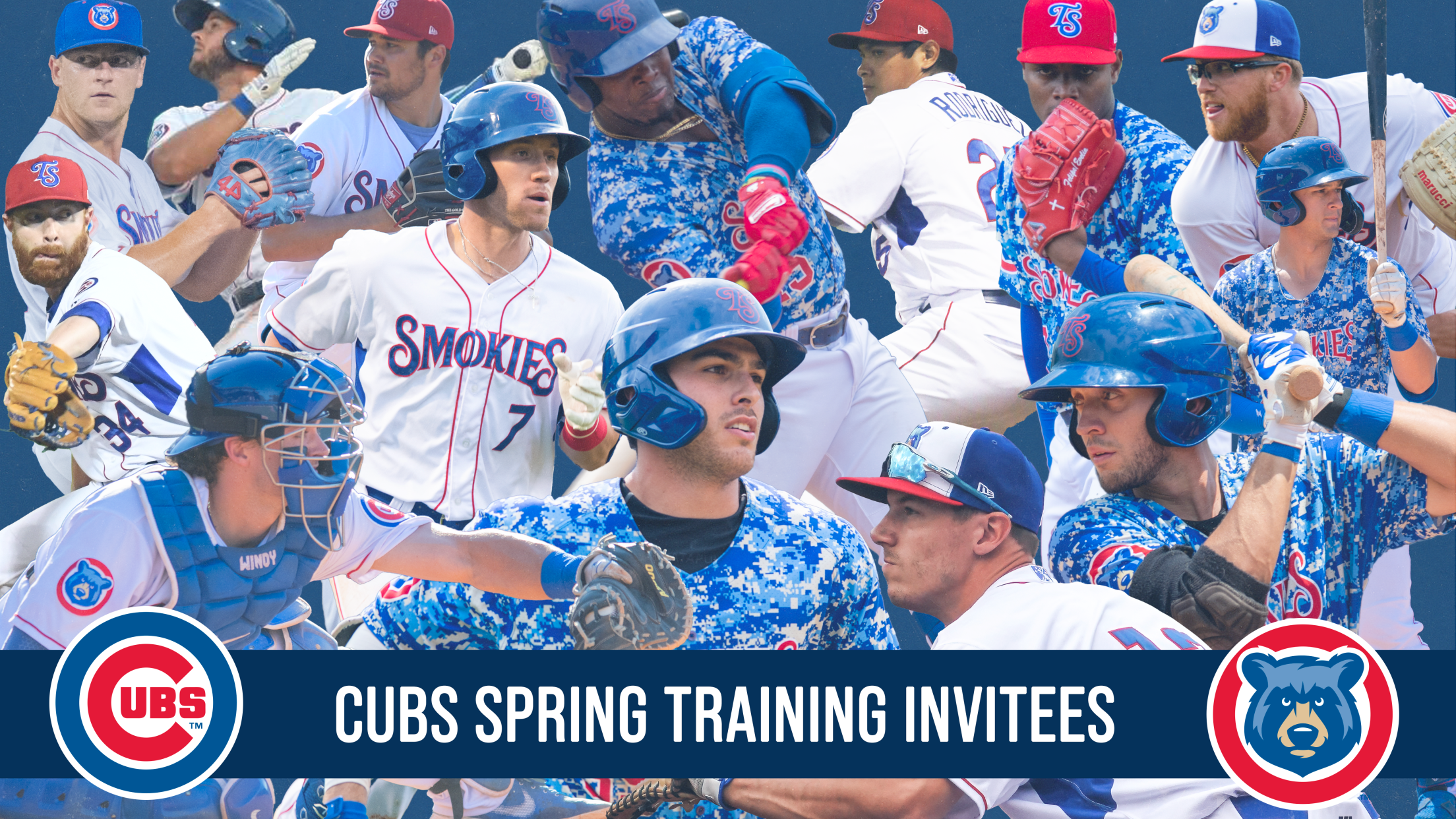 On Monday, February 6, the Chicago Cubs announced that they have invited 32 non-roster players to Spring Training. Of those 32 players, 14 of them used to be Smokies. Some notable names on the roster include Matt Mervis, Yonathan Perlaza, Chase Strumpf, Andy Weber, Cam Sanders, Danis Correa, and Bryce
Tennessee Smokies Announce Job Fairs on February 18 and March 4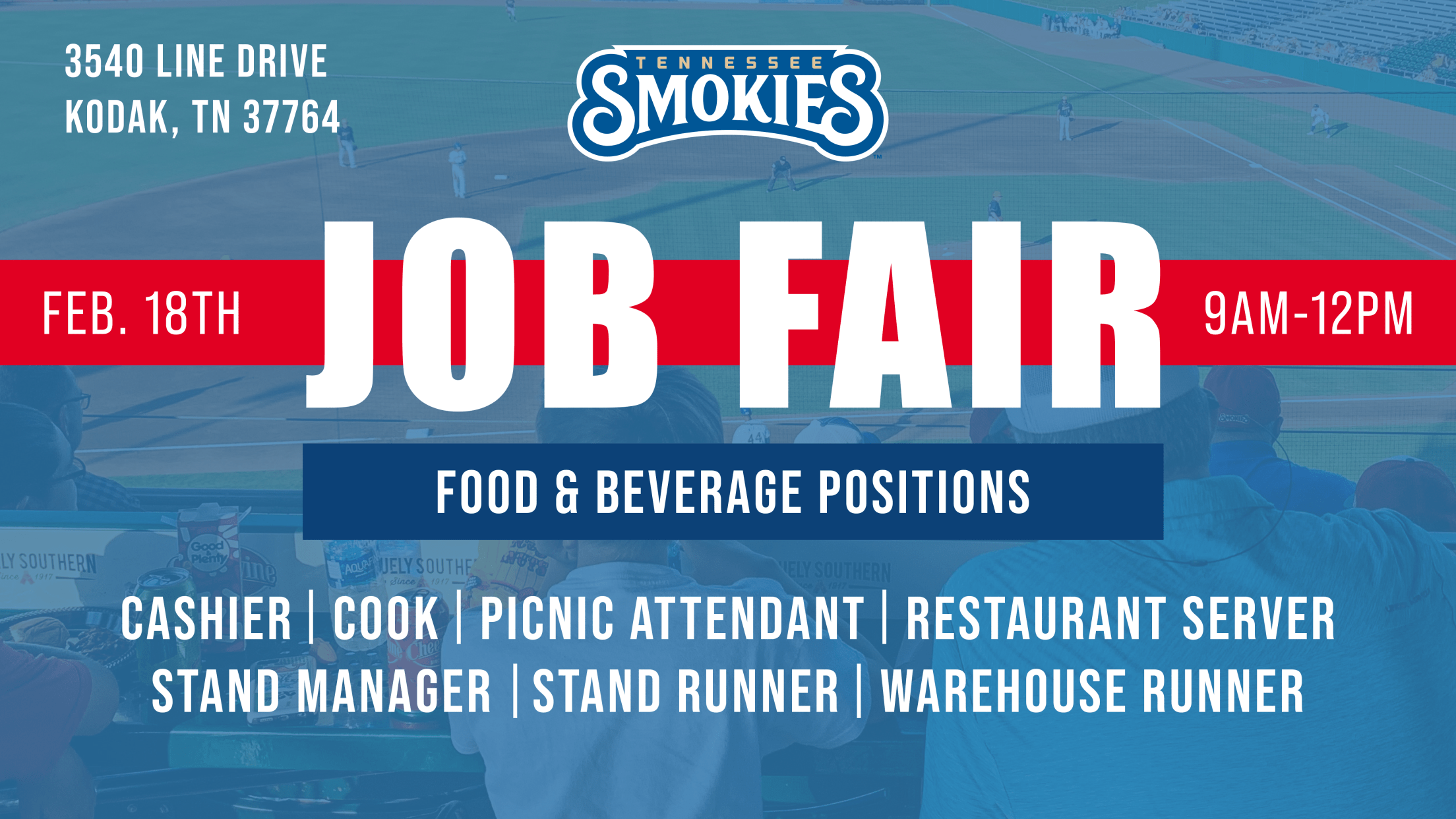 SEVIERVILLE, TN - The Tennessee Smokies have announced that the club will be hosting job fairs at Smokies Stadium on Saturday, February 18 and Saturday, March 4 from 9:00am to 12:00pm. When arriving please enter through The Batter's Box Bar + Grill Restaurant located on the left side of the