Dust Devils Hand Hops Second Straight Setback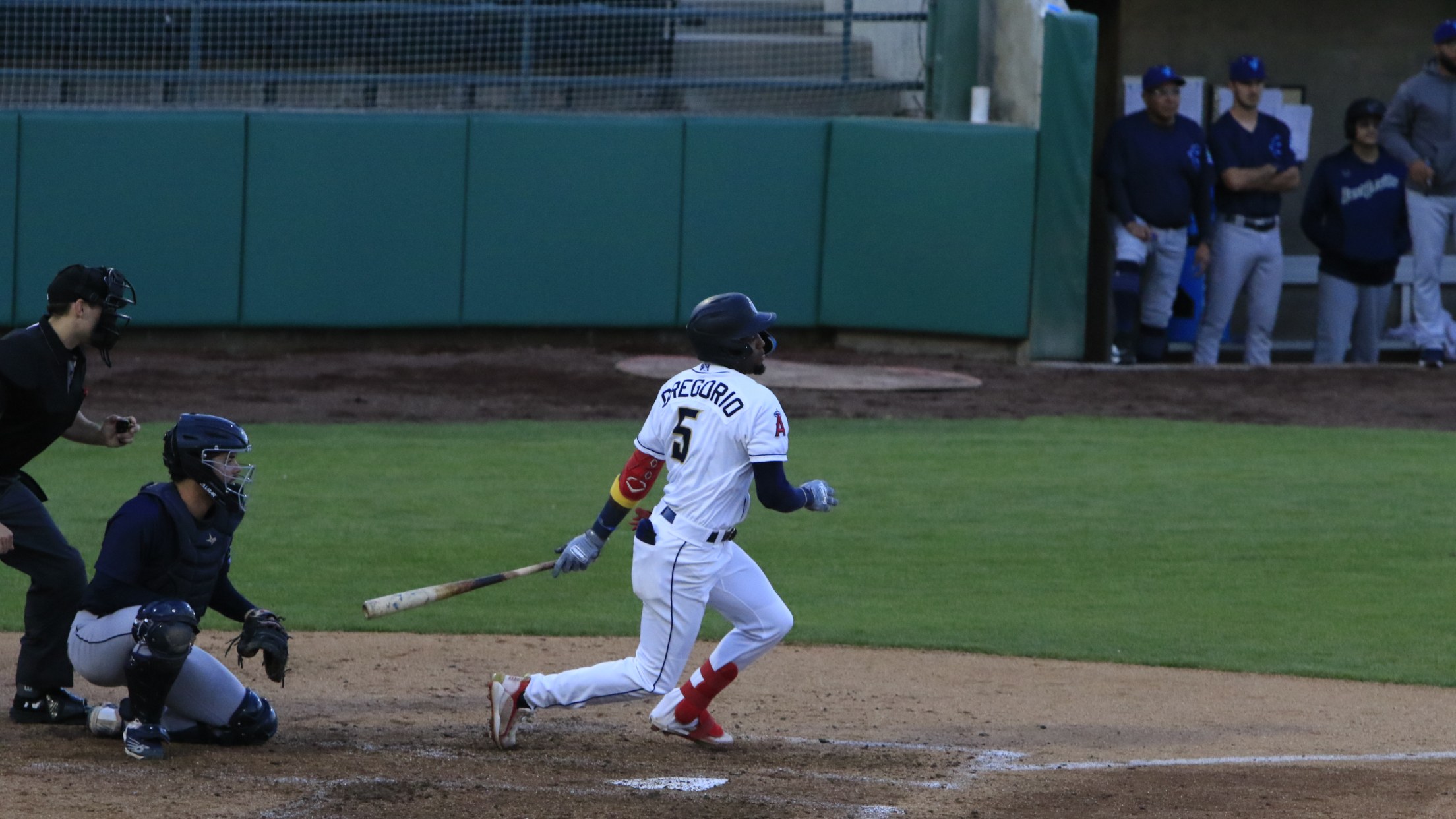 After an inning Friday night, the Tri-City Dust Devils (24-34 2H, 53-68) found themselves in a three-run hole, but the visitors stormed back quickly for a 9-5 win over the Hillsboro Hops (26-32 2H, 55-67) at Ron Tonkin Field. The Dust Devils scored in their first four at-bats for a
After an inning Friday night, the Tri-City Dust Devils (24-34 2H, 53-68) found themselves in a three-run hole, but the visitors stormed back quickly for a 9-5 win over the Hillsboro Hops (26-32 2H, 55-67) at Ron Tonkin Field.
The Dust Devils scored in their first four at-bats for a second straight night, plating a run in the top of the 1st inning. SS Osmy Gregorio singled to right field with two out, advancing to second base on a wild pitch. 1B Christian Sepulveda then singled up the middle to score Gregorio for a 1-0 lead.
Like Thursday night, the lead would not last long. The Hops scored four runs off starter John Swanda (4-1) in the bottom of the 1st with the first four batters in the lineup all reaching and scoring. The righty got a 4-6-3 double play to avoid further trouble.
Trailing 4-1 in the 2nd Tri-City got back to work, answering with two runs. DH Dylan Phillips led off the inning with a high fly ball caught by the wind and landing in fair territory inside the left field line, bouncing over the short wall for a ground-rule double. Phillips moved to third on a groundout and scored on a single to center field by RF Mike Peabody to make it 4-2.
3B Christian Molfetta then drew a walk, moving Peabody to second. 2B Kyle Kasser then lined a single to center to score Peabody and get the Dust Devils within a run at 4-3.
Tri-City took the lead for good in the 3rd inning, scoring thrice. Phillips drew a one-out walk and C Brendan Tinsman followed with a single up the middle off Hops starter Marcos Tineo (2-5), sending him out of the ballgame. Peabody flew out to deep center, both runners tagging up and advancing into scoring position. Molfetta then sent a full count pitch off the end of the bat down the left field line, landing fair for a two-run double to give the Dust Devils a 5-4 lead.
That brought Kasser up for the third time in as many innings and he took advantage, singling again to center to score Molfetta for a 6-4 lead. Tri-City then scored again in the 4th when Gregorio, who led off the inning with a double down the right field line and advanced to third on a fly out, came home on a wild pitch to extend the lead to 7-4.
As the bats piled up runs, Swanda settled in on the mound, getting another 4-6-3 double play to end the 2nd and retiring Hillsboro in order in the 3rd and 4th innings. The Des Moines, Iowa native retired ten of the last 11 batters he faced and, though he gave up a solo home run to Hops 1B Deyvison de los Santos in the 5th inning, Swanda made it through five innings for the win.
The Dust Devils bullpen backed him up from there, with reliever Dylan King throwing three perfect innings and striking out four of the nine batters he faced. Ivan Armstrong pitched the 9th inning, pitching a scoreless inning to close out Tri-City's second straight win and even the series at two games apiece.
Offensively, Osmy Gregorio and Kyle Kasser each had three hits and drove in two runs. Gregorio fell a home run short of the cycle, going 3 for 4 with a walk. Brendan Tinsman went 2 for 4, getting his first multi-hit game as a Dust Devil, and Dylan Phillips reached base in all five plate appearance by going 1 for 1 with three walks and a hit-by-pitch.
Game five of the six-game series with Hillsboro is slated for a 7:05 p.m. first pitch Saturday night at Ron Tonkin Field. Righty Victor Mederos (0-1, 4.50 ERA) is scheduled to start for Tri-City, coming off a four no-hit inning performance last Saturday. Right-hander Yilber Diaz (0-1, 5.64 ERA) will counter for the Hops.
The game broadcast begins with the King Beverage Budweiser Pregame Show at 6:50 p.m. at dustdevilsbaseball.com and the MiLB First Pitch app.
Tickets for Tri-City's final home series of the regular season, September 6-11 vs. Spokane, are on sale now with special ticket rates are available for groups of 20 or more. For more information on Dust Devils single game, season, mini-plan (11, 22, 33) and group tickets, visit dustdevilsbaseball.com or call 509-544-8789.