Indians Take Down Dust Devils to Open Series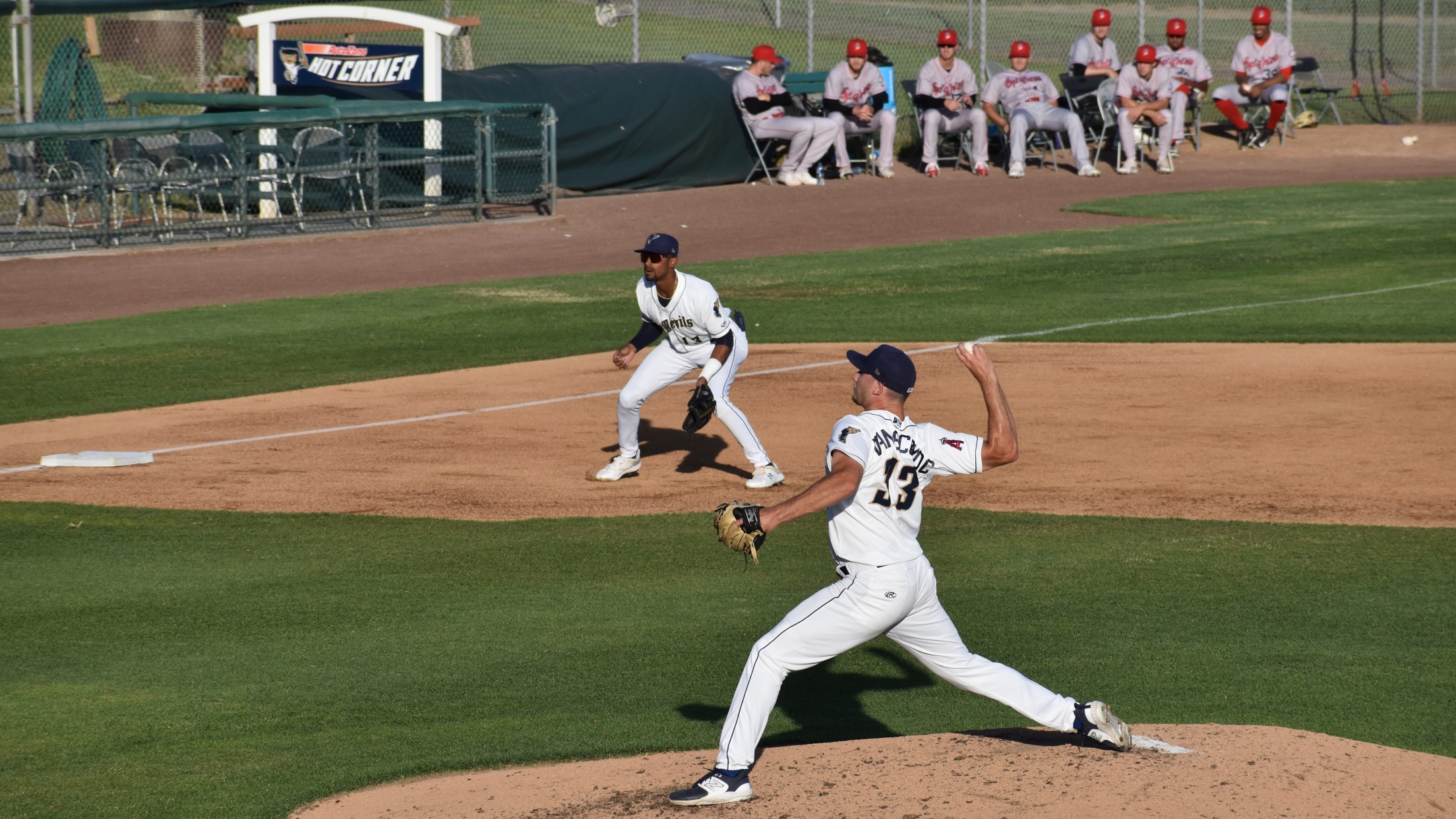 The Spokane Indians (24-21) held down a surging Tri-City Dust Devils (23-23) offense Tuesday night, getting solid pitching and a big hit late to defeat the home nine 5-1 in the opening game of a six-game series at Gesa Stadium. Tri-City's lone run came in the bottom of the 3rd
The Spokane Indians (24-21) held down a surging Tri-City Dust Devils (23-23) offense Tuesday night, getting solid pitching and a big hit late to defeat the home nine 5-1 in the opening game of a six-game series at Gesa Stadium.
Tri-City's lone run came in the bottom of the 3rd inning, after back-to-back walks drawn by 2B Adrian Placencia and 1B Gabe Matthews. SS Arol Vera came through again in a two-out situation with runners in scoring position, singling the opposite way to left field to score Placencia and tie the game at 1-1.
Spokane, who had taken a 1-0 lead in the top of the 3rd via a bases loaded walk issued to Indians RF Yanquiel Fernandez, took the lead back in the 4th inning on a double by C Ronaiker Palma off Dust Devils starter Connor Van Scoyoc (2-3). Van Scoyoc would otherwise hold the visitors off the board, going six innings and giving up two runs (one ER) on just three hits and striking out seven in his third straight quality start.
The Tri-City lineup, which put up 26 runs during their three-game winning streak, could not muster a late charge as they had in their previous two wins. Spokane worked out of a two-on, no-out potential Dust Devils rally in the bottom of the 4th via a double play and pop-out. From there Tri-City had only two baserunners for the remainder of the game, and just one in scoring position. Cullen Kafka (4-1) pitched 4.1 innings of scoreless relief for the win.
The Indians got another run across on a strange play in the top of the 7th inning. 2B Nic Kent led off the inning with an infield single, and then moved to third on a single by SS Adael Amador. CF Benny Montgomery came up and hit a slow grounder short of third base. Montgomery stopped, seemingly in the belief the ball hit his foot and was a foul ball. Dust Devils 3B Werner Blakely fielded the ball and threw it to first, just in case. The ball was ruled fair, Montgomery was ruled out, and Kent was ruled to have scored to give Montgomery an RBI and his team a 3-1 lead.
The game continued as a tight contest until the top of the 9th inning when Indians 1B Zach Kokoska lobbed a soft single into left field to score two runs for the final 5-1 margin. Kokoska left the game following the play, but his hit gave a struggling Spokane bullpen more cushion. Indians reliever Tyler Ahearn worked around a two-out hit by Dust Devils LF Gustavo Campero to pitch a scoreless 9th and end both Tri-City's winning streak and his team's own three-game losing streak.
At the plate, the Dust Devils received multi-hit games from both Matthews (2-3, BB) and Campero (2-4) alongside Vera's RBI hit and a 2nd inning single by RF Alexander Ramirez. On the mound, reliever Erik Martinez pitched a scoreless 8th inning to keep Tri-City close.
The Dust Devils and Indians face off in game two of their six-game set at 6:30 p.m. Wednesday night at Gesa Stadium. It's also another Love at 425 Night presented by Papa Murphy's, with samples and pizza-related giveaways offered throughout the night.
Two highly touted right-handed pitching prospects will take the mound: Caden Dana (0-1, 5.30 ERA) for Tri-City and Gabriel Hughes (3-3, 6.34 ERA) for Spokane. Broadcast coverage of the game begins with the pregame show at 6:10 p.m. both here and at the MiLB First Pitch app.
Tickets for both Wednesday night's game and the full series, including the June 2-4 return of the Columbia River Rooster Tails, are on sale now. Also, special ticket rates are available for groups of 20 or more. For more information on Dust Devils single game, season, mini-plan (11, 22, 33) and group tickets, visit dustdevilsbaseball.com, call the team office at (509) 544-8789, or visit the team office (10 a.m. to 5 p.m. on game nights, or Monday-Friday 9 a.m. to 5 p.m. otherwise).