Drillers Opening Day Roster Announced
Plenty of familiar faces to open the season in Tulsa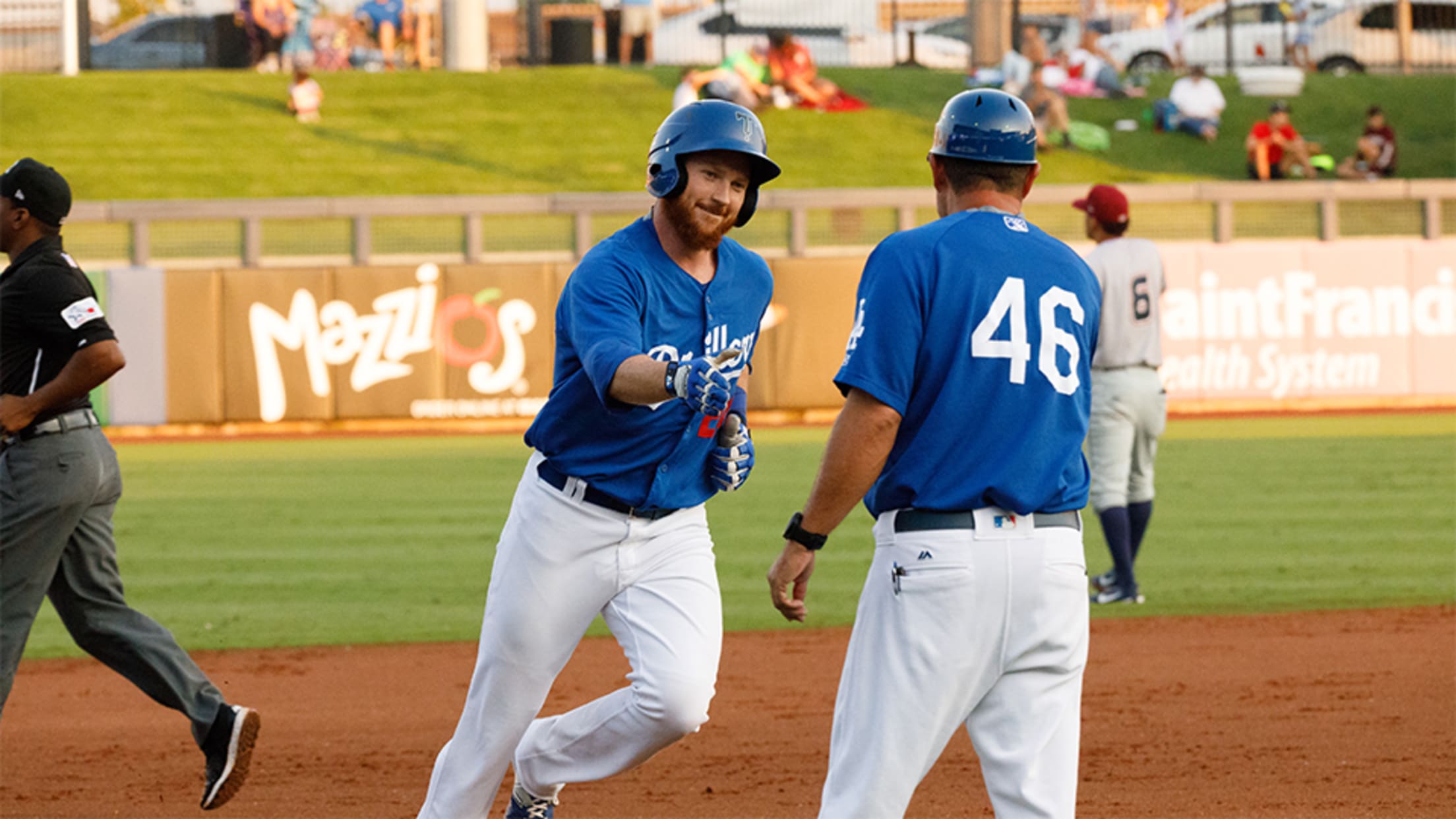 Kyle Garlick is one of several players returning to the Drillers to open the 2018 Texas League season. (Rich Crimi)
The 2018 Opening Day roster for the Tulsa Drillers has been finalized. Sixteen players who appeared in Tulsa last year are returning to begin the upcoming season with the club.Some familiar names returning to the Drillers will be infielders Peter O'Brien, Drew Jackson, Errol Robinson and Michael Ahmed. Returning outfielders
The 2018 Opening Day roster for the Tulsa Drillers has been finalized. Sixteen players who appeared in Tulsa last year are returning to begin the upcoming season with the club.
Some familiar names returning to the Drillers will be infielders Peter O'Brien, Drew Jackson, Errol Robinson and Michael Ahmed. Returning outfielders include Kyle Garlick, D.J. Peters and Jacob Scavuzzo.
Garlick, Scavuzzo and O'Brien should all provide plenty of power in the middle of the lineup as the trio combined for 42 home runs last year for the Drillers. Jackson and Robinson will cover the middle infield.
Ahmed played 30 games for the Drillers last season before being sidelined with an injury that ended his season. In 106 at bats, he hit .292 with 6 homers and 19 RBIs.
On the pitching side, Drillers fans will recognize starters Dennis Santana and Yadier Álvarez. Both appeared in Tulsa last year and are top 10 prospects in the Dodgers organization.
Returning to the bullpen will be Michael Johnson, Josh Sborz, Shea Spitzbarth, Karch Kowalczyk, and Corey Copping. Copping, a former University of Oklahoma pitcher, led the Drillers with 18 saves.
Keibert Ruiz appeared in two playoff games for the Drillers and is ranked the third-best prospect in the Los Angeles Dodgers farm system by MLB.com and is in the top 100 in all of baseball. Ruiz is regarded as a top defender and has exceeded expectations with his switch-hitting bat thus far in his short career. Between Rancho Cucamonga and Grand Lakes, the backstop hit .316 with 8 home runs and 51 RBIs in 101 games in 2017.
Ruiz will split catching duties with Will Smith who was injured shortly after joining the Drillers at mid-season last year. Smith had 29 extra-base hits at Rancho Cucamonga, including 11 homers, before joining the Drillers.
Newcomers Luke Raley, Caleb Ferguson and Devin Smeltzer will all come to Tulsa after spending 2017 in Single-A Rancho Cucamonga.
Outfielder Raley had a solid season where he hit .295 with 14 home runs and 62 RBIs. Ferguson logged a 9-4 record with a 2.87 ERA, while Smeltzer had a 7-7 record with a 4.17 ERA between Rancho Cucamonga and Grand Lakes.
Newcomers from outside the organization include pitchers Dylan Baker, Emmanuel De Leon and Justin De Fratus, and infielders Conner Joe, Angelo Mora and Wes Darvill.
De Fratus is no stranger to ONEOK Field or the Texas League as he spent 2017 with the Arkansas Travelers, recording an 8-8 record with a 4.14 ERA. The right hander also has some big-league experience having spent time in Philadelphia with the Phillies from 2011-15.
Baker pitched only 16.2 innings in 2017 while in the Cleveland Indians organization. He appeared in 17 games with a 2.70 ERA and a 1-1 record, mostly coming out of the bullpen.
De Leon pitched in the Pittsburgh Pirates organization from 2008-14 but most recently has spent time in leagues in Venezuela and the Dominican Republic.
Joe made a few stops in 2017 between the Pirates and Atlanta Braves organizations. Between three teams, the infielder hit .222 with 5 home runs and 34 RBIs in 97 games.
Mora spent seven seasons in the Philadelphia Phillies minor league system before joining the Dodgers. Last season, he played five different positions while splitting time between Double A and Triple A, hitting .292 in 107 games.
Darvill played almost 200 games in independent ball from 2016-17 where hit a combined .286 and stole 48 bases. Prior to that, he spent time in the Chicago Cubs organization from 2009-15.
The Drillers will open the 2018 regular season on the road against Frisco this Thursday night as they take on the RoughRiders at 7:05 PM for the start of a six-game road trip. The home opener for Tulsa will take place exactly one week later on Thursday April 12 when Frisco will come to town. First pitch for the home opener at ONEOK Field is scheduled for 7:05 PM.