Drillers Respond with 9-1 Finale Win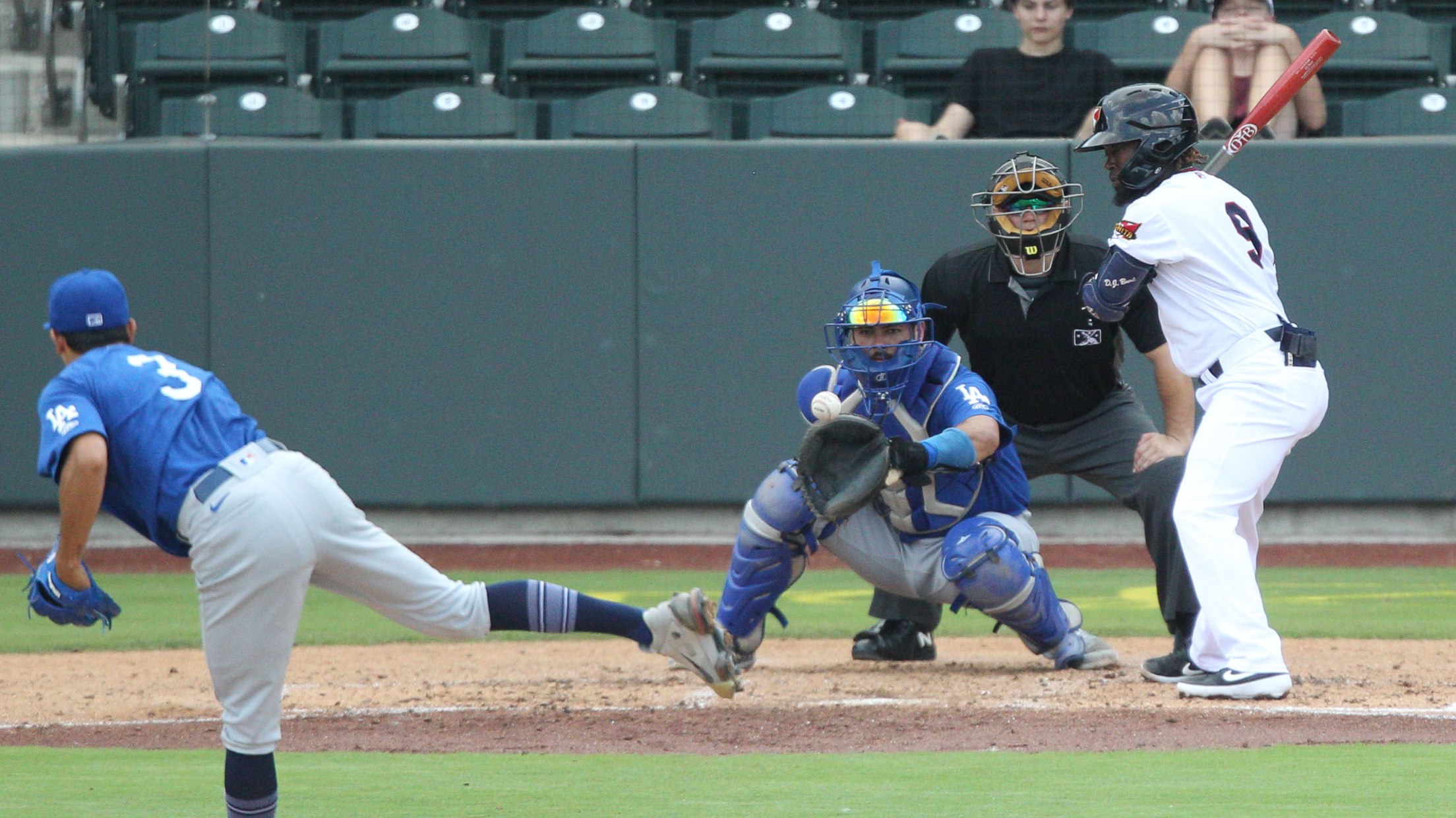 Gerardo Carrillo strikes out a Wichita batter as he pitched 6 shutout innings Sunday afternoon. (Ed Bailey)
Wichita, KS- The Tulsa Drillers responded in a big way Sunday afternoon following a tough loss the night before, exploding for nine runs backed by a strong pitching performance from starter Gerardo Carrillo, to defeat the Wichita Wind Surge 9-1 at Riverfront Stadium. Tulsa hit three home runs in the
Wichita, KS- The Tulsa Drillers responded in a big way Sunday afternoon following a tough loss the night before, exploding for nine runs backed by a strong pitching performance from starter Gerardo Carrillo, to defeat the Wichita Wind Surge 9-1 at Riverfront Stadium. Tulsa hit three home runs in the game to help claim the victory.
Carrillo had his best outing of the season to earn his second win of the series and his third this season. He pitched six scoreless innings with only two runners reaching base on a hit and a walk.
With the win, the Propeller Series presented by Coors Light, is tied at nine games each with 12 games remaining in the series.
The Drillers onslaught began in the third inning with two runs thanks to a Wichita error. Clayton Daniel led the inning off with a single and moved up to second on a ground out. Miguel Vargas drove Daniel in on a single to left. Vargas scored on a fielding error by Spencer Steer to give Tulsa 2-0 lead.
Ryan Noda walked to lead off the fourth inning and advanced to second on a sac bunt from Stevie Berman. Noda then scored on a single by Daniel for a 3-0 Drillers lead.
Carlos Rincon drove in the Drillers fourth run of the afternoon with a single to center.
Tulsa piled on adding five runs in the sixth. Noda led the inning off with his 11th home run of the season. Michael Busch drove in Daniel to add a second run. Vargas hit a two-run bomb to left and Romer Cuadrado hit a solo homer, increasing the Drillers lead to 9-0.
The shutout bid ended for the Drillers when Wichita scored its only run in the seventh on an RBI single from Ernie De La Trinidad.
THE HIGHLIGHTS
*Carrillo pitched his longest outing of the season, working six shutout innings with five strikeouts. He earned the only two wins for the Drillers in the series.
*Busch led the Drillers this series with a .400 batting average with 6 hits, 2 doubles, 2 home runs, 5 RBIs and 7 walks, with a 1.371 OPS.
*Rincon went 3-3 in the game despite leaving the game in the fifth after fouling a ball off his foot.
*Hunter Feduccia's hitting streak came to an end Sunday afternoon as he went 0-5 with two strikeouts.
*Tulsa finished up the series in Wichita going 2-4.
UP NEXT
The Drillers return home and will begin a 13-game homestand Tuesday night at ONEOK Field when they take on the Northwest Arkansas Naturals.
Neither starting pitcher has been announced.