Drillers Take Advantage of Miscues to Beat Naturals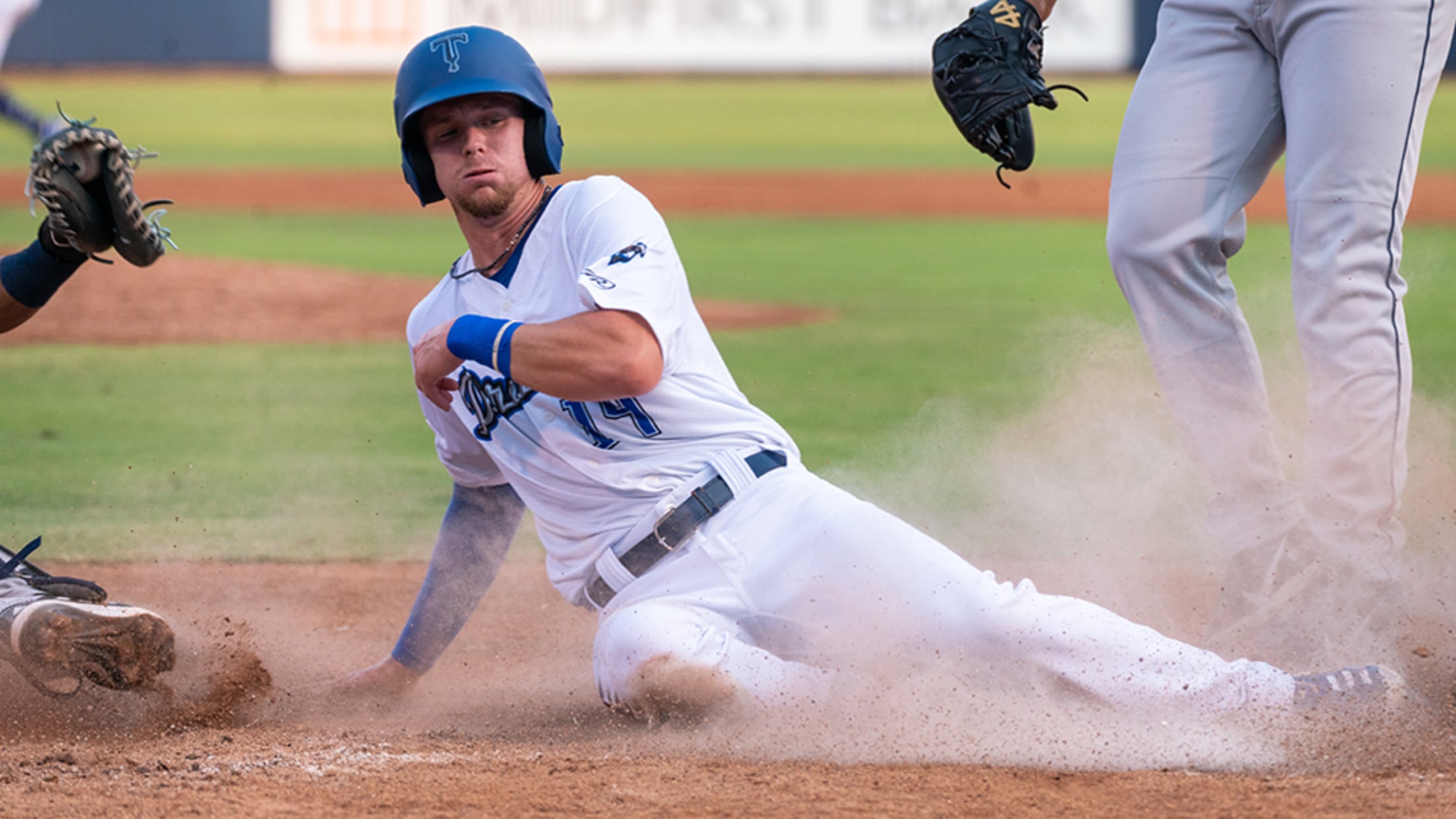 Devin Mann scored Tulsa's first run in Wednesday's victory on a wild pitch. (Rich Crimi)
TULSA - The Tulsa Drillers took advantage of two costly miscues from the Northwest Arkansas Naturals to gain a victory Wednesday night. A wild pitch in the second inning and an errant pickoff throw in the seventh gave the Drillers a pair of runs and helped them to a 3-2
TULSA - The Tulsa Drillers took advantage of two costly miscues from the Northwest Arkansas Naturals to gain a victory Wednesday night. A wild pitch in the second inning and an errant pickoff throw in the seventh gave the Drillers a pair of runs and helped them to a 3-2 win at ONEOK Field.
Tulsa starting pitcher Ryan Pepiot began the game by uncharacteristically giving up two runs in the first inning. Clay Dungan opened the game with a single to left. Two batters later, MJ Melendez hit his league-leading 20th home run of the season to stake the Naturals to an early 2-0 lead.
The Drillers gained one run back in the third. With two outs, Devin Mann drew a walk and advanced to third on a single from Hunter Feduccia. Mann crossed the plate when Angel Zerpa threw a wild pitch to the backstop, cutting the margin to one run.
From there, Pepiot had a strong performance, giving up just one hit and one walk after the first-inning home run. He struck out seven in 5.1 innings.
Naturals starting pitcher Zerpa also had a strong outing, going 6.0 innings and giving up just one run on four hits and two walks while striking out six.
Following Zerpa's departure, the Drillers put a rally together to take the lead in the seventh. Ryan Noda and Devin Mann started the inning with back-to-back walks off reliever Stephen Woods Jr.
A 6-3 double play got the Naturals to within one out of escaping the jam, but Romer Cuadrado walked to put runners at first and third. The Drillers then caught their second break when catcher Melendez tried to pick Cuadrado off first, but his throw sailed into right field, allowing Noda to come home with the tying run.
After the error, Clayton Daniel drove in Cuadrado with what proved to be the game-winning run with a single to right.
Relievers Andrew Schwaab and Mark Washington combined to keep the Naturals off the scoreboard over the final two innings and preserve the win.
THE HIGHLIGHTS
*The two runs that Pepiot surrendered were just the fifth and sixth that he has allowed in 35.1 innings (1.53 ERA) at ONEOK Field this season.
*Daniel continued his hot stretch going 2-2 with an RBI and a walk.
*Daniel and Miguel Vargas were both picked off first base by Zerba.
*Schwaab followed Pepiot to the mound and picked up his second win of the season with 2.1 scoreless innings.
*Washington recorded the final four outs to earn his third save of the year.
UP NEXT
NW Arkansas at Tulsa on Thursday, July 22 at 7:05 PM at ONEOK Field.
The pitching matchup will be NW Arkansas LHP Drew Parrish (2-2, 4.78 ERA) against Tulsa RHP Gus Varland (0-1, 3.12 ERA)