Drillers Win Pitching Duel with Arkansas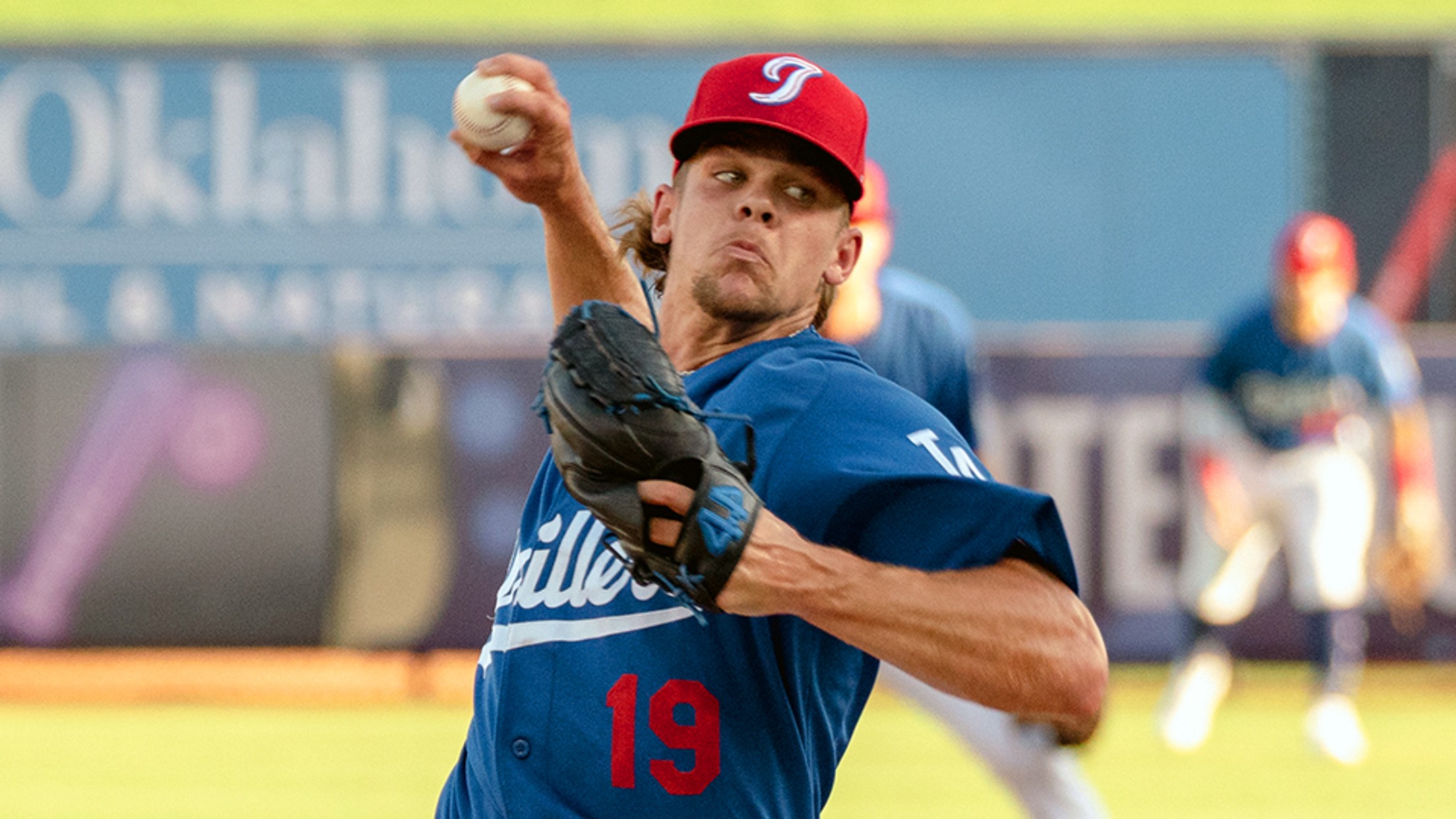 Gavin Stone received a no-decision on Tuesday despite allowing just one run in six innings. (Rich Crimi)
TULSA, OK – The Tulsa Drillers continued their nine-game homestand Tuesday night after a league-wide off day, as the Arkansas Travelers came to ONEOK Field to begin a six-game series. Pitching was dominant in the opener for both sides, but the Drillers broke through for runs in the sixth and
TULSA, OK – The Tulsa Drillers continued their nine-game homestand Tuesday night after a league-wide off day, as the Arkansas Travelers came to ONEOK Field to begin a six-game series. Pitching was dominant in the opener for both sides, but the Drillers broke through for runs in the sixth and seventh innings to take a narrow 2-1 win.
Gavin Stone made another impressive start on the mound for the Drillers. The Arkansas native began the game with six strong innings, allowing just three hits and one run while recording six strikeouts.
The same can be said about Arkansas' starting pitcher Levi Stoudt, who also tossed six innings, giving up one run on five hits with five strikeouts.
The Travelers only run in the game came in the sixth inning after a leadoff single from Zach DeLoach. After Jack Larsen walked, a force out at second base left runners at first and third. DeLoach scored on another force out as the Drillers came up short on an attempted double play, giving the Travelers a 1-0 lead.
The Drillers quickly responded with their first run in the bottom of the sixth. Jonny DeLuca led off the inning with a single. Following a fielder's choice with Ryan Ward replacing DeLuca at first, the Tulsa outfielder swiped second base to move into scoring position. Justin Yurchak then singled to right field to bring Ward home and tie the game at 1-1.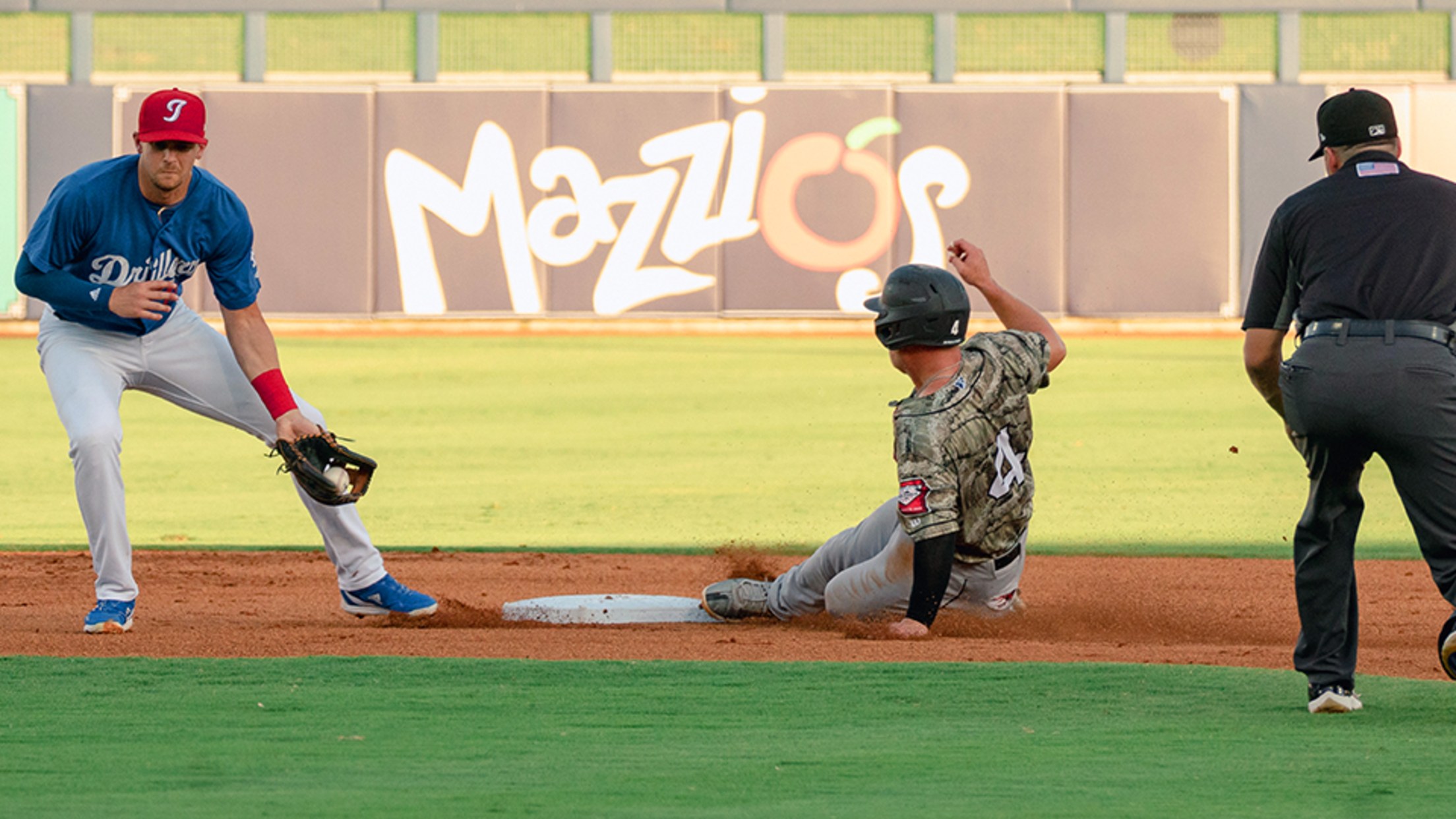 The Drillers took the lead in the seventh as the inning began with consecutive singles by Kody Hoese and Brandon Lewis that put Hoese at third. Devin Mann brought Hoese to the plate when he lined a double into the left field corner. Hoese was originally called out by home plate umpire Isaias Barba, but Travs catcher Jake Anchia failed to hold onto the ball.
With Tulsa leading 2-1, Ward helped secure the win with a crucial play in the top of the ninth inning. After Cade Marlowe's double, Kaden Polcovich singled to left field, but Ward threw out Marlowe at the plate as he tried to score from second base, preserving the one-run lead. Riley Unroe grounded out on the next pitch to end the game.
HIGHLIGHTS AND HAPPENINGS:
*Stone began the night with the lowest ERA among qualified, full-season minor league pitchers at 1.53, and he remained on top, finishing where he started with a 1.53 ERA.
*Jordan Leasure and Nick Robertson each threw scoreless innings of relief in the game. Leasure was credited with his first Double-A win.
*Guillermo Zuniga earned his 10th save of the season by pitching the scoreless ninth inning. Zuniga is third for the most saves in Double-A.
*Temperature at first pitch was a season-high 102 degrees.
*Yurchak continued to swing a hot bat, earning two hits on the night to raise his batting average to .400 during the month of July.
UP NEXT: The Drillers and Travelers will play game two of their six-game series on Wednesday night at ONEOK Field. Starting time is scheduled for 7:05 p.m. and the starting pitchers are scheduled to be:
Arkansas – RHP Bryce Miller (0-0, 0.00 ERA) (Double-A debut)
Tulsa – LHP John Rooney (4-3, 4.67 ERA)