Clay Williams recognized with Dale Ford Umpire of the Year Award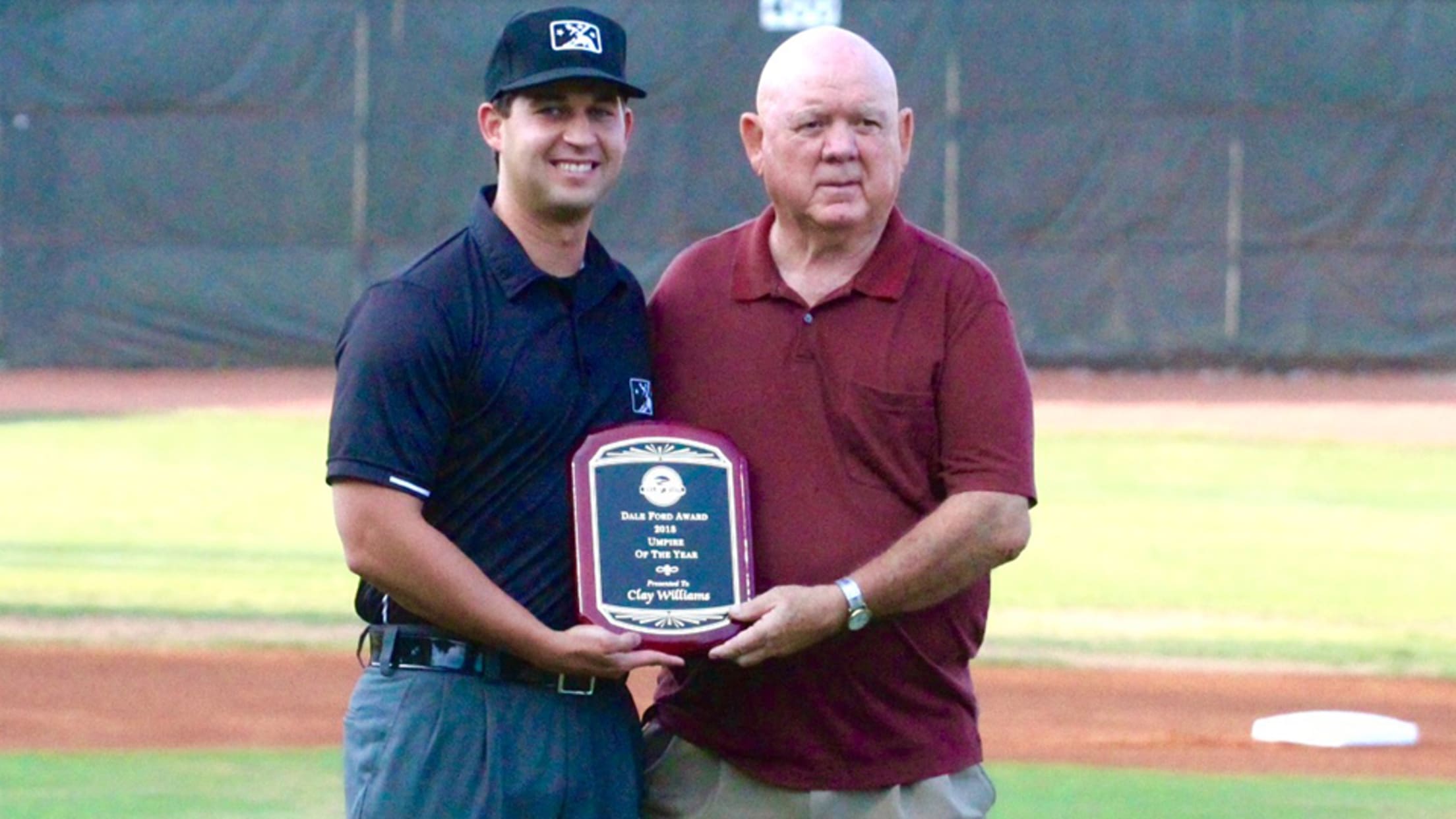 REDINGTON SHORES, Fla. - Appalachian League President Lee Landers today announced Clay Williams as the recipient of the 2018 Dale Ford Umpire of the Year award. Williams is in his second year as a professional umpire and earned the recognition after being rated at or near the top in all
REDINGTON SHORES, Fla. - Appalachian League President Lee Landers today announced Clay Williams as the recipient of the 2018 Dale Ford Umpire of the Year award. Williams is in his second year as a professional umpire and earned the recognition after being rated at or near the top in all categories of a recent Appalachian League manager's umpire survey.
"It was a great honor to be named in the same breath as Dale Ford," said Williams. "He's truly one of the legends of this profession. Although umpires don't seek out awards, it's an affirmation of all the hard work we put in throughout the season. I would like to thank the Appalachian League President Lee Landers, Dale Ford, and Minor League Baseball Umpire Development for choosing me for this award."
The Dale Ford Umpire of the Year award is named after the former major league umpire, who started his umpiring career in the Appalachian League before a 27-year run as a major league umpire. While working in Major League Baseball, Ford umpired in two World Series, three All-Star Games, and numerous playoff and league championship games. Ford also served as a Division I college basketball official in the offseason. After his retirement from MLB, Ford served three terms in the Tennessee House of Representatives where he was instrumental in bringing several water and road projects back to his district, all while helping numerous individuals with social security, insurance and disability needs. He resides with his wife, Joyce (Couch) Ford, in Jonesborough, Tenn. and continues to officiate Appalachian Games when needed.
The Appalachian League is one of two leagues in Minor League Baseball to have an umpire of the year award, instituted in 2015.
The Appalachian League is a Rookie (Advance) league in Minor League Baseball that consists of 10 teams across North Carolina, Tennessee, Virginia, and West Virginia. The league was established in 1911, and the modern Appalachian League began play in 1957. For more information about the Appalachian League, please visit appyleague.com or follow the league on Twitter (@AppyLeague).