Farm System Storylines: August/September Edition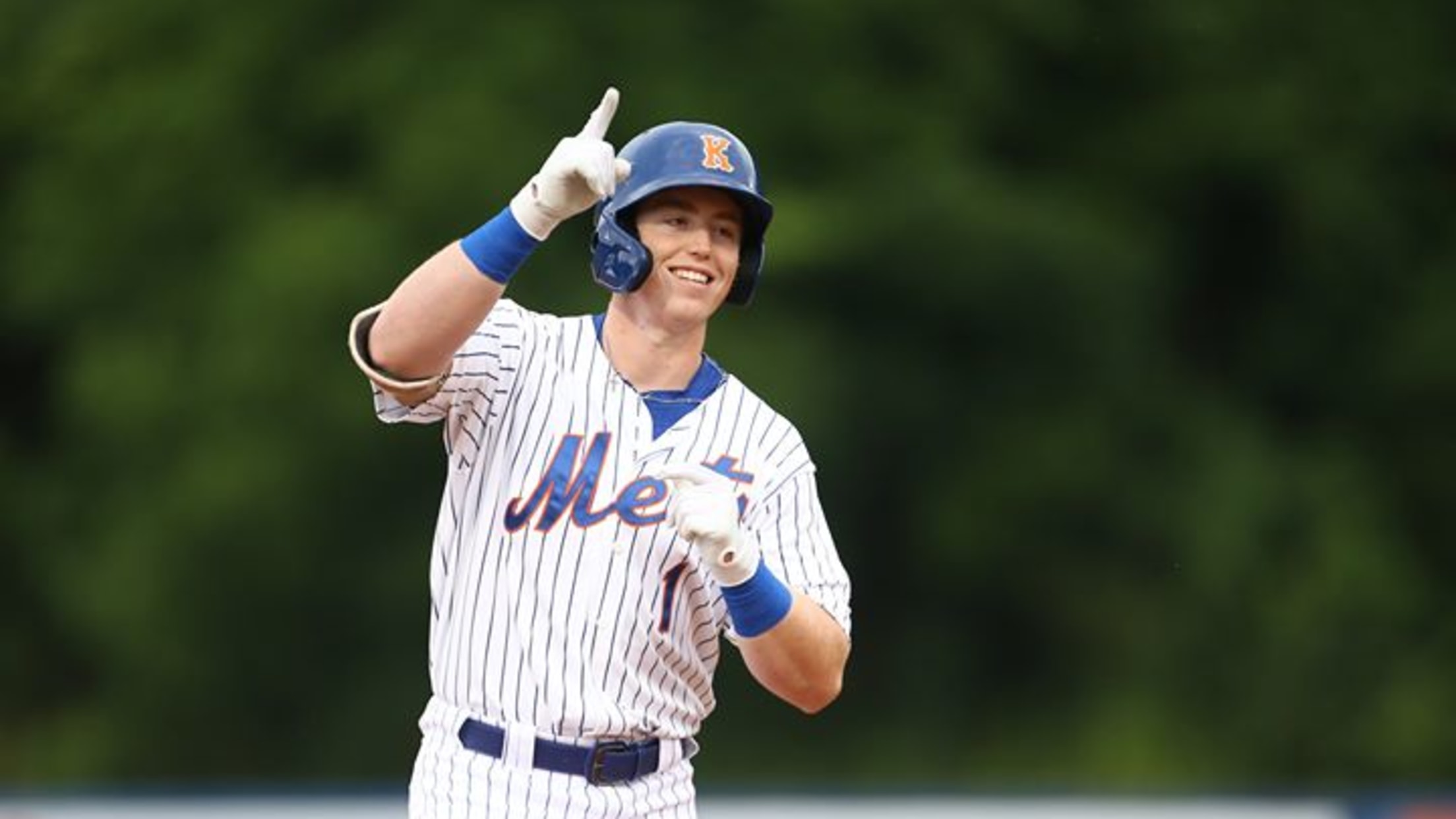 (Allen Greene)
Around the start of each month, MiLB.com staff breaks down the state of all 30 organizations with updates on their top prospects, Minor League affiliates and more in a feature called "Farm system storylines." We focus here on storylines for Appalachian League organizations and alumni. This is the final entry
Around the start of each month, MiLB.com staff breaks down the state of all 30 organizations with updates on their top prospects, Minor League affiliates and more in a feature called "Farm system storylines." We focus here on storylines for Appalachian League organizations and alumni. This is the final entry in the series for the 2019 season.
New York Mets
There's a lot of hype around any first-round pick, and Brett Baty (Kingsport 2019) picked up a little bit of steam when the Mets moved the 12th overall selection off the complex and to Rookie Advanced Kingsport after only four games in the Gulf Coast League. However, the left-handed slugger got off to a slow start, hitting .172 as late as Aug. 15. Since that date, however, he found his footing, hitting .327/.470/.577 with eight extra-base hits and 13 walks over his final 14 games with the K-Mets. That, along with the early end to the Appy League season, prompted a move to Class A Short Season Brooklyn just in time for the New York-Penn League playoffs. There will be time to see how aggressive the Mets get with the 19-year-old going forward -- and much will depend on how MLB.com's No. 81 overall prospect can carry his above-average hit and power tools against upper-level pitching -- but his abilities to make adjustments and handle new levels this season is a promising start.
Minnesota Twins
Top Twins pitching prospect Brusdar Graterol (Elizabethton 2017) opened August on a rehab assignment in the Gulf Coast League. He is now in the Majors. A lot happened in between. The short version is that he returned from his shoulder injury and was placed in the bullpen at Double-A Pensacola before moving up to Triple-A Rochester on Aug. 19 in the same role. The 21-year-old right-hander is capable of touching triple digits even as a starter and has had no issue showing the plus velocity as a reliever either. That helped ease the transition as he only gave up three earned runs and struck out 11 over 10 1/3 innings in August between Double-A and Triple-A. Seeing enough from that, Twins brass brought up Graterol, who also possesses a plus slider, on the first day of September hoping he can help the big club's bullpen at a time when it's trying to hold off Cleveland in the AL Central. His first pitch in his Major League debut last Sunday: 99.6 mph.
Tampa Bay Rays
Josh Lowe (Princeton 2016), a first-rounder in 2016 out of a Georgia high school, may have looked like he was in danger of being the forgotten Lowe brother coming into 2019, but the Rays' No. 12 prospect caught fire down the stretch, hitting .323/.388/.591 with five homers and eight stolen bases over his final 25 games with Double-A Montgomery. His 18 homers on the season were a career high by far -- beating his eight from Class A Bowling Green in 2017 -- and the same is true of his 30 stolen bases. The left-handed-hitting center fielder credited his offensive improvements with a change in approach that kept him from expanding the strike zone, and the stronger bat can be added to his plus glove, arm and speed on his scouting report. It's a lot easier to see Lowe playing alongside brother Nate sometime soon at Tropicana Field than it was a few months ago.
Houston Astros
Top prospect Kyle Tucker (Greeneville Astros 2015) rebounded from a down July to post numbers more in line with his career marks. The 22-year-old produced a .293/.387/.566 slash line to go with a .942 OPS in August. Over 27 games he mashed seven homers, five doubles, drove in 21 runs and scored 22 times. He also joined an elite group on Aug. 24 when he swiped his 30th bag of the season with Round Rock and became the fifth player in the history of the PCL to join the 30 homer/30 stolen bases club. His 30 swipes paced the circuit while his 34 dingers rank fifth. The left-handed slugger joined the Astros for the first time in 2019 on Monday as part of September roster expansion and clubbed his first MLB homer Thursday night.