Twins Players Visit Niswonger Children's Hospital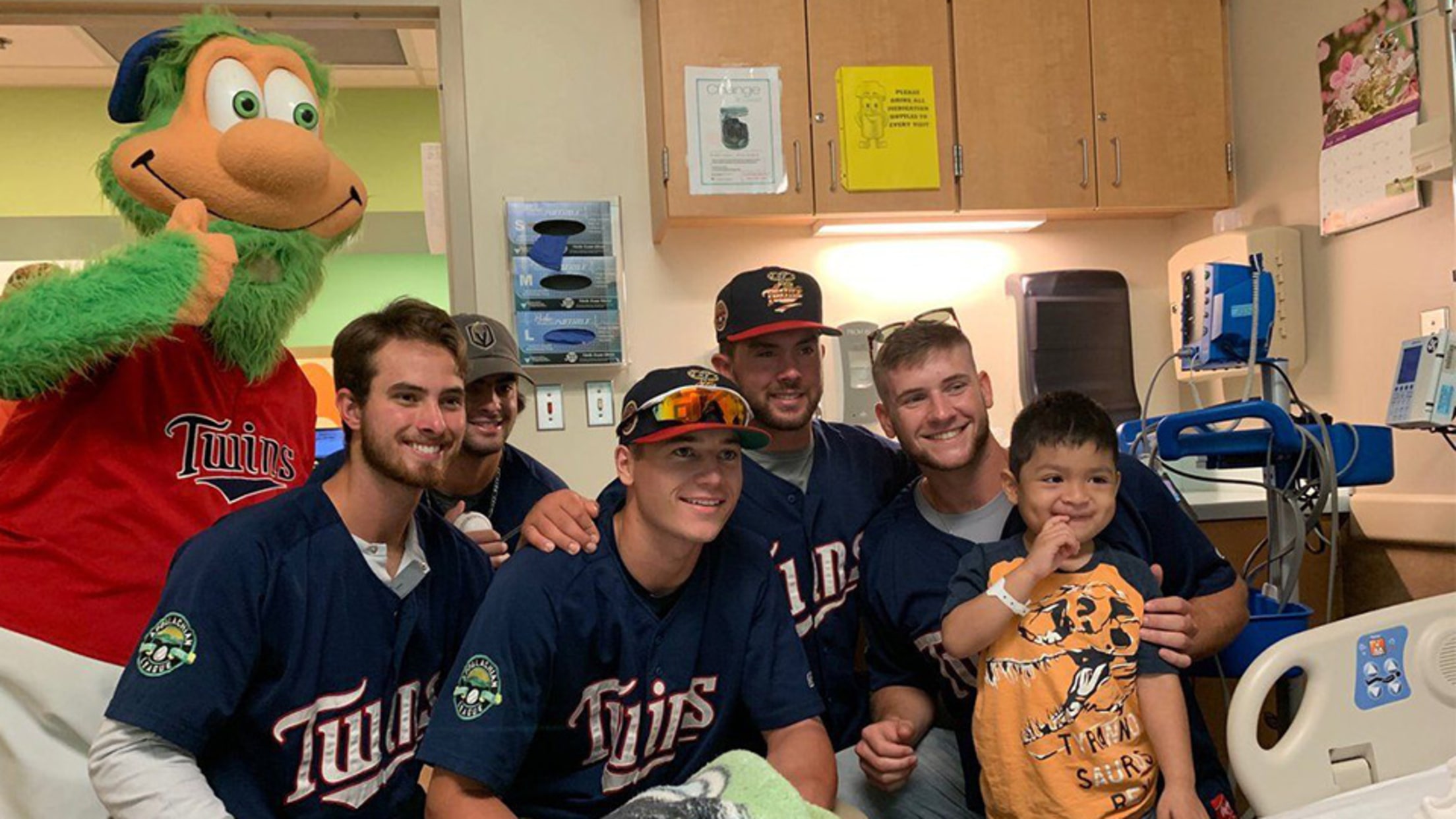 Elizabethton, Tennessee - On Tuesday, July 16, the Elizabethton Twins played a game against the Johnson City Cardinals, but the day consisted of much more than that. Five Twins players began their morning at the Niswonger Children's Hospital in Johnson City, Tennessee. Tyler Benninghoff, Denny Bentley, Sawyer Gipson-Long, Seth Gray
Elizabethton, Tennessee - On Tuesday, July 16, the Elizabethton Twins played a game against the Johnson City Cardinals, but the day consisted of much more than that. Five Twins players began their morning at the Niswonger Children's Hospital in Johnson City, Tennessee. Tyler Benninghoff, Denny Bentley, Sawyer Gipson-Long, Seth Gray and Charles Mack spent their Tuesday morning visiting with some of the children in the hospital, sharing laughs, stories and creating memories that the children will cherish for the rest of their lives.
"It was a chance to give back to the community and I felt like it was my responsibility to give back and spend time with the kids," Gray said. The infielder, a 2019 fourth-round draft pick out of Wright State University, has been making quite an impact for the Elizabethton Twins this season. Entering Wednesday, Gray was batting .250, tied for the most home runs among active players in Elizabethton (4), led active players in RBI's (14) and tied for the team lead in stolen bases (3). Gray has presented his humbleness both on and off the field and his desire to give to the community is a prime example.
"Every time we walked into a room and the kids face would light up it was an awesome feeling, just for us to go in and make a fraction of their day a little bit better was special," Gray said. The five players visited three floors of the hospital and were greeted with excited children and their families as they entered each of the hospital rooms. All five Twins were invested in creating enjoyable moments for the kids who are experiencing complications in life that they cannot control.
"If I go 0-5 with three strikeouts, I might think I have the worst day in the world, but after going to the hospital, it puts things in perspective," Gray said. "We met one child who is going through his third year of chemotherapy and he is five. He was full of energy and had a huge smile on his face when we were with him, and because of him and the other kids, I was able to take a lot away from it."
Baseball has been able to open many doors for these players and create life experiences that they will be able to cherish forever. Getting to visit with the children and their families is an opportunity provided by baseball that not only these players get to hold on to forever, but the children get to as well. Sawyer Gipson-Long, the Minnesota Twins' sixth-round draft pick in 2019 has only been with the team for a week and did not hesitate to jump at the opportunity to give back to the community.
"Through baseball I have been able to volunteer at many different places," Gipson-Long said. "Getting to go to the children hospitals is something that I enjoyed doing and seeing the smiles on the children's faces really made my day better."
The five players, and the rest of the Elizabethton Twins organization, intend to continue creating positive impacts among the community, and use baseball as more than just a game, but as an opportunity to create memories that will last a lifetime.