Barons Walk-Off On Smokies Miscue
Thompson scores from second on error by Smokies second baseman Jonathan Mota in the ninth inning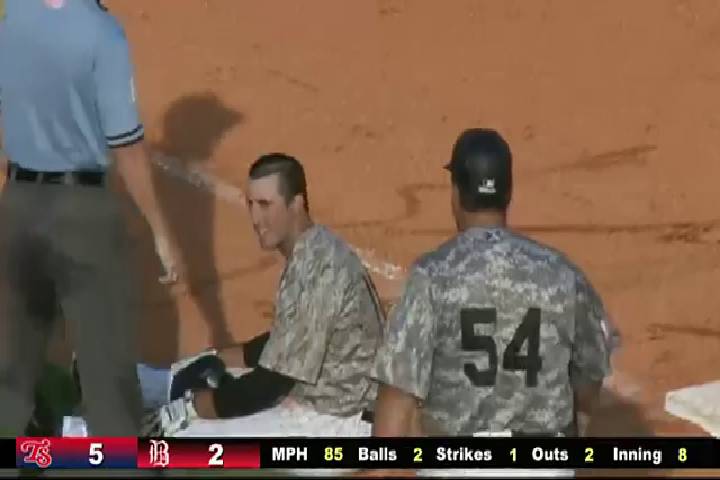 By Birmingham Barons | July 27, 2014 8:02 PM ET
Trayce Thompson scored from second base on a fielding error by Smokies second baseman Jonathan Mota in the ninth inning Sunday giving the Barons a 6-5 win in front of 4,442 fans at Regions Field.
Trayce Thompson started the rally with a two-out single and worked his way into scoring position with a steal of second base. Christian Marrero then sent a slow roller to second base that Mote charged but bobbled as Thompson continued around third and scored without a throw, setting off a mob scene behind first base.
Early on, Kevan Smith broke a scoreless tie in the fourth inning with an opposite field home run against Smokies starter Corey Black. It was hit eighth long ball of the season and gave the Barons a 1-0 lead.
The lead would be short lived as Jae-Hoon Ha tied the game an inning later on a solo shot of his own against Barons starter Mike Recchia. The Smokies would take a 4-1 lead an inning later scoring twice on a Christian Villanueva RBI single, which knocked Recchia from the game. They tacked on another against reliever Kevin Vance on an RBI triple by Jonathan Mota.
The Barons would rally in the eighth against reliever Lendy Castillo, loading the bases with no out and scoring a run on a walk to Chris Curley, which cut the Smokies lead to 5-2. After a pop out by Jeremy Farrell, Michael Earley tied the game at 5-5 with a bases-clearing double into the left field corner setting the stage for the ninth inning walk-off.
Trayce Thompson and Rangel Ravelo led the Barons offense with two hits apiece on the day while Earley led the squad with three RBI.
With the win, the Barons improved to 19-17 in the second half and 48-58 on the year while pulling ahead of the Smokies by half a game in the North Division standings. The Barons will look to make it two in a row tomorrow night as RHP Angel Sanchez (1-10, 6.56) takes the hill against RHP Eduardo Figueroa (1-1, 4.06). First pitch is scheduled for 7:05 PM CDT.
This story was not subject to the approval of the National Association of Professional Baseball Leagues or its clubs.
View More