Fans No Longer Required To Wear Masks Effective May 28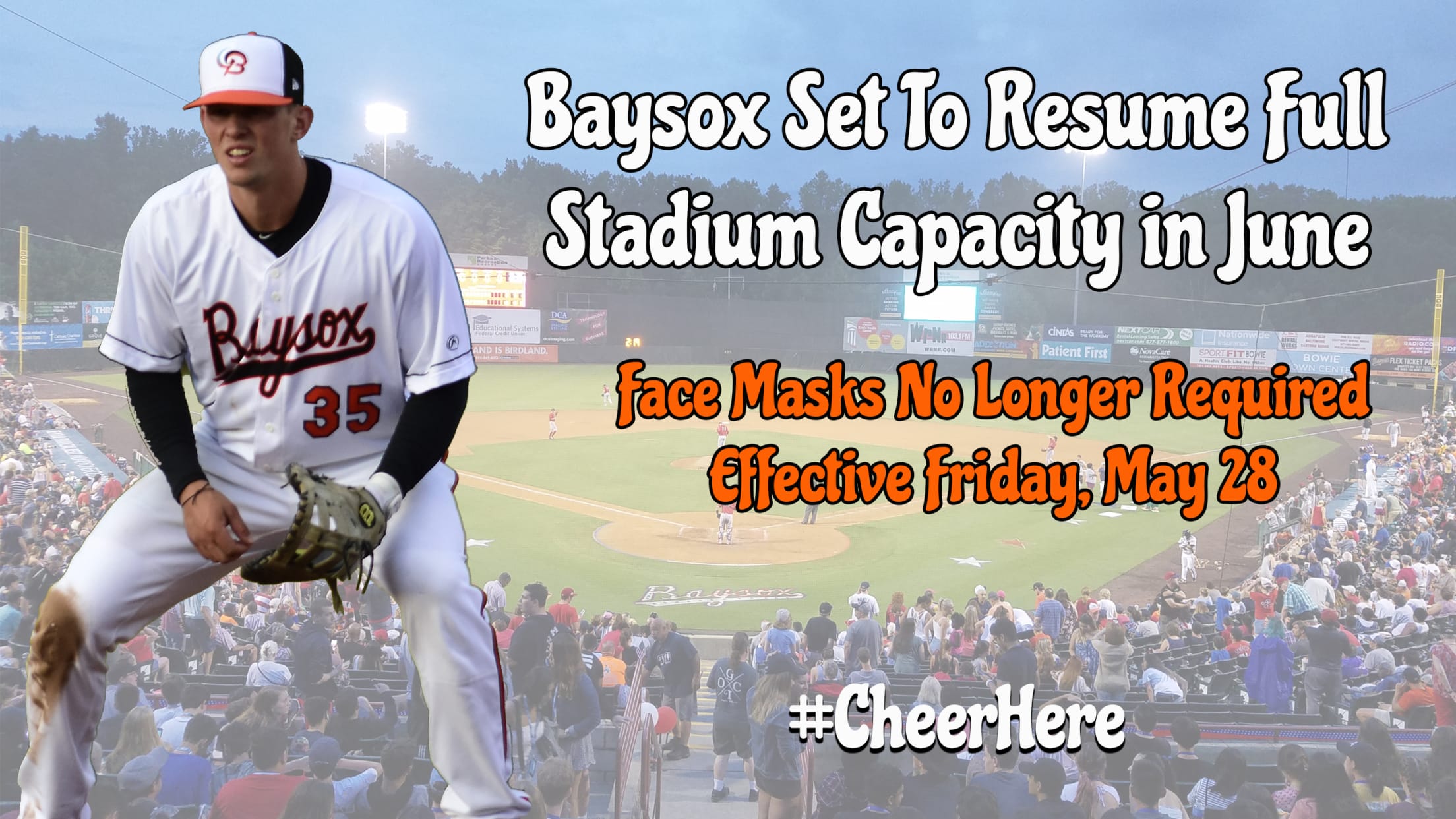 In accordance with the update provided by Prince George's County Executive Angela Alsobrooks on Wednesday, May 26, Prince George's Stadium will be mask-free beginning with the team's home game on Friday, May 28 against the Harrisburg Senators. Fans will not be required to wear masks to enter the stadium, nor
In accordance with the update provided by Prince George's County Executive Angela Alsobrooks on Wednesday, May 26, Prince George's Stadium will be mask-free beginning with the team's home game on Friday, May 28 against the Harrisburg Senators.
Fans will not be required to wear masks to enter the stadium, nor will fans be required to wear masks within the stadium. Fans that choose to continue to wear a mask to Baysox games and stadium events are welcome to do so. All stadium guests shall respect each fan's personal choice to either wear or not wear a mask or face covering.
The Baysox will continue to have a limited number of socially distanced seating sections in the ballpark for Baysox home games this season. Those seats can be purchased by calling the Baysox Ticket Office at 301.464.4865 and ordering them by phone. These seats are not available for purchase online.
As previously announced, beginning in June, the Bowie Baysox will also return to full capacity seating operations for all Prince George's Stadium events. Socially distanced seating sections will remain for home games and stadium events during the remainder of May.
Due to the increase to full capacity inside Prince George's Stadium, single game tickets for games in June are currently unavailable as we work to redesign our seating bowl, return ticket plan holders to their original seats and open up available seating. We expect this process to be completed by early next week (the week of May 31).
Single Game Tickets for the current Baysox home stand against the Harrisburg Senators (Double-A Affiliate of the Washington Nationals) scheduled for May 25 - 30 are available for purchase at Baysox.com or by calling 301.464.4865.
Single game tickets will still be available to purchase on a homestand-by-homestand basis during the remainder of the 2021 season, with up to 12 games being available for purchase at any time. Once one homestand ends on a Sunday, single-game tickets will open up for purchase for the next available homestand beginning the following Monday at 10:00 am.
For example, following the completion of the homestand on Sunday, June 20, tickets for the homestand that is scheduled to run Tuesday, July 6 through Sunday, July 11 will become available to purchase beginning Monday, June 21 at 10 am.
The 2021 Bowie Baysox season is presented by Money One Federal Credit Union.
Tickets for Bowie Baysox games and Prince George's Stadium events can be purchased at Baysox.com or by calling 301.464.4865 between 10 am and 5 pm, Monday through Friday. Fans with any questions are urged to e-mail the Baysox at [email protected] or call 301.805.6000.