Winds of Change
In the midst of life's storms are when humans rise up and grow.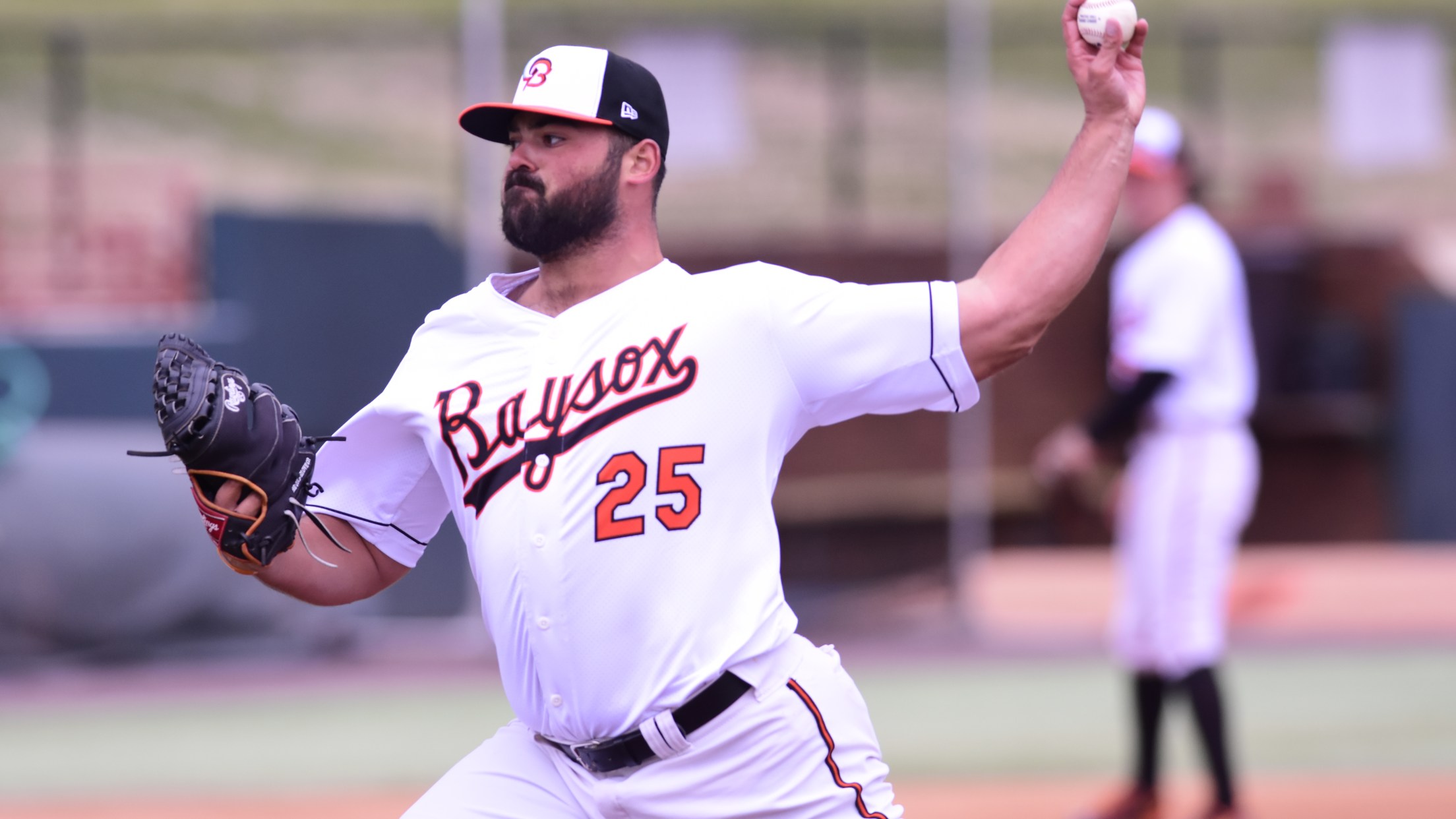 (Bill Vaughan)
In August of 1992, Hurricane Andrew struck the Florida coast, marking the deadliest storm of its kind until Irma touched down this decade. The hurricane impacted parts of Dade, Broward and the surrounding counties of southeast Florida. As a result, areas such as the city of Miramar saw an uptick
In August of 1992, Hurricane Andrew struck the Florida coast, marking the deadliest storm of its kind until Irma touched down this decade.
The hurricane impacted parts of Dade, Broward and the surrounding counties of southeast Florida. As a result, areas such as the city of Miramar saw an uptick in families moving and establishing communities away from the coast and closer to the Everglades.
One of these families was the Gonzalez clan, including their son: Baysox LHP Brian.
"When my parents and I moved to Miramar, it was a new community," said Gonzalez. "It seemed like my parents' generation moved out there and had kids, and all the kids grew up together. I had a lot of friends and a lot of kids in the neighborhood the same age as me."
For mom and dad, their new home also provided a bit more space and room to expand.
"My parents were looking for a new opportunity," said Gonzalez. "That was an area they liked and where they could raise kids. It's a big family. There are a lot of us and it's really fun."
The fun expands outside the walls of the house. A city of roughly 125,000, Miramar slides in like a Tetris piece on the giant Miami metropolitan area map, tucked away between Interstate 95 and the eastern edge of Everglades National Park.
Within a booming punt's distance from the Miami Dolphins' Hard Rock Stadium sits a community with ties that run deep. It may be suburban in nature, but it's got character. Just swing by the local softball field.
There, you'd find a 4-year-old Brian who's excited to start baseball.
"My dad played fast-pitch softball, so I would go with him to the field," said Gonzalez. "I was around the sport a lot and loved to watch it, so he put a bat in my hand and said 'go see if you like this.' I ended up loving it and it stuck with me until now."
When Brian wasn't playing, he'd be up early to watch one of his favorite players: dad.
"If you asked him, he would say he was the best player on the field," said Gonzalez. "My dad's a big dude. He had a strong arm (with) a big power bat and was quite the athlete on the field. A lot of guys looked up to him. It was cool to know that your dad was one of the best on the team.
"For us, it was every Sunday morning. My dad would wake me up at 5:30 or 6 a.m. I would get up and go with him. There was a big competitive scene there. Guys take it very seriously and there'd be fans-their wives and their kids. There are words exchanged between teams if a play doesn't go their way, (but) they would come together after the game and have barbeques. It was a big atmosphere."
Brian met a lot of people at the field over the years, many of whom would turn out to be his teammates as he got older. Despite playing both baseball and basketball as a kid, the lefty eventually decided to stay on the mound.
Good thing he really enjoys the sport.
"I enjoy the competition," said Gonzalez. "It's a team sport, but it's almost a 1-v-1 in terms of pitcher vs. batter. Pitch by pitch, I enjoy competing with that guy in the batter's box. That's what drives me. Obviously, I love the team aspect within baseball--the vibe of being with the guys and joking around with them. It can be a fun sport because there's (both) a lot of downtime and a lot of time focusing."
High school ball was played just up the road from Miramar in Southwest Estates' Archbishop McCarthy High School. They're pretty good at baseball: they won four straight 6A State Championships from 2010-2013 and seven of eight overall with a win in the 2017 final. For those statisticians at home, that would qualify for the longest and second-longest championship streaks in Florida history.
"I was fortunate to grow up with a ton of talented baseball players, so we all went to the same high school," said Gonzalez. "It was an easy transition, even though I had grown close with a lot of friends in middle school who didn't play baseball. I spent so much time practicing baseball with the guys on the team that they remain some of my best friends."
The success with the Mavericks led to the third round of the 2014 MLB Draft
"Draft day was hectic," said Gonzalez. "I was on that bubble of being picked on the first day (and) my dad was a lot more stressed than I was. I didn't get picked the first day. I was okay with it, (but) obviously, I was bummed. I sat in bed that night and didn't get much sleep.
"My parents had to work the next day, so I was home alone in the middle of the summer on the couch. I was going through Twitter and seeing all the picks. I got a text from my Winter ball coach saying 'Congrats!' A minute later, I reloaded Twitter and saw my name come up. I called my dad, told him the news and he freaked out. He rushed home. It was a big moment for us (as) we were both crying."
A simple tweet suddenly had a life-altering impact on the teenager. It just needed to hit home, first.
"The Orioles never called me before they picked me, so I had no clue. I guess the shock was still in me. I was like 'man, that really happened.' Then, my phone was blowing up, getting texts and calls from everyone and I couldn't answer all of them. I was in awe. I didn't really believe it.
"The Orioles came over and I signed the paper, put the hat on and took some pictures…I still couldn't believe it. I woke up the next day and had a flight to Baltimore and I think when I got to Baltimore, saw everyone and signed the contract is when it started to sink in."
Right away, Gonzalez was a professional baseball player. Eight starts in the Gulf Coast League led to a pair of starts with Class-A Short Season Aberdeen to wrap up 2014. 2015 brought a change of scenery-Class-A Delmarva-and also a change in the statistics.
"(2015) was arguably my worst career year, dealing with mechanical and pitching stuff," said Gonzalez. "That year was real tough on me, especially being 19 years old. From that year on, the more experience I had, then the better I was with failure. That's what it comes down to. It doesn't mean that I'm okay with it, but I understand that failure is part of this game.
"I'm going to fail and I'm probably going to fail again. (It's about) how you deal with it off the field, how you are with your teammates when you are failing, and how you get back on track. In the past, it would take a little bit to adjust when I failed, causing a snowball effect and then I have to work myself out of a hole."
Six years as a professional has allowed the left-hander to mature on and off the diamond. What started as seeds of sacrifice, hard work and determination on fields in Broward County have turned, and are continuing to turn, into growth of a potential big leaguer.
"The most important part is the mental side of the game," said Gonzalez. "I realized what I had to do and what I felt. If you are just bummed about a bad outing, then you're never going to get out of it. I just told myself to keep going forward and move onto the next one. That's the best thing I could have done for myself and that's part of maturing as a baseball player."