Lipka and Perez Power Woodies to Win
The duo combined for six of the seven RBIs in the contest in front of 9,007 fans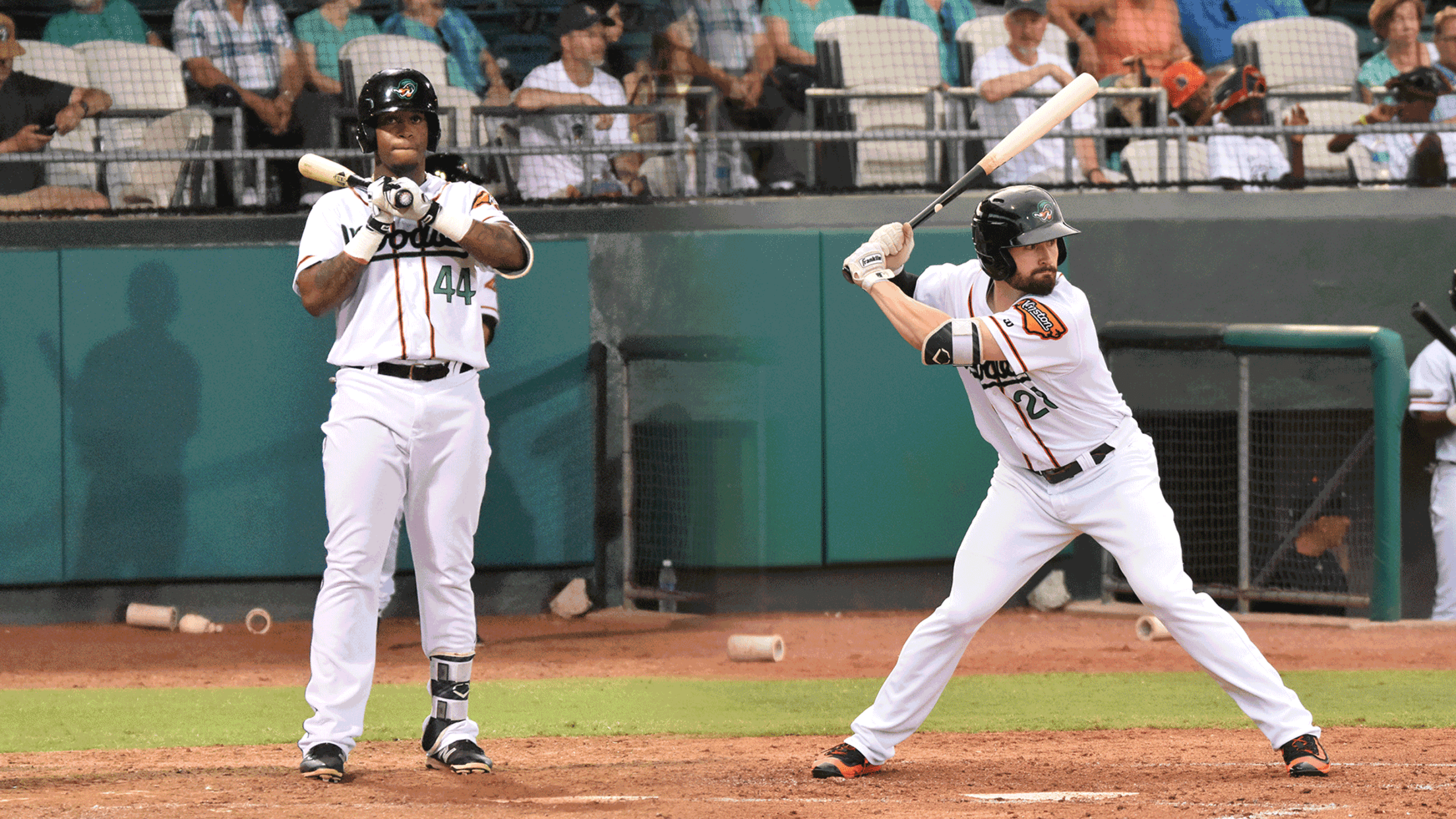 WINSTON-SALEM, NC - A power surge from Matt Lipka and Yanio Perez launched the Wood Ducks (7-5, 31-50) ahead to hang on to a 7-6 victory over the Dash (5-8, 29-54) on Tuesday night.Both had three-RBI nights to supply the majority of the offense. Perez had his second career two-homer
WINSTON-SALEM, NC - A power surge from Matt Lipka and Yanio Perez launched the Wood Ducks (7-5, 31-50) ahead to hang on to a 7-6 victory over the Dash (5-8, 29-54) on Tuesday night.
Both had three-RBI nights to supply the majority of the offense. Perez had his second career two-homer game with both homers counting as his first with Down East.
Lipka's two-run homer was his second in as many games and gave the Woodies a 2-1 lead in the third inning. Two batters later, Perez launched his first in a Wood Ducks uniform to extend the lead to 3-1.
Emerson Martinez's start never got off the ground while allowing a run in the first inning. Another came in the third on a Telvin Nash RBI single to return to a one-run lead.
In the fourth, the Woodies plated two more thanks to a productive out by Brallan Perez and Lipka's second double of the game - a shot to left-center. Martinez rewarded the offense with a 1-2-3 bottom half of the inning.
Perez returned to the plate in the fifth and connected on a moonshot over the berm in left field for his second home run of the game - a two-run blast. The Wood Ducks led 7-2 but it would cap their offense.
The Dash plated three runs off of Emerson Martinez in the fifth and Peter Fairbanks entered with the bases loaded and two outs. He left all three runners stranded on a fly out by Tyler Sullivan.
Drew Hasler's relief outing kept the Woodies' bats at bay, not allowing a hit over his four and two-thirds work. In the sixth, Zack Collins brought in another run to bring the Dash within one but they would not manage another.
After Fairbanks, Scott Williams worked the eighth and ninth innings and retired all six batters he faced, including a game-sealing strikeout of Luis Basabe.
The victory keeps a trailing pace with the Buies Creek Astros - who lead the second-half race by a game and a half. Game two of the series with the Dash comes at 7:00 p.m. on Wednesday night. Lefty Brett Martin (1-2, 3.38) will face right-hander Jimmy Lambert (1-1, 4.09) for the pitching matchup.
You can listen to every pitch of the 2017 season live on Sports/Talk 960 The Bull or streamed on the TuneIn Radio app.