Robertson's Unique Baseball Journey Includes Pit Stop at Comerica Park
Wood Ducks Reliever Threw Live Batting Practice for Rangers in 2019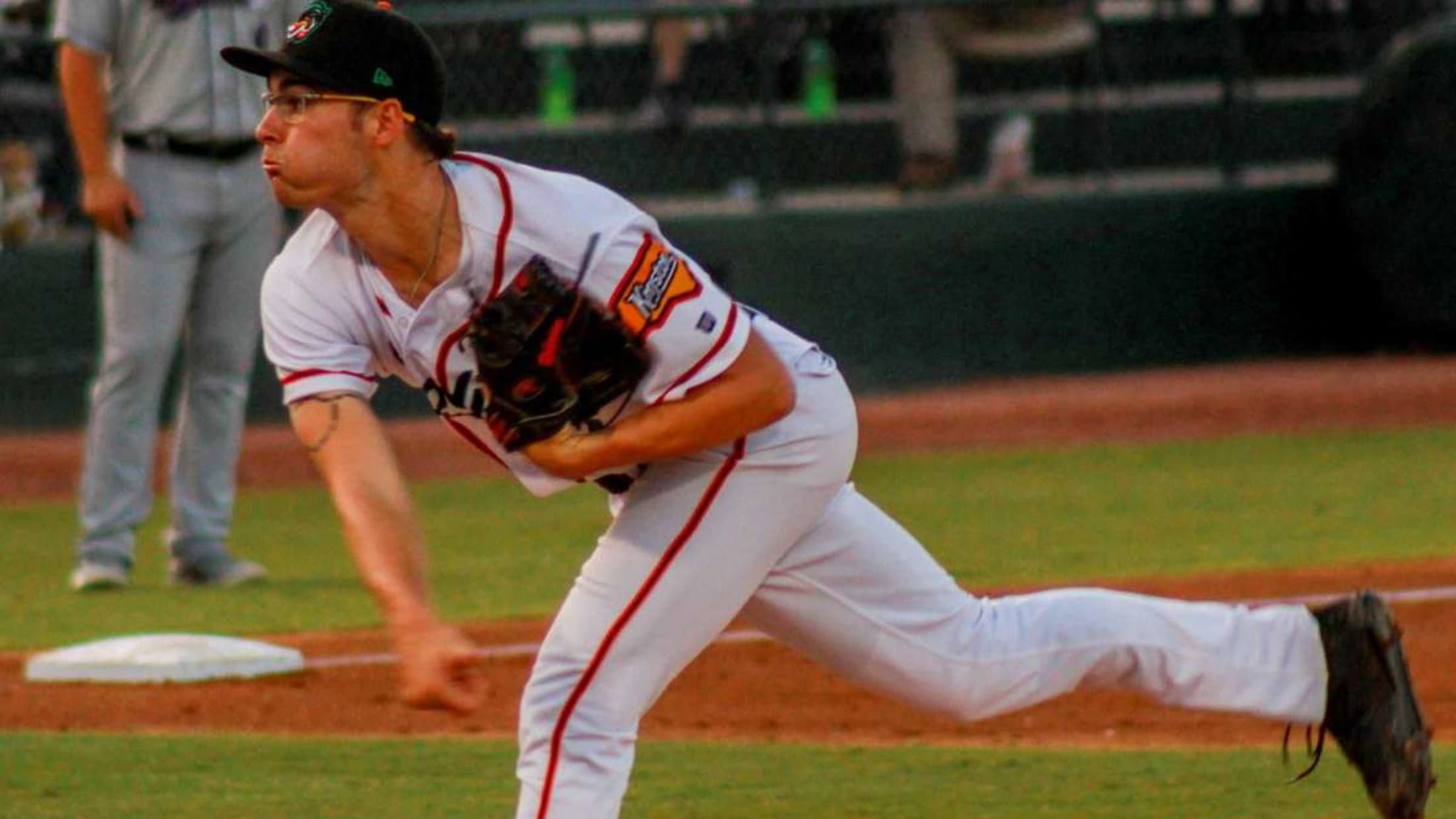 (Matthew Edwards/Down East Wood Ducks)
­Wes Robertson did not begin pitching until age 21. He had thrown just a handful of innings at the Division III level, followed by a brief summer league stint before being signed by the Texas Rangers, in 2017. Two years later he had worked his way up to the Advanced-A
­Wes Robertson did not begin pitching until age 21. He had thrown just a handful of innings at the Division III level, followed by a brief summer league stint before being signed by the Texas Rangers, in 2017. Two years later he had worked his way up to the Advanced-A level, and landed a unique opportunity to toe the rubber at Comerica Park, home of the Detroit Tigers.
This strange journey for Robertson began in his home state of Connecticut, where he earned all-conference and all-division honors at Cheshire High School as a catcher. Despite the accolades, Robertson didn't land any scholarship offers out of high school. However, playing professional baseball remained his goal. He decided to attend Washington College in Chestertown, Md., situated just ten miles off the eastern shore of the Chesapeake Bay. In 88 career games as a position player he batted .292, homered twice, and walked more than he struck out.
Midway through his junior season, Robertson suffered a knee injury, which forced him to hang up his catcher's gear. Robertson was still anxious to keep playing. He was the team's designated hitter a few games, and by the end of the season had convinced his coaches to give him a chance to pitch.
"I was just winging it," said Robertson in a pregame interview last May. "I was just lifting my leg and pretty much throwing it as hard as I could."
Robertson struck out six in 3.2 innings at the collegiate level. His mechanics were nothing to write home about, but his live arm was a different story. He signed on with the Seacoast Mavericks of the Futures League, hoping that a summer ball season would be a springboard for a strong senior season with the Shoremen.
The Mavericks are owned by Dave Hoyt, who was a scout for the St. Louis Cardinals and is well connected inside baseball circles. He saw Robertson's upper-90s fastball, and made it a point to try to get him to the next level. At least half a dozen scouts arrived at Robertson's next outing, which happened to be just two days before the MLB draft. Following the draft, he was offered a contract by the Rangers. In a matter of months, he had gone from an injured college catcher to a professional pitcher.
Considering the vast majority of his career was spent behind the plate, Robertson's rise through the Rangers system has been impressive. After posting a 1.53 ERA with Short-Season Spokane in 2018, Robertson began his 2019 campaign with the Hickory Crawdads, where his main focus was working with pitching coach Jose Jaimes on developing his slider. The righty continued to impress, and just one month into the season, he was elevated to the Wood Ducks roster.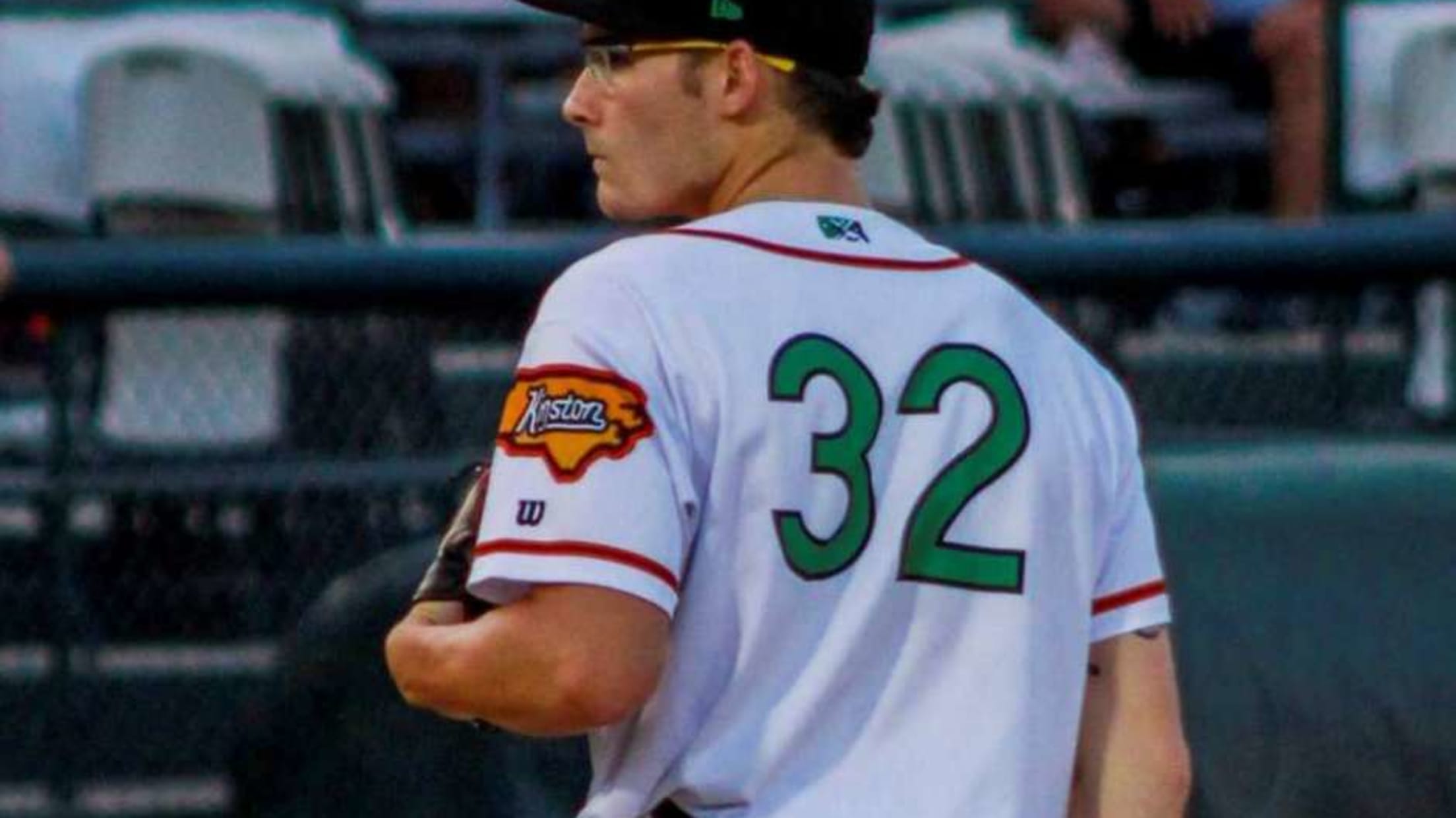 "He was rolling in Hickory, and he was doing everything that we could ask in a bullpen role," said Paul Kruger, Rangers Minor League Director of Operations. "The numbers were there, he showed that he was ready. He was extremely impressive."
Robertson tried not to consume himself with how quickly he's adapted to a new position, or how far he's come in his career. "I try not to think about it too much, just because I'm not where I ultimately want to be," he said. Referencing a quote from former Pirates Manager Clint Hurdle "be where your feet are."
Fast forward to June 25. Robertson's last outing against Potomac had been one of the worst in his professional career. He'd given up five earned runs over two innings, and had served up a pair of home runs. He hadn't pitched in over a week since. But this became another day in Robertson's career where timing proved to be everything. Kruger and Rangers Assistant General Manager Mike Daly were in Zebulon, N.C. for meetings, while the Wood Ducks visited the Carolina Mudcats. Following batting practice, they came to him with an offer.
The Rangers had a trio of big leaguers in Hunter Pence, Joey Gallo, and Isaiah Kiner-Falefa who were almost ready to come off the injured list and needed to see live pitching. They wanted Robertson to get some work in by throwing them live batting practice the following afternoon. Robertson gladly accepted, and at 6 a.m. the next morning, he was on a flight to Detroit, where Texas was playing the Tigers in a three-game series.
"It was very flattering," said Robertson. "It was no secret that after that Potomac outing, I was struggling with things, so to get that opportunity and that encouragement from the guys in the front office, that really meant a lot."
But it was more than just a coincidence as to why Robertson was selected. "We knew that he was going to throw strikes, he was going to be competitive, and we knew he was going to give guys a good look because he gets good velo behind it," said Kruger. "He was a guy who we felt had earned an opportunity to go help the big league club. It's an experience that you don't necessarily get every single day, and he relished that and did a really good job."
Robertson's flight landed in Detroit around 11 a.m. He was driven straight from the airport to the ballpark, beating the team there by about an hour. That gave him some time to sit down with Rangers Manager Chris Woodward, and bullpen coach Osacar Marin to go over the plan for live batting practice. It was his first time in a Major League clubhouse, and as surreal as it felt, seeing the locker of Peter Fairbanks, gave him the hint of familiarity he needed. Robertson and Fairbanks had become friends in Minor League camp. When Robertson had been promoted to Down East, it was to occupy the spot vacated by Fairbanks, who was promoted to Double-A Frisco. Just over month later, Fairbanks made his MLB debut.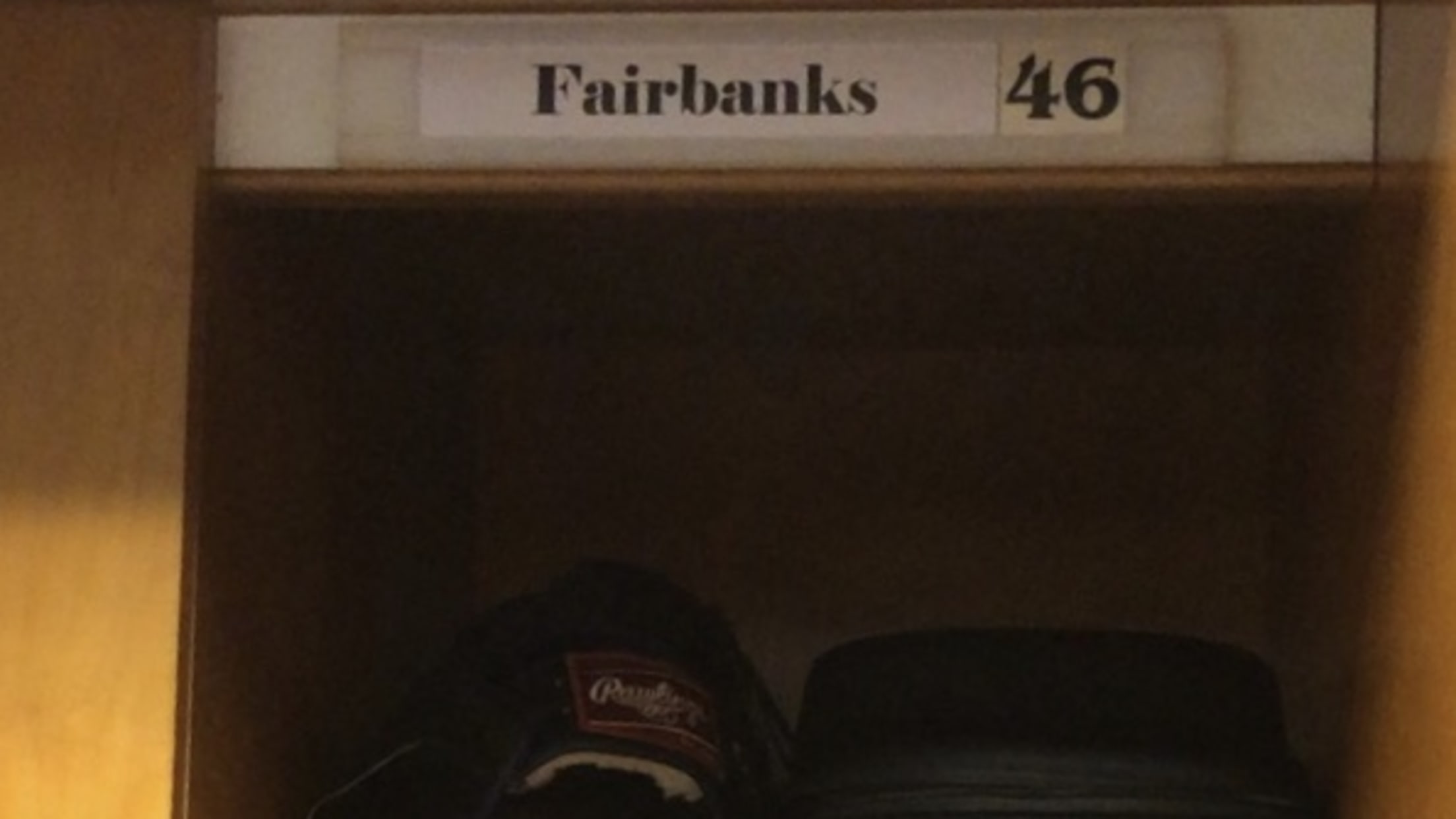 When batting practice rolled around, Robertson walked down the tunnel from the clubhouse, climbed the dugout steps, and stepped on a major league mound for the first time. He did his best to keep his calm, and zero in on his target. "It's crazy how big the park is. I'm assuming it would be a little bit more intimidating if it were filled to capacity…the mound was still 60-feet-6-inches away, there were just some pretty good hitters in the box trying to take me deep."
Robertson knew his role – throw strikes and give guys pitches to hit. While he was still trying to get outs, he wasn't trying to nibble at the corners or paint the black. He threw about 80 percent fastballs, and did his best to have competitive at-bats. Early on he got some weak contact – a groundout and a popup – he was competing. Then came the sequence he remembers the most:
"I started Hunter off with a fastball and he fouled it off, and I was like okay, then I threw him a slider and he did a little bit of a check swing, and I was like alright, I got him where I want him. Then the catcher put down fastball, and I shook him, and I'm like no, I'm going to try to go lower with the slider. I threw him another slider and I hung it, and he hit it and I was like oh man, that might get out, and by the time I turned around it wasn't just out, it was out by about 40 feet to left field."
One moonshot aside, Robertson held his own. "I didn't hit anyone," he joked "which was my first and only concern, that would have been pretty inexplicable." Afterwards he had a chance to sit down with Pence, who offered feedback on Robertson's performance. "Hunter Pence is probably the nicest guy I've ever met in professional baseball. He hammered one of my sliders and afterwards told me why he saw it coming and things that I was doing differently in my delivery."
The constructive criticism extended to Woodward as well. "He told me 'you have a big league fastball, but what else do you need to get to get you here, and how can you make it consistent?'"
Just as quickly as Robertson had boarded a flight and been shipped off to Detroit, he was heading back to the airport. He had a 7 p.m. flight to meet the Wood Ducks in Lynchburg. His afternoon on the big league bump was a success.
"It was definitely a special feeling. It was pretty surreal, but also at the same time there was an overwhelming feeling that this is what I'm supposed to do and this is where I'm supposed to be," said Robertson. "Now I need to find a way for this not to just be a day trip of me coming here to throw BP. I want to come here and I want to stay here. So, honestly, it was added motivation."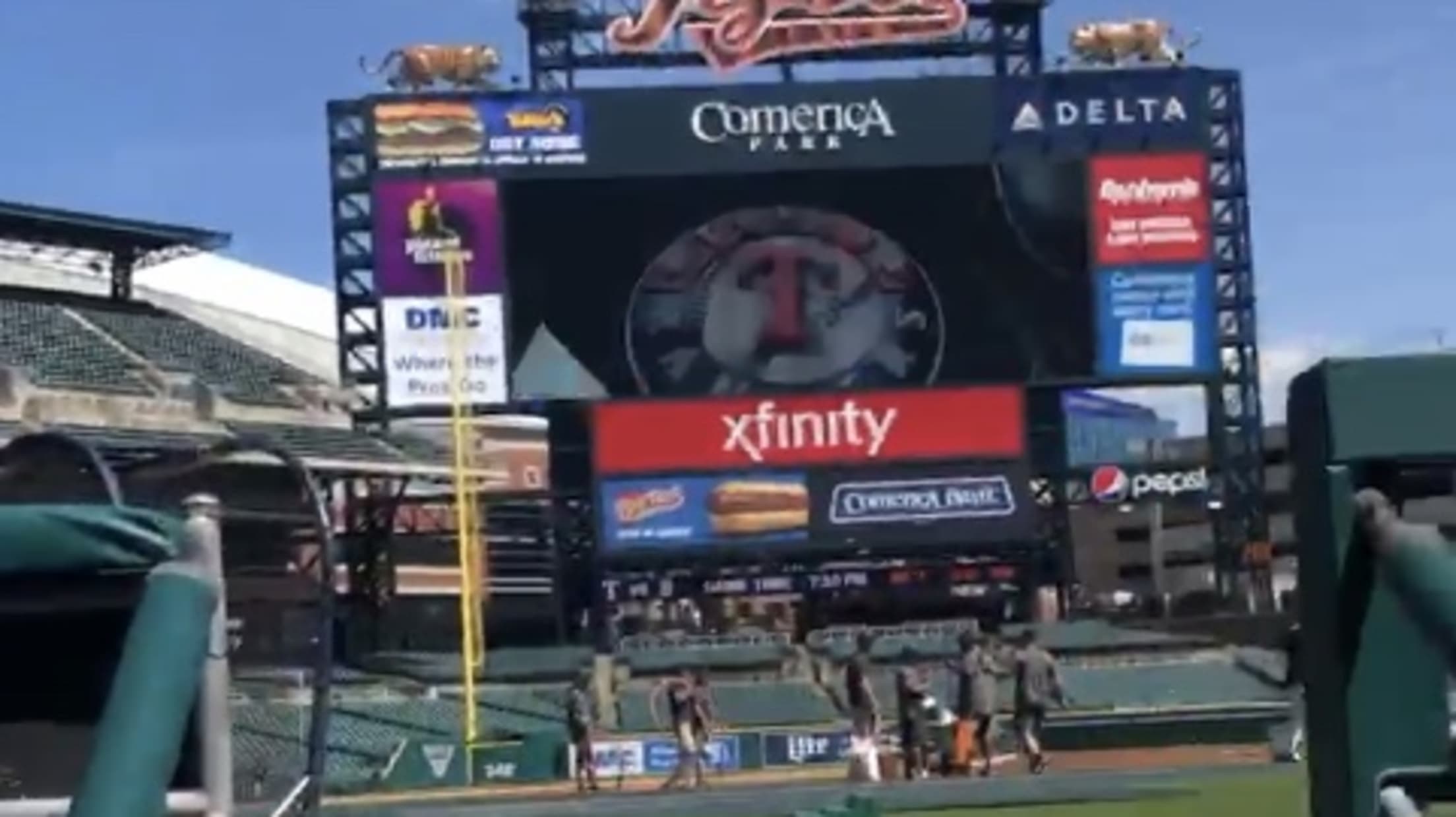 "The biggest thing we heard was that he wasn't afraid to go right after them, he wasn't afraid to challenge guys, and he didn't let the setting get to him," said Kruger.
Unfortunately for Robertson, he would pitch just once more in 2019 before an MRI revealed he needed season-ending Tommy John surgery, which he underwent on July 17. It's another bump in the road, another unexpected turn in his journey, but his perspective and belief remain steadfast.
"When I hurt my knee in college as a catcher, I thought the world was collapsing on me…and it turned out to open the door for the best thing that ever happened to me. I have every expectation that through the people I'm surrounded with, and through the work that I've been doing, that this will also lead me to an opportunity that would not have been presented to me had I continued to pitch healthy in Down East. I think it was a blessing in disguise, a gray cloud with a silver lining. I'm very excited about the opportunity, and I think I'm going to come back a lot better than I was."
Robertson hopes that his afternoon pitching on a Major League mound was a glimpse into his future. A reminder of what's achievable, but also a reminder of what it will take to get there. But for his dream to become a reality some details will undoubtedly be different the next time around – the batters he faces will be wearing different uniforms, there will be an umpire belting out balls and strikes, a team of fielders stationed behind him, and 50,000 fans cheering him on.