Wood Ducks Combine for First Shutout of 2018
Arredondo has now tossed 12.2 consecutive scoreless innings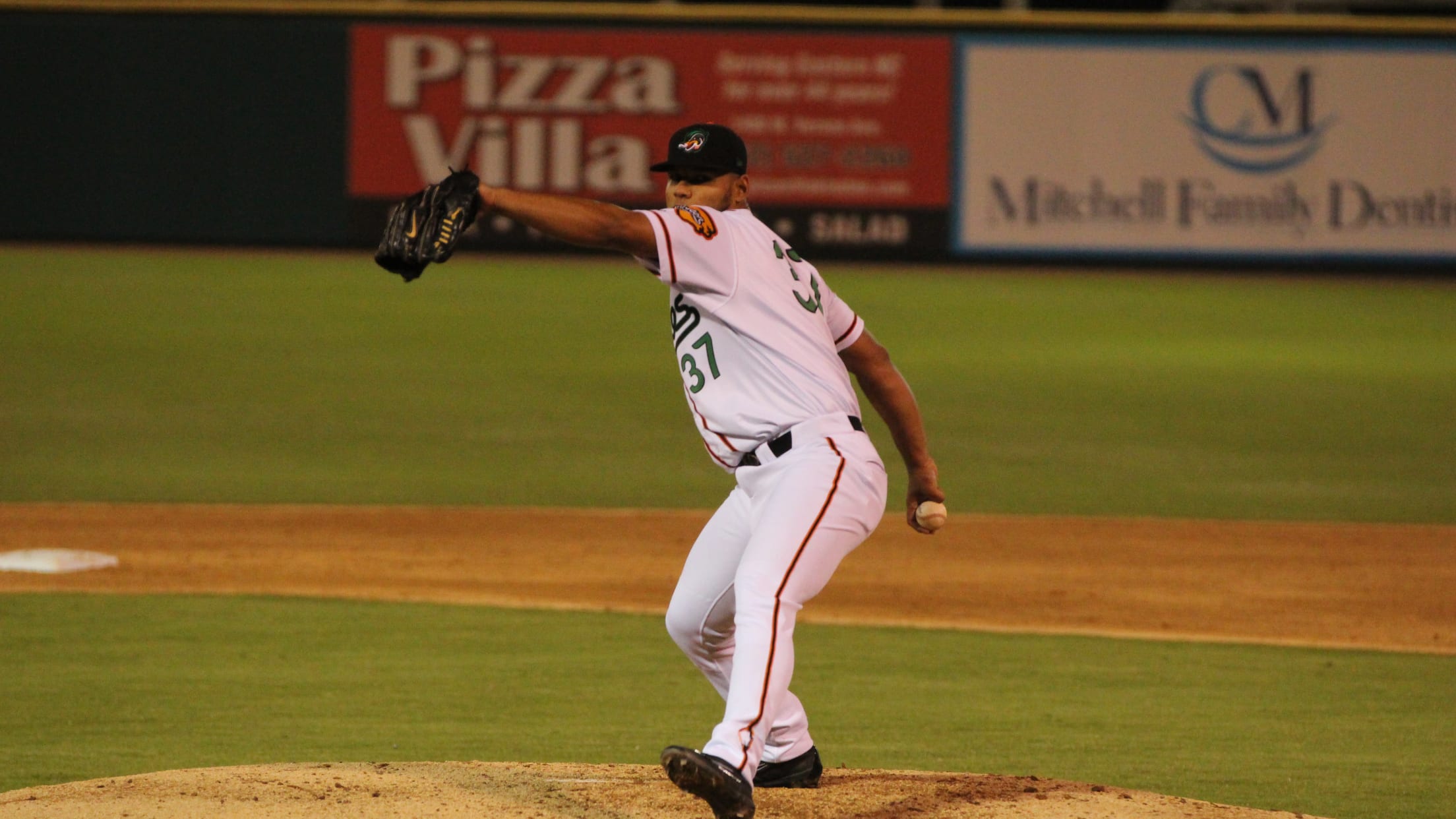 Arredondo led the staff with seven shutout frames on Wednesday night. (Dominic Cotroneo/Down East Wood Ducks)
KINSTON, NC - An entertaining pitcher's duel swung in the Wood Ducks' (21-17) favor on Tuesday night in their 2-0 victory over the Mudcats (18-20). Edgar Arredondo tossed his second straight scoreless start by completing seven innings with eight strikeouts. A two-run bottom of the sixth was all the staff
KINSTON, NC - An entertaining pitcher's duel swung in the Wood Ducks' (21-17) favor on Tuesday night in their 2-0 victory over the Mudcats (18-20). Edgar Arredondo tossed his second straight scoreless start by completing seven innings with eight strikeouts. A two-run bottom of the sixth was all the staff needed for the win.
Josh Altmann led off the inning with his sixth home run of the season - and his third of his career off Carolina starter Marcos Diplán. Later with two outs and Leody Taveras on first, Alex Kowalczyk lined a double down the left field line to push the lead to 2-0.
Prior to the runs, Arredondo battled through his first three innings on the night. He matched a career-high with three walks in the early going, but would settle down in the third and retire the last 13 batters he faced in a row.
Anthony Goes made his DEWD debut in the top of the eighth. The former Big League outfielder was converted to a pitching role last season in the Detroit organization, and his electric fastball lived up to the hype. He left a man stranded and also collected a strikeout to earn a hold.
C.D. Pelham would work the ninth and seal the win with a strikeout. His sixth save ties him for the league and he has now tossed ten consecutive scoreless outings over 10.2 innings.
The Woodies did not gain ground on Buies Creek on Tuesday as the Astros defeated the Dash 3-1. Down East remains two games back but move into second place in the first-half race.
Game two of the three-game set is Wednesday night at 7:00 p.m. Right-hander Jonathan Hernández will start opposite righty Trey Supak for the Mudcats. Gates open at 6:00 p.m. for the second annual Bark in the Park Night, presented by Riverbank Animal Hospital. Please note, all dogs can enjoy the game free but must be on a leash.