WORLD BASEBALL CLASSIC: 18 Alumni on Rosters
Former Players Span Globe Across 10 Teams, Including 3 with USA Baseball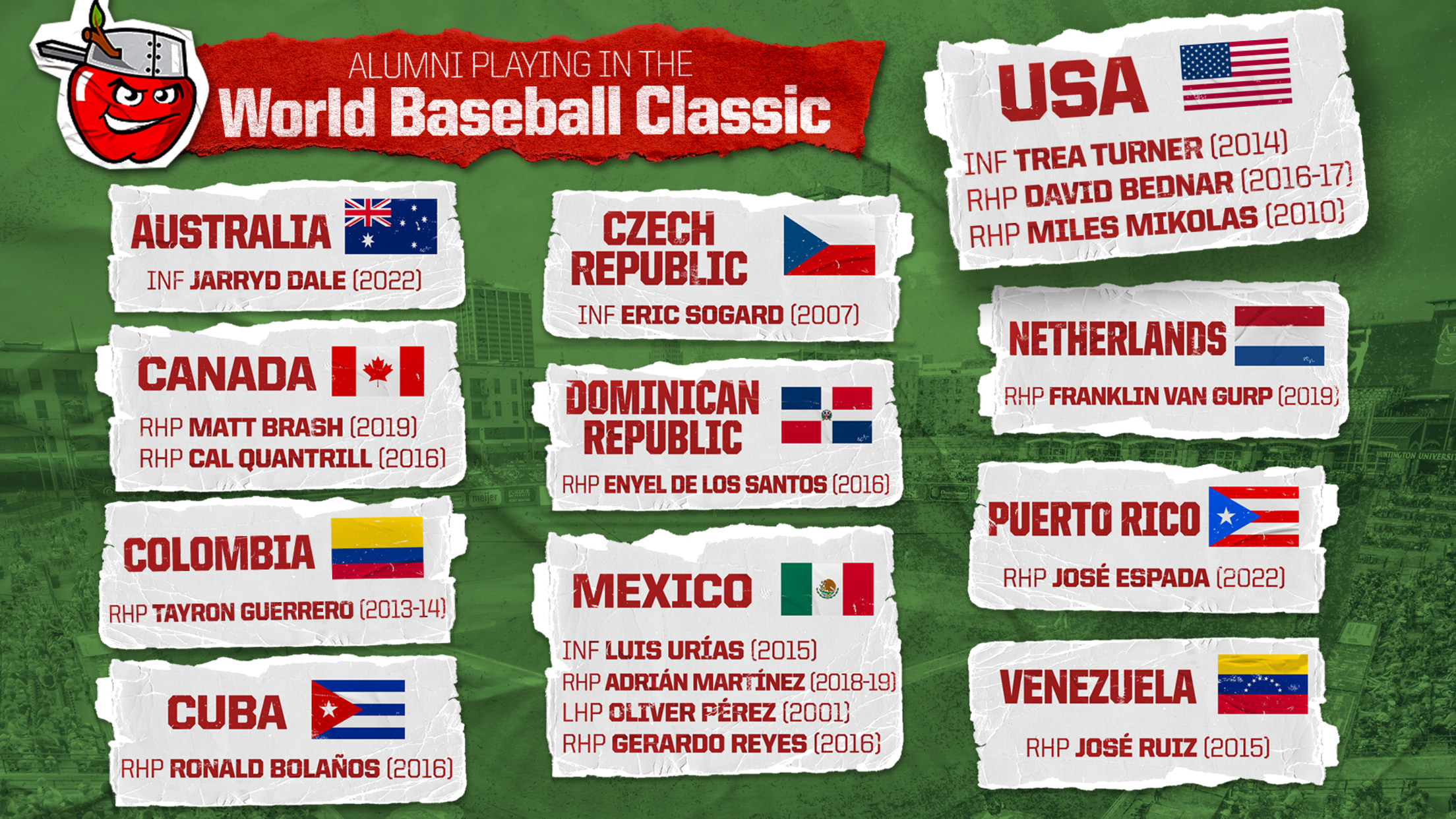 FORT WAYNE, Ind. – Rosters for the 2023 World Baseball Classic were revealed Thursday night on MLB Network, featuring 18 former TinCaps players. Fort Wayne's alumni can be found on 12 of the 20 international squads, including three players set to play for USA Baseball: infielder Trea Turner (2014) along
FORT WAYNE, Ind. – Rosters for the 2023 World Baseball Classic were revealed Thursday night on MLB Network, featuring 18 former TinCaps players. Fort Wayne's alumni can be found on 12 of the 20 international squads, including three players set to play for USA Baseball: infielder Trea Turner (2014) along with pitchers David Bednar (2016-17) and Miles Mikolas (2010).
Recent TinCaps will be representing not only the United States, but also Australia; Canada; China; Colombia; Cuba; Czech Republic; Dominican Republic; Mexico; Netherlands; and Venezuela. See below for full list.
Fort Wayne's representatives in the WBC range from 22-year-old infielder Jarryd Dale, who just played for the TinCaps in 2022, to 41-year-old Major League Baseball veteran pitcher Oliver Pérez, who suited up for the Fort Wayne Wizards in 2001 (before the franchise rebranded in '09).
"We're not exaggerating when we talk about having the privilege to host world-class talent at Parkview Field," said TinCaps President Mike Nutter. "Baseball is a global game and we love the diversity this sport helps bring to our city. We can't wait to watch so many of our former guys represent their home countries around the world."
The 2023 WBC begins on March 8. The 20 teams are divided into four pools. The first round will be played at four different sites: Miami, Phoenix, Tokyo (Japan), and Taichung (Taiwan). From there, quarterfinals will be hosted in Miami and Tokyo, with the semifinals and championship in Miami, culminating on March 21.
This is the fifth installment of the WBC, and the first since 2017 (since the 2021 edition was postponed by the COVID-19 pandemic). USA Baseball won the last tournament, while Japan was victorious the first two times (2006, '09) and the Dominican Republic earned the other title (2013).
Each team has 30 players on its roster.
Games will be broadcast on FOX, FS1, FS2, FOX Deportes, Tubi, and the FOX Sports app.
Click here to learn more about the World Baseball Classic.
Former Fort Wayne TinCaps / Wizards on 2023 World Baseball Classic Rosters
United States
Australia
Canada
China
Colombia
Cuba
Czech Republic
Dominican Republic
Mexico
Netherlands
Puerto Rico
Venezuela
Note: In qualifying in September, infielder Lucas Dunn (2022) played for Germany, while LaTroy Hawkins (1993) served as Brazil's pitching coach.
Additionally, 2014 TinCaps manager *Michael Collins *is Australia's first base coach, while former pitcher *John Hussey *(2010, '13) is the pitching coach for the Czech Republic.