Fort Wayne Daisies Player Visits TinCaps Game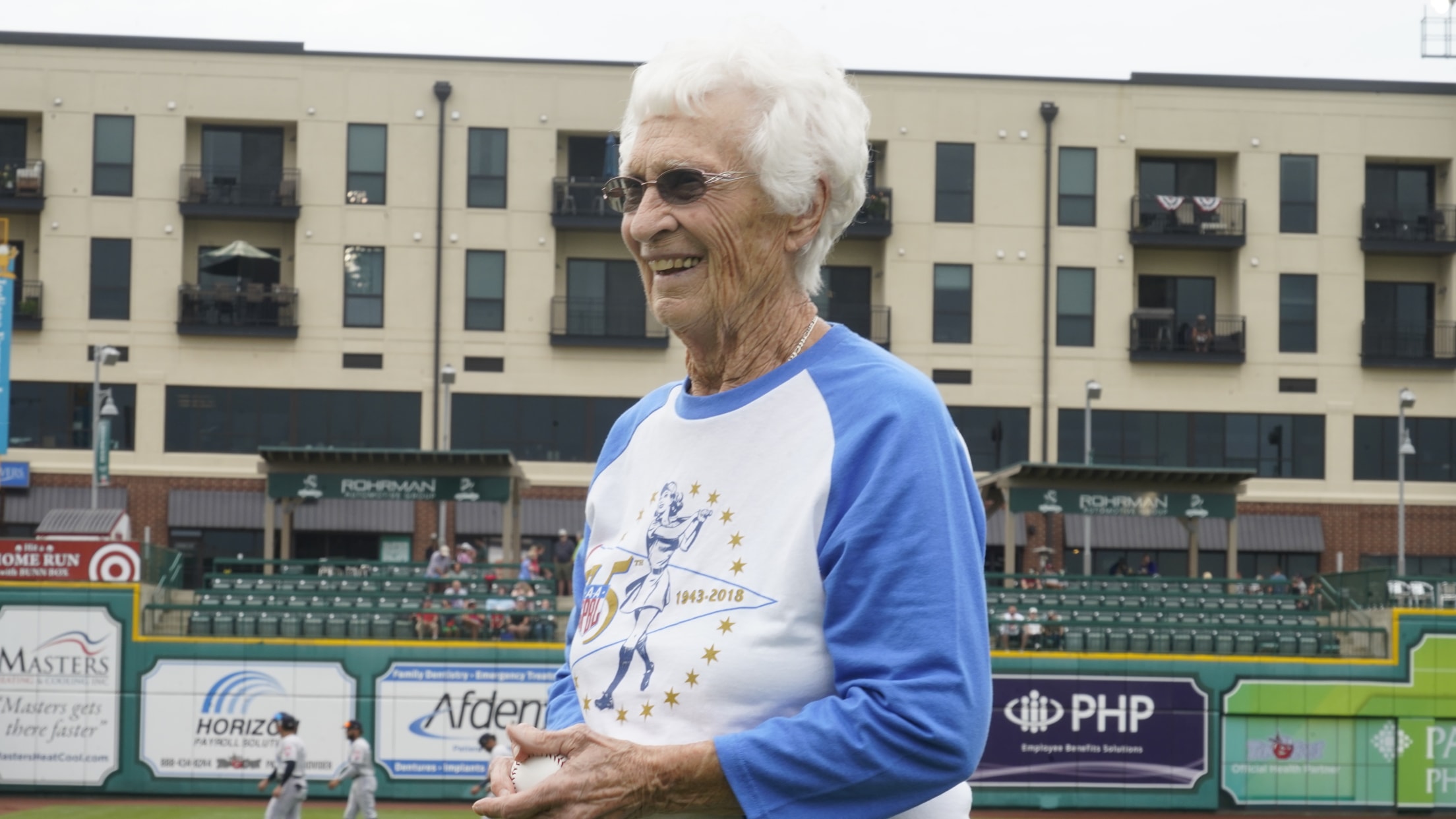 Some future MLB players were on display as the TinCaps hosted the Lake County Captains on Saturday, July 10. But the biggest star at the ballpark that night was a former Fort Wayne player. Katie Horstman, who played for the Daisies in the All-American Girls Professional Baseball League, was back
Some future MLB players were on display as the TinCaps hosted the Lake County Captains on Saturday, July 10.
But the biggest star at the ballpark that night was a former Fort Wayne player.
Katie Horstman, who played for the Daisies in the All-American Girls Professional Baseball League, was back in the city where she shined as a mere teenager from 1951-54.
Some decades later, Horstman still has her fastball in more ways than one.
She got loose on the field pregame, playing catch and scooping up baseballs rolled to her on the ground.
After the crowd rightfully gave her a big ovation upon introduction, Horstman promptly fired a strike to the plate.
"Not too bad for being near 90," she joked.
Horstman, nicknamed "Horsey" during her Daisies days, finished with a .286 batting average in more than 300 career games. She walked more than she struck out, and even belted 23 home runs.
She credits that strength as a batter to growing up on a dairy farm in Minster, Ohio, about 90 minutes from Parkview Field.
On top of her hitting prowess, she pitched in nearly 50 games, with a 2.50 ERA. Horstman says she's the only one in the league's history to play all nine defensive positions at least once.
"It was the dream of my life," she said of her time in Fort Wayne. "I thought it was great. I didn't have to milk the cows anymore.
"The people treated us great, and we always had big crowds."
Following the spotlight of her Daisies career, Horstman went on to spend time as a nun with the Franciscan Sisters of the Sacred Heart. Attending DePaul University in Chicago, she became the first nun in the United States to earn a degree in physical education.
Horstman served as a teacher and coach for 25 years. Beyond that, she founded the girl's athletic programs at Minster High School. Horstman coached six different sports, including cross country and track and field, winning several Ohio state championships.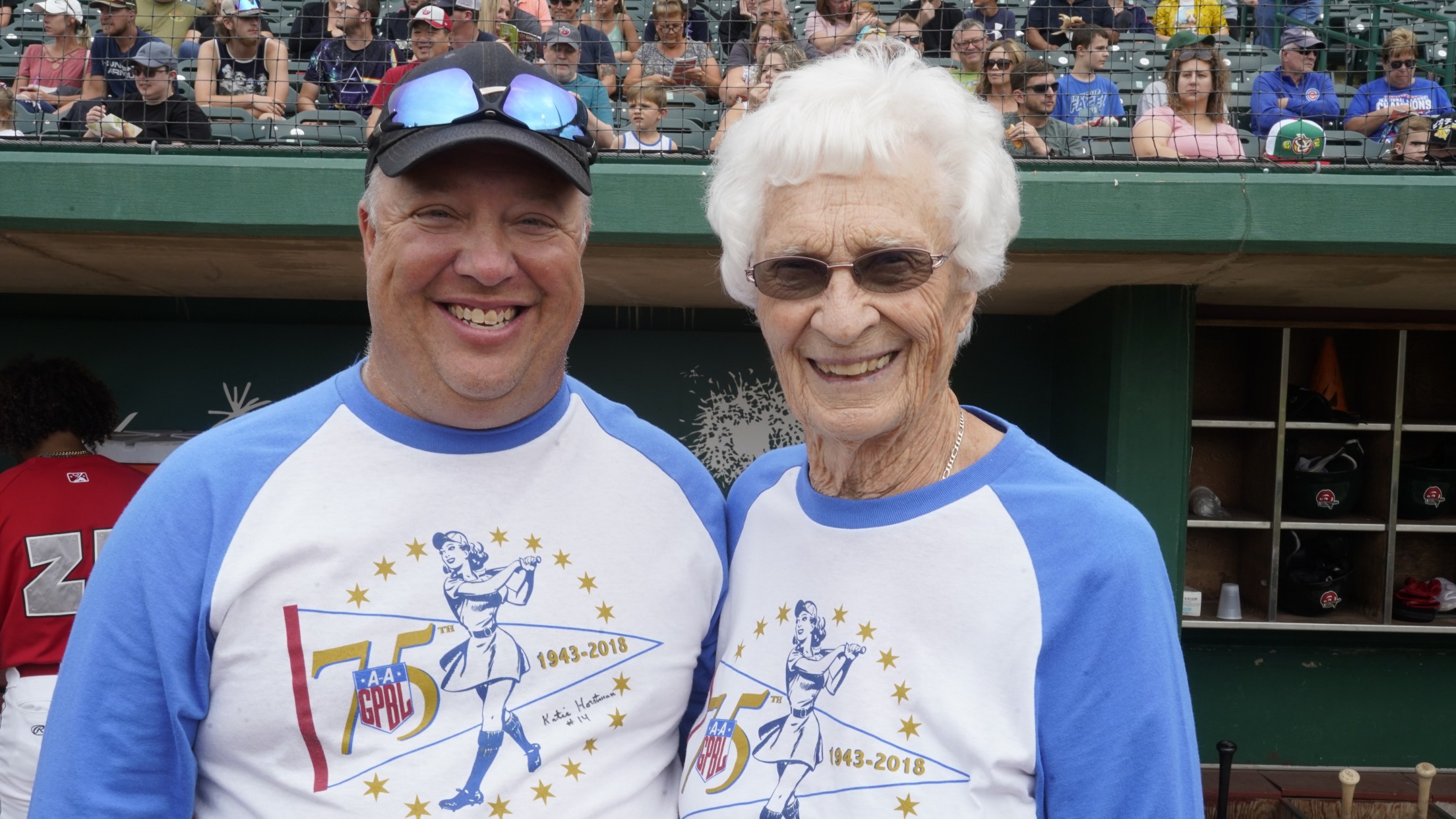 In addition to being celebrated as a Fort Wayne Daisy, Horstman has no shortage of other accolades, too. She's also been inducted into the Ohio Women's Hall of Fame and recognized at the National Baseball Hall of Fame.
Horstman even served as a consultant for the creation of the Hollywood hit movie A League of Their Own. She was on the set, alongside the stars of the film. (But don't ask her about Madonna's attitude and behavior, or you'll get an eye-roll.)
Parkview Field has now joined a long list of ballparks where she's thrown out a ceremonial first pitch, like Yankee Stadium in New York and Great American Ballpark in Cincinnati.
Tonight, we celebrated the @AAGPBL's 75th anniversary by welcoming former players Virginia Manina, Marilyn Jenkins, Sister Toni Palermo, and Katie Horstman to Yankee Stadium. pic.twitter.com/YCQvui46sC

— New York Yankees (@Yankees) August 10, 2018
Wherever she is, her story inspires.
"It was such an honor for us to host Katie," said TinCaps Community and Fan Engagement Manager Brenda Feasby. "We continue to appreciate how she and the rest of the Daisies helped trailblaze the landscape for women's sports today, not to mention adding to Fort Wayne's rich baseball history. Katie's fun personality put the experience of her visit here over the top for all of us."