MWL PITCHER OF THE WEEK: Jairo Iriarte
No. 11 Padres Prospect Recognized After 6 No-Hit Innings at Dayton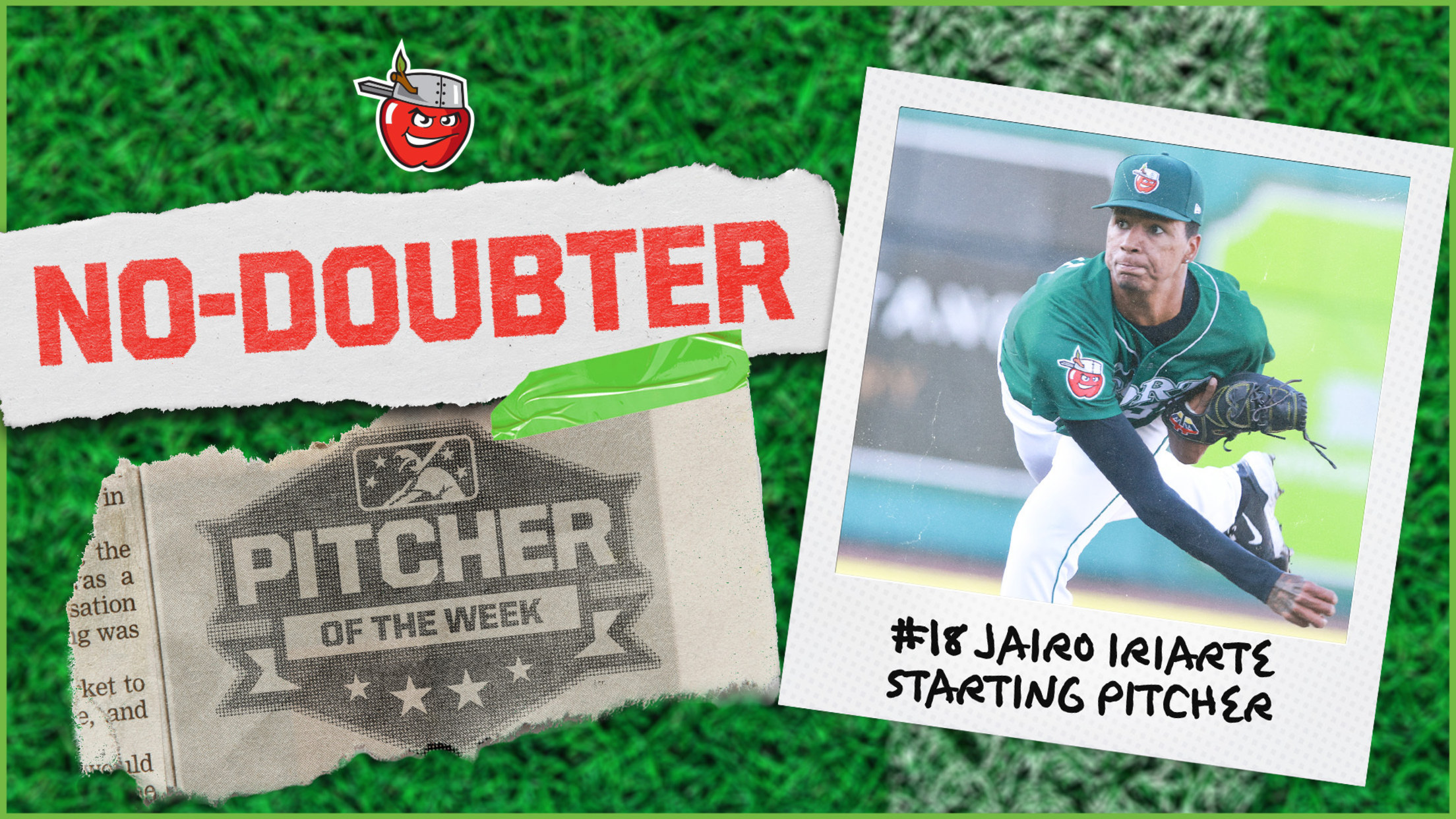 FORT WAYNE, Ind. – Fort Wayne TinCaps starting pitcher Jairo Iriarte (pronounced: HIGH-roh EER-ee-ahr-tay) has been named the Midwest League Pitcher of the Week, Minor League Baseball announced Monday. Iriarte threw six no-hit innings at Dayton last Tuesday, teaming up with Alan Mundo and Adam Smith for just the third
FORT WAYNE, Ind. – Fort Wayne TinCaps starting pitcher Jairo Iriarte (pronounced: HIGH-roh EER-ee-ahr-tay) has been named the Midwest League Pitcher of the Week, Minor League Baseball announced Monday.
Iriarte threw six no-hit innings at Dayton last Tuesday, teaming up with Alan Mundo and Adam Smith for just the third no-hitter in Fort Wayne's 30-year franchise history. The TinCaps beat the Dragons that night, 6-0, and have won five of their last seven games.
"Throwing the first no-hitter of my career was very special," Iriarte said. "I thank God for keeping me healthy and thanks to my family for always providing support even from a distance."
With a mid-to-high 90s fastball, a slider, and a changeup, the 21-year-old right-hander from Venezuela struck out eight batters while allowing just one walk and one hit batter against the Dragons.
Across his first seven starts of the season, Iriarte has posted 1.73 ERA with 39 strikeouts in 26 innings.
Among Midwest League pitchers who've also thrown 26 or more innings, Iriarte ranks second in K% (37%), third in K/9 (13.5), third in average against (.163), and fourth in ERA.
Entering the season, MLB.com ranked Iriarte as the 11th best prospect in the San Diego Padres farm system.
Iriarte is a proud father. He grew up admiring big league pitchers Nolan Ryan, Max Scherzer, and Jacob deGrom. Beyond baseball, he's also a basketball fan. In addition to being a Padres prospect, he's a member of his hometown organization, too, Tiburones (Sharks) de La Guaira.
The last TinCap to win the Midwest League's Pitcher of the Week Award was left-hander Robert Gasser, June 19, 2022. (Gasser was traded to the Brewers last August and is currently with Triple-A Nashville.)
Iriarte and the TinCaps begin a season-long 12-game homestand on Tuesday night at 6:35 p.m. against the Oakland A's-affiliated Lansing Lugnuts. Iriarte is expected to start Tuesday. Tickets are available through TinCaps.com, by calling 260-482-6400, and at the Parkview Field Ticket Office.