KIDS CLUB: Johnny's Birthday Bash on May 28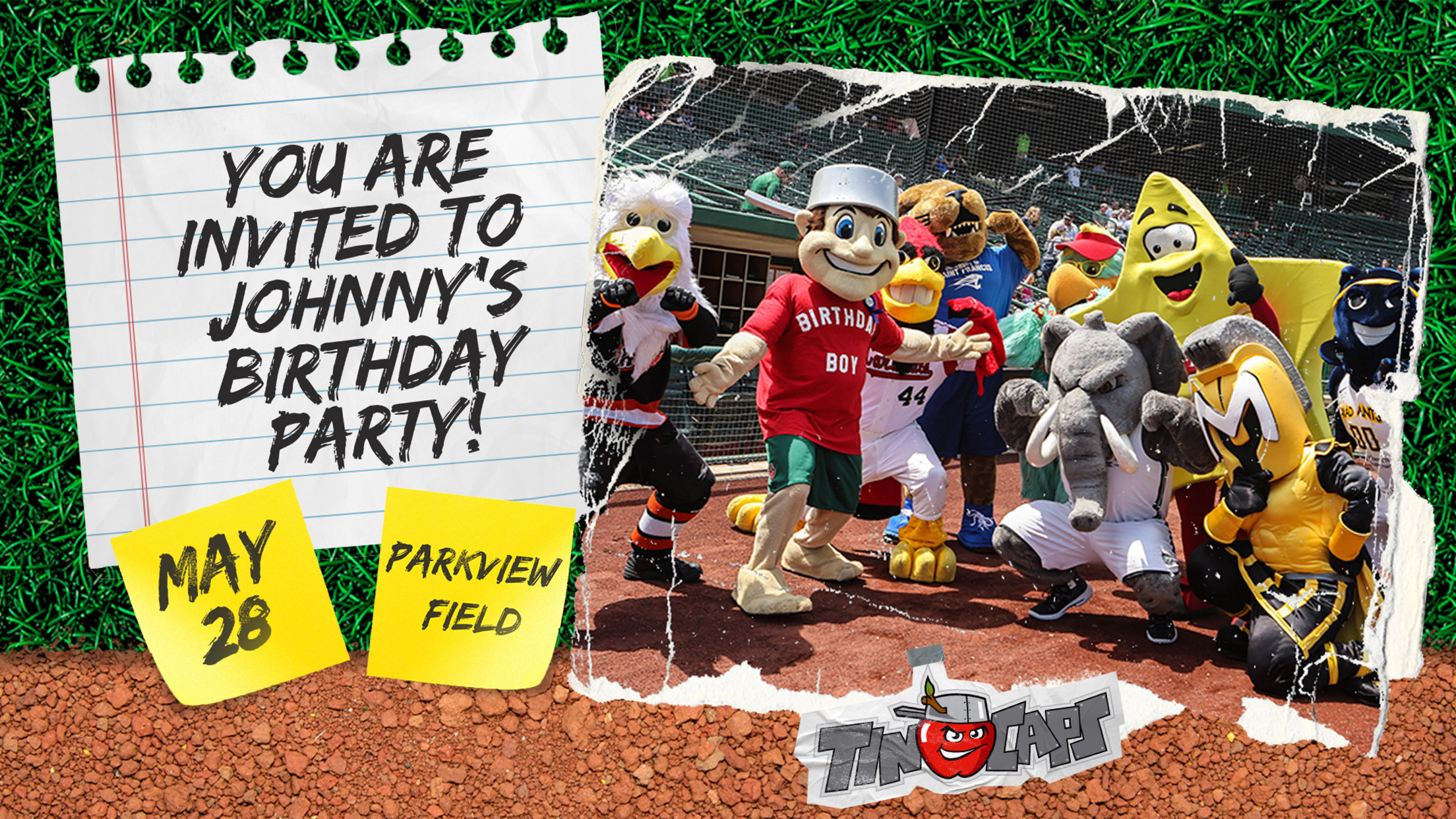 FORT WAYNE, Ind. – Mascot Johnny TinCap will be celebrating his birthday at Parkview Field on Sunday, May 28 as the TinCaps take on the Lansing Lugnuts in a 1:05 p.m. game. This year, Johnny has decided that instead of receiving presents for himself, he'd like fans to help him
FORT WAYNE, Ind. – Mascot Johnny TinCap will be celebrating his birthday at Parkview Field on Sunday, May 28 as the TinCaps take on the Lansing Lugnuts in a 1:05 p.m. game. This year, Johnny has decided that instead of receiving presents for himself, he'd like fans to help him support an important cause. In partnership with Community Harvest Food Bank, fans who donate three canned or non-perishable food items that day will receive a voucher for a free souvenir soft drink. (Visit the WaterFurnace Guest Services Booth on the concourse behind home plate to drop off donated items and receive voucher.)
"We're so grateful for the continued support of the Fort Wayne TinCaps and their fans," said Carmen Cumberland, CEO and President of the Community Harvest Food Bank. "Food drives and donations like this mean the world to people who will be sharing this food at their table with loved ones. We couldn't ask for better friends in the community who see a need and join together to meet that need."
In addition to benefitting the community, Johnny's Birthday Bash will also be a blast for members of the TinCaps Kids Club. Many of his local mascot friends will be in attendance. In fact, they'll even join together to play a Mascot Kickball Game before the TinCaps take the field. (Note: Gates will open to fans at 12:05 p.m.)
Click here for tickets. Kids Club Members who purchase tickets through that link will be entered in a contest for the chance to participate in the Mascot Kickball Game.
The TinCaps Kids Club is free for children 12 and under. Click here to learn more and join.
About Community Harvest Food Bank
Established in 1983, Community Harvest Food Bank of Northeast Indiana, Inc. feeds 21,100 people every week. Last year, CHFB distributed 13 million pounds of food to over 91,500 unique individuals. Adam Smith serves as Board Chair and Carmen Cumberland serves as President and CEO. Community Harvest is one of 200 Feeding America member food banks in the United States, and one of 11 regional members of Feeding Indiana's Hungry. Community Harvest feeds hungry people in the nine counties of northeast Indiana. For more information, visit chfb.org.