Q & A with Minor League Baseball President Pat O'Conner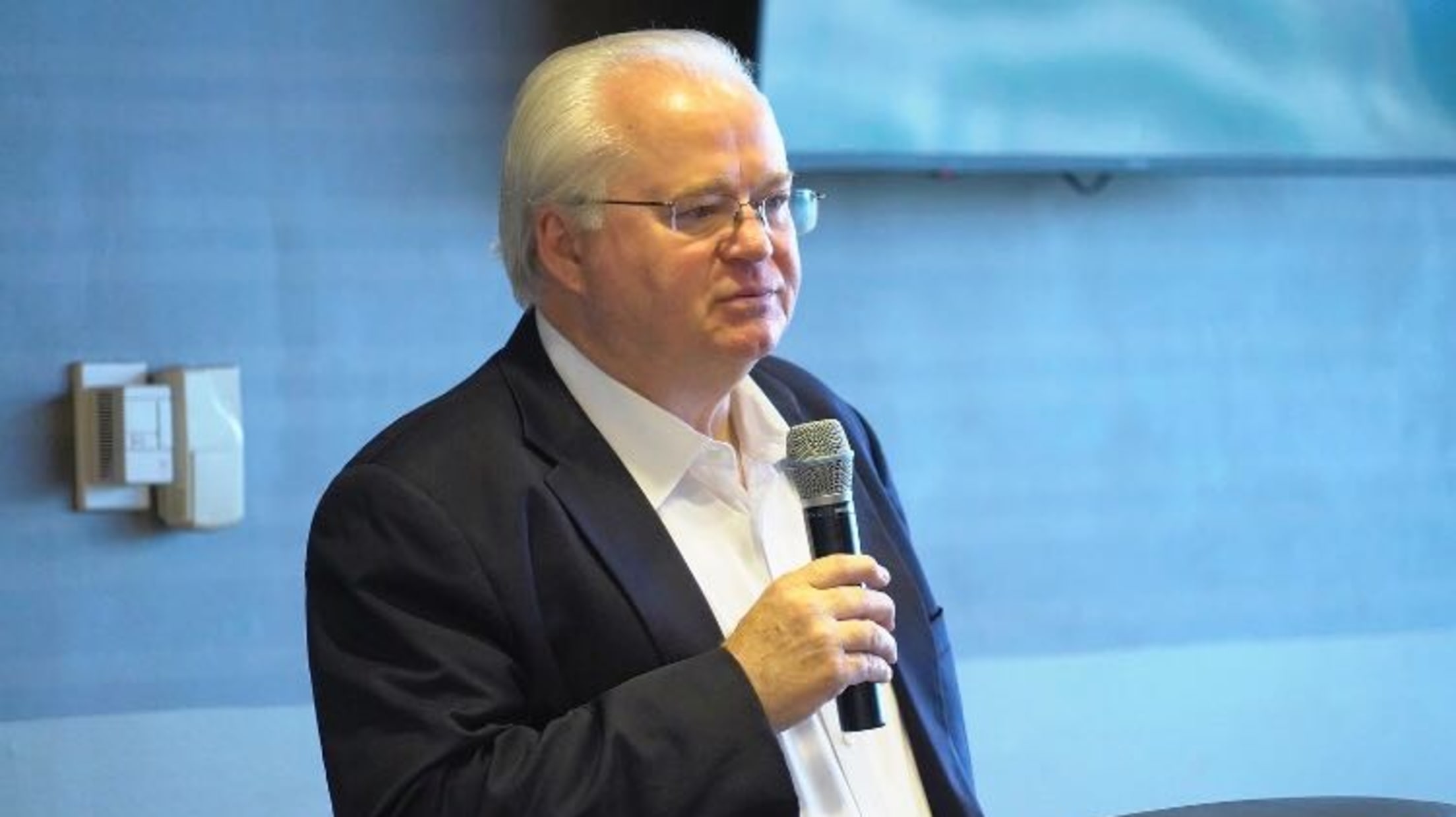 Minor League Baseball President Pat O'Conner visited Parkview Field on Wednesday morning as the TinCaps hosted the annual Midwest League Fall Meetings. For more on O'Conner's appearance and the meetings in general, click here.
Minor League Baseball President Pat O'Conner visited Parkview Field on Wednesday morning as the TinCaps hosted the annual Midwest League Fall Meetings. For more on O'Conner's appearance and the meetings in general, click here.
Below is a video, and transcript, of O'Conner speaking with local media after the meetings.

Q: With this being your first time here in a while, what do you think of the facilities?
A: I was here for Opening Day in 2009 and spent time with my friend Kevin Towers (the late San Diego Padres general manager)--great memories of the ballpark. One of the great things about coming to ballpark openings and then coming back is watching the maturation of the ballpark and the area. And I think when you look at Parkview Field and the surrounding areas, it's the epitome of what Minor League Baseball can do in a city to build up commerce and quality of life. They do such a great job here. I'm thoroughly impressed. I told Mike Nutter earlier today, I can't believe the ballpark is 11 years old. It doesn't look it, it doesn't feel it, and that's a tribute to Mike, Jason Freier, the ownership group, and the staff who take care of this place. They've continued to invest in it to make it better with the 400 Club and other amenities. It's been a joy to come back and see it.
Q: What does it mean to Minor League Baseball to have award-winning organizations like the TinCaps?
A: It's part of the elevation and maturation of what Minor League Baseball is. It's a big small business now. It's central to so many communities. And it's central to what Major League Baseball does in developing players. There was a comment at breakfast today that when the Nationals beat the Cardinals (the parent club of the Peoria Chiefs), they eliminated the Midwest League from the playoffs. You know, you carry forward those relationships. It's central to what baseball is in America, to Major League Baseball. I think it's one of the few things left in this country that people can find common ground to come and commune.
This is a great venue. I think when you come to the venue and watch a ballgame, you see generational crowds--grandma, grandpa, mom, dad, and the kids--which really tells me it's resonated well in Fort Wayne. I gotta tell you, the TinCaps staff and the things that they do, the outreach in the community, it's not window dressing. They are truly a part of what Fort Wayne is and what Fort Wayne does on a 365-day-a-year basis.
Q: What does it mean to you to come here for the Midwest League Fall Meetings?
A: I have 160 clubs. I can be about anywhere I want to be on any given day. I have a lot of great executives. I have to tell you, I'm very partial to Mike Nutter. Any time with Mike is good time. Same goes with the league president, Dick Nussbaum. It's nice to come back and enjoy some of our success stories.
Ya know, I haven't sold a season ticket in 30 years and haven't sold a fence sign in 30 years, but to be able to coattail on success stories like this, I think it validates the body of work that we try to do in St. Petersburg (where MiLB is headquartered), and what 160 clubs across the country try to do for Minor League Baseball and our partners with Major League Baseball.
Q: The Midwest League has several of the strongest franchises in Minor League Baseball, including the TinCaps. What makes the Midwest League so special and so strong?
A: You have ownership groups with a history and a communal commitment across this league. There's friendly competition within. They push each other. They have each other's back. They have the ability to agree to disagree, but come out on the right side of the initiatives. They understand that the strongest club is stronger when the weakest club is stronger. So I think all of that collegial attitude, and doing very, very good business. The level of sophistication of this league is off the charts compared to what it was 20 years ago. The ownership groups, the ballparks, everything about this league is so much better, and it operates at such a higher level, that when you're in this league, they make sure you understand how special it is.
Q: What challenges do you see for the league and teams these days with the competition for people's time?
A: I don't think there's any question that today's audience is a different audience than 5-10-15 years ago. We communicate differently and it's incumbent upon Minor League Baseball individually and collectively to keep pace with the demographic and to communicate your handhelds, email, social--all the things that at 61 (years old) I struggle to do on a regular season (humorous tone), but we know it's important, and our clubs are excelling at that. People won't buy what they won't want. You have to present a product that's relevant. I tell clubs all the time, we can have lease problems, we can have bad weather, etc. but none of that will overcome what we have. But losing our relevance will. If we lose our relevance in a community, we're dead in the water. I think that that's a big challenge, making sure we reinvent ourselves on a regular basis, and we stay in touch and listen to our fan base--make sure that they're engaged and we're providing a product. Customary service is always job No. 1. I think those are the things.
Technology is our future--the ability to engage you, to communicate with you, to get you to make a decision as a result of an email blast or a tweet or a text. Those are all things that we just have to do to keep pace and communicate with our fan base the way they're communicating the rest of the day.
Q: What things are teams doing to have a high level of interaction with their younger generation of fans who want a full experience?
A: I think it's critically important. I was told millennials--and I'm not trying to pick on them--have like a seven-second attention span. It's abbreviated. I think it's important that we engage them.
When I was a younger person in my late teens and early 20s, when I went to a ballgame, I wanted to know three things: where my seat was, where the concession stand was, and where the bathroom was. And then I was going to sit down and watch the game.
Today's fan, of all ages, they want social areas, they want broad bandwidth so they can communicate on social media, go on Instagram and share their experience. They want to engage in on-site trivia. It's coming to the day when you decide at 4 o'clock in the afternoon to call your wife or husband and say, 'Let's go to the game tonight. Okay, I'll order the tickets. What do you want the kids to eat? We'll order it all before we get there. We're going to scan our phone for our tickets, and they're going to bring us our food in the fourth inning because we pre-ordered it. And you know that old ratty hat you've got, I'm going to have a new one brought to you in the fifth inning. And don't worry about reaching for your wallet because you've got your credit card on file, and it's all taken care of.' That's what we have to do, and those are the things we're already doing. You know, the point of sale for concessions--wave your phone, Venmo, PayPal, whatever it is. Those are things that we have to do. It's part of relevance. It's part of servicing our customer. It's a part of fitting into their life as opposed to them adjusting to fit into ours.
Q: How do you feel the TinCaps can maximize the investments made around Fort Wayne and what can the community do to be even more supportive of the TinCaps?
A: The amount of use this ballpark gets, and what this three-block area has become as a destination, I think just don't let it be taken for granted. Don't let it become passé. I know that the club won't do that.
You constantly have to reinvent yourself and your business. I think what the community can do is do themselves a favor and continue to enjoy it. One thing that happens as humans is we tend to take things for granted and assume. Losing relevance is bad for a club, and assuming the team will always be here is bad for a community. I'm not scolding anybody. Just keep doing what you're doing because this is a posterchild for how to run a minor league team and how to engage a community. When I get their charity report and I see the number of non-baseball events they hold here, I mean it's a municipal asset. "Just keep it up" is my message to the community.