TinCaps Continue Military Appreciation Night in 2019
Complimentary Tickets Available for Veterans, Active-Duty, and Families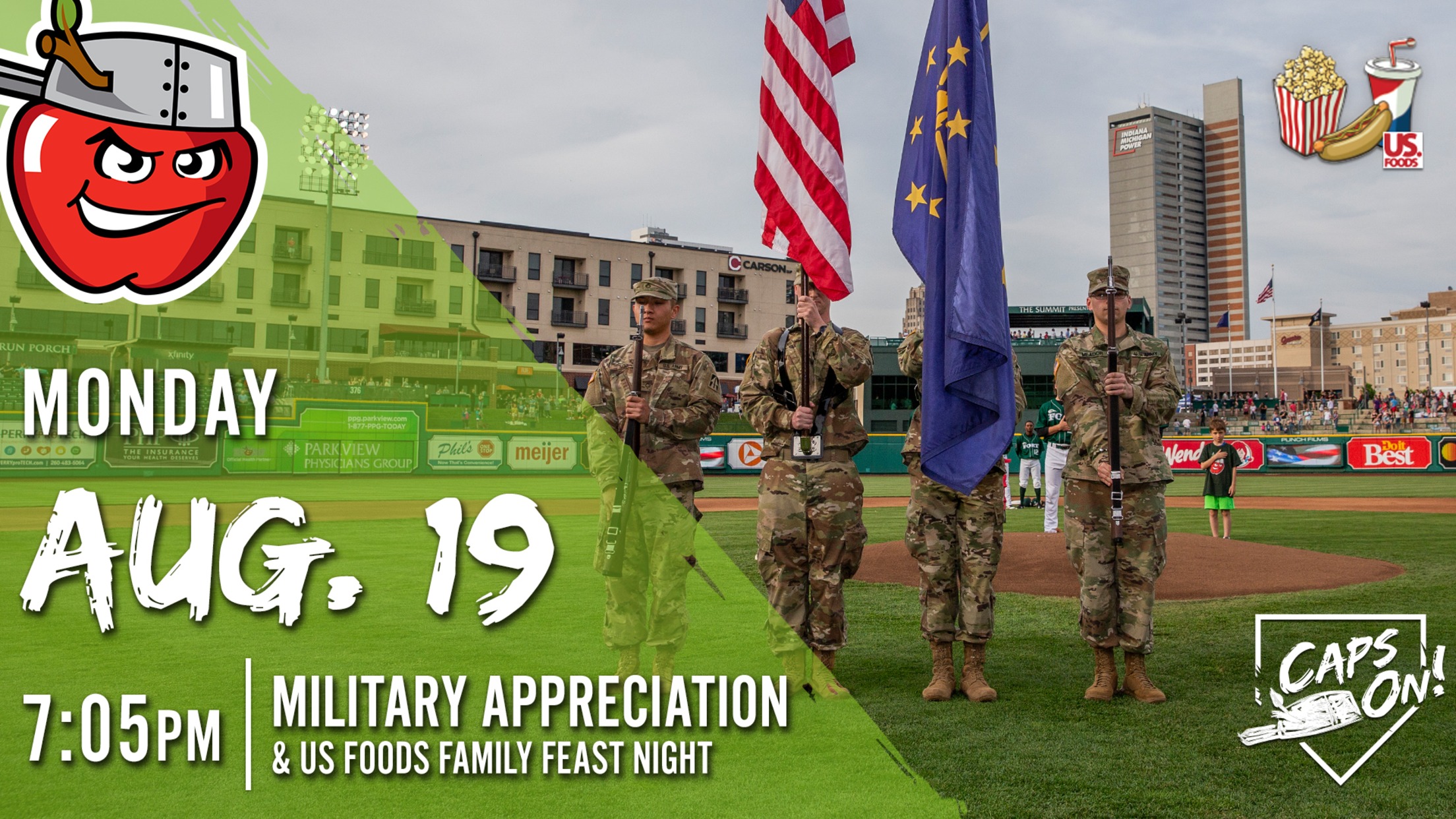 FORT WAYNE, Ind. -- The Fort Wayne TinCaps once again have partnered with OmniSource LLC, Steel Dynamics Inc., and the San Diego Padres to welcome military personnel to Parkview Field for Military Appreciation Night on Monday, Aug. 19 (7:05 p.m.), when the team hosts the Bowling Green Hot Rods (Tampa Bay
FORT WAYNE, Ind. -- The Fort Wayne TinCaps once again have partnered with OmniSource LLC, Steel Dynamics Inc., and the San Diego Padres to welcome military personnel to Parkview Field for Military Appreciation Night on Monday, Aug. 19 (7:05 p.m.), when the team hosts the Bowling Green Hot Rods (Tampa Bay Rays affiliate).
Complimentary tickets are currently available for military families-both active and veteran-to enjoy the game on Aug. 19, thanks to the generosity of OmniSource, Steel Dynamics, the Padres, and caring individual donors.
The Padres, Fort Wayne's Major League Baseball affiliate, are once again underwriting the costs for 1,000 tickets for military families. The San Diego Padres are proud to partner with the TinCaps in support of military and charity initiatives in the Fort Wayne area. The Padres had the first military outreach program in professional sports and it is currently the largest in MLB.
"We're indebted to our nation's military members and their loved ones," said TinCaps President Mike Nutter. "This gives us an opportunity to show our gratitude for their sacrifices to our country. We're also thankful to have teammates like OmniSource, Steel Dynamics, and the San Diego Padres to help us honor our military."
"The men and women of our OmniSource and SDI family are proud and honored to be a part of this celebration for our courageous United States military heroes," said Russ Rinn, President & COO OmniSource LLC. "We all know that because of them, we live in freedom."
The TinCaps are also continuing their partnerships with multiple military organizations, offering military personnel in attendance the chance to visit kiosks highlighting many of the support organizations and offerings available to military in the area.
On Military Appreciation Night, the TinCaps will be wearing camouflage jerseys, which will be auctioned off on TinCapsJersey.com, with proceeds donated to Honor Flight Northeast Indiana.
Military personnel and their family can request Military Appreciation Night tickets at TinCapsMilitary.com. Tickets will be allocated on a first-come, first-served basis. Fans with questions can contact Rachel Lopez with the TinCaps at 260-407-2809 or [email protected].
In addition, the TinCaps continue to take nominations for the team's Military Salutes throughout the season on fireworks nights. Click here for more details.