World Series Champions Forged by Fort Wayne Experiences
Trea Turner and Joe Ross Remind How Experiences As TinCaps Pay Dividends Down Road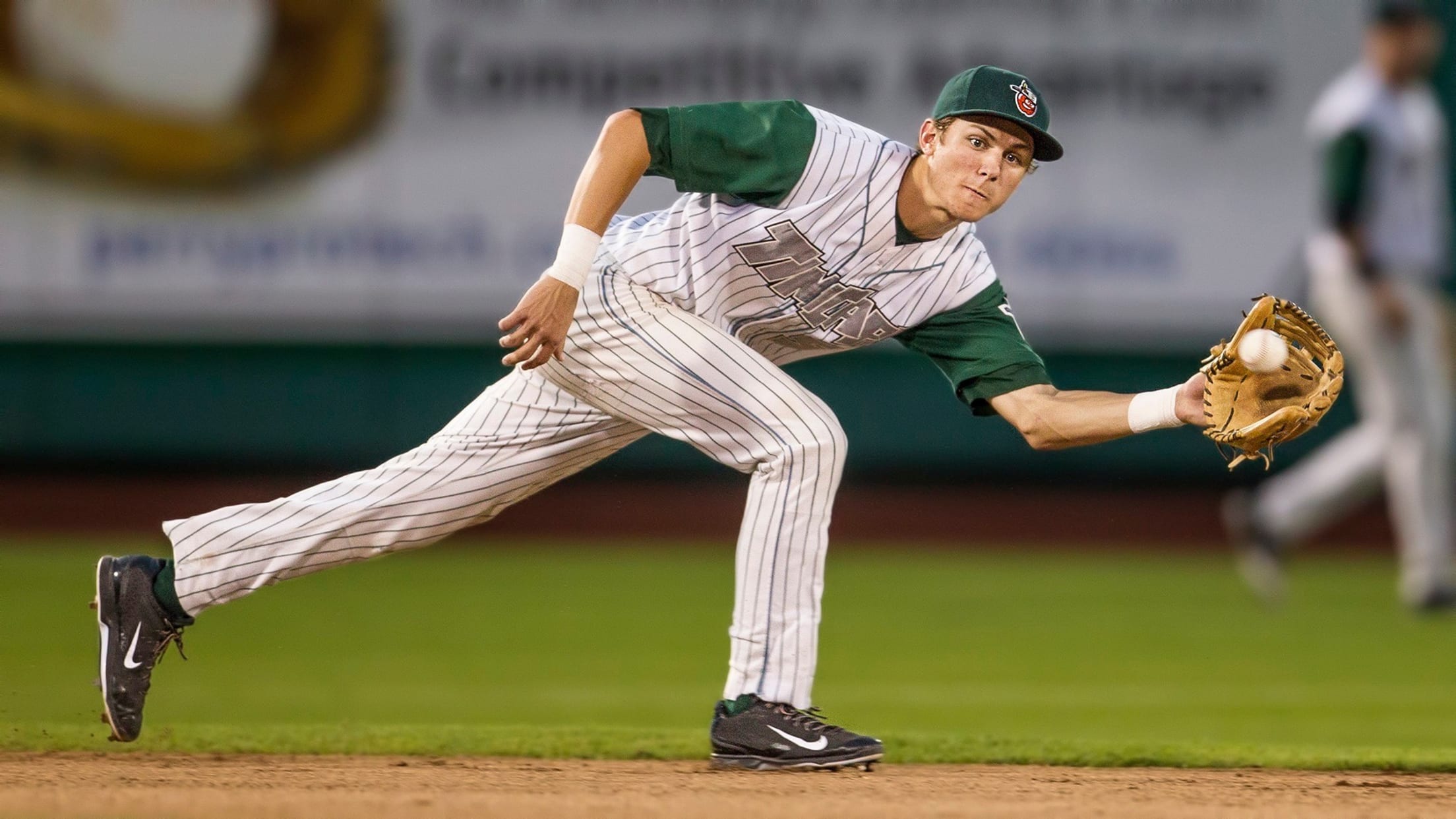 What do Trea Turner and Joe Ross have in common?
What do Trea Turner and Joe Ross have in common?
If you answered, "They're both former first-round draft picks of the Padres who came through Fort Wayne on their way to the major leagues and won the 2019 World Series with the Nationals," you're correct.
If you answered, "They both played a hand in season-ending losses in the Midwest League Playoffs to conclude their TinCaps careers," you're also correct.
When you see Turner and Ross hoisting the Commissioner's Trophy, they're all smiles-deservedly so. What you may forget as they bask in the joy of winning is that their journeys to jubilation were not without moments of failure and frustration along the way. Well before they played their respective roles in Washington's improbable run, they overcame instances of adversity, including in their time at the Class A level.
Trea Turner had arguably the best month-and-a-half stretch in Fort Wayne's franchise history in 2014. He slashed .369/.447/.529 (.976 OPS) in 46 games after joining the team in mid-July, about a month after he was the 13th overall selection in that year's draft out of NC State.
Turner willed a TinCaps team that had lost 13 consecutive games before his arrival into the playoffs. As if that wasn't enough, he even sparked the team to a first-round upset of the West Michigan Whitecaps. However, unlike Washington, Fort Wayne eventually saw its fortune expire in the Eastern Division Championship Series against the Lake County Captains.
After losing the opener in the best-of-three set, the TinCaps were on the road and tied in the bottom of the eighth inning in a must-win Game 2. With Eric Yardley on the mound, there were two outs and runners on first and second when a batter named Grant Fink hit a routine grounder to Turner at short. Turner, who to that point had dazzled defensively in a 'Caps uniform, had a less-than-perfect throw to first baseman Jake Bauers, whose left foot missed the first base bag. The runner at second, Nellie Rodríguez, turned hard around third and, stunningly, scored on the play. The TinCaps lost, 5-4, and their season ended in Northeast Ohio. While the error on the play was officially charged to Bauers, after the game, Turner told media he took responsibility for the miscue.
A year before Turner starred at Parkview Field, the TinCaps boasted one of the most prospect-laden rotations in all of Minor League Baseball in 2013. On a staff that included the likes of Max Fried and Zach Eflin, Joe Ross was the opening day starter at the age of 19 and got the ball in Game 1 of the postseason as well.
The Midwest League All-Star was also on the mound in a decisive EDCS Game 3 at South Bend. With the scored knotted, 1-1, in the bottom of the fifth, Ross retired the first two batters of the frame. But from there, Andrew Velazquez and Sócrates Brito recorded back-to-back singles, setting up Brandon Drury, who promptly ripped a three-run homer to send South Bend on its way to victory. Following that, Ross allowed a single to the next batter, then committed a throwing error, and left after an intentional walk.
That was the capper to a season of redemption for Ross, who began the 2012 campaign in Fort Wayne, too, before an injury and performance sent him down in the middle of that year.
***
We don't bring this up to besmirch champions. It's simply a good reminder that even the best in baseball (and life) experience episodes of failure.
In fact, it's best to view levels in Minor League Baseball like a pass-fail course. Turner and Ross have loads of company when it comes to elite prospects not being immune to struggles in Single-A.

Just in Fort Wayne's recent history alone we've seen the likes of Dinelson Lamet, in 2015, and Adrian Morejon, in 2017, chased early in pressure postseason starts, only to make their big-league debuts less than two years later.
Going back further, who holds the franchise record for most passed balls in a season, with 22 in 1996? Catcher A.J. Pierzynski, a two-time American League All-Star and 2005 World Series champ himself with the White Sox. Who committed the most errors in a single year? Michael Cuddyer, a shortstop here in '98, who'd then go on to become a National League batting champion and a two-time All-Star as well (by the way, in his MLB career he appeared at every position on the field but short, and catcher).
A litany of guys, like Franmil Reyes, Franchy Cordero, and Logan Allen, have required more than one season in Fort Wayne, and yet progressed to The Show in due time. Development is not linear, as wise people say, especially in Minor League Baseball where there are a myriad of factors in play, such as age and health.
The list of guys who did nothing but thrive is much shorter. Heck, even Fernando Tatis Jr. slashed a mere .213/.299/.319 in his first 25 games.
In this era of instant reactions, fueled by social media, 24-hour programming, etc., too often there's a compulsion for quick conclusions. Nuance be darned.
In the case of Turner and Ross, neither wound up with pretty numbers in the Fall Classic, but both embodied the Nats' collective spirit. There's no way to quantify exactly how their experiences in Fort Wayne forged their future feats. But make no mistake, they come away for the better, not only in terms of skill, but also with more humility and mental toughness.
Harold: Are your fingers gonna stay like that?@treavturner: Your guess is as good as mine! 😂#MLBTonight | #STAYINTHEFIGHT | #WorldSeries pic.twitter.com/M1LqBFQNJ8

— MLB Network (@MLBNetwork) October 31, 2019
Turner was a catalyst to the Nats' in-season turnaround after missing 39 games in April and May with a broken finger. As it turned out, that injury never fully healed, yet he played through the pain. For his part, Ross returned this season after missing most of 2017 and '18 due to Tommy John surgery. Though he was up-and-down, a starter and a reliever, the righty ultimately proved his value, eating innings in Games 3 and 5, even on short notice.
Nats fans shower Joe Ross with love. 🔊 #WorldSeries pic.twitter.com/mClaAyFXpB

— MLB (@MLB) October 27, 2019
So the next time you're ready to unleash a take, take a moment to consider Trea Turner and Joe Ross. Never Midwest League champions, but World Series champs.
Single-A is a class to pass. And for the most successful big leaguers, it's just part of their past on a long road from the Summit City to the pinnacle of the sport.
Click here for the full list of 57 former Fort Wayne players who appeared in MLB in 2019.