2018 Promotional Schedule
Join us for another year of fun at The Diamond in Lake Elsinore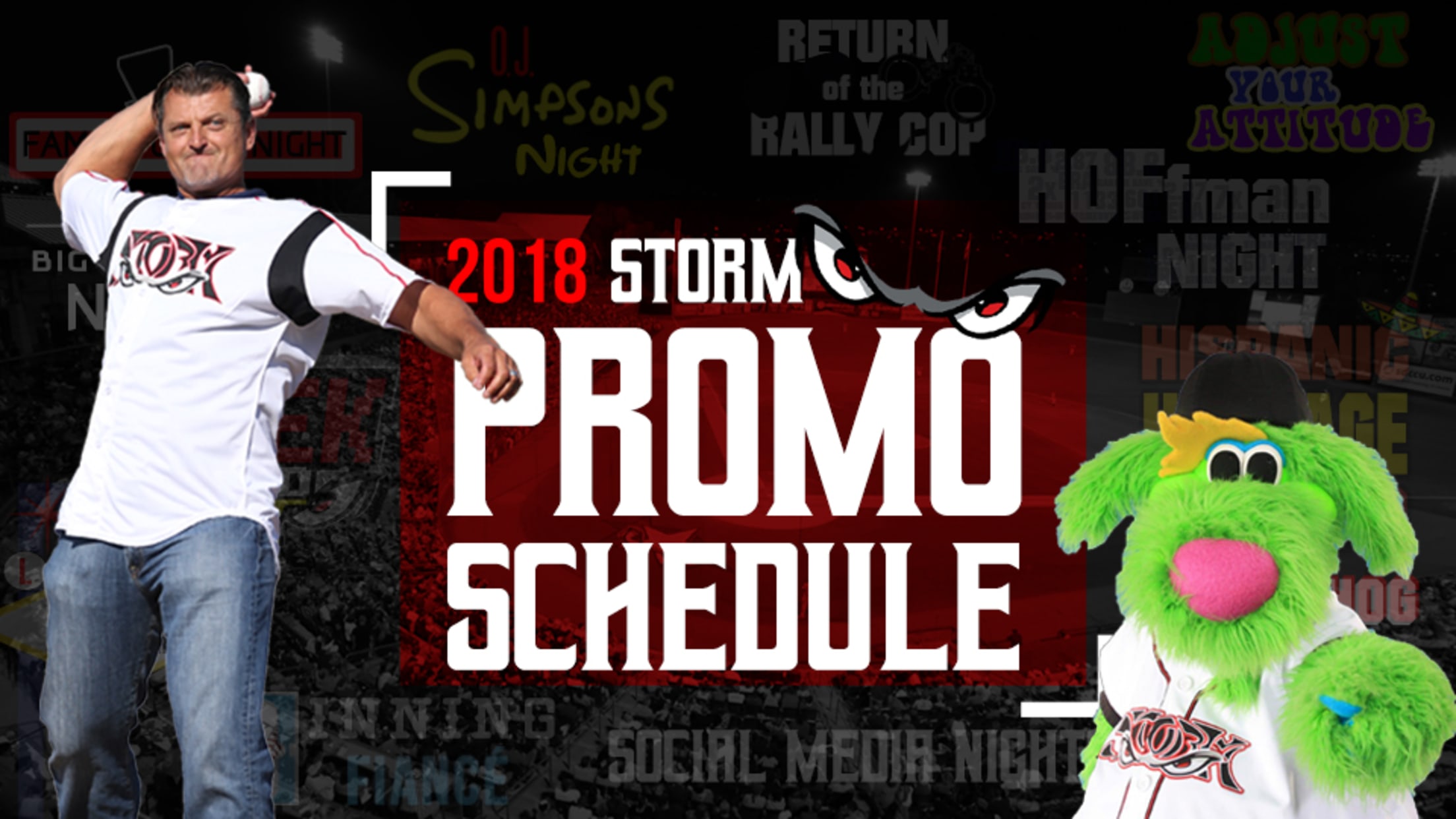 LAKE ELSINORE, Calif. - The Lake Elsinore Storm are excited to reveal the 2018 promotional schedule as the club's 25th Season, presented by John Hine Temecula Subaru, quickly approaches Opening Night at The Diamond.This year's promotional schedule will reflect on 25 seasons of Storm history in Lake Elsinore, with giveaways
LAKE ELSINORE, Calif. - The Lake Elsinore Storm are excited to reveal the 2018 promotional schedule as the club's 25th Season, presented by John Hine Temecula Subaru, quickly approaches Opening Night at The Diamond.
This year's promotional schedule will reflect on 25 seasons of Storm history in Lake Elsinore, with giveaways planned to celebrate the past, as well as former Storm player appearances, the Return of the Rally Cop and much more.
The celebration will continue on the field throughout the season as well, where the team will wear replica jerseys from the inaugural '94 season every Saturday, concluding August 18th when those game-worn throwbacks will be auctioned off.
A nice touch of fresh ideas, like Adjust Your Attitude Night, OJ Simpsons Night and 9 Inning Fiancé will mix with traditional celebrations Storm fans have grown accustomed to, such as GEEKend and Hispanic Heritage Weekend to give the fans a balance of the old with the new.
Family Game Night will lead-off the promotional schedule on April 28. The night will pay homage to some of the great traditional family board games and game shows many of us enjoyed during our childhood.
Fans are welcome to join the Storm in celebration of one of the great comedies of the '90s…"The Big Lebowski", which turns 20 this year, will get it's salute at The Diamond on Thursday, June 28.
The weekend of June 1-3 will be a fun one with the celebration of Hispanic Heritage and an 18th birthday party for the Storm's lovable green dog, Thunder, on June 2. Thunder has invited over 40 mascots to attend his party and it should be his biggest fiesta yet.
GEEKend5, a staple to Lake Elsinore's promotional schedule, will be June 14-17 and will once again raise funds for the San Diego Blood Bank. Get your nerd on with Superhero Night, Star Wars Night (which includes a Black Trooper hat giveaway presented by San Diego Blood Bank) and Gamer Day. Give back while you're at the ballpark, with our annual blood drive and donate to the raffle for a chance to win a Playstation 4 and more. Don't forget to bring dad out on June 17 for Father's Day.
Celebrate Independence Day by taking in America's Favorite Pastime with the Storm on July 4. Not only will we play baseball, but there will be a Joey Chestnut-style hot dog eating contest and the largest post-game fireworks show of the season.
Come back to the ballpark the next night for Lucky Loser: Part-Twozer, where you can turn your misfortune around. Fans that bring items like bad report cards, traffic tickets, college rejection letters, court summons and much more will be eligible for ticket discounts.
Make it three in a row as we celebrate Storm history July 6 by reliving the Top 25 most memorable on-field promotions at The Diamond. Then get your 25th Season t-shirt on July 7, presented by John Hine Temecula Subaru.
Baseball traditionalists can once again take in a Storm game in its purest form on Nothing Night, July 9. There will be no ticket sales, no concessions, no PA, no music and no in-game entertainment of any kind; just solely baseball. The night will also be poorly promoted (because it's Nothing Night), so mark it on your calendars now.
Ever seen "Groundhog Day"? The classic comedy starring Bill Murray, celebrates its 25th anniversary this year and we've got a treat for the fans on July 12. Relive the movie in real life, just at a baseball game. WARNING: the in-game entertainment might seem a bit repetitive.
Ever seen "Groundhog Day"? The classic comedy starring Bill Murray, celebrates its 25th anniversary this year and we've got a treat for the fans on July 12. Relive the movie in real life, just at a baseball game. WARNING: the in-game entertainment might seem a bit repetitive. (See what just happened there?)
Come back exactly a week later, July 19, and find out if a pair of lucky fans can find true love in just nine innings. A play on the popular TLC reality show 90 Day Fiancé the night will feature 9 Inning Fiancé, and will be centered around two unfamiliar fans who have yet to be chosen. Will they fall in love?
Lake Elsinore's parent club, the San Diego Padres, have recently made headlines when one of the team's all-time greats was elected into the National Baseball Hall of Fame. The Storm will honor #51 on the 51st home game of the season, July 20. Join us for HOFfman Night and get a replica Trevor Hoffman jersey, presented by the Lake Elsinore Casino. We like to think he's part of Storm history as well. After all, he did log three shutout innings in a Lake Elsinore uniform in 2003.
Are you a fan of mascots? If you answered 'yes', then July 21 is a can't-miss. Take home a double bobble head of Thunder and his little sidekick, Mini-Thunder, sponsored by Copia Wealth Management.
Need an attitude adjustment or know someone who could use one? Join us July 29 for Adjust Your Attitude Night, featuring a mood ring giveaway and mood ring-based pricing on concession and team store items. The night will bring awareness to the issue of bullying in schools and promote PAWSitivity, Thunder's message to kids for this year's Reading for Rewards program.
You might have read earlier our Tribute to OJ Simpsons Night as raised an eyebrow, but we promise it's not what you think. We are merely paying homage to orange juice and The Simpsons, it just so happens another Simpson has been in the headlines in the past year. See what all that's about on August 9.
Millions of Americans take part in Fantasy Football drafts every August. The Storm would like its fans to host their draft at the stadium on Tuesday, August 21. Why Tuesday? That's "Taco" Tuesday and we'd like to honor the great character from the popular TV show, The League.
Don't miss a great tradition to conclude the season on September 3. Everything Night will feature every fan-favorite ticket deal, in-game promotion and giveaway from the entire season. The action-packed, giveaways-galore night is always one worth circling on your calendar.
For our Storm social media supporters, Lake Elsinore will host three #EyesOn25 Social Media Nights, one for each of the main social media channels we use. Twenty-five lucky fans will be chosen per Social Media Night to participate and experience Storm baseball in a unique behind-the-scenes fashion while capturing those memories with their social network. Social Media Nights will be May 25, June 28 and July 20. Follow the Storm on Facebook, Twitter and Instagram for contest details to be announced at a later date.
Of course, every game at The Diamond is one worth watching with the Daily Promotions the Storm offer. Catch a Bark 'N Brew Monday, presented by Inland Wharf Brewing Co., and take in a Storm game with your dog for only an additional $1 while enjoying discounted local craft beer specials.
Fiesta Tuesdays, presented by El Ranchito Taco Shop, return once again with $3 tall can beers, tacos and margaritas. Bring a friend for two-for-one tickets. WINSdays are back for the Storm faithful. If the Storm win at home on Wednesday all fans in attendance through the end of the game receive a free ticket to a future Storm game. We couldn't leave out Thirsty Thursdays, where fans can enjoy $2 domestic draft beers and sodas through the seventh inning and take advantage of discounted craft beer specials.
Fireworks Fridays, presented by Pyro Spectaculars by Souza, will once again bring fans great post-game enjoyment with 11 fireworks shows this season, not including July 4. Signature Saturdays are back this season with pre-game autographs and/or giveaways. As a thank you to our armed service members, past and present, Salute to Soldiers Sunday Fundays provide up to four free tickets for every valid military I.D. presented at the ticket window. Let your little one spend their energy on the base paths with post-game kids run the bases.
Thunder's Kids Club sign-ups are open now for the 2018 season. Sign your child up for free tickets to every Sunday home game, fun zone passes, outside events and much more. Kids must be under 12 years old to join.
Please check stormbaseball.com and follow the Storm on social media to stay up-to-date with game day promotions, giveaways and more.
Individual game tickets will go on sale Monday, March 12. Call 951-245-4487 for more information. Promotions and giveaways are subject to change.