ICYMI: Storm Move Into A Three-Way Tie For First Place With 8-3 Road Win Versus 66ers
Storm Match Their Season High With Three Home Runs In A Game From Campusano, Arias and Suwinski While Boushley Gets His Fifth Win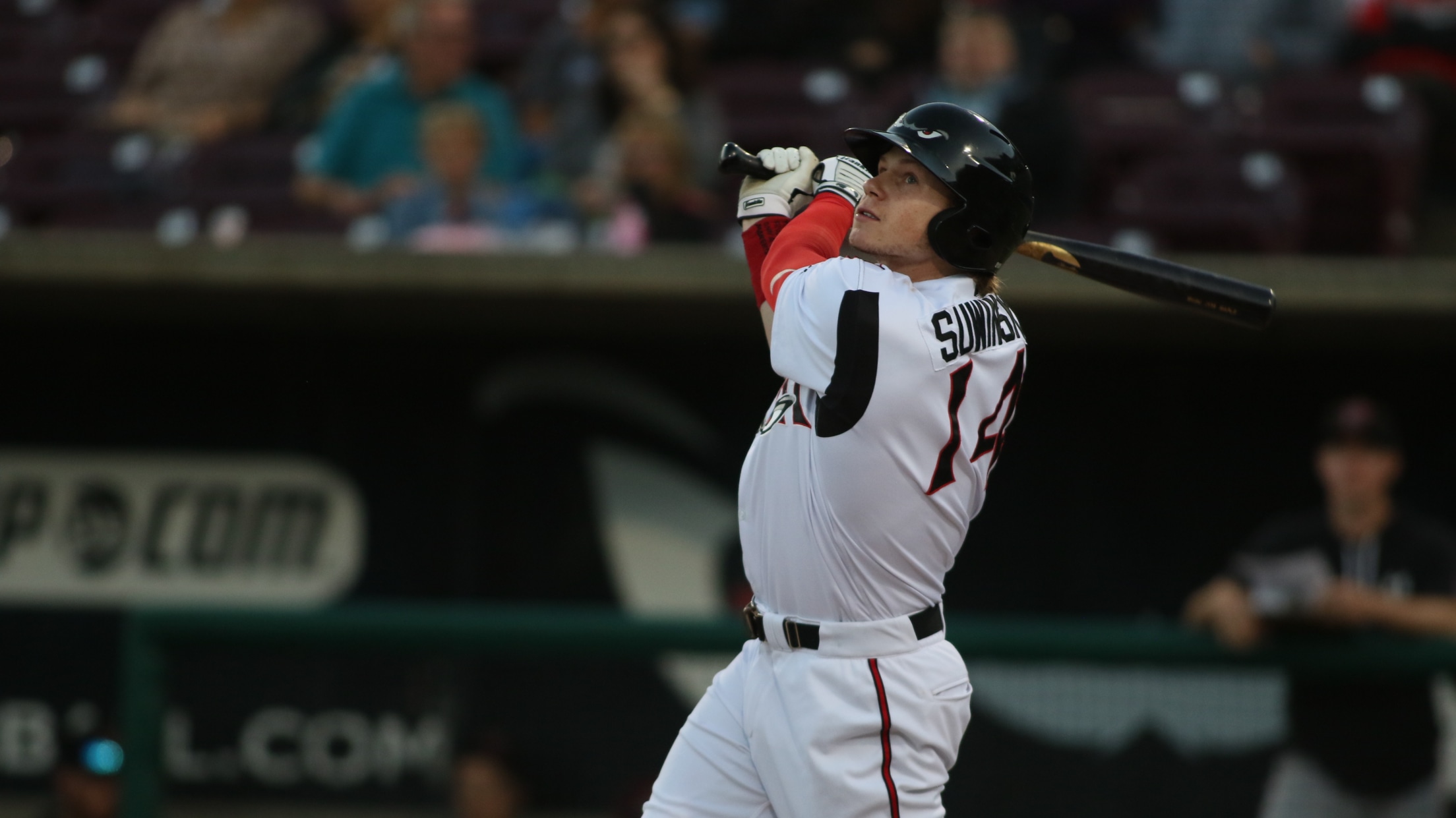 SAN BERNARDINO, Cailf. - For the first time since July 6 the Lake Elsinore Storm are back in first place, tied with Lancaster and Rancho Cucamonga with 21 games to play, after last night's 8-3 victory against Inland Empire at San Manuel Stadium.The Storm won their fifth consecutive against the
SAN BERNARDINO, Cailf. - For the first time since July 6 the Lake Elsinore Storm are back in first place, tied with Lancaster and Rancho Cucamonga with 21 games to play, after last night's 8-3 victory against Inland Empire at San Manuel Stadium.
The Storm won their fifth consecutive against the L.A. Angels' affiliate and their second of the three-game series, slugging three home runs in support of eventual winner, RHP Caleb Boushley, who improved to 5-4 on the season. Starter RHP Mason Thompson worked a scoreless frame but left the game after taking a line drive off his right leg to end the first inning. Boushley recorded 13 outs in relief and the Storm never trailed in winning for the 19th time in 30 games against the 66ers.
The Padres' affiliate scored twice in the third on 2B Xavier Edwards lead-off triple, a wild pitch and then a one-out solo home run from All-Star C Luis Campusano, his 12th of the year. After Inland Empire LF Orlando Martinez tied the game in the home half of the third with his ninth-round tripper, the Storm took the lead for good in the fourth on back-to-back triples from 1B Olivier Basabe and Edwards followed by a sacrifice fly from LF Allen Córdoba for a 4-2 advantage.
RF Jack Suwinski made it 6-2 visitors in the fifth inning with his 10th blast of 2019, matching his total from last year, before SS Gabriel Arias belted his 12th home run in the sixth, another two-run shot to make it 8-2 Storm.
Relievers RHP Gabe Mosser, RHP Hansel Rodriguez and LHP Fred Schlichtholz allowed zero earned runs and combined for the final 11 outs as the Storm won for the ninth time in their last 14 games.
Lake Elsinore is 61-56 overall and 26-23 in the second half. The Storm have six remaining games against Rancho Cucamonga and will play Lancaster 11 times in the final 20 games, including August 30-September 2 at home to close out the regular season.
Noteworthy:
RHP Caleb Boushley: Improved to 5-4 overall, 4.1 IP, two runs, three strikeouts, zero walks
SS Gabriel Arias: 3-5, one home run (12th), two RBI (58), two runs, one stolen base
2B Xavier Edwards: 2-5, two triples (4), one RBI (10), two runs, five-game hitting streak
1B Olivier Basabe: 2-3, one triple, one run, one walk, seven-game hitting streak
C Luis Campusano: 1-3, one home run (12th), one RBI (64), two runs, two walks, eight-game hitting streak
RF Jack Suwinski: 1-4, one home run (10th), two RBI (46), one run, one walk (eight in last five games)
WP: Caleb Boushley (5-4)
LP: Cristopher Molina (1-4)
Save: None
HR: LE: Campusano (12th, solo, T3), Suwinski (10th, two-run, T5), Arias (12th, two-run, T6) | IE: Martinez (9th, two-run, B3)
Time: 3:19
Att: 2,818
On Deck:
On Sunday at 5:35pm in San Bernardino, seeking a sweep of the 66ers, Lake Elsinore LHP Joey Cantillo will make his California League debut after a promotion from the Fort Wayne TinCaps (Midwest League) and will be opposed by RHP Aaron Hernandez. The Storm have only 10 home games remaining and will return to The Diamond August 16 for six games in seven days. For the best available seats buy online at stormbaseball.com or call 951-245-4487.