ICYMI: Visalia Victorious 4-2, Storm Must Win Saturday To Force A Championship Series Finale
Caleb Boushley Tosses Seven Strong Innings, But Rawhide Score Two in the 9th To Force The Storm On The Brink Of Elimination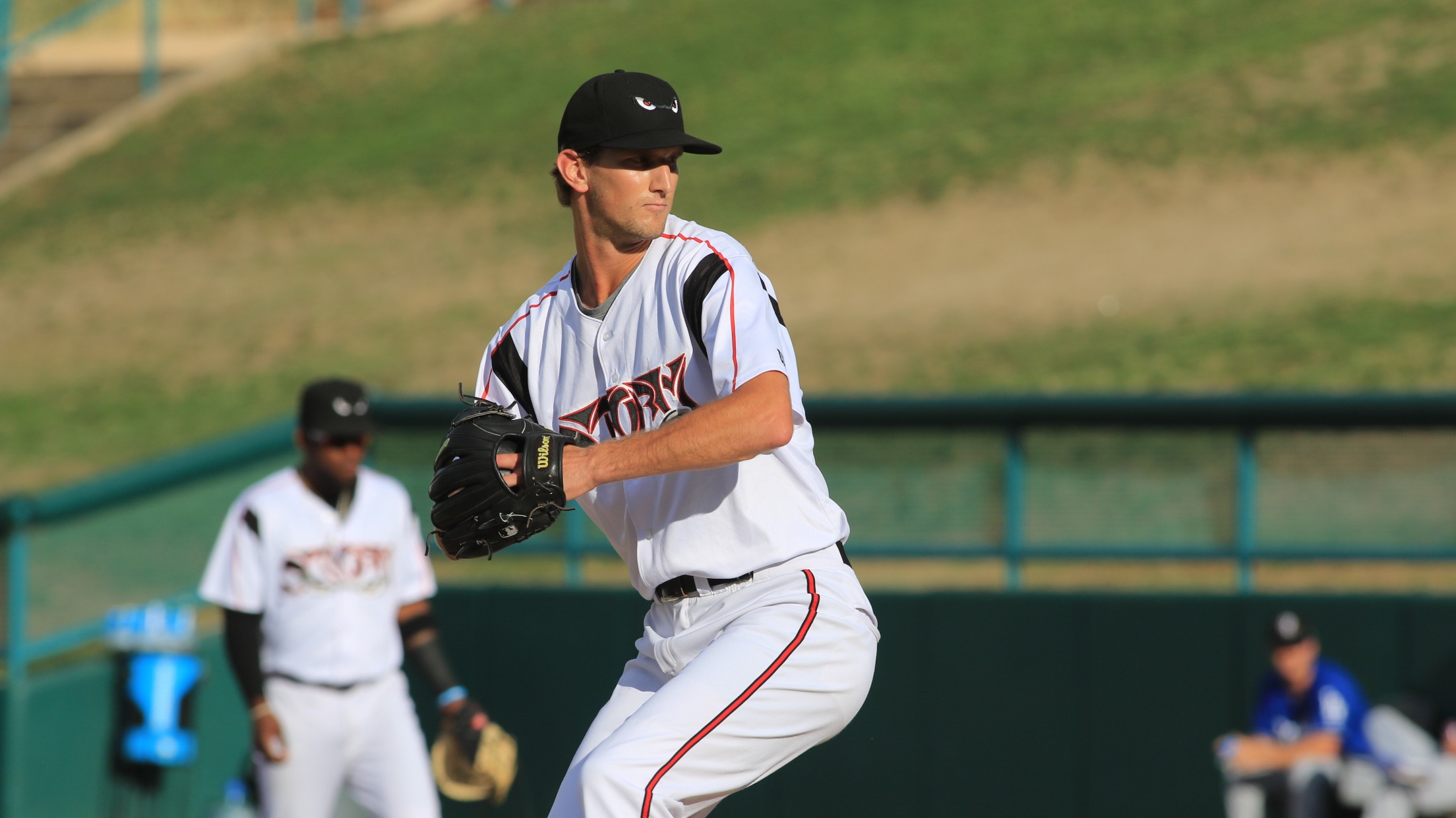 VISALIA, Calif. - Attempting to end a California League Championship drought that dates to 1978, the Visalia Rawhide are one win away from earning their third title in franchise history after a 4-2 win over Lake Elsinore at Recreation Park on Friday night, giving the Arizona Diamondbacks' affiliate a 2-1
VISALIA, Calif. - Attempting to end a California League Championship drought that dates to 1978, the Visalia Rawhide are one win away from earning their third title in franchise history after a 4-2 win over Lake Elsinore at Recreation Park on Friday night, giving the Arizona Diamondbacks' affiliate a 2-1 series lead in the best-of-five finals matchup.
The Storm won all three series against the Rawhide in the regular season, winning six of nine games head-to-head against the North Division Champs. Since winning Game One on Tuesday, Lake Elsinore has dropped consecutive close games versus Visalia, losing 2-1 on Wednesday at The Diamond followed by last night's eighth inning Rawhide rally that changed a 2-2 tie into a two-run win.
Storm starter RHP Caleb Boushley, a mid-season All-Star from Hortonville, Wisconsin, was able to withstand a challenging first inning in which he faced seven batters and allowed one run on three hits while stranding three runners. Visalia added one run to the ledger in the third inning on a leadoff double from CF Alek Thomas who scored on a big bouncing single to right field by 3B Luis Alejandro Basabe that put the Rawhide ahead, 2-0.
In the top of the fourth frame, 2B Xavier Edwards drove a sinking liner to shallow left center field that snuck past two outfielders. Edwards tried to extend a double to the gap into a triple but was thrown out at third base for the first out of the inning. CF Jeisson Rosario then reached on an infield single before SS Gabriel Arias belted a two-out, two-strike home run to left center field that tied the game, 2-2. Arias hit his first blast of the playoffs and team-leading 18th of the season to give the Storm, and their starter, new life.
Boushley, the former Division III standout at Wisconsin-La Crosse, settled in after the early deficit by retiring 15 of the final 16 Rawhide batters he faced, including the last 10 in a row, before ending his night after seven innings and 75 pitches with the scored still tied, 2-2.
In the top of the eighth, with two outs and nobody on, Storm C Jalen Washington hit a double to right field of reliever Jose Cuas, who then had to match up against Edwards, who paced Lake Elsinore with three of the team's seven hits. Edwards delivered a two-strike single to left field, but Washington was thrown out at home plate on an accurate throw from LF Eduardo Diaz to C Jose Herrera, who made the catch and applied the tag at the plate to deny the Storm their first lead of the night.
In the home half of the eighth inning, against RHP Henry Henry, Visalia scored two runs on two hit batters and two timely hits. Henry's second pitch of the inning hit Thomas, who would score from first on Basabe's single to right field that turned out to be the game-winning hit. On the high bouncing single, the runner from first scored just ahead of the relay from RF Tirso Ornelas to 1B Olivier Basabe to Washington, whose tag on Thomas on a bang-bang play at the plate was ruled not in time. Visalia added a two-out RBI single by DH Max Murphy for a 4-2 advantage with three outs to play.
Rawhide closer RHP Breckin Williams allowed a leadoff walk in the ninth inning to Jeisson Rosario that brought the potential tying run to the plate before finishing the game with three consecutive outs against the 3-4-5 hitters in the lineup to earn his fourth playoff save and second in a row in the Championship Series.
Noteworthy:
RHP Caleb Boushley: Seven innings, two runs, four strikeouts, Visalia went 0-16 to end Boushley's start
2B Xavier Edwards: 3-4, one double
C Jalen Washington: 1-2, one double, one walk
CF Jeisson Rosario: 1-3, one run, one walk
SS Gabriel Arias: 1-4, home run, two RBI
WP: Jose Cuas (1-0)
LP: Henry Henry (0-1)
Save: Breckin Williams (2)
HR: LE: Arias (1) | VIS: None
Time: 2:49
Att: 1,673
On Deck:
Game Four of the best-of-five Championship Series is Saturday, September 14 at 7:00pm. Lake Elsinore will start RHP Adrian Martinez against Visalia LHP Bryan Valdez at Recreation Park. If the Storm win, Game Five will be Sunday, September 15 at 6:00pm in Visalia.