2018 Prospect Projections: AL Central rookies
Jimenez, Kopech nearly ready to contribute to White Sox rebuild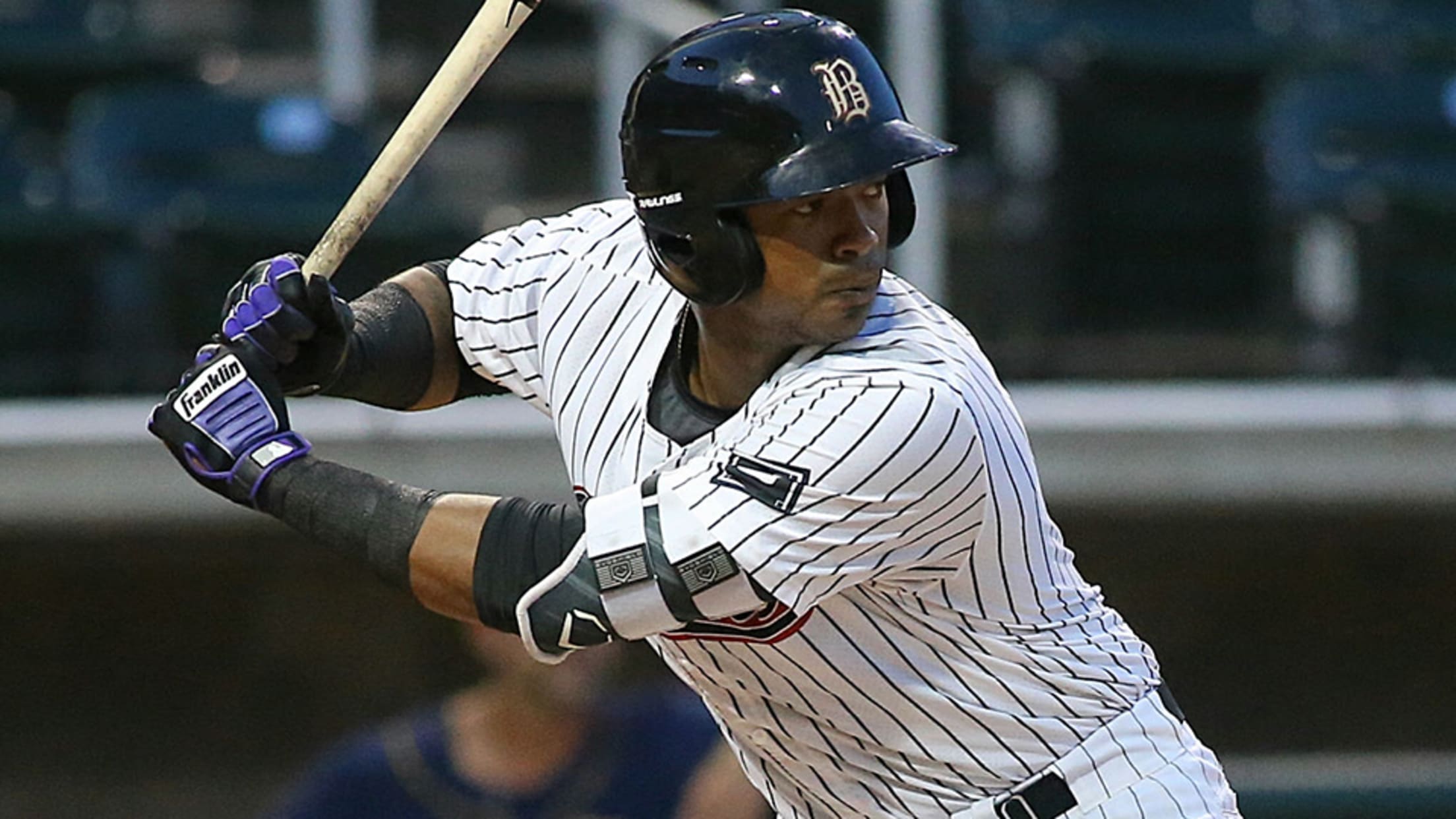 Eloy Jimenez hit 11 homers in 47 games after coming over to the White Sox system on July 13. (Jimmy Mitchell/Birmingham Barons)
This is the third in a six-part series that uses FanGraphs' Steamer600 projections to look at how prospects would fare over a full Major League season. The system bases its forecast on 600 plate appearances for position players, 450 plate appearances for catchers, 200 innings for starting pitchers and 65
This is the third in a six-part series that uses FanGraphs' Steamer600 projections to look at how prospects would fare over a full Major League season. The system bases its forecast on 600 plate appearances for position players, 450 plate appearances for catchers, 200 innings for starting pitchers and 65 innings for relievers -- taking into account age, past performance and previous Minor League levels, among other factors.
In 2017 -- the first year of a major rebuild for the White Sox -- Yoán Moncada, Lucas Giolito and Reynaldo López all made their big league debuts on Chicago's South Side. Reboots like this one, if they follow the recent blueprint of the Astros and Cubs, can lead to waves of young talent getting called up over the course of just a few years until the Major League team is loaded with impactful, controllable stars. For the White Sox, the question heading into 2018 is a natural one -- who's next?
The answer, according to Steamer, is not all that surprising.
Outfielder Eloy Jiménez and right-handed starting pitcher Michael Kopech -- MLB.com's No. 5 and 10 overall prospects, respectively -- should be banging down the door in 2018, according to the full-season projection system.
Jimenez, 21, has played only 47 games in the White Sox system after coming over from the Cubs in a mid-July deal for left-hander Jose Quintana -- and only 18 of those games have been at the Double-A level. Yet Steamer, like anyone who has seen him play, believes the 6-foot-4, 205-pound slugger's bat could translate almost immediately to the Majors.
Jimenez hit .312/.379/.568 with 19 homers, three triples and 22 doubles in 89 games at Class A Advanced and Double-A in his age-20 season in 2017. That set a career high in long balls, despite the fact that he made 95 fewer plate appearances than the year before due to a bone bruise in his right shoulder. His numbers at the higher level were even better, although they came in a small sample. The right-handed hitter produced a .345/.410/.682 line with eight homers in 18 contests with Birmingham.
Steamer is already sold, projecting Jimenez to be an above-average Major League hitter this year. His 103 wRC+ ranks fourth among all potential White Sox bats behind only Jose Abreu (130), Avisail Garcia (111) and Nick Delmonico (104). His 23 projected homers would be third-most, trailing Abreu (30) and Matt Davidson (26). Consider that these projections come before Jimenez has even gotten a taste of Triple-A or a full month at Double-A for that matter, adding another layer of excitement.
The Dominican Republic native had his contract purchased in November and will be in Major League Spring Training, getting the lay of the land. Though he's played primarily in right field since coming over to the White Sox, he's unlikely to knock Garcia off the position following his breakout 4.2 WAR season. But he could fit nicely in the other corner, where Chicago might have to start the season with Delmonico, Leury Garcia or Willy Garcia.
The 2017 campaign also marked Kopech's first season in the White Sox system, but the 21-year-old had little trouble proving his value after changing his Sox from red to white as part of last offseason's Chris Sale deal. Known for his triple-digit fastball and good slider, Kopech made 22 starts at Double-A Birmingham before finishing up with three more at Triple-A Charlotte. He finished with a 2.88 ERA, 1.17 WHIP, 172 strikeouts and 65 walks in 134 1/3 innings between those two stops -- close to killer numbers, outside some control issues.
That doesn't quite translate into eye-popping numbers at the Majors yet, but in context, Steamer believes Kopech won't have much to prove to the White Sox early in his second season with the club before getting the call. Kopech's projection of a 1.4 WAR over 200 innings ranks second among potential White Sox starters; only Carlos Rodón (2.6) was given a higher number. Even Giolito, who was resurgent in the Majors by the end of 2017, sits below Kopech at 1.1. Looking under the hood, Kopech is projected for a 4.85 ERA, 1.50 WHIP, 216 strikeouts and 120 walks in his projected 200 frames. That K total is the highest among any projected White Sox starter, making him the only one of the bunch to average at least a strikeout per inning. However, his 5.4 BB/9 projection holds that back severely, and it's that part of his game that Kopech will be charged most with improving upon his return to Charlotte this spring.
However, Steamer still wouldn't be surprised if Kopech is one of the White Sox's best pitchers the day he arrives on the South Side, and that day should come relatively soon. Though Rodon still needs to recover from shoulder surgery, there is a foreseeable scenario in which the White Sox can claim him, Kopech, Giolito, Lopez and Carson Fulmer -- all of whom came through the farm in one way or another -- in their rotation this summer.
Below are rookie projections for each of the five American League Central clubs. To be considered, a prospect must be ranked among the top 30 in the organization by MLB.com and have spent a significant portion of the 2017 season at Double-A or above. (Exceptions were made for some top-100 overall prospects, consistently the subject of "When are they coming up?" questions.)
Chicago White Sox
HITTERS
PITCHERS
Most ready: See Jimenez and Kopech.
Give it time: The White Sox recently signed catcher Welington Castillo to a two-year deal with an option for a third season, and that could be just enough time to keep the seat warm for Zack Collins. The 10th overall pick in 2016 has an interesting offensive profile driven primarily by the three true outcomes. Last season between Class A Advanced Winston-Salem and Double-A Birmingham, he hit 19 homers over 113 games and reached base at a .370 clip, thanks to 87 walks that ranked eighth among all Minor Leaguers. He also struck out 129 times and hit just .224. As common as the three-true-outcome player is becoming, the White Sox would like to see Collins improve that hit tool before he pushes for Major League time. Steamer is on board with that assessment, putting Collins behind Castillo (2.4) and Omar Narvaez (1.6) in WAR projections. Chicago would also like to see Collins improve defensively, but that's not something Steamer projects until he finally cracks the Majors. For now, Castillo's addition allows Collins to develop on his own timeline, rather than being pushed to fill an opening behind the plate in The Show.
Wild cards: Charlie Tilson missed the entire 2017 regular season due to foot and ankle injuries, yet he's still in the conversation for an opening in center field. Could he take it? Steamer thinks he's got a fighting shot. His 83 wRC+ and 0.7 WAR projections may not jump off the page, but they compare nicely to center field competitors Adam Engel (63, -0.3) and Leury Garcia (84, 0.6), even after all the lost time. Tilson will have tons to prove in the health department, of course. However, if he's back at 100 percent, Tilson's plus speed and solid bat have a chance to keep his lost 2017 firmly in the rearview mirror.
Top-100 talent: As promising as the White Sox system is, the organization's other four top-100 prospects don't quite register on Steamer's scales yet. Luis Robert wasn't included after playing only 28 games, all of which came in the Dominican Summer League. Dylan Cease and Alec Hansen have impressed with their plus-plus velocity and ability to rack up strikeouts, but that won't translate into eye-popping Steamer numbers until they get a little higher on the chain. (Hansen did crack Double-A but only has two starts there.) The White Sox bought low on Blake Rutherford in a deadline deal involving Todd Frazier and David Robertson, and while the 20-year-old outfielder has time to realize his toolsy potential, Steamer acknowledges it's going to take plenty of it for that to happen.

Cleveland Indians
HITTERS
PITCHERS
Most ready: How does Steamer like elite control? A whole lot, it turns out. Shane Bieber, a 2016 fourth-rounder out of UC Santa Barbara, turned heads in his first full season when he walked only 10 batters over 173 1/3 innings at Class A Lake County, Class A Advanced Lynchburg and Double-A Akron. Of course, he accomplished much more along the way with a 2.86 ERA, 1.13 WHIP and 162 strikeouts in that span. He climbed to the No. 11 spot in MLB.com's ranking of Indians prospects, and according to Steamer, he should climb right into Cleveland's rotation plans in 2018. Bieber's 2.4 WAR projection was fourth-highest among Indians starters behind only Corey Kluber (5.2), Carlos Carrasco (2.9) and Trevor Bauer (2.9) while beating out rotation stalwarts Josh Tomlin (1.6) and Danny Salazar (0.8). None of Bieber's three offerings are particularly intimidating, however, and with Cleveland going for a third straight division title, they'll lean more on established options. But there could soon be a time when even the big club can't resist seeing what Bieber's accuracy could do at the highest level.
Give it time: There are probably a lot of people inside and outside the organization who would've loved to see top prospect Francisco Mejia land a spot in "Most ready." Steamer isn't quite there yet. Despite showing a plus hit tool almost everywhere he's gone in the pros, the 22-year-old switch-hitting catcher comes in with an 88 wRC+ and a .264/.309/.413 line over 450 plate appearances. It's worth noting that his wRC+ is actually the highest among Indians catchers. However, Steamer is a big fan of the gloves of Roberto Perez and Yan Gomes, both of whom more than double Mejia's WAR projection. Mejia only gets a flatline defensive value here because Steamer hasn't seen enough of his glove in the Majors, but even then, the Indians have long acknowledged he has room to grow behind the plate, which is why he got some looks at third base in the Arizona Fall League. If the hot corner is truly where he's headed, the bat still needs some improvement. If he's sticking at catcher, then the glove needs the same. Either way, MLB.com's No. 14 overall prospect will head to Columbus for his first taste of Triple-A before he can be considered a Major League regular.
Wild cards: It's tough to find a more exciting offensive tool in the Indians' system than Greg Allen's speed. The 24-year-old center fielder stole at least 30 bases in each of his first three Minor League seasons and probably would have hit that mark in 2017 had a broken wrist not limited him to 71 games at Double-A Akron. (He stole 21 in that span.) Even so, the Indians liked enough of what they saw to bring Allen up to the Majors for September roster expansion and used him primarily as a late-game pinch runner/defensive replacement. His bat isn't quite up to snuff to get regular playing time for a contending club, however, as Steamer points out. That said, the system also knocks him for his work in the field, and that goes against scouting reports that call him a plus fielder. What makes Allen a wild card is that if he can show a good enough bat in his first trip to Columbus, there's a chance he carves out more of a role than just a fourth-outfielder type, especially with Jay Bruce leaving via free agency and Jason Kipnis moving back to second base.
Top-100 talent: Triston McKenzie answered a lot of questions in 2017. He held up for 143 regular-season innings in his first season pitching from April to September. He struck out 186 over that span, second-most in the Minors. For those who thought the Indians may have an elite pitching prospect in the 2015 42nd overall pick, the 6-foot-5 right-hander proved it at Class A Advanced Lynchburg. That's a promising start for any 20-year-old. Steamer just wants to see him handle the upper Minors before presenting a projection that makes McKenzie look Major League ready at this stage in his career.
Detroit Tigers
HITTERS
PITCHERS
Most ready: Back when the Tigers system wasn't as exciting as it's become, Christin Stewart's power was one of the few shows in town. Just because he's fallen to No. 6 in MLB.com's ranking of the system's prospects doesn't mean that power has gone away. Stewart's 25 projected homers are tied for second among all potential Tigers behind only Miguel Cabrera's 27. His 95 wRC+ is also fourth-highest on the club and second among Detroit outfielders behind part-timer Nick Castellanos' 111. Though Stewart is pretty much locked into left field, Mikie Mahtook (the current placeholder in the position) isn't a prospect-blocker. Should Stewart's power play quickly at Triple-A Toledo -- and there's no reason to doubt it will after his 28-homer campaign at Double-A Erie in 2017 -- he could be up in quick order.
Give it time: There's a good amount of flash to Beau Burrows' game -- most notably his fastball, easily a plus pitch. After a rough 2016, the results came in 2017 as he finished with a 3.20 ERA, 137 strikeouts and 44 walks in 135 innings between Class A Advanced Lakeland and Double-A Erie. The most optimistic Tigers fan might want to push the 2015 first-rounder and see if his talent can make Detroit's downturn a short one. Steamer cautions against that, pegging the right-hander for a 5.35 ERA. A return to Erie, where he had a 4.72 ERA in 76 1/3 frames, is the likely course to begin 2018. If Burrows can continue to miss bats at a good clip and turn around those run-prevention numbers in the Eastern League, then a move to the International League could be in the cards as well as a late Major League debut before he turns 22 in September.
Wild cards: The Tigers had the first pick in this year's Rule 5 Draft and went with D-backs outfielder Victor Reyes, who is now listed as their No. 21 prospect. The 23-year-old has decent speed (18 steals at Double-A in 2017), a good arm in center and right (11 outfield assists) and an OK bat with little power (.293/.332/.399). That makes him basically the prototypical fourth or fifth outfielder, and Detroit's rebuild only enhances his ability to stick for the full season. That's good because Steamer has him as a below-replacement-level player right now. The Tigers can hide his imperfections and allow him to shine as a pinch runner or late-game defensive replacement. If his bat is as rough as Steamer thinks, however, it could be tough to keep him around.
Top-100 talent: The Tigers system is so much more interesting this year thanks mostly to its young arms. Franklin Perez, who turned 20 in December, became the organization's top prospect after coming over in the Justin Verlander deal in August. He's only got 32 innings of Double-A experience, explaining the low Steamer projection, but his mix of three above-average pitches in his fastball, curve and changeup should be fun to watch when he finally makes his organizational debut in the spring. Matt Manning (2016) and Alex Faedo (2017) make up Detroit's last two first-round picks. Faedo didn't pitch over the summer after leading Florida to a College World Series win and thus doesn't receive a Steamer projection. Manning, as his projection shows, is also quite far from the Motor City, having made only five starts for a full-season affiliate. The dream is for a rotation filled with Detroit-developed hurlers, and the Tigers have given themselves a puncher's chance at that happening. It'll just take a few years.

Kansas City Royals
HITTERS
PITCHERS
Most ready: It may have seemed like a minor trade from a prospect standpoint. Trevor Oaks, then the No. 14 prospect in the Dodgers system, was the most notable Minor Leaguer moved in a three-way deal between the Dodgers, Royals and White Sox earlier this month. But Steamer seems to think the Royals nabbed themselves a 2018 gem in Oaks. The only starting pitching prospect to receive a higher WAR projection among this year's crop was Braves lefty Luiz Gohara, featured in last week's Prospect Projection piece on the NL East. As with Bieber, that's because Steamer is a big believer in pitchers with special control, and Oaks earns bonus points for showing that skill over two separate seasons at Triple-A. Between 2016 and 2017, the 24-year-old righty walked only 27 over 147 innings. He also posted a 3.37 ERA and 1.21 WHIP with 120 strikeouts over that span while playing in the hitter-friendly Pacific Coast League. An oblique injury potentially kept him from making his Major League debut in 2017. Oaks was just added to a 40-man roster last November, but Steamer believes he should move right into the MLB rotation in his new system with the highest pitching WAR projection on a Royals squad that is likely entering a rebuilding phase.
Give it time: No. 11 prospect and 2016 fifth-rounder Nicky Lopez made a lot of noise in his first full season, particularly in the Arizona Fall League, where he hit .383/.433/.568 in a 20-game stay. The reports on his glove are glowing as well. That leads to questions of whether the 22-year-old shortstop could fill in almost immediately for a potentially departing Alcides Escobar on the left side of the infield. That may be the case by the second half of 2018, but Steamer throws some cold water on the thought, projecting Lopez to be less than a one-win player from the jump. That's OK. Lopez has played only 59 games of Double-A ball. The Royals shouldn't be banking on him to be good out of the gate. Raul Mondesi or a low-cost free-agent signing could keep the seat warm until Lopez shows he's ready to blast past those projections.
Wild cards: The Royals made some waves in December by taking two pitchers in the Rule 5 Draft: Burch Smith from the Rays and Brad Keller from the D-backs. The chances either sticks do not look great from a Steamer perspective, however. Keller, who is more likely to serve as a long man out of the bullpen, was given a starting profile but didn't crack a one-win projection. Smith actually came in as below replacement, even as a reliever, though he may be hurt a good amount by the fact that he missed all of 2015 and 2016 with elbow issues. Again, the Royals might need all the cheap talent they can get and could be willing to have long ropes with both right-handers.
Top-100 talent: The Royals have no top-100 prospects.
Minnesota Twins
HITTERS
PITCHERS
Most ready: Mitch Garver did plenty to earn his first Major League look in late April, having hit .291/.387/.541 with 17 homers and 29 doubles in 88 games at Triple-A Rochester. Though his slash line wasn't nearly as pretty in the Majors (.196/.288/.348 in 52 plate appearances), the 27-year-old remains one of only two backstops on the Twins' 40-man roster and should be able to slide in as Jason Castro's backup on Opening Day. In fact, Steamer thinks Garver and Castro, who earned projections of an 86 wRC+ and 1.8 WAR, would be have similar value over the course of a full season, so there's a chance Garver could take the job full-time. Helping his cause for at least a roster spot are his above-average arm and the fact that he's shown versatility with time at first base and left field in the Majors.
Give it time: Much has been made about the Twins' search for starting pitching in the free-agent market this offseason. But could No. 3 prospect Stephen Gonsalves be part of the solution? Not right away, Steamer argues. The 23-year-old southpaw was solid at Double-A Chattanooga in 2017, putting up a 2.68 ERA and 1.03 WHIP with 96 strikeouts in 87 1/3 innings, but got rocked at Triple-A Rochester with a 5.56 ERA, 1.54 WHIP, .293 average-against in 22 2/3 frames. Some of that could have been bad luck in a small sample. His .343 BABIP was quite high, and his 4.75 FIP looks better than the ERA. But those numbers don't help him in the projection game or his case to contend for a Major League spot this spring. Gonsalves, however, was added to the 40-man in November as Rule 5 protection, so if he can limit damage and get back to using an above-average fastball and plus changeup to strike out a batter an inning, he could be an option for the big club by mid-summer.
Wild cards: LaMonte Wade was a ninth-round pick not long ago -- in 2015 in fact. Yet he's become Minnesota's No. 17 prospect because of his intriguing offensive profile. Over three seasons in the Minors, the 24-year-old outfielder is a .295 hitter with more walks (177) than strikeouts (151). In his move to Chattanooga in 2017, he continued to be solid with a .292/.397/.408 line and once again showed impressive strike-zone discipline with a 71/76 K/BB ratio. With below-average power and speed that's only resulted in 15 steals over his last two seasons, the University of Maryland product needs to reach base in droves to have offensive value. Steamer is somewhat of a believer right now, giving him a 95 wRC+ projection that ranks 10th among all Twins position players, one spot below Byron Buxton (97). If Wade carries those numbers to Rochester in 2018, the Twins should at least consider seeing how Wade would work in a solid outfield group headlined by Buxton, Eddie Rosario and Max Kepler.
Top-100 talent: There may come a day when the Twins have a good shortstop problem, but we're not there yet. Nick Gordon will likely begin 2018 at Triple-A Rochester, but Steamer believes he's still got a bit to go to show offensive readiness. Top 2017 overall pick Royce Lewis was included in the table because he produced a decent sample (54 games) in his first Minor League summer, but the 18-year-old still has a long road before anyone should seriously discuss him and the Majors. Same goes for 19-year-old Wander Javier, who is not listed above but could push for a top-100 spot if he keeps showing a plus bat in the lower levels. How Minnesota handles Lewis and Javier potentially working together at Cedar Rapids in 2018 should be telling about their future plans for both players.

Sam Dykstra is a reporter for MiLB.com. Follow and interact with him on Twitter, @SamDykstraMiLB.