Stripers' Riley hits first three IL homers
Braves No. 8 prospect drives in eight runs to back Allard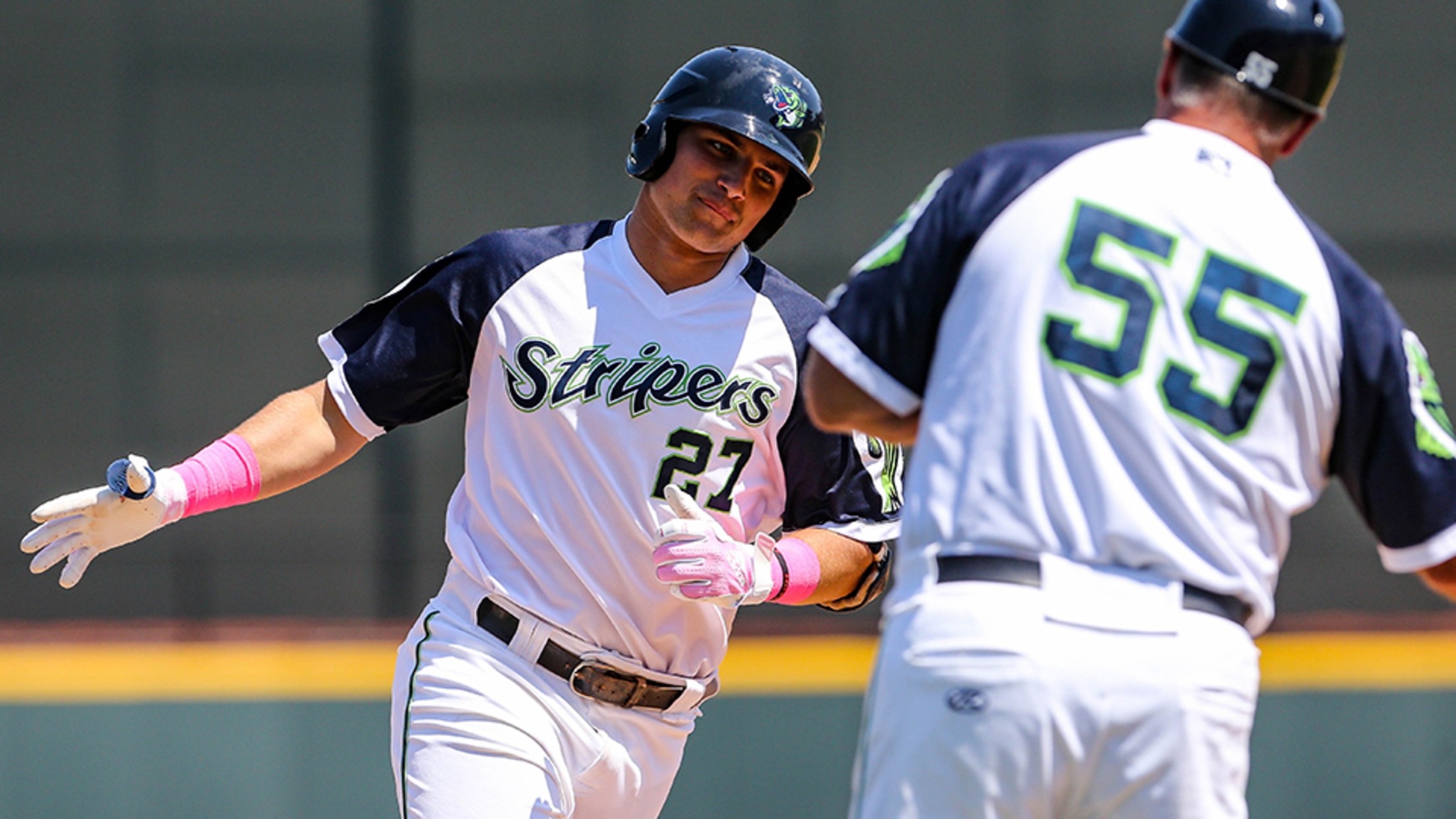 Austin Riley had 19 extra-base hits in 27 games at Double-A Mississippi before being promoted to Triple-A. (Karl L. Moore/Gwinnett Stripers)
The Gwinnett Stripers began the season with the International League's three youngest players.Soon, all three might be in the Major Leagues. And Austin Riley is making his own push.
The Gwinnett Stripers began the season with the International League's three youngest players.
Soon, all three might be in the Major Leagues. And Austin Riley is making his own push.
Gameday box score
The 21-year-old Riley, who began the season as the second-youngest player in the Southern League, blasted his first three Triple-A homers, including a grand slam, as Gwinnett rolled past Norfolk, 10-0, on Sunday at Coolray Field.
After batting .333/.394/.677 with 19 extra-base hits in 27 games at Double-A, Riley came into Sunday's matinee with six hits -- just one for extra bases -- in his first 24 at-bats for Gwinnett. He changed that quickly.
The Braves' No. 8 prospect lined a two-run homer to left field in the first inning off right-hander Matt Wotherspoon, led off the fifth with a blast to center off southpaw Andrew Faulkner and smacked his second career grand slam to left-center in the eighth off left-hander Josh Edgin. It was the second three-homer game in Gwinnett history and the first since Derrick Mitchell on May 9, 2014.
Riley also tied the franchise record with a career-high eight RBIs. The Memphis native said he'd never hit three homers in a game, not even in his days as a prep star.
"I've had a couple of two-homer games but never three, so this was kind of special, especially with my mom here," added Riley, who homered twice on April 12 in Biloxi. He got to present his mom with flowers and chocolates on Mother's Day before the family hit the road back to Mississippi.
There have never been questions about Riley's raw power. MLB.com's No. 78 overall prospect has hit 20 homers in each of the past two seasons and wrapped last year with a strong showing in the elite Arizona Fall League, finishing first in slugging, second in homers and third in OPS.
Translating that raw power into games is a matter of timing, Riley said.
"The biggest thing is being on time and being ready to hit the fastball," the 2015 supplemental first-round Draft pick said. "It's about taking care of that and being on time and hunting the fastball."
Riley had held his own early in his Triple-A stint but hadn't shown much power. He said it was a matter of learning the patterns.
"It's trying to figure out how they were going to pitch me," he said. "The way they worked me in Double-A, they would work me the same the whole game. In Triple-A, they work me in and out, in and out, in and out."
Scouts say Riley also has made strides defensively at third base, although when he moved to Gwinnett, some noted he'd have to continue to hone his glove work before getting a call to the Majors.
"I think just really focusing on the every pitch," Riley said regarding what the Braves want him to work on. "When I have errors, they're bonehead errors, balls right at me, throwing errors on routine ground balls -- not on the difficult plays. But that just comes with repetition and staying focused for a full nine inning. That's the biggest key, just trying to get reps."
Riley's record-tying day came in support of Kolby Allard. The 20-year-old, who's seen Ronald Acuña Jr. and Mike Soroka already go from Gwinnett to Atlanta, seems in line for a promotion himself following another dominant outing. MLB.com's No. 54 overall prospect allowed two hits over eight innings, tying the career high he set on Aug. 21, 2016. He walked one, struck out eight and lowered his ERA to 1.71, second-best in the International League.
While he's enjoying his time at Triple-A, the lefty acknowledged that for him and his teammates, the Majors is the ultimate goal.
"Yeah, I'm not going to lie, that's what we're all playing for," he said. "It's definitely in my head, but I'm just going to go out there and prepare every five days, whether it's here or in Atlanta so when my name's called I'm ready to help them win."
Allard's changeup, seen as his third-best pitch, has become more effective this season.
"Yeah, I think so. It's definitely going to be a big weapon," the Southern California native said. "I started taking big strides with it last year. Adding that third pitch is important that I'm very confident in throwing in every count. That'll help as I go further in my career."
Allard said he hadn't really done much different with the off-speed pitch.
"Not one drastic change, I just haven't thrown it a ton in the past," he explained. "I was just trying to get acclimated to it, just committing to it, just making a commitment to it. It's one of the best pitches if you can execute it, one of the best pitches in baseball."
Last season, Allard posted a 3.18 ERA as a teenager in the Southern League, breaking the 150-inning threshold in 27 starts.
Left-hander Philip Pfeifer allowed two hits in the ninth but struck out two and finished off Gwinnett's third shutout of the season.
In addition to Riley's big day, Major League veteran Danny Santana tripled and doubled twice, while Peter Bourjos was 2-for-5 with two runs scored.
But for Allard and Riley, Sunday was a peek into the future.
"It's been a lot of fun," Allard said. "Ever since I was drafted, the Braves had Acuna, Soroka, Austin Riley, and we've all moved up together and we've been young at every level and it's been fun to go through that with them. Hopefully, we can all migrate toward Atlanta together."
Vince Lara-Cinisomo is a contributor to MiLB.com. Follow him on Twitter @vincelara.