G-Braves' Acuna takes advantage of green light
Top Atlanta prospect tallies five hits, two jacks, five RBIs in twinbill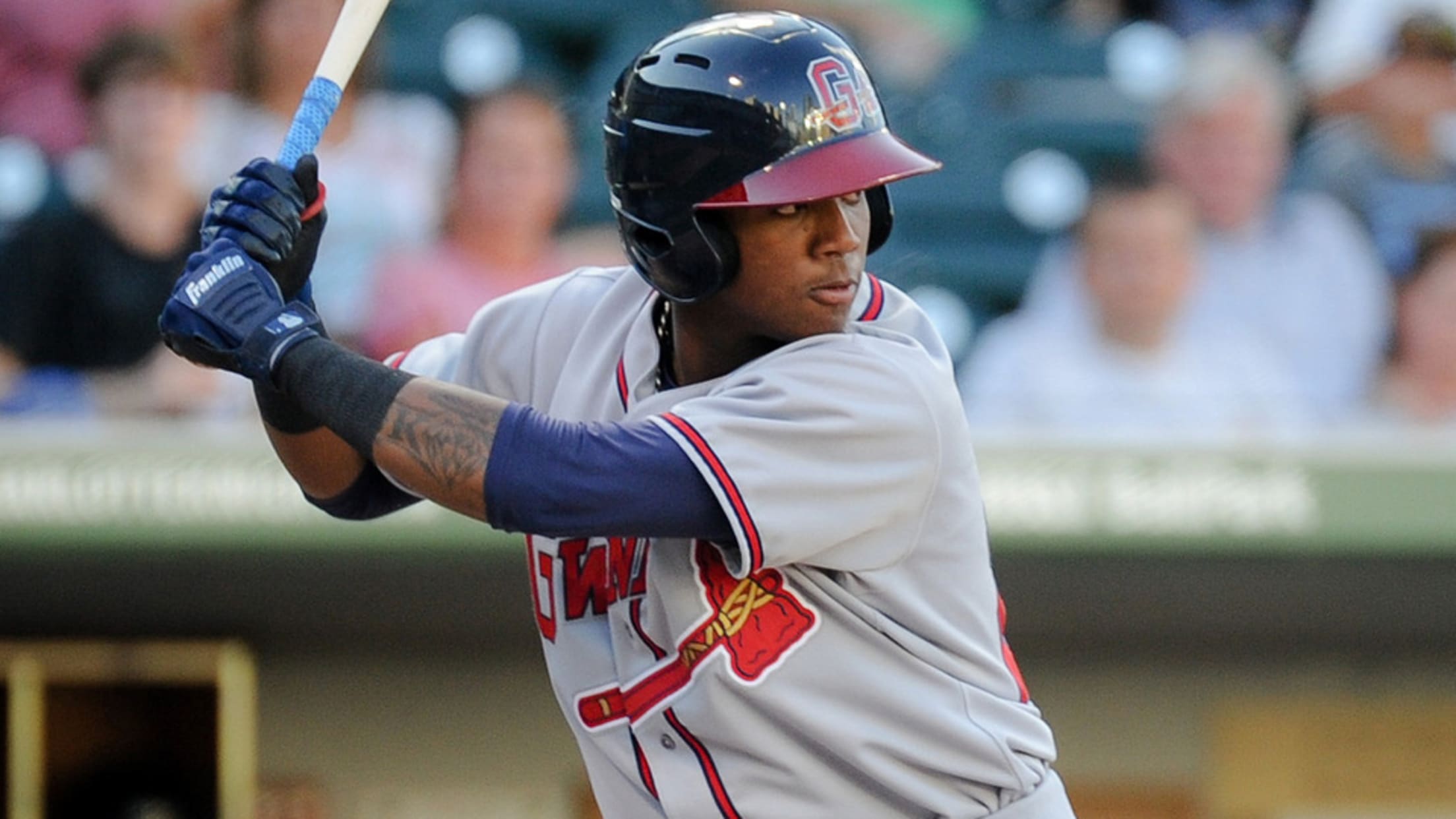 Ronald Acuna is a .306 hitter in 215 games across three seasons in the Braves system. (Laura Wolff/Charlotte Knights)
With comparisons to Ken Griffey Jr. and José Altuve at the age of 19, it shouldn't be too surprising when Ronald Acuña Jr. gets the green light on a 3-0 pitch. Especially when he has stretches like the one he's in now. The top Braves prospect homered on a 3-0
With comparisons to Ken Griffey Jr. and José Altuve at the age of 19, it shouldn't be too surprising when Ronald Acuña Jr. gets the green light on a 3-0 pitch. Especially when he has stretches like the one he's in now.
The top Braves prospect homered on a 3-0 count in the nightcap after going yard on a 2-0 count in the opener as Triple-A Gwinnett completed a doubleheader sweep of Scranton/Wilkes-Barre on Wednesday at PNC Field. Acuna went 5-for-9 with five RBIs, helping the G-Braves take Game 1, 9-4, and Game 2, 4-1.
"He's swinging the bat really well. Even his outs are being hard hit," G-Braves hitting coach John Moses said. "He doesn't think, he just sees and hits it. And when he does, he's squaring them up. He's ready to hit, he's ready to hit 3-1, 2-0, even 3-0; he's hit a couple home runs on 3-0 counts. He's just a solid hitter. You don't have to tell him much, he just does it."
The opener began on Tuesday but was suspended in the fifth inning due to rain. Before it was called, Acuna was 1-for-3 with a solo shot to left field on a 2-0 offering from Domingo Germán. When the game resumed, MLB.com's No. 8 overall prospect knocked a pair of singles to left.
In the nightcap, Acuna grounded out in the first, then took a first-pitch strike and worked the count to 3-1 before slapping an RBI double to center in the third.
"It was funny because I was talking with our pitching coach, [Reid Cornelius], at that time and I had a feeling they were going to throw a slider, something off-speed," Moses said. "And he was right on it and squared it up and had a two-out RBI, which is huge for us in a seven-inning game. And came through once again. The game was almost like the Acuna game. He drove in all four runs."
With a mind-set that reminds Moses of Altuve combined with young star power like Griffey's, Acuna put his stamp on the second game in the fifth. After working the count to 3-0, the right-handed hitter got the go-ahead from Damon Berryhill to swing away.
The hitting coach said he had a feeling that if RailRiders starter Chance Adams threw the next pitch down the middle, Acuna would do damage. And the center fielder drilled the offering from the Yankees' No. 3 prospect for an opposite-field three-run jack.
"I think his ability to square up pitches, whether it be an off-speed or fastballs, he just has the hand-eye coordination and just has the ability to hit and he just doesn't think about it," Moses said. "He knows that he's got to be on time, and for 80 to 90 percent of the time, he is. It's an awesome time for me to be able to watch a 19-year-old kid hit like that."
Along with the confidence instilled by his manager and coach, Acuna has a lot of confidence from within, Moses said, giving credit to long-time Braves instructor Rick Albert, who worked with Acuna in the Rookie-level Gulf Coast League in 2015-16.
The Venezuela native is hitting .341 in 33 International League games and has a .321 batting average across three levels. With 19 homers and 69 RBIs, he leads all Braves Minor Leaguers. Braves fans, including Gwinnett outfielder Micah Johnson, are excited about Acuna's potential and may be wondering what else he needs to prove in the Minors.
"He needs polishing on the bases and defensively, understanding early in the game which base to throw it to, when to shut it down and throw home. And that comes with playing every day," Moses said. "He's going to be able to figure all that out and put it all together. He's a five-tool player. He has every attribute that you look for in a ballplayer, a five-tool player, and he is that."
Reliever Matt Wisler (7-5) worked around a hit by striking out three over 2 1/3 scoreless innings for the win but exited in the ninth when he injured his hand on a comebacker of the bat of Donovan Solano.
• Get tickets to a G-Braves game »
"It's probably going to be bruised; I don't think anything's broken," Moses said. "But I saw him at dinner and he just has a pad on it, just trying to keep the swelling down. But he'll be fine."
In the first game, Yankees No. 16 prospect Tyler Austin went 3-for-5 with a solo homer for the RailRiders.
Kelsie Heneghan is a contributor to MiLB.com. Follow her on Twitter @Kelsie_Heneghan.