Baseball still part of Seahawks' Wilson
At Super Bowl, quarterback reflects on time in Minor Leagues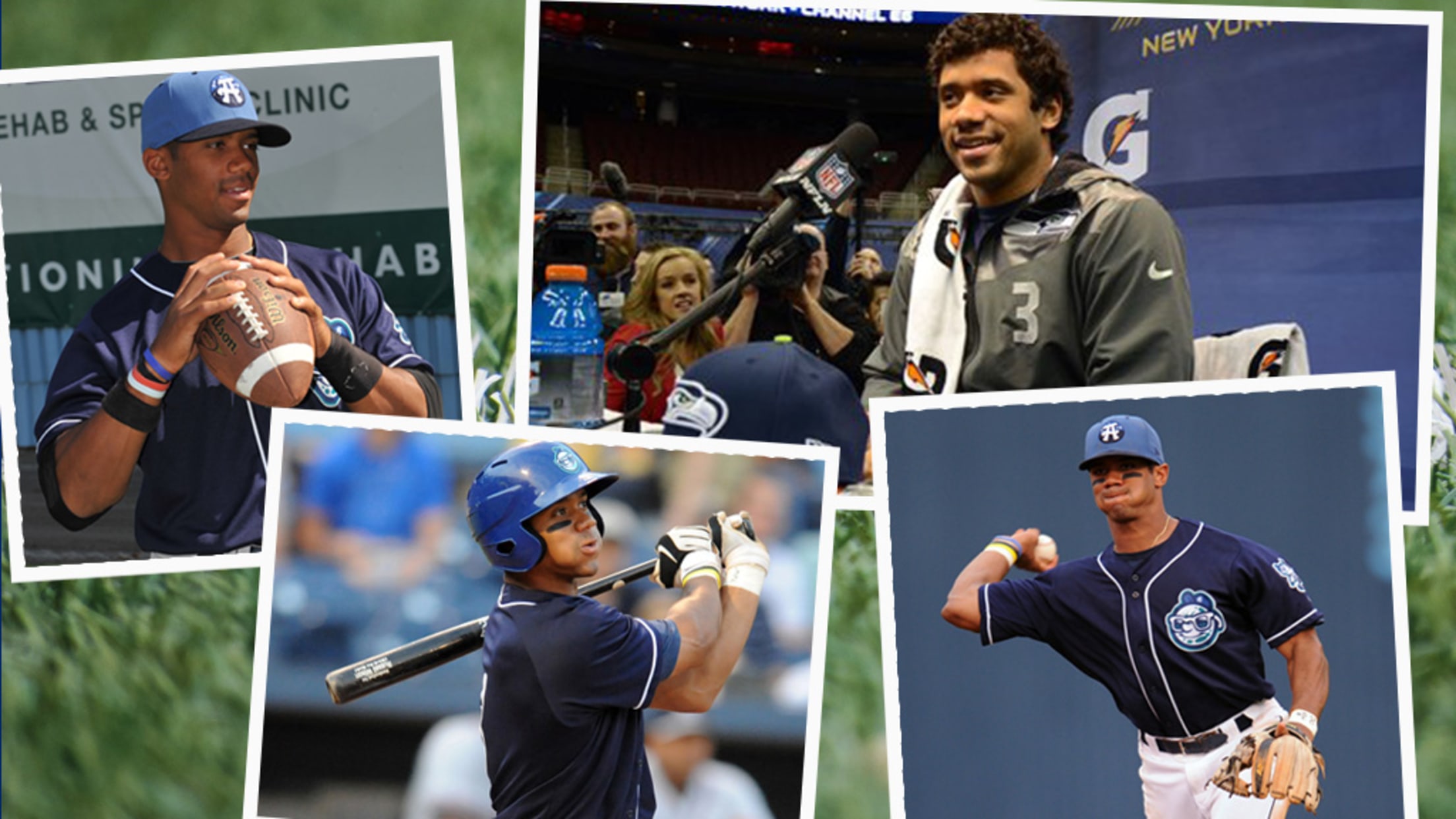 NEWARK, N.J. -- When Russell Wilson takes football's biggest stage on Sunday evening, he will carry traces of his baseball past. Though the Seattle Seahawks quarterback played in only 93 games across two Minor League seasons, baseball remains a part of who he is as an athlete. "When I see
NEWARK, N.J. -- When Russell Wilson takes football's biggest stage on Sunday evening, he will carry traces of his baseball past.
Though the Seattle Seahawks quarterback played in only 93 games across two Minor League seasons, baseball remains a part of who he is as an athlete.
"When I see him roll out and guys are chasing him and he throws an off-balance pass, I'm like, 'Oh, there's that double play he turned,'" said Joe Mikulik, who managed Wilson at Class A Asheville in 2011.
Selected by the Rockies in the fourth round of the 2010 Draft, Wilson wanted to give professional baseball a shot. He believed he could make it to the big leagues.
After one summer with short-season Tri-City, Wilson was back on the diamond in the South Atlantic League with Asheville, determined to become a better second baseman, a better hitter and a better athlete.
Mikulik was amazed with the transformation the middle infielder made in a few short months. He said he'd never seen someone with such determination to improve. Wilson was on his way to becoming the Major Leaguer be thought he could be -- but something was missing.
The Ohio native focused on baseball when he was in the Tourists clubhouse, but on his days off, he turned his attention to his other love.
With his 5-foot-11 frame, critics told him he was meant to be a second baseman, not an NFL quarterback. But those doubts only served as motivation.
"I had this itch to still play the game of football," Wilson said Tuesday at Super Bowl Media Day. "I had this itch to play on the big stage in front of 80,000 people, either screaming for you or rooting against you with two minutes left in the game."
When Wilson was told he needed to stay at North Carolina State for summer football workouts before his final season if he wanted to play for the Wolfpack that fall, he opted to head to Asheville anyway. That meant, however, that he'd need flexibility from his manager to find somewhere else to finish his college football career. He'd walk into Mikulik's office, asking if it was OK to visit the University of Southern California or Texas or whatever school was after him that week. Each time, the manager gave the same response.
"Just come back."
And after each recruiting trip, Wilson not only came back, he was the first player in the batting cage or on the field the morning after his return. Eventually, however, it was time for Wilson to leave Asheville for good. After hitting .228 with three homers, 15 RBIs and 15 stolen bases, he hung up his Tourists jersey and moved on to the University of Wisconsin -- but not without the skills he learned on the diamond to guide him as a quarterback.
"I have that laser focus and to be able to play the game of baseball and have amnesia and forget about the play before," Wilson said. "I think that's the exact same thing when playing the quarterback position -- the more that I learned that, the more that I was able to transfer that into my game when I'm playing the quarterback position, the better off I play."
Each series is a fresh start for Wilson, just like each at bat was while he was playing for Mikulik in Asheville. He said he tries to slow his heart rate -- and the moment -- to reduce any nerves.
In December, the former second baseman was selected by the Texas Rangers in the Rule 5 Draft, with an open invitation from general manager Jon Daniels to join the team for Spring Training. But in the middle of the madness that is Super Bowl week, football is the only sport on which he's focused.
"I believe that I would've played in the big leagues, I believe it would have taken me a couple years, [but] I would've gotten there," Wilson said. "I would've loved the game, but there's nothing like playing football. There's nothing like the game being on the line."
Kelsie Heneghan is a contributor to MiLB.com. Follow her on Twitter @Kelsie_Heneghan.