Vlad Jr. doing it all for Bisons
Top overall prospect singles three times, flashes the leather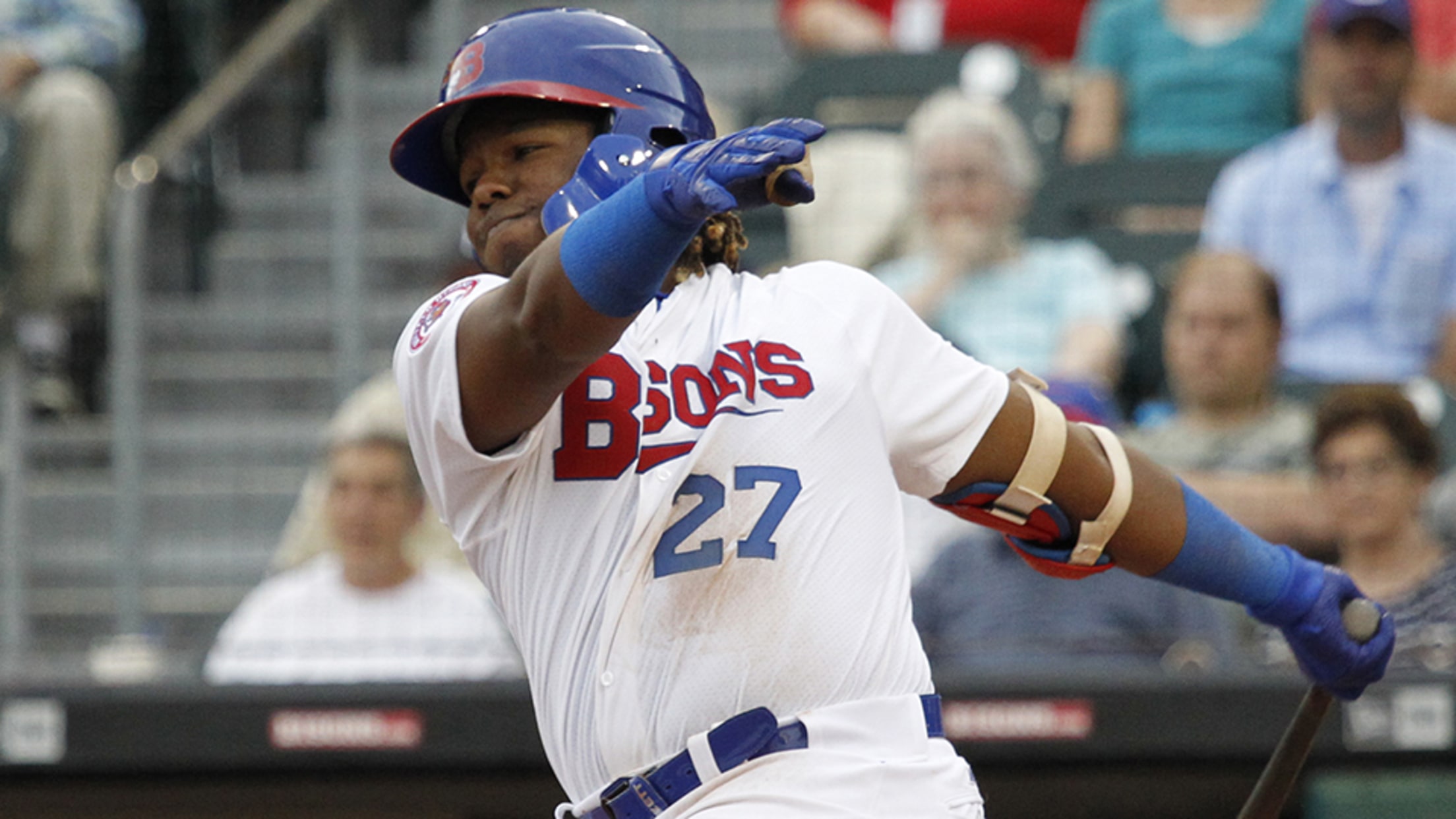 Vladimir Guerrero Jr. is 7-for-18 with eight walks through his first seven Triple-A games. (Jeffrey T. Barnes/AP)
The path Vladimir Guerrero Jr. is on may not reach the big leagues this season, but it's becoming shorter and shorter by the day.The top Blue Jays prospect singled three times and played strong defense at third base for Triple-A Buffalo, which dropped a 2-0 decision to Gwinnett on Tuesday
The path Vladimir Guerrero Jr. is on may not reach the big leagues this season, but it's becoming shorter and shorter by the day.
The top Blue Jays prospect singled three times and played strong defense at third base for Triple-A Buffalo, which dropped a 2-0 decision to Gwinnett on Tuesday night at Coca-Cola Field.
Guerrero's first three-hit performance at the Triple-A level also was his second multi-hit effort in three games for the Bisons. MLB.com's top overall prospect is batting .389/.556/.444 in seven International League contests.
The 19-year-old grounded a single to left field in the first inning and lined a base hit to center in the third. He flied to center in the fifth and singled up the middle leading off the eighth for his ninth game of three or more hits this season. Guerrero began his Buffalo tenure with two hits in his first nine at-bats but is 5-for-9 with three walks in his last three games.
Gameday box score
Overall, the son of newly minted Hall of Famer Vladimir Guerrero has a .400/.458/.653 slash line with 38 extra-base hits, 64 RBIs and 55 runs scored in 72 games, mostly with Double-A New Hampshire. He was leading the Eastern League with 83 hits, 60 RBIs, a .667 slugging percentage, 136 total bases, 30 extra-base hits and 18 doubles before going on the disabled list on June 7 with a patellar tendon strain in his left knee.
Guerrero returned to New Hampshire on July 19 and was promoted to Buffalo on July 31 after a stop in Cooperstown for his father's Hall of Fame induction.
"Miguel Cabrera is probably the best comparison because he has juice and also uses the whole field," New Hampshire hitting coach Hunter Mense told MiLB.com in May. "He has excellent barrel-to-ball skills and command of the strike zone. I realize that's a pretty lofty comparison."
The Montreal-born Guerrero also flashed some Gold Glove-caliber leather on Tuesday. Leading off the seventh, Gwinnett's Gift Ngoepe hit a grounder to Guerrero's left, where he made a sliding grab and came up firing to first to easily record the out.
Buffalo starter Sean Reid-Foley (7-4) yielded two runs on four hits in five innings. The Jays' 10th-ranked prospect struck out eight and walked two.
Blue Jays No. 30 prospect Rowdy Tellez and Tim Lopes had two hits apiece for the Bisons.
Gwinnett starter Andres Santiago gave up four hits and two walks while striking out one in four scoreless innings. Miguel Socolovich (3-3), Chad Bell and Chad Sobotka completed the Stripers' 10th shutout.
Braves No. 4 prospectAustin Riley doubled twice, while 28th-ranked Alex Jackson drove in a run with a second-inning double.