Red Sox prospect Chavis suspended 80 games
No. 80 overall prospect receives ban following positive PED test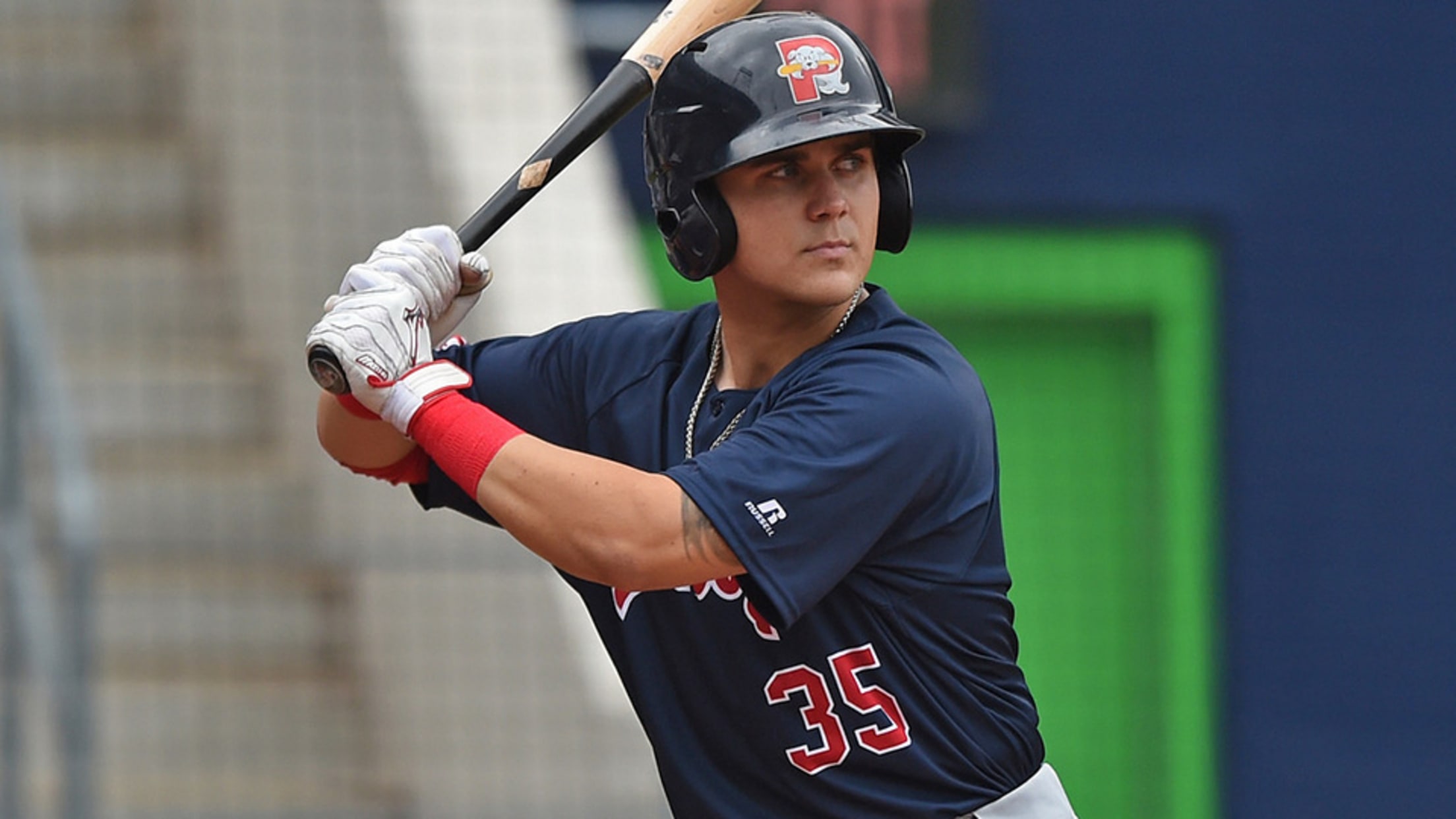 Michael Chavis hit .282/.347/.563 with 31 homers in 126 games between Class A Advanced and Double-A in 2017. (Kevin Pataky/MiLB.com)
Michael Chavis' season debut was already being delayed by an oblique injury. Turns out his first game of 2018 will be set back even further.The top Red Sox prospect has been suspended 80 games after testing positive for the performance-enhancing drug Dehydrochlormethyltestosterone, the Office of the Commissioner of Baseball announced
Michael Chavis' season debut was already being delayed by an oblique injury. Turns out his first game of 2018 will be set back even further.
The top Red Sox prospect has been suspended 80 games after testing positive for the performance-enhancing drug Dehydrochlormethyltestosterone, the Office of the Commissioner of Baseball announced Friday afternoon. The suspension begins immediately. Barring postponements and cancellations, that would mean Chavis is eligible to return to the Double-A Portland lineup on June 26.
"The Boston Red Sox fully support Major League Baseball and the Minor League Drug Prevention and Treatment Program," the organization said in a statement. "While we are disappointed by the news of this violation, we will look to provide the appropriate support to Michael. Going forward, the club will not comment further on the matter."
Chavis tweeted a statement of his own, saying he unknowingly took any banned substances but that he was accepting the punishment handed down.
"Over the past several months, I have been searching for an answer as to how a prohibited substances I have never heard of, DHMCT, was detected in my urine during the off-season," he wrote. "It is a question that unfortunately has not been answered and I have run out of time for not find an answer. As hopeless as this is for me, I am faced with the reality that maybe I never will. The only thing I do know is that I would never, and have never, purposely taken any prohibited substance in my entire life."
Chavis is coming off a breakout 2017 season that had placed him into MLB.com's top-100 prospect rankings. A first-round pick in 2014, Chavis hadn't posted an OPS above .711 in either of his first two full seasons at Class A Greenville, but exploded on the scene last year. The 22-year-old third baseman hit .282/.347/.563 with 31 homers -- 15 more than his previous career high -- in 126 games between Class A Advanced Salem and Double-A Portland. He finished the year in the Arizona Fall League and held his own there, batting .261/.327/.478 with four homers in 23 games for Peoria. With Rafael Devers taking over the hot corner in Boston, the Red Sox moved Chavis over to first base in the Fall League and had planned to test his defensive versatility in the upper Minors this season.
That is likely still to happen when Chavis returns to the system at either Portland or Triple-A Pawtucket, but it'll be months before that conversation can begin in earnest while the slugger sits out.
Three other Minor Leaguers received suspensions Friday for violating the Minor League Drug Prevention and Treatment Program. Giants No. 17 prospect C.J Hinojosa received a 50-game ban for a second positive test of a drug of abuse, Indians left-hander Alsis Herrera was given an 80-game suspension for a positive test of Stanozolol and D-backs right-hander Luis Diaz, who is currently on the roster of the rookie-level Dominican Summer League, received a 72-game penalty for the same performance-enhancing substance.
Sam Dykstra is a reporter for MiLB.com. Follow and interact with him on Twitter, @SamDykstraMiLB.