McMahon, Rodgers power Rockies system
Slugging infielders headline a host of talented hitters on the rise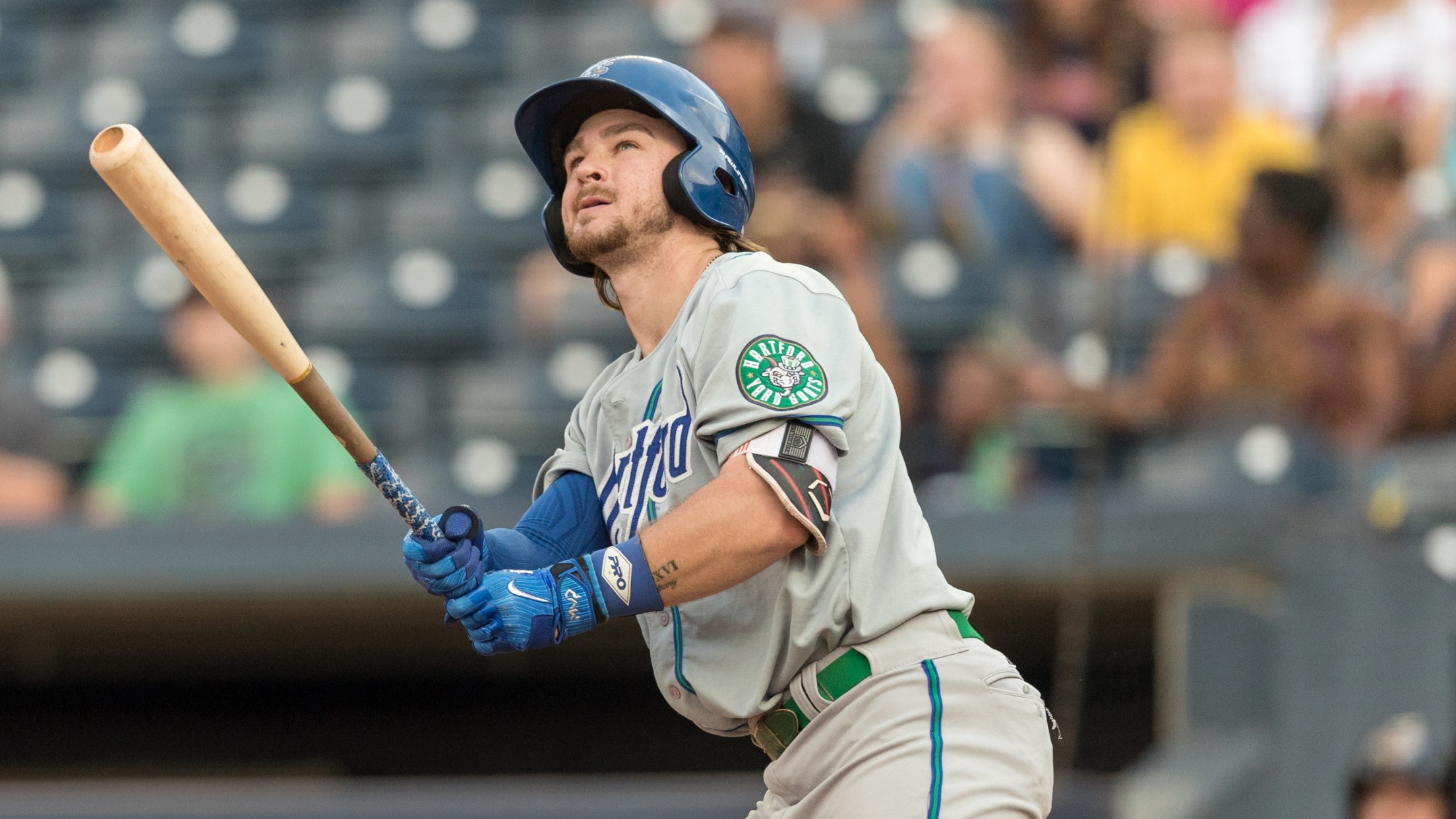 Top prospect Brendan Rodgers batted .400 at Lancaster before a late-June promotion to Double-A Hartford. (David Monseur/MiLB.com)
This offseason, MiLB.com is taking a look at the most outstanding campaigns by players in each system across Minor League Baseball and honoring the players -- regardless of age or prospect status -- who had the best seasons in their organization.Offense has long been the hallmark of the Colorado Rockies,
This offseason, MiLB.com is taking a look at the most outstanding campaigns by players in each system across Minor League Baseball and honoring the players -- regardless of age or prospect status -- who had the best seasons in their organization.
Offense has long been the hallmark of the Colorado Rockies, and rightfully so given the hitter-friendly environment they call home. Looking at the present state of their Minor League system, it's a trend with little sign of letting up.
Led by 2015 first-rounder Brendan Rodgers -- MLB.com's No. 6 overall prospect -- the Rockies' farm once again features plenty of firepower. Not only do they boast Major League-ready talent like Ryan McMahon (No. 55 overall), Mike Tauchman and Jordan Patterson, they also have a host of promising youngsters further down the chain who could slide into key roles in the coming years.
Catcher -- Chris Rabago, Lancaster (89 games): Rabago has been a model of consistency since being taken in the 13th round of the 2014 Draft, and this season was no different. The 24-year-old put up a solid .272/.350/.393 slash line over a career-high 89 games during his debut at the Class A Advanced level. Even though the UC Irvine product only clubbed one homer, he set personal highs with eight triples, 18 doubles, 25 stolen bases and 43 RBIs while helping the JetHawks put together the highest winning percentage in the California League.
First baseman -- Ryan McMahon Hartford (49 games), Albuquerque (70 games), Colorado (17 games): McMahon struggled to find his game in 2016, but a year later made his Major League debut. The 2013 second-round pick put any concerns behind him as he posted a .926 OPS in 49 games with Double-A Hartford before being promoted to Triple-A on June 1.
"We weren't surprised with the type of year Ryan had at all," Rockies senior director of player personnel Zach Wilson said. "Prospects have down years -- it happens. I think too many times eyebrows raise too quickly. The tools were still there, his work ethic remained terrific. In fact, the perceived struggles he had helped him in every area. Ryan had to deal with some adversity because his numbers weren't there, and that will make you grow up."
As well as things went with the Yard Goats, McMahon got even better when he made the leap to Triple-A. The 22-year-old hit .440 in his first 25 games for the Isotopes and barely slowed down, earning his first promotion to the Majors on Aug. 11.
Second baseman -- Shael Mendoza, Grand Junction (55 games): Mendoza didn't look overwhelmed in his first season in the United States. The 20-year-old native of the Dominican Republic posted a .931 OPS in 55 games with Rookie-level Grand Junction, finishing second in the Pioneer League in both batting average (.364) and stolen bases (25) and third in hits (84).
Third baseman -- Tyler Nevin, Boise (six games), Asheville (76 games): After being limited to just one game in 2016 because of a torn hamstring, Nevin injured his hand in a simulated game prior to this season but tried to play through the pain for the first month. The 2015 first-rounder was hitting .218 on May 3 when he got his hand examined and the tests revealed he had fractured some bones in his left hand. The 20-year-old missed over a month, and after a six-game rehab stint with Class A Short Season Boise, Nevin returned to Asheville and made up for the lost time, posting a .906 OPS with six homers and 40 RBIs over 54 games to close out the year.
Shortstop -- Brendan Rodgers, Lancaster (51 games), Hartford (38 games): Rodgers came into the season as the system's headliner, and his first half was one for the ages. The organization's top prospect put up a .400 batting average at the time of his promotion from Lancaster to Hartford on June 22, but other parts of his game impressed the higher-ups in the Mile High City as well.
"Rodgers' numbers tell a pretty good story of how his year went, but not the whole thing," Wilson said. "His time in Lancaster went as expected, which is tough to say when someone hits .400. Obviously, we expected him to hit there and he did that and then some. But he also made some very good improvements on the defensive end. You don't see that stuff in the box score."
Although it took some time for Rodgers to get comfortable with Hartford -- he hit .184 in his first 13 Double-A games while also seeing time at second base -- he began to settle in and posted a .297/.355/.525 slash line in his final 25 contests.
"We knew there would be an adjustment period," Wilson said. "The first couple of weeks he was adjusting to the pitching and the lifestyle changes with being moved across the country. He was actually turning a pretty good corner right when he had that leg injury at the end of the year. Obviously, for his age being able to play at Double-A, that's a huge stride. Overall, it was an extremely successful year for him."
Outfielders
Yonathan Daza, Lancaster (125 games): Daza was a rock for the JetHawks all season, finishing atop the Cal League leaderboard with 177 hits and a .341 batting average over 125 games. Although he drew only 30 walks, the 23-year-old still boasted the sixth-best on-base percentage in the circuit and continued to add to his profile by swiping a career-best 31 bags. The Venezuelan won't set the world on fire with his power -- he recorded only three homers in 2017 -- but he did rip 34 doubles and 11 triples while helping lead Lancaster to the league finals.
Mike Tauchman, Albuquerque (110 games), Colorado (31 games): The 26-year-old had a breakout 2017, making the jump to Coors Field for the first time in his career. Tauchman showed improvement in almost every facet of the game, but none more drastic than his power numbers. Coming into the year, the 2013 10th-round pick had a total of eight home runs in 384 Minor League games. He doubled that figure in 2017, amassing 16 long balls in 110 contests.
Jordan Patterson, Albuquerque (131 games): In an organization known for producing power prospects, it was Patterson who set the pace for Rockies' Minor Leaguers with 26 round-trippers in 2017. The 25-year-old finished the year with an .887 OPS, 32 doubles and seven triples to go along with 92 RBIs.
Honorable mention: Speedster Wes Rogers quietly put together one of the most complete seasons in the California League. A quick glance at the 23-year-old's numbers from this year shows just how good he was -- .319/.377/.488 to go along with his Minor League-leading 70 stolen bases -- while a deeper dive paints an even rosier picture. The 2014 fourth-round finished second in the league with a .380 wOBA (weighted on-base average) and 132 wRC+ (weighted runs created).
Utility -- Garrett Hampson, Lancaster (127 games): Hampson, who skipped Class A entirely, thrived with the JetHawks in 2017. The 2016 third-round pick was a terrific table-setter for Lancaster and spent 124 games at the top of their order. He finished the season with a .387 on-base percentage, third-best in the California League. Hampson also showed some versatility and was able to handle himself more than adequately at both second base and shortstop.
"He was high on our radar, internally, but maybe wasn't a big name among the baseball media," Wilson said of Hampson. "He's a real baseball rat with great instincts and feel for the game. He had a feel for the game that was so advanced that we skipped him over Class A and it's hard to say he exceeded expectations but this is the kind of season we expect out of Garrett. He just knows how to get it done."
Right-handed starting pitcher -- Yency Almonte, Hartford (14 games), Albuquerque (eight games): Almonte started the year at Double-A and posted a 2.00 ERA and 1.17 WHIP in 76 1/3 innings. That dominance earned the 23-year-old his first promotion to Triple-A, where he found positive results a little harder to come by. Once he discovered his form, however, he was back to being the effective, aggressive pitcher who cruised through lineups in the Eastern League.
"He was dominant in Double-A this year," Wilson noted. "He really attacked the strike zone and was aggressive with all of his pitches. You put all of that together, and that's who Yency Almonte is. His stuff allows him to pitch that way. When he got to Triple-A, just like with a lot of pitchers, there was an adjustment period. He was facing hitters who really know the strike zone, and that will make you work for outs. That took some getting used to, but he got a good taste of what it's like and he definitely learned from his struggles."


Left-handed starting pitcher -- Sam Howard, Hartford (nine games), Albuquerque (15 games): Howard made it to Triple-A in the middle of June thanks to a tremendous first half with Hartford. At the time of his promotion, the 2014 third-round pick owned a 2.33 ERA and 0.88 WHIP in 46 1/3 innings. Those numbers came back to earth in the Pacific Coast League, but Howard still posted a more than respectable 3.89 ERA in the hitter-friendly circuit.
"Much like Almonte, he dominated Double-A," Wilson explained. "Once he was able to really lock down the usage of his changeup and tighten up his breaking ball a little bit, it was clear he was ready for a new challenge. He was able to fight through his challenges and grow from that. Both Sam and Yency are Major League pitchers that are well on their way."
Relief pitcher -- Shane Broyles, Hartford (47 games), Albuquerque (one game): Broyles was the rock of the Hartford bullpen all season. A 14th-round pick in 2014 out of Texas Tech, the 26-year-old right-hander posted a 1.84 ERA and 0.97 WHIP while racking up 78 strikeouts in 53 2/3 innings.