Kieboom plates five on a career night
Nationals No. 3 prospect homers, scores three times in rout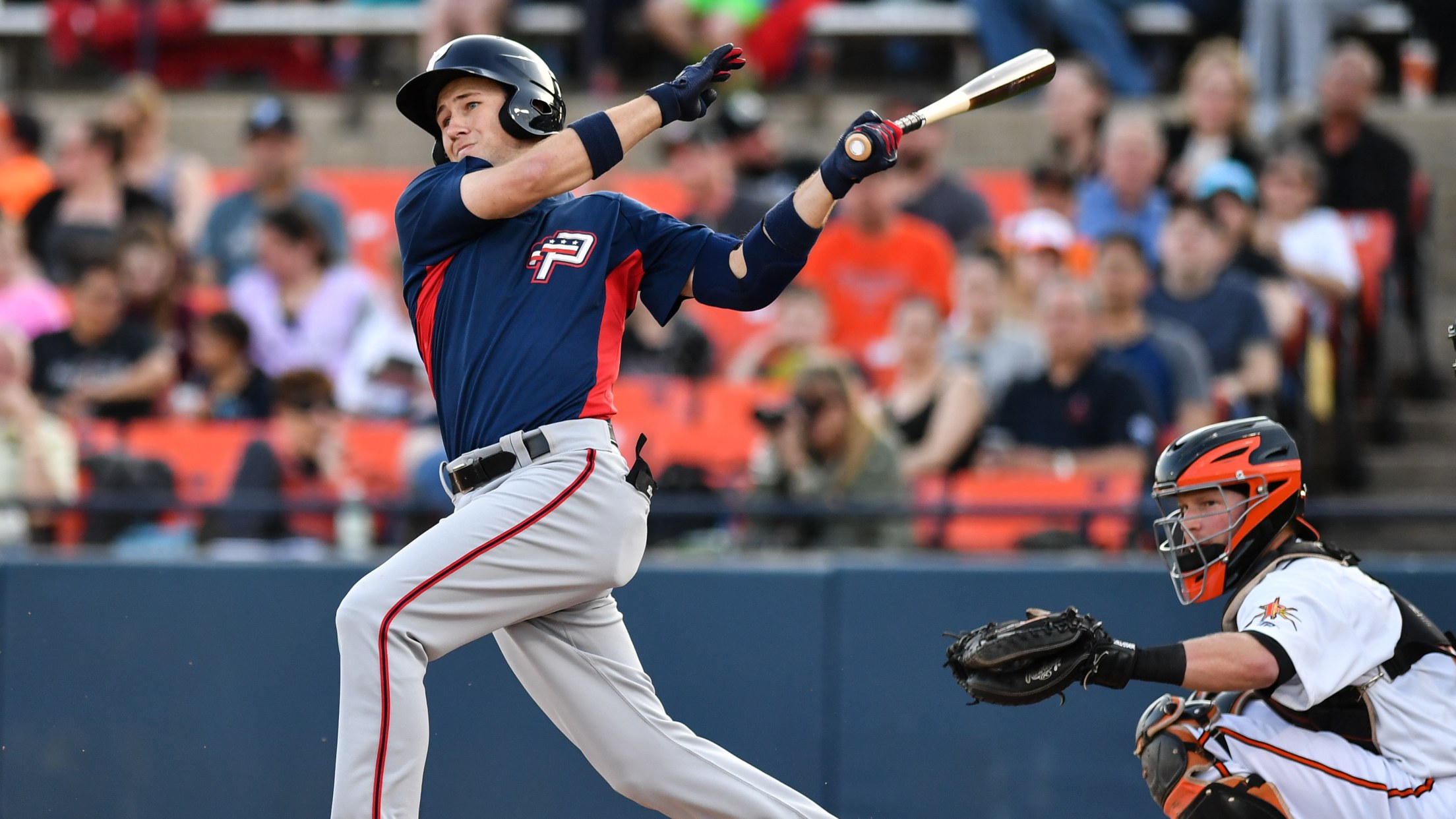 Carter Kieboom collected his sixth home run of the season during his three-hit night. (Terrance Williams/MiLB.com)
There aren't many things Carter Kieboom hasn't done in his seven-game hit streak, and he can cross something else off his list.The No. 88 prospect in baseball drove in a career-high five runs Thursday in Class A Advanced Potomac's 14-3 rout of Frederick at Nymeo Field. Kieboom homered, scored three
There aren't many things Carter Kieboom hasn't done in his seven-game hit streak, and he can cross something else off his list.
The No. 88 prospect in baseball drove in a career-high five runs Thursday in Class A Advanced Potomac's 14-3 rout of Frederick at Nymeo Field. Kieboom homered, scored three times and drew a walk.
Gameday box score
"I feel good at the plate. I don't look at anything too much and worry about what was going on earlier in the year," he said. "But it feels good to get some hits and be the player I know I am."
After grounding out in the first inning, Kieboom walked in the third before singling a fastball to left field to score David Masters in the fourth. The 2016 first-round pick reached base a third time when he was hit by reliever Steven Klimek with a pitch in the sixth and then scored on a two-RBI double by Ian Sagdal.
Kieboom blasted a shot over the left-field fence off another fastball in the eighth to plate Washington's No. 11 prospectBlake Perkins. He singled to left to drive in Masters and Edwin Lora in the ninth, then crossed the place on a single by Jake Noll. All Kieboom's hits came on two-strike counts.
"I feel like the pace of play has been the same, but guys have been throwing more offspeeds even when they're behind in the count," he said. "I think the biggest thing I've done recently is being more patient. They have to throw the ball at the plate, and when they do that, I can be ready and have a better at-bat."
On a night in which the entire Potomac offense had a hand in the win, the hitting was contagious as the Nationals put up 18 hits. Noll and Rhett Wiseman hit two home runs apiece while Perkins and Masters each collected three hits.
"It was one of those nights where we showed up to the field and we all kind of did our normal thing, but next thing you know, we start off with a hit or two and it doesn't seem like a big deal," said Kieboom. "But then you look up and everyone has two hits or three hits and we all hit home runs and a couple guys hit two home runs."
The right-handed hitter drove in four runs on two occasions against Salem this season, on April 16 and May 6. In his first season in the Carolina League, Kieboom is batting .227, although he's averaged .444 with two homers and 10 RBIs during a seven-game hitting streak.
"Sticking with my plan and approach has helped," he said. "You have your ups and downs during the season, and that's baseball for you. Don't try to do too much. I know what I'm capable of doing and knew it was just a matter of time before things start falling for me."
Potomac was without the services of Washington's second-ranked prospect, Juan Soto, who was promoted for the second time this season to Double-A Harrisburg earlier in the day. The offense still put together its highest output of the season.
"Everyone we had here tonight was hitting," said Kieboom. "We all just had it going. That's how it goes sometimes."
Marisa Ingemi is a contributor to MiLB.com. Follow her on Twitter @Marisa_Ingemi.