Clippers' Bieber hurls rain-shortened no-no
Indians No. 8 prospect faces the minimum over seven innings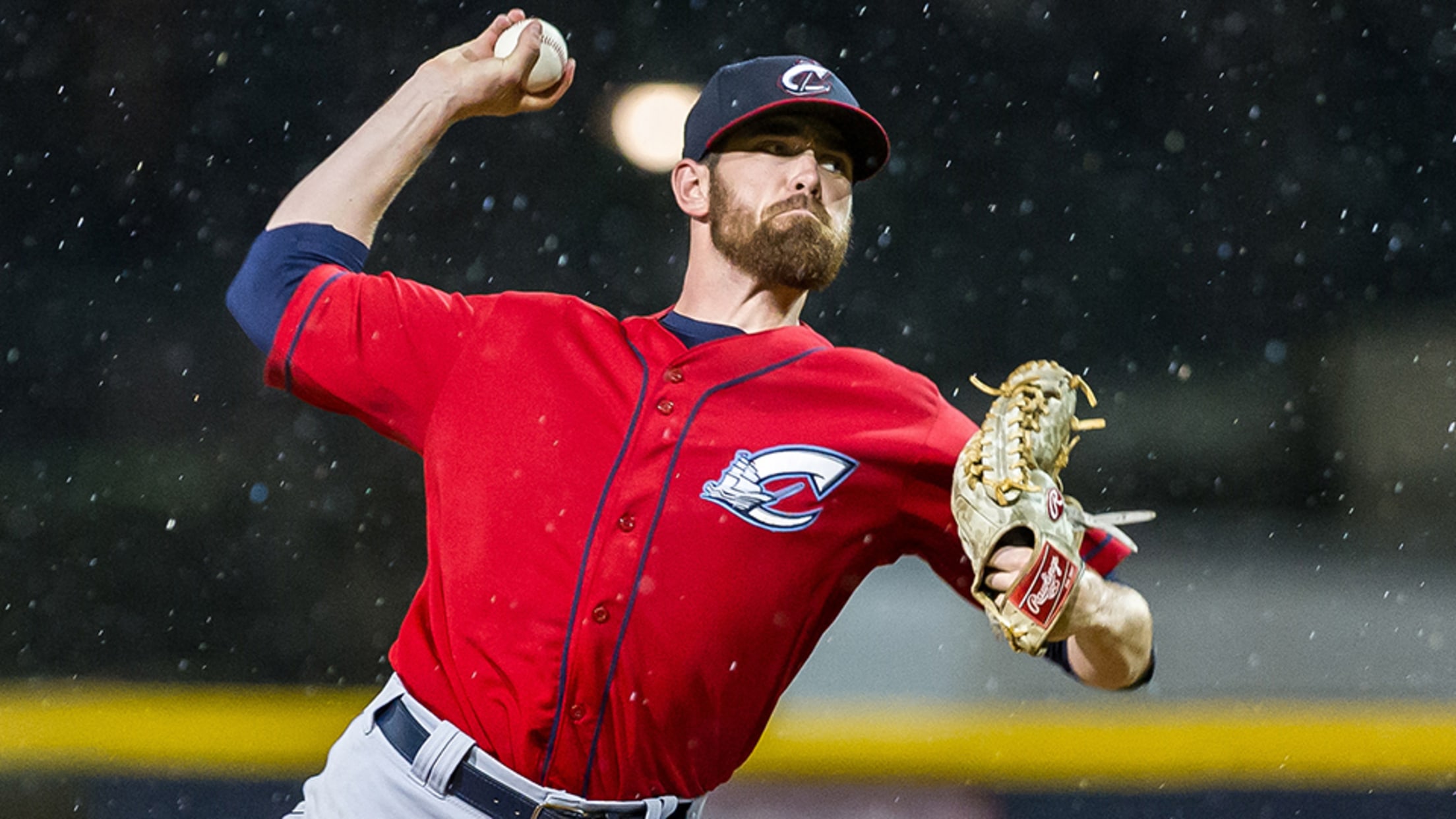 Shane Bieber has a 0.70 WHIP and .183 opponents' batting average across two levels this season. (Will Fagan/Gwinnett Stripers)
Few have been able to do damage to Shane Bieber in his brief International League tenure. And although Mother Nature presented herself as a potential adversary, even the weather had his back Friday night at Coolray Field."I was kind of able to have [the rain] in the back of my
Few have been able to do damage to Shane Bieber in his brief International League tenure. And although Mother Nature presented herself as a potential adversary, even the weather had his back Friday night at Coolray Field.
"I was kind of able to have [the rain] in the back of my head and it was just that much more important to get ahead early in the count," the Indians' No. 8 prospect said. "Fortunately, I was able to do that and try and combat that weather by just getting ahead an being aggressive early. Things ended up panning out."
Bieber allowed one baserunner and faced the minimum over seven soggy innings en route to a rain-shortened no-hitter as Triple-A Columbus beat Gwinnett, 7-0. He fanned seven and threw 61 of 80 pitches for strikes while lowering his ERA to 1.05 in five starts since a promotion from Double-A.
"I've never thrown a no-hitter before, but that's not exactly how you draw it up," the right-hander said.
The no-hitter was the eighth in franchise history and the first since Tyler Cloyd was one hit batter away from perfection on July 30, 2014. Bieber's gem came exactly one year since the IL's last no-no: Charlotte's Lucas Giolito kept Syracuse out of the hit column for seven innings.
"It's different," he said. "It was definitely cool though. It was a unique experience today."
The 2016 fourth-round pick retired the first seven batters before shortstop Eric Stamets misplayed Xavier Avery's grounder in the third. Going back to the fourth inning of his previous start, Bieber had recorded 20 consecutive outs before Avery reached.
Bieber (2-1) kept his line clean and connected with Stamets to pick off Avery before coercing a groundout from Sal Giardina to end the inning. The UC Santa Barbara product was perfect through the next four frames, at one point registering four consecutive strikeouts, before rain halted play while the Clippers batted in the eighth.
Once the tarp came onto the field, Columbus manager Chris Tremie and pitching coach Steve Karsay delievered some bad news.
"[They] came up to me and said, 'You're going to hate me for this, but we got to sit you down,'" Bieber said. "It wasn't the healthiest to go back out there, but I wanted to -- I really wanted to. I think any pitcher would rather try and test their luck and go out there for a nine-inning no-hitter."
The game was called nearly an hour later.
"I'm not going to get too picky. I'm just going to take it as it comes and enjoy it while I can," Bieber said.
Indians No. 6 prospect Yu Chang and Mike Papi powered the Clippers' offense, delivering RBI singles in a four-run fifth before Chang knocked in a pair and Papi added an RBI in a three-run sixth. Bieber said the two long rallies presented a tougher challenge than the rain.
"With those long turnarounds, just trying to manage that and stay locked in and try to take things pitch by pitch and at-bat by at-bat was definitely the hardest thing," he said.
Gameday box score
The 22-year-old has been downright dominant in 10 starts between Columbus and Double-A Akron in his second full Minor League season. He opened the year with the RubberDucks and allowed four earned runs over 31 innings (1.16 ERA) before being moving up a level on May 3. Bieber caught on quickly in the IL but really hit his stride the past two starts.
"Consistency is a key thing and it's not an easy thing to do, but I'm starting to find that and find out what I want to be and what I want to do," he said. "Going out there and being aggressive and picking my strengths and trying to fill up the zone early and then expand late is what's been going well."
Facing Gwinnett for the first time on May 15, Bieber yielded his lone run with one out in the first before cruising through 6 2/3 innings. He followed that performance with eight scoreless frames against Charlotte, yielding three hits and striking out eight to earn his first Triple-A win.
Bieber, who credited much of the success in his scoreless effort against Charlotte to his ability to work down in the zone, recorded 10 outs on the ground on Friday. He also faced just one three-ball count and threw first-pitch strikes to 15 of the 21 batters he faced.
"I changed eye level when I needed to," the California native said. "I was able to settle down and be able to refine my pitches as far as commanding them at the bottom of the zone and then changing eye level and throw fastballs up or whatever it may be. I was able to kind of harness that as the game went on."
Bieber extended his scoreless streak to 21 1/3 innings, during which he's allowed six hits while striking out 21. The right-hander has issued three walks all season, none in his last 33 frames.
Stamets also chipped in three singles and scored twice for the Clippers.
Gerard Gilberto is a contributor to MiLB.com. Follow and interact with him on Twitter, @GerardGilberto4.