Greenlee: 'A lot of opportunity' with Marlins
Yankees-turned-Marlins exec talks switching clubs, adding talent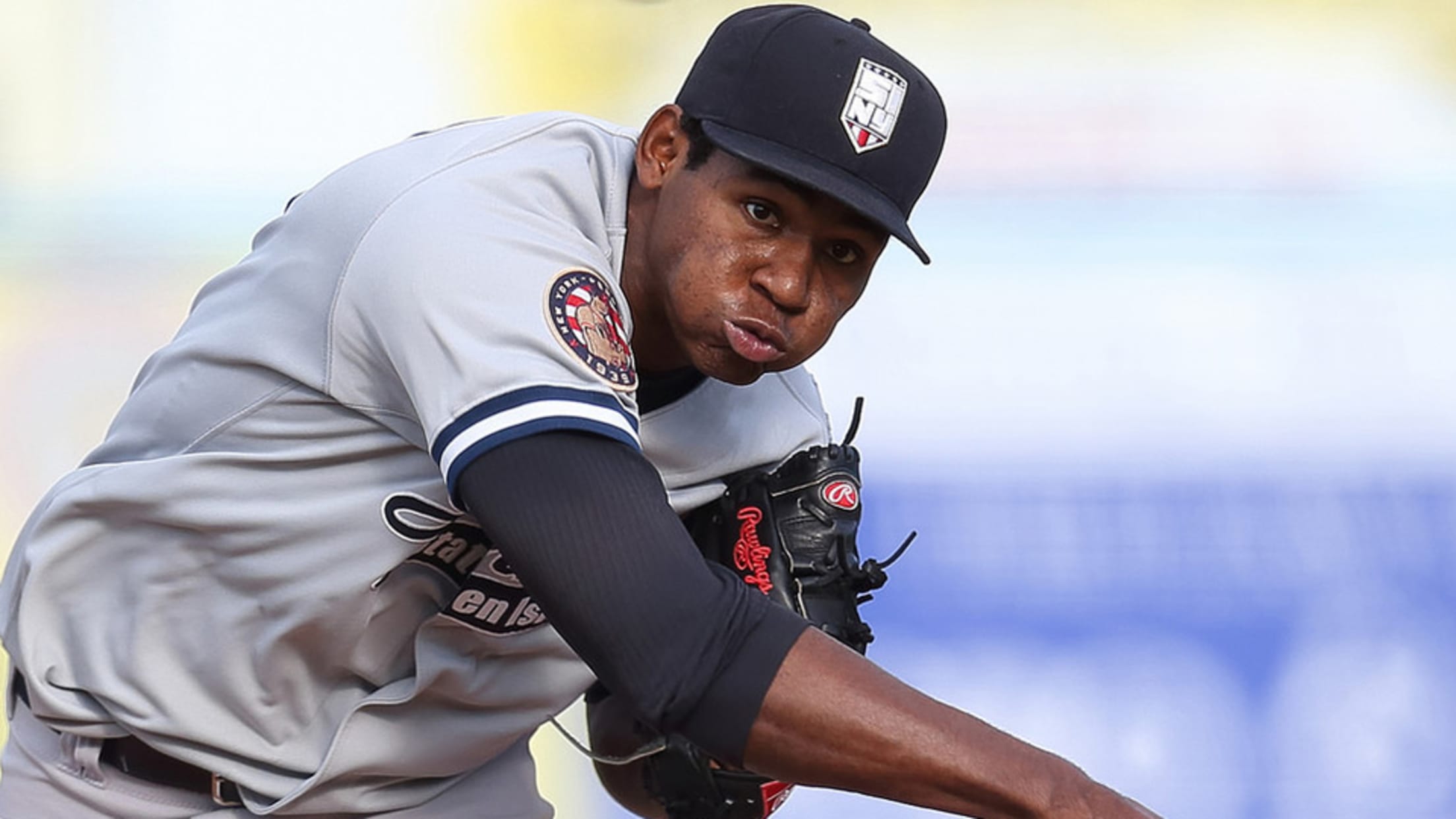 The Marlins hope Jorge Guzman will be a key building block as they remake their farm system. (Sandy Tambone/MiLB.com)
LAKE BUENA VISTA, Fla. -- Speaking Monday after Giancarlo Stanton first donned pinstripes, Yankees general manager Brian Cashman deemedJose Devers, the 18-year-old shortstop going to the Marlins in the deal that garnered Stanton, was "a young talent that someone like a Gary Denbo and a Dan Greenlee would know a
LAKE BUENA VISTA, Fla. -- Speaking Monday after Giancarlo Stanton first donned pinstripes, Yankees general manager Brian Cashman deemedJose Devers, the 18-year-old shortstop going to the Marlins in the deal that garnered Stanton, was "a young talent that someone like a Gary Denbo and a Dan Greenlee would know a lot about."
That underlined one of the fascinating subplots in the blockbuster deal of the Winter Meetings so far. Denbo and Greenlee both had prominent roles in Yankees player development before joining the Marlins this offseason under the ownership group led by new CEO Derek Jeter, whom Denbo had coached in the Minors back in the 1990's. When the Marlins were discussing which Yankees prospects they wished to acquire in return for the reigning National League MVP, they didn't have to rely solely on scouting reports. They had two members of their own front office who, just months earlier, had helped lead the very farm system in question.
"That created a lot of comfort, the familiarity with those players and that system," Greenlee, now the director of player personnel for Miami, told MiLB.com on Tuesday. "Both with the players as players and as people. That created a lot of comfort in what we were getting and the sort of players we were dealing with. That was more preferred than not in that regard. You can only know so much about another organization's players, and that put us in a nice position to know those guys more completely."
As nice as it was to be dealing with a system both executives knew through and through, it raises the question of why Denbo and Greenlee would leave the Yankees system, which is one of the deepest in the game and will still feed an undeniable contender in 2018, for the Marlins' farm, which is light on top talent and will be undergoing a major rebuild kicked off by the trades of Stanton and second baseman Dee Gordon. The way Greenlee sees it, there is a real possibility to build something from the ground up in Miami, especially with the club's Minor League talent.
"It's exciting," he said. "I think there's a lot of opportunity. It's a chance, in a lot of ways, to build and to build toward a really sustainable future. There are some fun challenges here, but I think we're equipped to meet them, both in personnel and staff."
The partnership of Greenlee and Denbo helped flesh out that future this week when they received Devers, hard-throwing right-hander Jorge Guzman and Major League second baseman Starlin Castro for Stanton. The deal was light on prospects, considering Stanton was coming off a career year in which he led the Majors with 59 homers, but the Marlins' biggest goal appeared to be getting the slugger's $295 million off the books over the next 10 years and the Yankees assumed all but $30 million of that. Miami was also constrained by the need to find a trade partner for which Stanton would waive his no-movement clause.
That said, Greenlee believes his new club has picked up two real building blocks in Devers and Guzman. Start with Devers, the prospect Cashman mentioned as being a Denbo-and-Greenlee special. The 18-year-old shortstop signed for $250,000 out of the Dominican Republic in 2016 and wasn't ranked among MLB.com's top 30 Yankees prospects at the time of the trade. He earned solid reports in the Gulf Coast League for his speed (15 steals) and defensive work, but his bat (.246/.359/.348) lags behind the other tools. All the same, Greenlee seemed genuinely excited to add him to the Marlins mix.
"We're really excited about Devers," said the Miami exec. "Devers was one of the youngest guys in the GCL, and he performed in the GCL, especially given his age and his playing at a premium position. We think he has the tools to stick at shortstop. He's a plus runner. He has a great swing that we think is going to hold up against higher competition. As he gains strength, we see a really high-ceiling player. So yeah, he's a ways away from MLB, but he's a good kid, a good player, and we see all the ingredients to be a good Major League player."
Greenlee added that the 6-foot, 155-pound infielder has plenty of room to grow, so even if the results aren't there now, the Marlins believe they will be before long.
"He makes it easy for you because there's a lot of maturity left physically," Greenlee said. "The swing is there. The tools are there. The body is going to mature in a way, in our opinion, that will impact the baseball and allow all those hits to come because he has a swing that'll compete against tougher competition and he has speed. He's only going to get stronger and more productive on the offensive side."
By comparison, Guzman is relatively well-known, given his ability to throw one of the fastest fastballs in the game. The 21-year-old right-hander has an 80-grade fastball that easily touches triple-digits, making his starts for Class A Short Season Staten Island last season must-follows for prospectphiles. He finished with 88 strikeouts, 18 walks and a 2.30 ERA over 66 2/3 innings and now slots into the No. 3 spot in MLB.com's ranking of Marlins prospects. He still has yet to pitch at a full-season level, however, leading to questions about whether he can maintain his velocity while throwing 100+ innings.
But for a system that needs all the excitement it can get, Guzman fits the bill right now.
"I don't know this as fact, but as far as I know, he's in the discussion for hardest-throwing starting pitcher ever," Greenlee said. "I don't know of any other pitchers personally that have averaged 99 mph for six innings-plus. That's a lot that is very visible to like about him. When you combine that with the fact that he was one of the top-performing -- if not the best performing -- starters in the [New York-Penn] League, he attacks with three elite pitches in his fastball, slider and change. We see all those as Major League quality. We're really excited to get him into the system. That's the exact type of guy we want to get into the system and be an impact player."
Stanton told reporters Monday that he wished Miami had gone deeper into its search for pitching this offseason to build around him and fellow sluggers Marcell Ozuna, Christian Yelich, Justin Bour and J.T. Realmuto. Instead, the new ownership group made cutting payroll its priority and thus Stanton and Gordon were dealt. But the need for more pitching remains. The Marlins pitching staff ranked 28th with a 5.9 WAR in 2017, per FanGraphs, and their top two pitching prospects, Braxton Garrett and Tyler Kolek, combined for only 19 innings in the Minors due to Tommy John surgeries. There will be more chances to beef up the system with Ozuna and/or Yelich potentially the next Fish to be dealt, and Greenlee said arms will continue to be a focus.
"I know we've sought pitching early on," he said. "This team offensively was extraordinary at the Major League level, and the pitching was less so. So we've prioritized pitching to an extent. Prioritizing pitchers with stuff and stuff that's going to play at the Major League level. We do want to create pitching depth and high-upside pitching throughout the organization. You could mark that as a priority."
True to form, right-hander and new No. 5 Marlins prospect Nick Neidert was the headliner in Miami's return package for Gordon.
The Marlins may not be done, either. Ozuna, who has two years left in arbitration, and Yelich, who has four years left on his contract, could yield even bigger returns. By the time the dust settles, the Marlins could totally remake their farm system. That's what Greenlee and Denbo signed up for when they left the Yankees, and while it may take years for their player-development work to bear fruit, one of them swears this is just the beginning.
"It's a potential situation where it's always nice to be on the front end of something and the front end of something special can be very rewarding," Greenlee said. "So it's joining an organization at a time when decisions are being made about the future, and it means a lot to be a part of those decisions. I hope in a few years, we can all look back and be proud of the work that we're doing right now."
Sam Dykstra is a reporter for MiLB.com. Follow and interact with him on Twitter, @SamDykstraMiLB.