Garcia whiffs 15 over six scoreless frames
Fourth-ranked Yankees prospect ties Minors season high in K's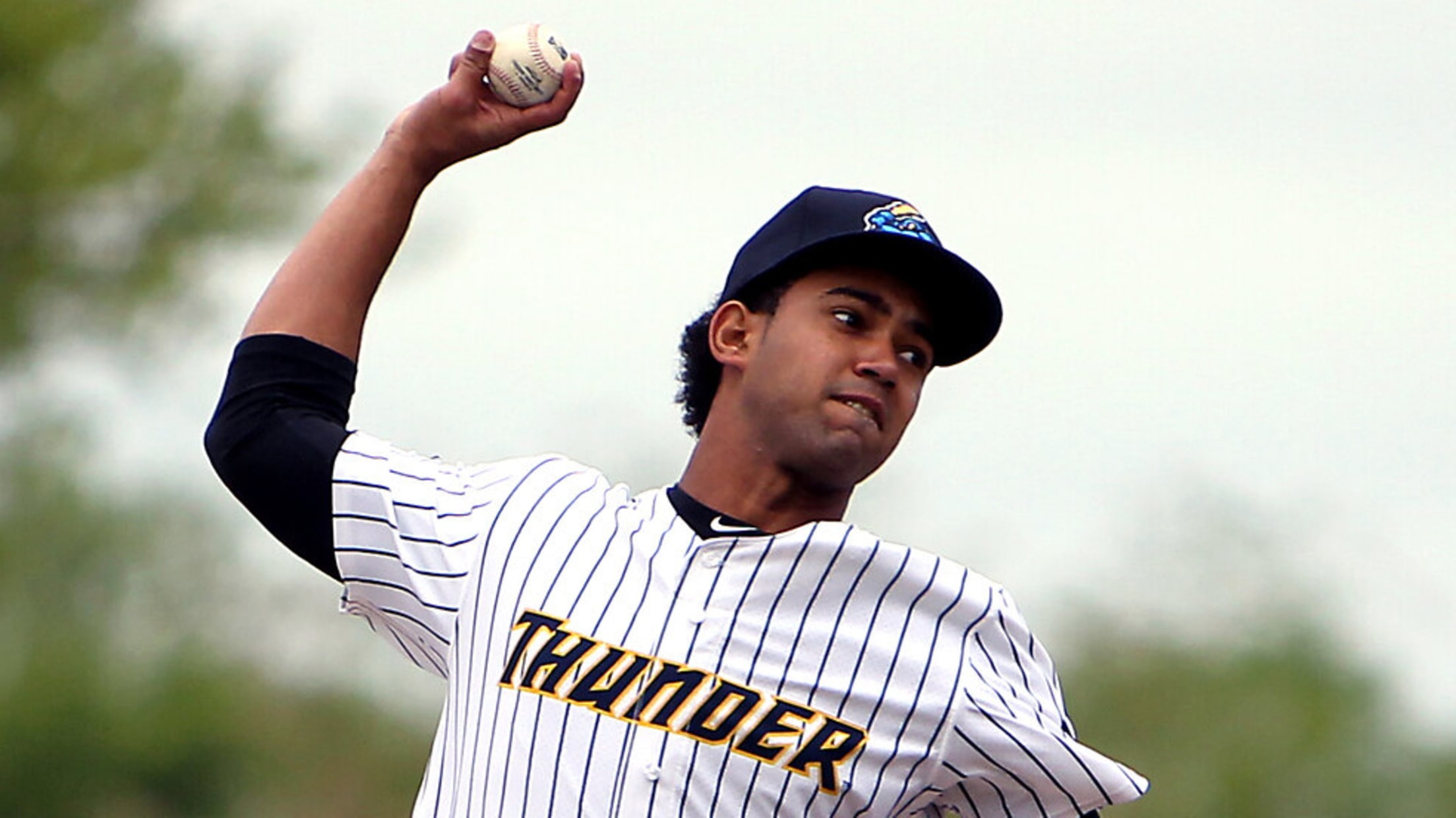 Deivi Garcia has struck out 100 batters over 59 2/3 innings in the Eastern League this season. (Rudy C. Jones/MiLB.com)
Forgive the Flying Squirrels if they have bad dreams about Deivi Garcia tonight.The fourth-ranked Yankees prospect tied the Minor League season high with 15 strikeouts, scattering a hit and a walk over six innings as Double-A Trenton shut out Richmond, 6-0, at ARM & HAMMER Park. The win secured the
Forgive the Flying Squirrels if they have bad dreams about Deivi Garcia tonight.
The fourth-ranked Yankees prospect tied the Minor League season high with 15 strikeouts, scattering a hit and a walk over six innings as Double-A Trenton shut out Richmond, 6-0, at ARM & HAMMER Park. The win secured the Eastern League Eastern Division first-half title for the Thunder.
Garcia was dominant from the start, striking out the first eight batters of the game before Will Maddox grounded out to first base to end the third inning.
Had Thunder pitching coach Tim Norton ever seen a pitcher begin a game like that?
"I don't think so," he said. "We were talking about that going into the third just because he looked so electric. We talked about [current Yankees pitcher] Nestor Cortes Jr. a few years ago who had a run of strikeouts."
Gameday box score
Norton came away wowed by Garcia's performance, particularly considering a berth in the postseason was on the line.
"What he did in such a big game for this team -- you win, you make the playoffs; you lose you don't," he said. "For a 20-year-old kid to do that is pretty impressive."
A two-out double by Gio Brusa in the fifth followed by a walk to John Riley put the righty in a jam, but a lineout by Maddox ended the threat.
At 5-foot-9 and 163 pounds, Garcia isn't a typical power pitcher, but that is an advantage in some ways. Norton described how, due to the pitcher's height, the ball comes out at a lower plane than most and he can use a lot of torque with good ligaments to create power.
Garcia's demeanor on the mound also helps him dominate.
"Of course, it is his stuff, but it's also his attitude out there," Norton said. "He feels like he is better than everyone else and that goes a long way, especially when you have elite stuff. ... I see the mound presence he has and he's not scared one bit."
His arsenal includes a fastball that ranges in the mid-90's and has reached 97 mph this season. Add that to a changeup and slider that, according to his coach, are both coming around, and you have the ingredients for success.
"I think his changeup is going to get a lot better," Norton said. "It has progressed a lot, but it's a pitch that is going to be a real threat, especially to lefties. It seems like this slider that he is starting to throw has really arrived."
Garcia has walked 28 batters this season, a number his coach doesn't want to see rise rapidly. Of course, Norton understands he's working with a young prospect.
"He's had a couple of dud games where he walks four or five guys, but that happens," he said, jokingly adding, "When I was 20, I probably walked 10 guys."
That is one of the aspects of pitching the coach says Garcia hasn't mastered yet, and Norton isn't afraid to set the bar high for what his charge can accomplish in his career.
"This kid could be a monster," he said. "The sky's the limit. He's really turned it on. This is not an easy level for a 20-year-old kid and he's more than holding his own, striking out a lot of people and doing a great job."
The 15 strikeouts tied Trenton's club record as well as matching the season high in the Minors. Lake Elsinore right-hander Elliot Ashbecksat down 15 against Rancho Cucamonga on Sunday. On Aug. 8, 2010, Thunder pitcher Adam Warrenaccomplished the feat against Bowie.
Garcia lowered his Eastern League ERA from 3.35 to 3.00 in the outing. The 20-year-old has racked up 100 strikeouts, becoming only the fourth pitcher so far to reach the century mark after New Orleans' Zac Gallen (112), Modesto's Ljay Newsome (103) and Reading's Damon Jones (100).
Righty Brooks Kriske allowed a hit and a walk with a strikeout in one inning of relief. Yankees' No. 22 prospect Domingo Acevedo struck out two in a perfect eighth and righty Daniel Alvarez closed it out with one strikeout in a perfect ninth.
Chris Gittens led the way for the Thunder offense, going 2-for-4 with a double and two RBIs. Zack Zehner scored twice and knocked an RBI triple.
Brian Stultz is a contributor to MiLB.com. Follow him on Twitter @brianjstultz.