Rogers demanding attention behind the dish
No. 10 Tigers prospect stands out among Minor League catchers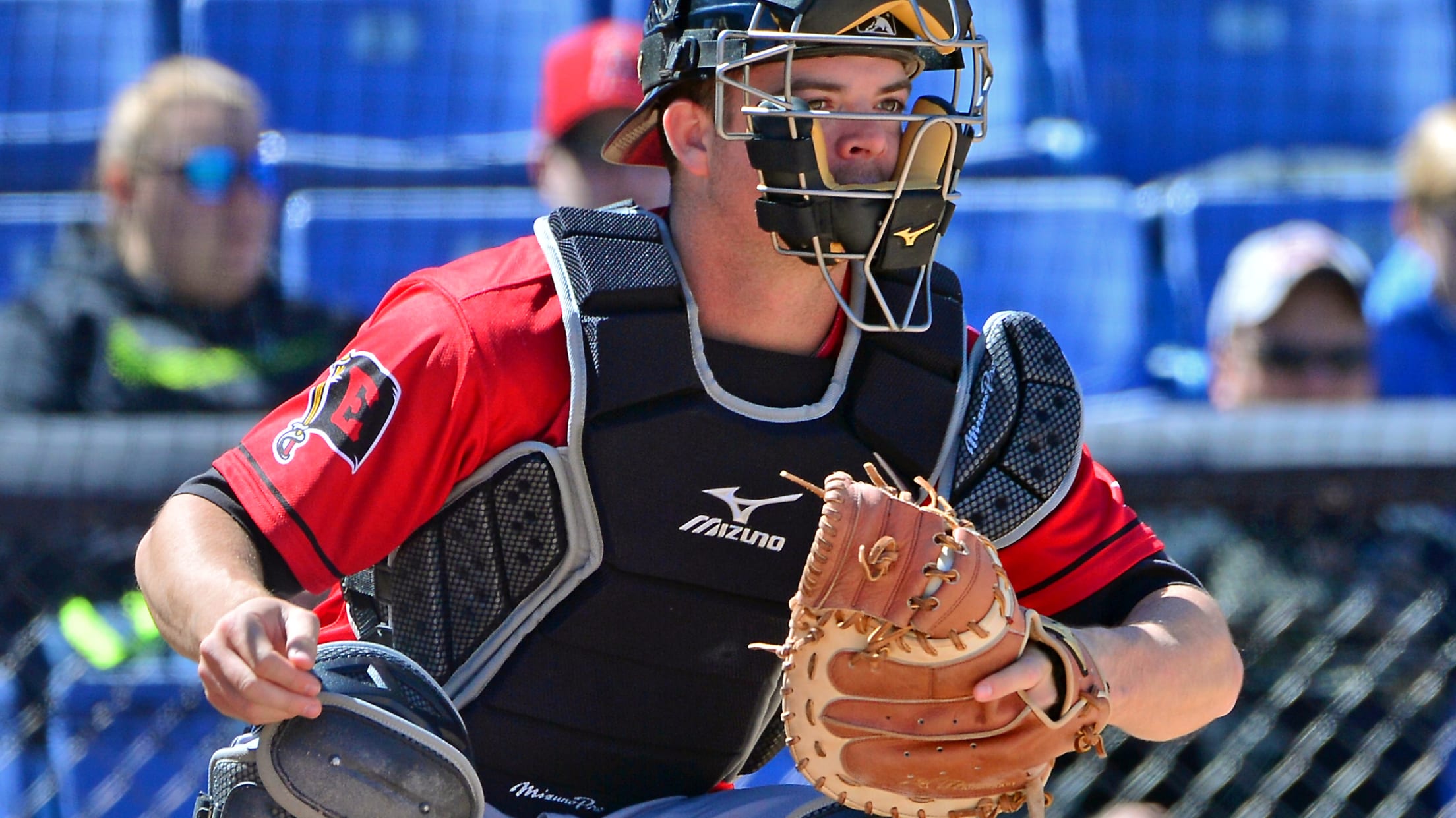 Jake Rogers is the far-and-away Eastern League leader in several defensive categories for catchers. (Rick Nelson/MiLB.com)
For the first time in three years, the Rawlings Gold Glove Award for the best defensive catcher across all 10 full-season circuits in Minor League Baseball will most likely have a new home.Jose Trevino, who claimed the honor in 2016 and 2017, was in the middle of another fine season
For the first time in three years, the Rawlings Gold Glove Award for the best defensive catcher across all 10 full-season circuits in Minor League Baseball will most likely have a new home.
Jose Trevino, who claimed the honor in 2016 and 2017, was in the middle of another fine season with Double-A Frisco -- even joining the big league club for three games -- but the No. 25 Rangers prospect has spent two stints on the disabled list and hasn't seen game action since June 21.
With or without Trevino in the mix, Double-A Erie backstop Jake Rogers has demanded attention behind the plate in his second full season, and with a few weeks remaining, he's positioned himself ahead of the rest of the pack to earn year-end hardware.
Through July 29, the 10th-ranked Tigers prospect boasted a .995 fielding percentage, which tied him with No. 16 Giants prospect Aramis Garcia and the Nationals' Taylor Gushue for first in the Eastern League among players with at least 65 games wearing the tools of ignorance.
The 23-year-old paces the league in total chances (731), putouts (650) and assists (77) -- leading all three categories by a wide margin -- and his .535 caught-stealing percentage is 157 points higher than the next best catcher, Hartford's Dom Nuñez. Rogers has caught 36 of 64 attempted basestealers (nobody else has thrown out more than 25) and committed just four errors in 71 games.
"Defense is a really big part of my game and it's something that I take a lot of pride in," Rogers said. "I'm really competitive and I'm always doing what I can to make sure I'm the best I can be at it."
It shows, according to those who see him behind the plate on a near-daily basis.
"Watching Jake catch and receive, he's one of the best catch-and-throw guys I've ever seen," SeaWolves manager Andrew Graham said on MiLB.com's podcast. "Guys who can throw and receive, it's such a great art. Jake's receiving and throwing is special."
The Tulane product earned a reputation for his defensive prowess in college, where he finished his three-year career with the Green Wave among the top catchers in school history. Rogers holds the school record for most runners caught stealing -- 83 in 146 chances, a .568 rate. His nine runners picked off, 1,092 putouts and .991 fielding percentage also rank within the top six. Those numbers helped make the Canyon, Texas, native a third-round selection (97th overall) of the Houston Astros in the 2016 MLB First-Year Player Draft.
"My experience in college really helped me grow as a player," Rogers said. "In high school, I played a little shortstop, but when I made the switch to full-time catching in college my coaches did an unbelievable job helping me. [Former Tulane head coach] David Pierce and [former catchers and outfielders coach] Philip Miller were incredible. Those guys really helped me learn the mental side of the game, and they taught me how to maximize my ability."
Rogers spent a little more than one calendar year in the Astros system before being traded to the Tigers organization as part of the Justin Verlander deal on Aug. 31. He split time with Class A Quad Cities and Class A Advanced Buies Creek before the transaction last season, throwing out 12 of 24 attempted basestealers in the Midwest League and showing consistency in the Carolina League by throwing out 19 of 43. He made five errors through the year, ending it with one game with Class A Advanced Lakeland.
"It was crazy. I just had a lot of emotions going on when I found out [about the trade]. I couldn't really believe it," he said. "I was like, 'Wow, I just got traded to another organization.' But the next day I calmed down and thought, 'OK, this is good for me,' and then it was just a quick turnaround to get to Lakeland with only three games left. But, yeah, how it happened, and being a part of a trade for Justin Verlander, it's pretty crazy."
It wasn't so crazy for Tigers general manager Al Avila, who said in a statement after the trade: "Rogers plays beyond his years, demonstrating solid pop in his bat while having above-average plate discipline, and our scouts have him rated as a reliable receiver behind the plate with an above-average arm."
Rogers' defense is also proving to have a positive impact on the development of some the Tigers' top pitching prospects who are currently with Erie. No. 5 Tigers prospect Beau Burrows -- ranked No. 96 overall in baseball, according to MLB.com -- has worked with Rogers since being promoted from Lakeland on June 5 and credits his batterymate with being integral to his success.
"He calls a great game and his defense is incredible to watch with your own eyes," Burrows said. "I just trust him back there. If the bases are loaded and I want to spike a breaking ball, I know he's going to block it. Even if I let someone with good speed get on base, I'm not worried about him stealing because I know Jake is going to make a great throw and probably get the guy out. He also frames pitches really well.
"It's a really good feeling to have him behind the plate. He's the real deal."
The Tigers' first-round selection (18th overall) last year, Alex Faedo, worked his way quickly through Detroit's system and joined the SeaWolves two weeks after Burrows arrived.
"It's awesome working with Jake. He's unbelievable," said Faedo, the Tigers' fourth-ranked prospect. "He's just an amazing guy and an amazing teammate, and what he can do behind the plate is really special. He does so much for my game. He steals a lot of strikes with the way he frames my pitches, and he calls a great game. Sometimes he'll call a pitch and I'll shake him off and throw another pitch, and the [batter] turns on it, and I just look back and think I should just stick with [Rogers].
"Everyone knows how he could throw to the bases. You've just got to do your part and give him an average time to home and if someone takes off, he's going to throw him out. He keeps guys out of scoring position and that's a huge boost when you're on the mound. Hopefully, me and him can be a duo for a long time."
Still, Rogers does not want all the credit.
"The staff here is incredible ... the bullpen and all the starters," he said. "It's a lot of fun to be back there and call those guys' games, and they're all great to talk to and catch. They might be young, but they're all pretty advanced on the mental side of the game and with their pitching. They know what they want to do and how they want to do it. I just try to provide whatever they need."
Rogers did not commit his first error of the season until June 16 -- 45 games into his first taste of Double-A ball -- and he has gone without one over his last 12 games.

Other Gold Glove candidates
While Rogers appears to lead the pack of potential Minor League Gold Glove catchers, there are a few candidates working to close the gap -- three of them in the Texas League.
Through the games of July 30, No. 25 Padres prospectAustin Allen was atop the Texas League with a .997 fielding percentage for Double-A San Antonio. Allen's 613 total chances, 558 putouts and 53 assists also led the league. He has thrown out 36 of 105 basestealers (a .343 rate) and committed two errors in 66 games behind the dish.
Right on Allen's heels is Midland's Sean Murphy. The A's third-ranked prospect posted a .994 fielding percentage with 507 total chances, 469 putouts and 35 assists. He's thrown out 19 of 59 attempted basestealers, good for a .322 mark, and committed three errors in 62 games. However, his season hit a snag on July 9 when he was placed on the seven-day disabled with a hand injury. The No. 54 overall prospect broke a hamate bone and is expected to return near the end of August. The injury also kept him out of the Futures Game in Washington, D.C.
Double-A Tulsa backstop Keibert Ruiz will look to leapfrog the ailing Murphy and make a charge for the top spot. The second-ranked Dodgers prospect recorded 541 total chances, 495 putouts and 43 assists while amassing a .994 fielding percentage with three errors over 61 games. MLB.com's No. 38 overall prospect has thrown out the same number of basestealers as Murphy -- 19 -- but did so on 65 attempts for a .292 caught-stealing percentage.
Rob Terranova is a contributor to MiLB.com. Follow him on Twitter @RobTnova24.