Fans' guide to MiLB Opening Day 2018
A full day's schedule of ways to celebrate the start of the season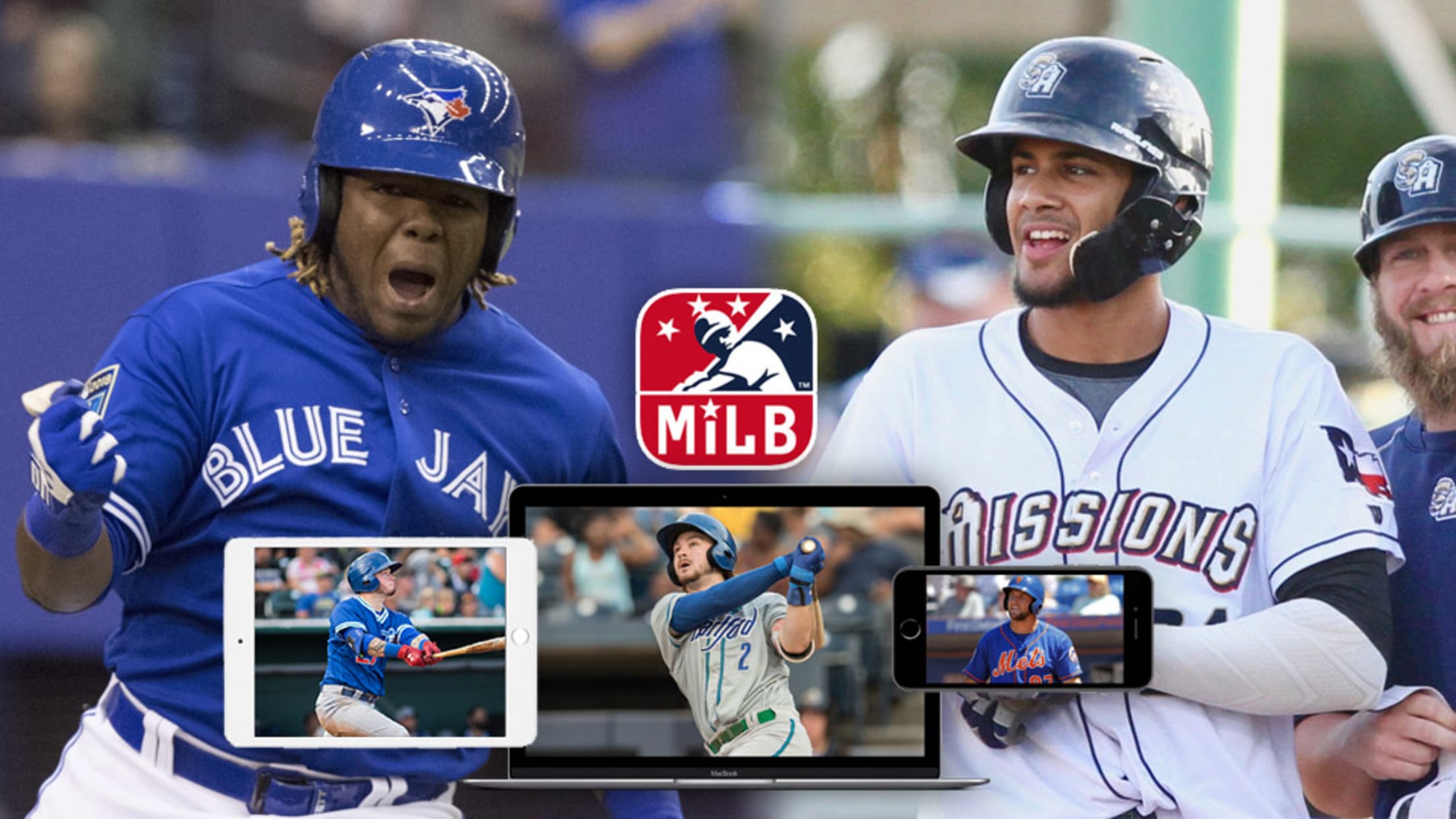 Happy New Year.The ball drops on the Minor League Baseball season Thursday with 54 games on the schedule, starting at 4:08 p.m. ET with Oklahoma City playing Iowa. It's one of the most fun days on any sports schedule because of everything that goes on from coast to coast. What's
Happy New Year.
The ball drops on the Minor League Baseball season Thursday with 54 games on the schedule, starting at 4:08 p.m. ET with Oklahoma City playing Iowa. It's one of the most fun days on any sports schedule because of everything that goes on from coast to coast. What's the best way to make the most of your time? Let's help with that:
10:30 a.m. ET -- Morning has broken and there's a lot of anticipation for all of the baseball to come. Unfortunately, the first pitch of the season doesn't come for 5 1/2 hours. Luckily, there's plenty to keep everyone busy between then and now.
Let's start by getting you technologically ready. Be sure to download the MiLB First Pitch app on your iPhone, iPad, iPod touch or Android device. That's where you can find news, Gameday updates, video and much more for each of the 160 teams, including those in short-season circuits that won't begin their 2018 campaigns until June. This year on iOS devices, you'll be able to customize the home screen with a button indicating your favorite Minor League team. With push notifications that alert you to the biggest news as it breaks, this is a must-have for any Minor League fan.
Also, now is a good time to make sure you're subscribed to MiLB.TV. For $12.99 per month or $49.99 for the whole season, you can get access to live streams of more than 5,500 games -- including 34 on Opening Day alone -- on your desktop or mobile device. Every level of the Minors is represented and every farm system has an affiliate that will be broadcast in 2018. If you can't catch your favorite prospects at the ballpark, this is the best way to say you saw them before they became big stars.
10:45 a.m. ET-- The action on the field is a big part of the Minor League Baseball experience. But, of course, it's not the only thing worthy of your attention. Use some of your late-morning downtime to check out Ben's Biz Blog, written by MiLB.com's Ben Hill. He provides unique angles related to the business and culture of Minor League Baseball, covering everything from promotions to food to the unique characters populating the landscape. Ben will embark on five road trips in 2018, his ninth season of ballpark travel, and by the time the season concludes he will have visited all 159 active Minor League stadiums.
11:30 a.m. ET -- Keep the reading train going by catching up on MiLB.com's Prospect Primer series. It's a great way to get previews of all 30 farm systems broken down into categories like Shining Star, Major League-ready and Full-season Debutant. How do the Yankees plan to use Gleyber Torres at Triple-A Scranton/Wilkes-Barre now that he's back from Tommy John surgery? What does No. 2 White Sox prospectMichael Kopech need to do to show big league readiness? Is there a player in an already loaded Braves system capable of breaking out? There are so many nuggets to be found in every Primer, so read up.
12:30 p.m. ET -- OK, those are enough delights for the eyes for now. How about something for the ears? The Minor League Baseball podcast, aka The Show Before The Show, is another resource to get you educated and pumped about the season ahead. In the latest episode, co-hosts Tyler Maun and Sam Dykstra are joined by fellow MiLB.com writers Kelsie Heneghan and Josh Jackson as they provide predictions for the season, ranging from which team will be the most interesting to which prospect will top the rankings on Opening Day 2019. Ben is also on the Opening Day megacast with what to expect from Minor League promotions. Reds top prospect Nick Senzel calls into the show before heading to Triple-A Louisville. It's a bit of a humdinger, but if you still can't get enough, dive into the podcast archives to hear what offseason news you may have missed. The Show Before The Show is available through iTunes, Stitcher, Google Play and many other places podcasts are found and can be streamed directly through the MiLB.com site.
Also, since your hands are free, it might be time for lunch. Just a suggestion.
2:30 p.m. ET -- Just a little while left, but before first pitch, be sure to brush up on the big changes coming to Minor League Baseball, specifically the new rules governing extra innings and pace of play. The biggest and perhaps most controversial addition is the decision to place a runner on second base to begin each extra frame when a game is tied through nine innings. The rule is designed to limit the chances that games will go deep enough to risk injury/impact roster depth, but traditionalists still have their peccadillos. The only way to gauge how the rule will affect the feel of games is to see it in action and, statistically speaking, it's likely there will be at least one extra-inning game among the 54 being played on Opening Day.
Beyond the extra-inning moves, pay attention to the new rules regarding mound visits and pitch clocks -- measures that MiLB hopes will help speed up the game.
OK, all caught up? Because ...
4:08 p.m. ET -- It's time for baseball! More specifically -- and to steal a line from Vin Scully -- it's time for Dodgers baseball.
The Triple-A Oklahoma City Dodgers take to the road against the Iowa Cubs in the first game of the Minor League season. This would be a must-follow game regardless -- the next isn't for two hours -- but there will be a good amount of talent to pay attention to on the field.
Dodgers top prospect Walker Buehler already has been named the OKC Opening Day starter. MLB.com's No. 12 overall prospect brings three plus pitches in his fastball, curve and slider and will put all three on display as he tries to work his way back to the Majors. No. 33 overall prospect Alex Verdugo also figures to be in the starting lineup as the 21-year-old outfielder returns to the club with which he hit .314 with an .825 OPS in 117 games last season. Speaking of the outfield, Andrew Toles will be pushing the envelope after a crowded Los Angeles roster left him on the outside looking in.
The Iowa roster might not be as interesting on paper, but 14th-ranked Cubs prospect David Bote, fresh off an impressive Arizona Fall League campaign, provides some intrigue for fans of the North Siders.
6:30 p.m. ET-- From 1957-87, Tampa fielded a Florida State League team named the Tarpons. Well, the Tampa Tarpons are back. The latest iteration of the fish-referencing moniker is a result of the Tampa Yankees changing their name as part of a desire to connect the franchise with the city's rich baseball history. The Tarpons open the season on the road, swimming a short ways upstream to take on the Lakeland Flying Tigers.
Around this same time, Mets outfielder Tim Tebow makes his Double-A debut as Binghamton hosts Portland. The former Heisman Trophy winner homered in his first at-bat of 2017 with Class A Columbia. What can he do to make this season's opener just as memorable? Tune into MiLB.TV to find out.
7:05 p.m. ET-- The most hyped roster in the Minors might belong to Double-A New Hampshire. No. 3 overall prospect Vladimir Guerrero Jr. and No. 13 Bo Bichette are teammates again after climbing the Blue Jays' ladder together as teenagers in 2017. The last time Guerrero took the field in front of a crowd, he hit a walk-off homer in Montreal in the stadium his Hall of Fame father played in for eight Major League seasons. Bichette begins defense of his Minor League batting title after hitting .362 in 110 games with Lansing and Dunedin. Bloodlines aside, these two would pack a heck of a punch in any lineup, and seeing them next to notable players like Lourdes Gurriel Jr., Max Pentecost, Jonathan Davis and Cavan Biggio only heightens the excitement.
Around the same time, the new-look Augusta GreenJackets take the field, sporting bee-centric logos that were unveiled in December. The makeover of the Giants' Class A affiliate was inspired by its move to SRP Park, the only new Minor League stadium opening in 2018. The GreenJackets are on the road, however, taking on the Columbia Fireflies at Spirit Communications Park. That facility was christened in 2016, but its two-season run as the newest ballpark in the South Atlantic League is over, thanks to the GreenJackets.
Notable debuts aren't limited to the playing field. The Lexington Legends are hosting the Charleston RiverDogs, and Legends broadcaster Emma Tiedemann has the call on MiLB.TV. Tiedemann, whose hiring was announced last month, joins Clearwater's Kirsten Karbach as the only lead female broadcasters in Minor League Baseball.
7:35 p.m. ET-- The Colorado Springs Sky Sox open their final Triple-A season against the Storm Chasers in Omaha. The Sky Sox will relocate to San Antonio next season as part of a series of maneuvers involving teams owned by the Elmore Group. Minor League Baseball in Colorado Springs will continue, however, in the form of a Rookie-level Pioneer League franchise. The Sky Sox, currently a Milwaukee Brewers affiliate, have played in the Pacific Coast League since 1988.
At 8:10 p.m. ET, the San Antonio Missions open on the road against the Arkansas Travelers. This will be San Antonio's final season as a member of the Texas League, with the Missions relocating to Amarillo, Texas, in 2019 and playing in a ballpark that is under construction. The Padres' Double-A affiliate has a chance to go out in real style with No. 8 overall prospect Fernando Tatis Jr. highlighting one of the Minors' deepest rosters. The 19-year-old shortstop made the jump from Class A Fort Wayne to San Antonio last season and, despite still being a teenager, returns to the Missions. His combination of power and speed will be tested at Double-A, but if his tools continue to shine, he'll provide must-watch MiLB.TV.
10:05 p.m. ET-- For those looking to squeeze in one last game before bed, look no further than El Paso-Las Vegas starting now. With Tatis, Padres No. 3 prospect Luis Urías looks to be the future of San Diego's middle infield, and he'll take his plus-plus hit tool to the Pacific Coast League for the first time. With the way the ball flies in that circuit, the 20-year-old could put up special numbers, especially average and OBP.
The Chihuahuas-51s game will be played at Las Vegas's Cashman Field, which is in its 36th and final season as a Minor League facility. Las Vegas Ballpark is under construction in nearby Summerlin, Nevada, an affluent planned community that also hosts the practice facility of the NHL's Vegas Golden Knights.
1:30 a.m. ET -- Opening Day 2018 should be coming to a close right about now. Then again, who knows. On the West Coast somewhere, there might be a baserunner trotting out to second base, ready to begin the 10th inning and a new era in the Minor Leagues.
Happy baseball, everyone.