Homer-happy Davis swats two more
Astros slugger hits two big flies, has seven in six games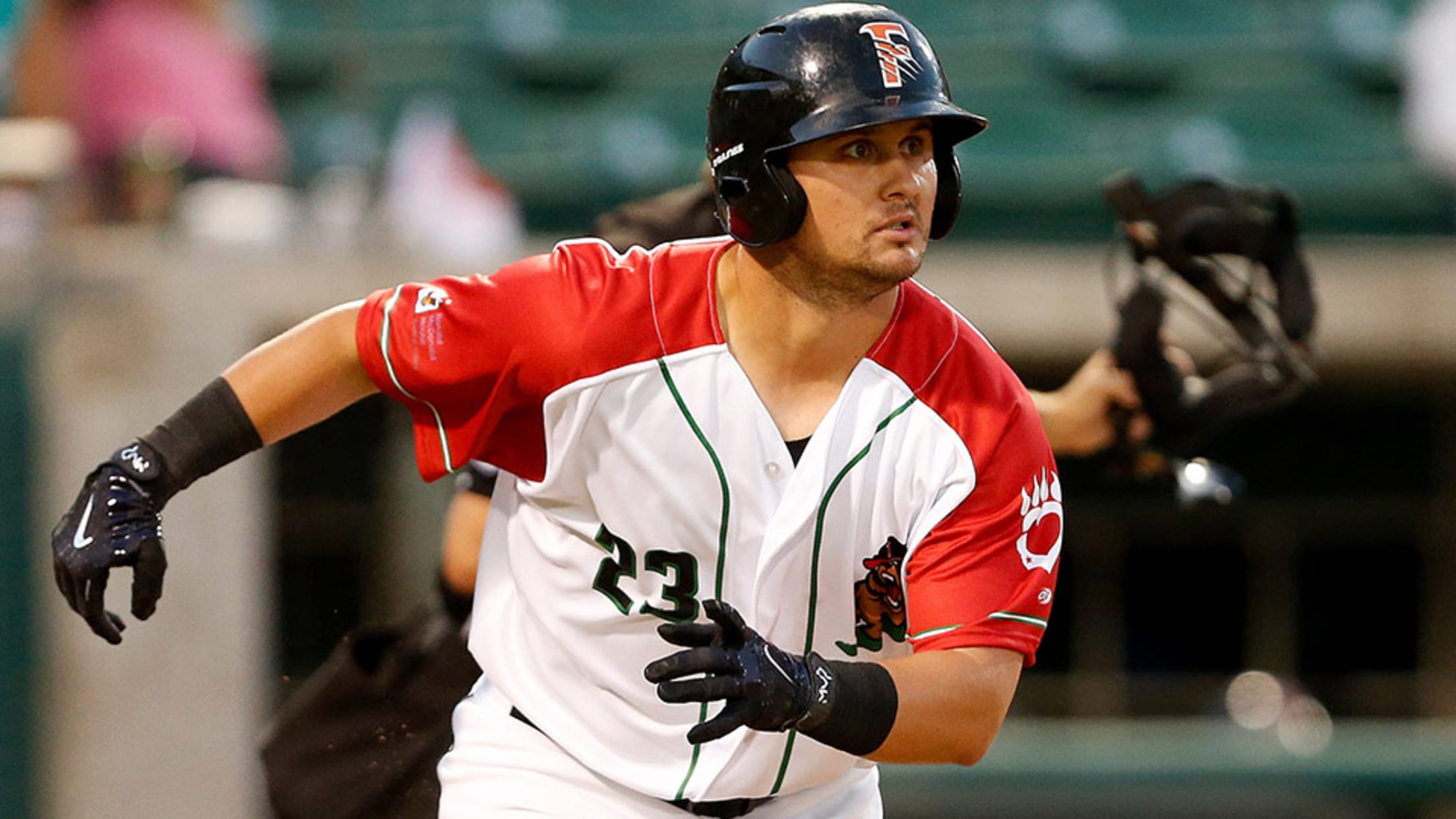 J.D. Davis has collected 102 home runs over 493 Minor League games since 2014. (Kiel Maddox/MiLB.com)
Rake, rinse, repeat. That's been the approach for J.D. Davis this week.The Astros infielder/outfielder went yard twice Friday, giving him homers in four straight games, seven in his past six contests and powering Triple-A Fresno to an 8-1 win over Tacoma at Cheney Stadium. He was 3-for-4 with four RBIs
Rake, rinse, repeat. That's been the approach for J.D. Davis this week.
The Astros infielder/outfielder went yard twice Friday, giving him homers in four straight games, seven in his past six contests and powering Triple-A Fresno to an 8-1 win over Tacoma at Cheney Stadium. He was 3-for-4 with four RBIs and a walk.
Davis has two 26-homer seasons in his five-year career, but even those performances pale in comparison to his recent homer-happy exploits.
The 2014 third-round pick hit one long ball during a 30-game stay with the big league club and has 15 dingers in 278 at-bats in the Minor Leagues this season. But nearly half of those have come since Sunday. He went yard in that game, skipped the next night, then homered on Tuesday and Wednesday and hit two on Thursday.
The 25-year-old had a similar stretch in 2015 with Class A Advanced Lancaster.
Gameday box score
"Yeah, when I was in Lancaster I had a stretch of six or seven in a row, but some of them were a little cheap, you know Lancaster -- 20 mph winds. But right now I'm just driving the ball all over, driving the ball to left field, right field, center," he said.
Davis kept the streak going and capped the Grizzlies' four-run third with a three-run blast to left field off stater David Rollins (0-1). Leading off the sixth, he sent Rollins' 2-1 pitch over the fence in right-center. With a shot at his second career three-homer game -- the first came with Double-A Corpus Christi on May 19, 2016 -- he singled in the ninth. He's already accomplished one milestone this year, hitting for the cycle on May 17 against El Paso.
The Cal State-Fullerton product says he tweaked his stance a bit, leading to better a contact rate.
"Watching film from up in the big leagues and my mechanics and comparing to Spring Training when I had the big jump, I broke it down," he said. "I spread my stance out to be a little more balanced. It's about loading up my hips to keep things simple. And I continue to work on my plate discipline because that goes a long way, too."
Davis' career strikeout percentage is 24.6 percent, but this season it's 18.8, a statistic that's not lost on him. He credits Fresno hitting coach Darryl Robinson and big league instructor Jeff Albert.
"It goes along with my swing, I had a big loop in my swing. That allowed me to catch some off-speed out in front and still hit homers, but with learning how to deliver my back elbow in time with my back hip, I can time my swing," he explained. "And it allows me to foul off tough pitches and stay through the ball a little more. I can also make it to a 3-2 count and then put the ball in play [more].
"I do make a really good effort now to hit the fastball, make contact or foul it off," he said. "That's the biggest thing to make improvement from 2017 to now, [especially] against high velocity."
The 25-year-old slugger was a wrecking crew Friday, but he wasn't a one-man show. Derek Fisher went 4-for-5 with a double and a run scored, Astros No. 14 prospectMyles Straw doubled, singled and scored twice, while Taylor Jones smacked a two-run homer homered and singled.
Trent Thornton (9-8) earned the win, allowing a run on five hits and a walk with five strikeouts in six innings. Rehabbing right-handerChris Devenski struck out three around two hits in a scoreless seventh and Matt Ramsey gave up two hits and a walk while fanning one over the final two frames.
Rollins took the loss in his first appearance since signing a Minor League deal with the Mariners, allowing eight runs on 10 hits -- including all three Fresno homers -- and a walk in 5 1/3 innings. He struck out three.
Vince Lara-Cinisomo is a contributor to MiLB.com. Follow him on Twitter @vincelara.