Sneed spins six no-hit innings for Grizzlies
Astros right-hander strikes out seven, works around four walks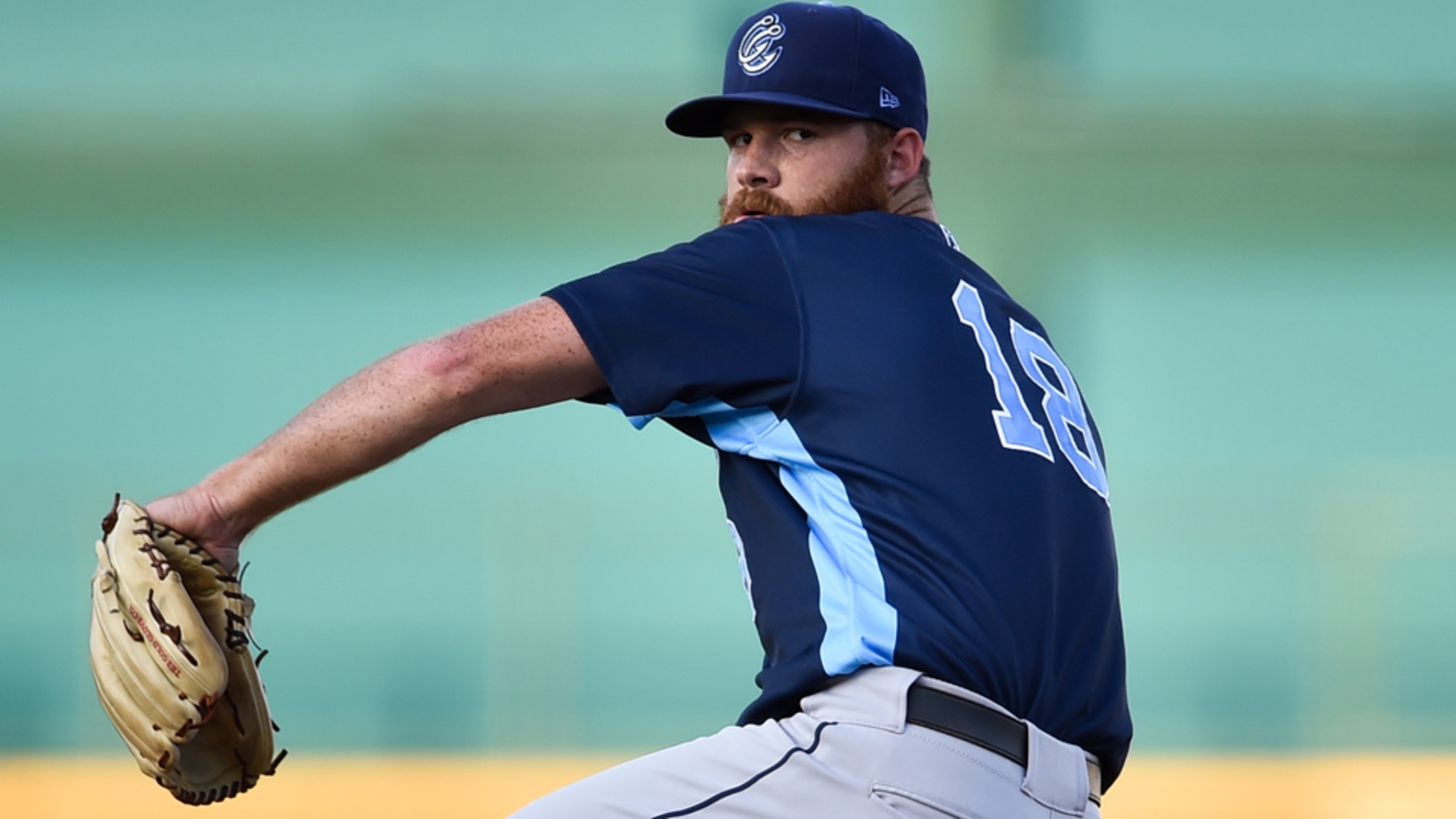 Cy Sneed was 10-6 with a 5.96 ERA in 26 games, including 18 starts, between Double-A Corpus Christi and Fresno last year. (Shane Roper/MiLB.com)
His accomplishments as a professional ballplayer notwithstanding, Cy Sneed admits to a spotty record as a psychic. On Wednesday night, though, he had a premonition that was just about on target."In the first inning, I don't remember who, but somebody swung and missed at a pitch and I thought, 'I'm
His accomplishments as a professional ballplayer notwithstanding, Cy Sneed admits to a spotty record as a psychic. On Wednesday night, though, he had a premonition that was just about on target.
"In the first inning, I don't remember who, but somebody swung and missed at a pitch and I thought, 'I'm going to throw a no-hitter today,'" the Astros right-hander said. "Honestly, I've had that thought probably about 150 times before and it hasn't worked out yet. But this time it was pretty close."
Sneed threw six innings without allowing a base knock, striking out seven and issuing four walks, before Triple-A Fresno dropped a 2-1 decision to the 51s, who made the most of their lone hit.
"I thought it was pretty good. It looks pretty good on paper," he said. "Obviously, the walks are not where I would have wanted them to be, but I felt like I threw the ball really well. I executed my plan really well and [Tim Federowicz] called an awesome game -- that makes it pretty easy for me as a pitcher, because we had a good plan and he obviously knows what he's doing."
Sneed (1-0) struck out two in a 1-2-3 first inning and shrugged off a leadoff walk to Zach Borenstein in the second. Borenstein was caught stealing and the right-hander retired the next 11 batters, punching out the side in the fifth. All the while, his prediction kept popping into his mind, especially when his defense gave him gift outs.
"They made some awesome plays: in the third, [second baseman] Tyler White went into the hole, and [first baseman A.J. Reed] made a great scoop on the same play," he said.
Gameday box score
"I don't know, I got through first and there were no hits, and the second, the same kind of thing. … I walked a guy, but 'Fed' threw him out. After the third, I started to think, 'I'm really going to do this.' Actually, that was kind of an issue in the fourth and fifth because I wore myself out. And in the sixth, I was getting a little tired."
Mets No. 22 prospectDavid Thompson opened that inning with a six-pitch walk, and although the Grizzlies erased the runner with a double play, back-to-back walks by 18th-ranked Gavin Cecchini and No. 10 Luis Guillorme put men on first and second.
"Pretty much anytime I give up a walk, I'm a little frustrated with myself for a second," Sneed said. "It's a very hard game -- if you talk to any hitter, they'll tell you how hard it is to hit the baseball. A free pass like that, that frustrates me more than anything. But at the same time, you can see the big picture. We've got the lead, it's getting late, I hadn't given up any hits. Yeah, I was frustrated, but you have to be able to focus on that, to channel it in. [I was able to] stick with what me and Fed talked about before the game and between innings."
Sneed threw three straight balls to Ty Kelly but got him to bounce to White on the fifth offering of the at-bat.
"I think anytime you're down 3-0 in a big spot like that, it's a cliché, but you really have to take it one pitch at time," he said. "I knew he was my last hitter, I knew I had to throw a good strike and I got it over, so now it's 3-1. [I had] an attitude: 'Let's get him out right now,' not, 'OK, let's get to 3-2.' We got the ground ball, and I was pretty happy."
The Dallas Baptist University product threw 56 of 92 pitches for strikes.
A 2014 third-round pick of the Brewers, Sneed came to Houston in a November 2015 trade for Jonathan Villar. This year, he'd allowed four runs over 8 2/3 innings in three games, including one start, before lowering his ERA to 2.45.
Reymin Guduan took over in the seventh and, after fanning the first batter he faced, walked Borenstein and surrendered a two-run homer to Bryce Brentz.
White had a solo shot for Fresno.
Corey Taylor (1-0) held the Grizzlies to one hit and struck out one over two innings to earn the win. Mets No. 30 prospect Jacob Rhame picked up his first Pacific Coast League save, fanning two and allowing one hit in the ninth.
Josh Jackson is a contributor to MiLB.com. Follow and interact with him on Twitter, @JoshJacksonMiLB.