Cesar sets Texas League hit streak mark
Astros infield prospect hits safely in 38th straight game for Hooks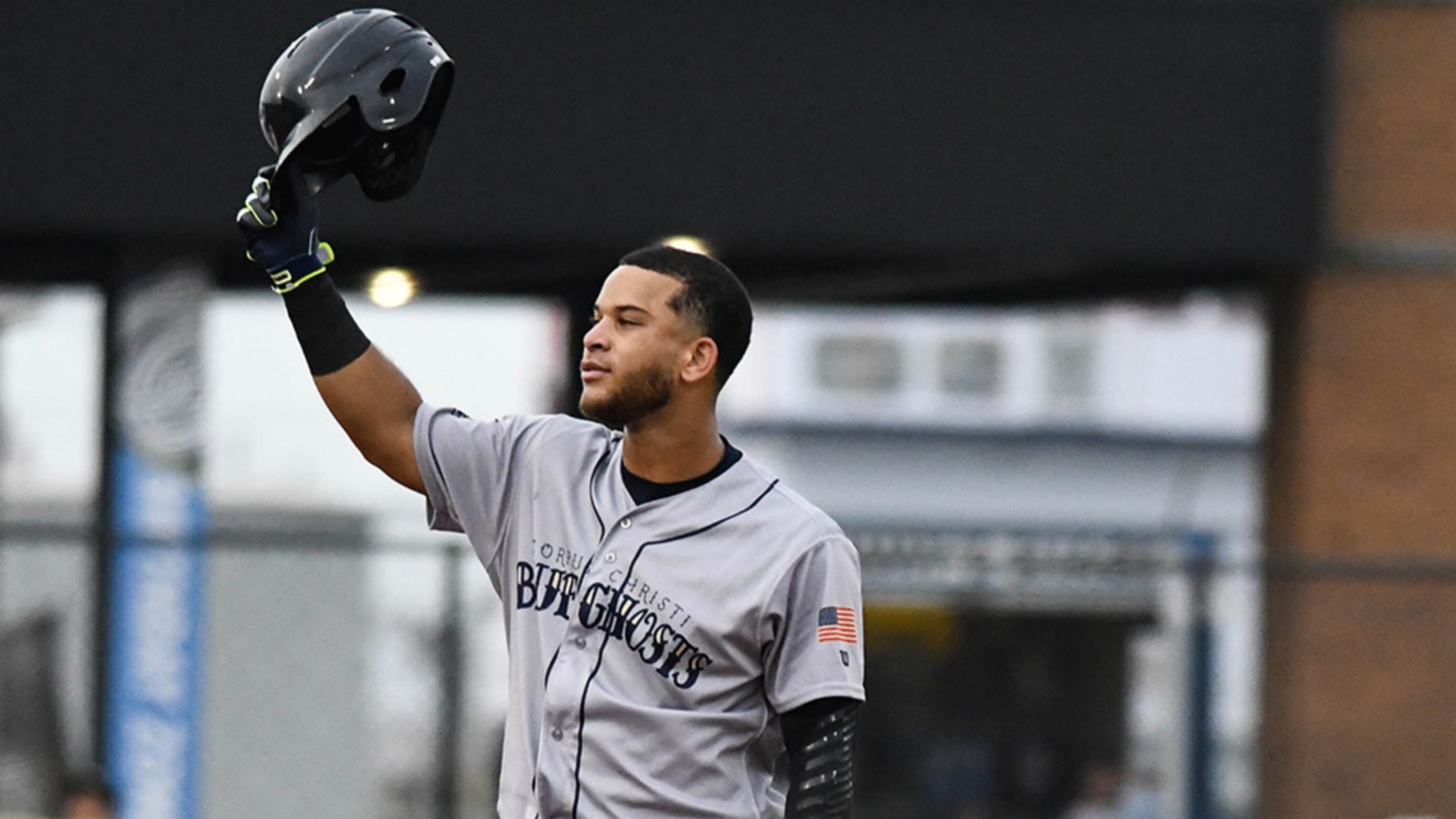 Randy Cesar already has set a career high for homers with eight in 60 games this season. (Charlie Blalock/Corpus Christi Hooks)
A record that stood for nearly 50 years on a 130-year-old circuit fell quickly Thursday.Double-A Corpus Christi's Randy César doubled on the first pitch he saw from Frisco right-hander Tyler Wagner to extend his hitting streak to 38 games, topping the previous Texas League mark set in 1969 by Bobby
A record that stood for nearly 50 years on a 130-year-old circuit fell quickly Thursday.
Double-A Corpus Christi's Randy César doubled on the first pitch he saw from Frisco right-hander Tyler Wagner to extend his hitting streak to 38 games, topping the previous Texas League mark set in 1969 by Bobby Trevino of the El Paso Sun Kings. He went 3-for-4 and scored once in the Hooks' 4-2 win over the RoughRiders at Whataburger Field.
Gameday box score
Cesar tied the record on Wednesday, so he was well aware of what was at stake in his first at-bat Thursday.
"Of course. I feel very proud," he said after the game.
During the streak, Cesar has batted .381 with seven homers, a triple, 10 doubles and 28 RBIs.
Count Corpus Christi hitting coach Troy Snitker among Cesar's biggest fans.
"It's the longest [streak] I've seen in person," Snitker said. "It's been really impressive over such a long period of time. A lot of things have happened. He's battled multiple injuries, gone down to the wire multiple times.
"He also started off the year as kind of maybe the guy teams are not going to target as far as a guy pitchers are going to stay away from, and now he's the guy they say, 'We're not going to have him beat us.'"
Cesar jumped on the first pitch he saw Thursday for a ringing double, then lined a single to center in the fourth. He grounded out in the fifth, but ripped another single to center in the seventh to cap his historic night.
The 23-year-old signed with the Astros out of the Dominican Republic in 2011 for $100,000. He made his United States debut in 2014 and reached full-season ball in the second half of 2016.
Cesar admitted he felt some frustration about not getting to the U.S. sooner.
"It was a long wait, but I am working really hard and I'm not going to stop now," he said. "I changed my mentality. I learned to stay strong, that was one thing I learned from my dad, not to take the game into the next one."
The 6-foot-1, 180-pound infielder is showing more power this year than in previous seasons. He has eight homers, already a career high, and his 26 extra-base hits have him headed for a professional best in that category as well. Cesar credits maturity and better nutrition for his power uptick.
"I think it is that I'm getting bigger and putting everything together," he said. "I was working with the hitting coach and I was trying to be more patient."
Snitker agreed.
"More maturity, more just making some minor adjustments in his swing, another is learning the strike zone, more reps for recognizing pitches, and he's older and strong and kind of more mature," he said.
Cesar had plenty of help on offense. Fourth-ranked Astros prospect Yordan Alvarez also had three hits, including his ninth homer, his fifth in the past 10 games. Alvarez is 18-for-44 (.409) with 15 RBIs over that span.
Right-hander Corbin Martin, the Astros' ninth-ranked prospect, allowed a run on two hits in four innings and seventh-ranked Jorge Alcala (1-0) finished the game, giving up just one hit while striking out four in four frames.
Now that he's finally reached Double-A, Cesar is looking for more, but knows there's still plenty to learn.
"I think about improving and training hard every day, but I'm not thinking about [the Majors] right now."
Vince Lara-Cinisomo is a contributor to MiLB.com. Follow him on Twitter @vincelara.