Anderson scorching hot for Fire Frogs
Braves No. 3 prospect tosses career-high 7 2/3 hitless innings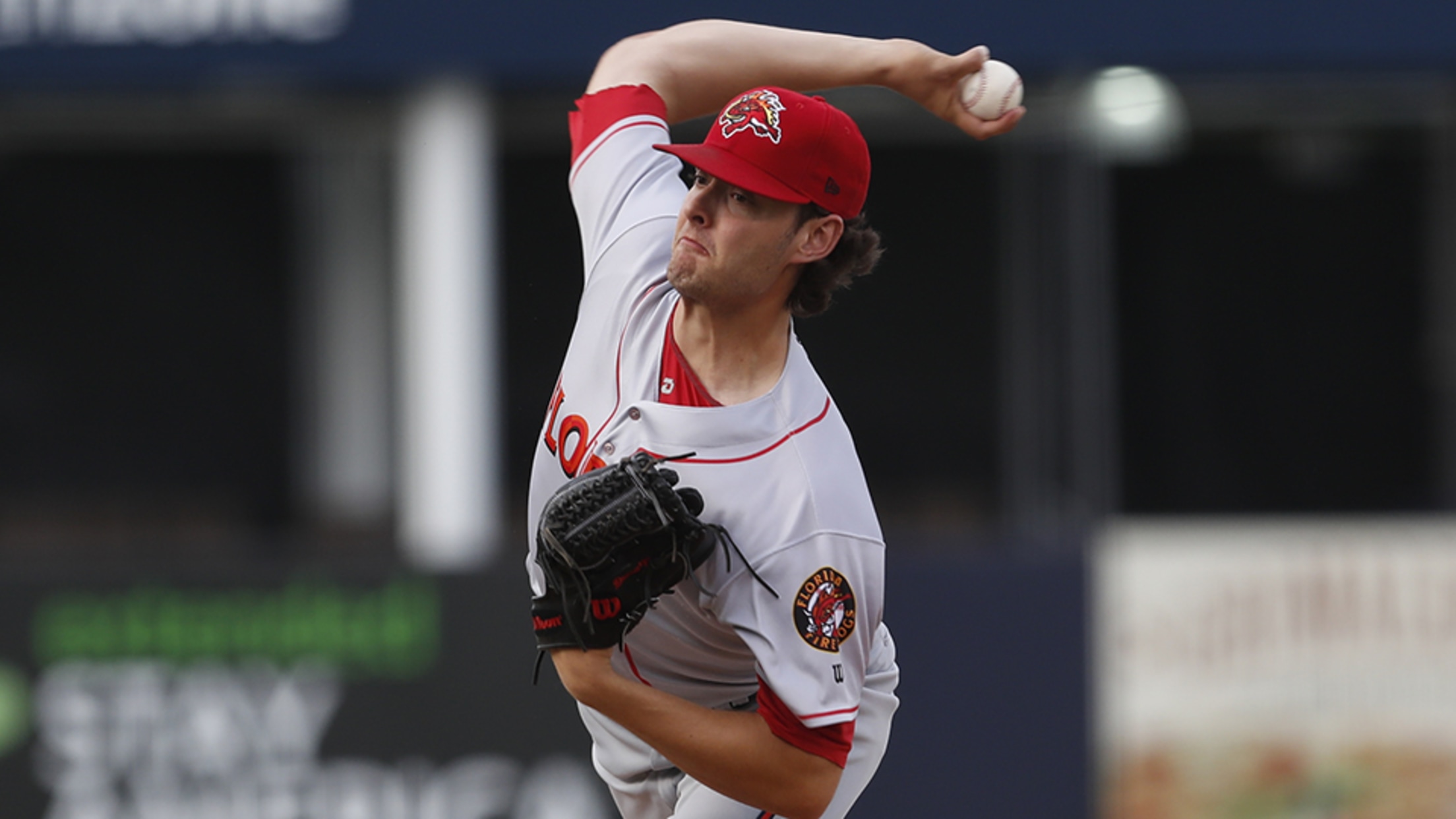 Ian Anderson is 2-5 with a 2.57 ERA, 1.12 WHIP and 113 strikeouts in 94 2/3 innings this season. (Mark LoMoglio/Tampa Tarpons)
Losing out on a date with destiny did nothing to diminish another stellar outing by Ian Anderson, who has been making the superlative look routine.Atlanta's No. 3 prospect tossed 7 2/3 hitless innings and combined with a pair of relievers on 10 no-hit frames until Class A Advanced Charlotte broke
Losing out on a date with destiny did nothing to diminish another stellar outing by Ian Anderson, who has been making the superlative look routine.
Atlanta's No. 3 prospect tossed 7 2/3 hitless innings and combined with a pair of relievers on 10 no-hit frames until Class A Advanced Charlotte broke through with a single in the 11th en route to a 6-3 walk-off win in 12 innings at Charlotte Sports Park. Anderson struck out five and walked one while establishing a career high for innings in a start.
The Fire Frogs became the first Florida State League club to toss at least 10 hitless frames since Daytona's Kerry Wood and Jairup Diaz combined for a 10-inning no-no against Tampa on July 28, 1996.
Gameday box score
Kevin Padlo halted Florida's bid at history with a leadoff single in the 11th and ended the game with a three-run homer in the 12th.
Less than a week after homering twice as the Stone Crabs' designated hitter, Rays No. 3 prospectBrendan McKay allowed a hit and a walk with four strikeouts over four scoreless innings. MLB.com's No. 30 overall prospect has surrendered two hits and struck out nine in eight shutout innings spanning two starts after missing more than a month with tightness in his right oblique.
But he was outlasted by Anderson, who faced two over the minimum in the longer start.. Baseball's 40th overall prospect appeared to have given up a leadoff single to No. 9 Rays prospect Lucius Fox in the fourth, but the official scorer changed the hit to a fielding error on Fire Frogs first baseman Braxton Davidson.
"I realized they made the change," Anderson said. "I'm pretty conscious of what goes on out there, but I try and focus on pitching my game and getting guys out. I knew [later] that I still had [the no-hitter] going, but I wasn't too disappointed in coming out. In a close game, you need to do what's in the best interests of your team. I have confidence that I could have gotten us out of that inning, but I have no regrets or anything like that."
With the no-hit bid still intact, Anderson moved into the eighth having gone to a three-ball count on two batters. A wild pitch on a strikeout of Jesús Sánchez enabled the Rays' fourth-ranked prospect to reach leading off the eighth. Anderson responded with a whiff of Jermaine Palacios, but another wild pitch moved Sanchez to second. The 20-year-old retired Joey Roach on a flyout but fell behind Padlo and eventually walked him on his 100th and final pitch.
"It was fun out there, even if the result wasn't what we wanted," Anderson said. "I seemed to have all three pitches working, which is good because they're a very good-hitting ballclub which was aggressive. I almost gave them what they wanted, in a way, but they were getting themselves out early in the count."
Justin Kelly kept the Stone Crabs off the scoreboard, which closed the book on Anderson. The right-hander has surrendered two earned runs over his last 29 2/3 innings. It marked the 15th time in 19 starts that Anderson allowed two earned runs or fewer. His 2.57 ERA is the second-lowest figure on the circuit behind Lakeland's Spenser Watkins (2.07).
"The development of my off-speed stuff and being able to throw it early and when behind in the count as been huge," the Rexford, New York native said. "I still pitch off my fastball, but planting that change of speed in the hitter's mind has really helped me."
Another key to Anderson's overall success in his second full-season campaign has been a revised offseason regimen.
"I think I did a little better preparing myself," he said. "Last year was great learning experience. I would have loved to eat more innings than I did, but it is what it is. I learned a lot and prepared my body the best way possible. I'm feeling great and looking forward to ending the season strong during these last three or four starts."
Kelly allowed an unearned run while walking one and striking out one in 1 2/3 innings. Brandon S. White (1-3) was charged with five runs -- three earned -- in two-plus frames.
Randall Delgado and Garrison Schwartz had two hits and an RBI apiece for Florida, which took the lead in each extra-inning frame only to have Charlotte respond.
Ivan Pelaez (4-2) surrendered two unearned runs on three hits with two strikeouts in two innings to earn the win.
Padlo matched a season high with four RBIs, giving him seven in his last four games.