Chisholm's five-hit game powers Cougars
D-backs No. 3 prospect blasts two homers during five-RBI night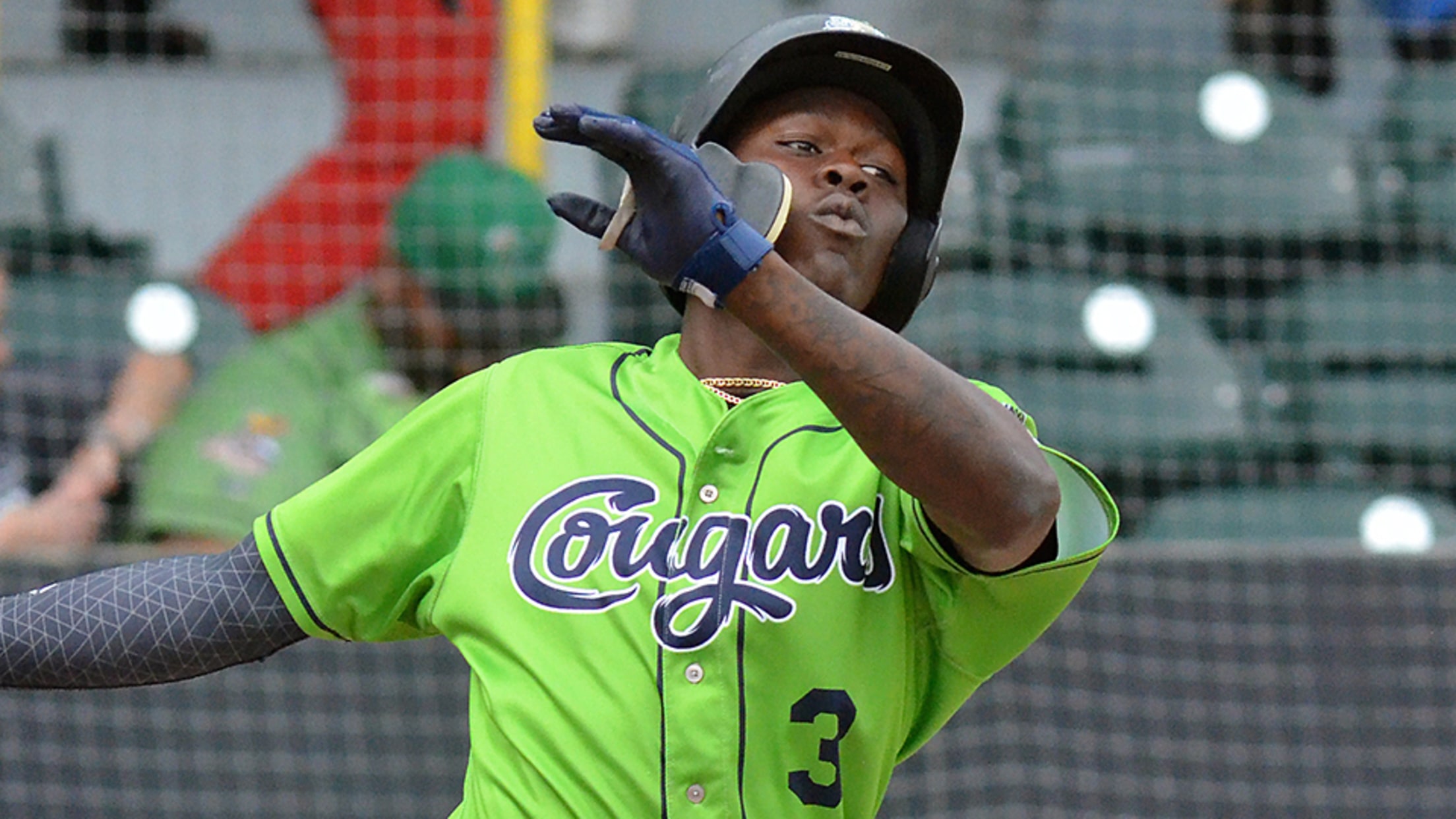 Jasrado Chisholm went deep twice in the same game for the second time this season. (Paul R. Gierhart/MiLB.com)
A slump can only keep a good player down for so long. Jasrado Chisholm put an exclamation point on that adage with the best offensive performance of his career Monday night.Arizona's No. 3 prospect homered twice and finished with a career-high five hits and five RBIs to lead Class A
A slump can only keep a good player down for so long. Jasrado Chisholm put an exclamation point on that adage with the best offensive performance of his career Monday night.
Arizona's No. 3 prospect homered twice and finished with a career-high five hits and five RBIs to lead Class A Kane County past Dayton, 13-4, at Fifth Third Field. Chisholm tied his personal best with four runs while snapping out of a 7-for-48 funk that had lowered his average to .233.
The key was simply to relax.
"I felt great out there," the Bahamas native said. "I had been slumping a bit and when that happens, I'm tense at the plate. So, I finally was able to loosen up and went after it. It helps me get back into a rhythm. It looks a bit nonchalant, but it's just me being relaxed out there."
Batting second in the Cougars lineup, Chisholm smacked an RBI triple to right field and scored during his club's four-run first inning. The 20-year-old slugged a solo homer to right-center in the second and blasted a two-run shot to right in the fourth for his second-career multi-homer game. He went deep twice and drove in four runs against Peoria on May 19.
Gameday box score
Chisholm notched his career-best fourth hit on a single to right in the sixth and scored on Tim Susnara's knock later in the frame. Needing a double to complete the cycle, the shortstop popped out to short in the seventh, but lined a run-scoring single to center in the ninth for his career-high fifth RBI. Dayton center fielder Andy Sugilio made a diving attempt, which provided Chisholm with a brief inkling of trying for a double.
"Yeah, I realized that I needed [the double] during my last at-bat," he said. "He dove, but it dropped right in front of him. I could have gone for it there, but I didn't want to get thrown out, so I figured I'd be a good guy and hold at first. But all my teammates were yelling at me to go. It was pretty funny."
The Midwest League Midseason All-Star got off to a strong start in April before leveling off the next two months and entering the break hitting .253/.317/.479 with 10 homers and 28 RBIs in 54 games. He struggled after the midsummer classic, but Monday's effort lifted his slash line to .244/.311/.472 with 36 extra-base hits over 76 contests. His 15 roundtrippers are tied for second in the Midwest League with Bowling Green's Ronaldo Hernandez -- Tampa Bay's No. 19 prospect -- one behind Clinton's Ryan Costello.
But one of Chisholm's greatest achievements this year has been just getting his reps in. He only appeared in 29 games with Kane County in 2017 after tearing the meniscus in his right knee in May. He missed a week in April with a hamstring injury, but has appeared in 76 of the Cougars' 94 games this season.
"Dealing with the injury last year and coming back from it has really humbled me," Chisholm said. "I was on the side trying my best to get healthy as quickly as I could, but it wasn't happening. It was upsetting to me. I love this game and I love being out there on the field, so it was frustrating. But to come back healthy this year and do what I've been able to do has been amazing."
D-backs 10th-ranked prospect Gabriel Maciel and Yoel Yanqui finished with three hits apiece while Susnara also doubled and drove in three runs.
Cougars right-hander Brian Shaffer (6-5) allowed two runs on five hits over five innings. The No. 23 D-backs prospect walked one and struck out five en route to his third straight win.
Jose Garcia, Cincinnati's 11th-ranked prospect, singled twice and walked for Dayton.