Rizer posts third cycle in IronBirds history
O's seventh-rounder collects five knocks, drives in three runs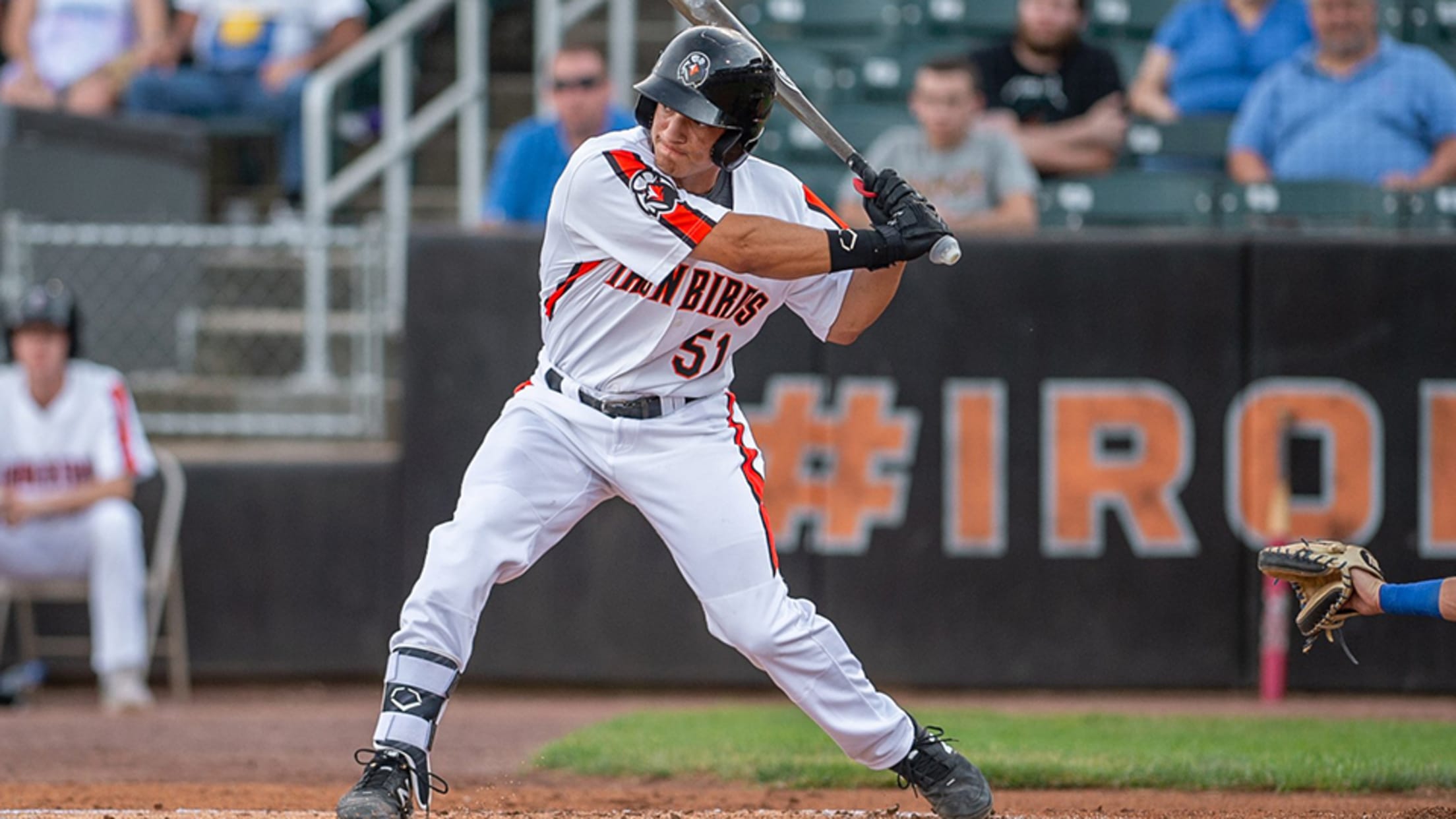 Johnny Rizer raised his average 37 points to .300 after his milestone effort in the New York-Penn League. (Aberdeen IronBirds)
The only thing hotter than the temperature in New York City on Saturday was Johnny Rizer.The Orioles outfield prospect completed the third cycle in team history, going 5-for-5 with three RBIs and three runs scored as Class A Short Season Aberdeen rolled to an 11-0 blanking of Staten Island at
The only thing hotter than the temperature in New York City on Saturday was Johnny Rizer.
The Orioles outfield prospect completed the third cycle in team history, going 5-for-5 with three RBIs and three runs scored as Class A Short Season Aberdeen rolled to an 11-0 blanking of Staten Island at Richmond County Bank Ballpark.
"It's a memorable experience," Rizer said. "Just coming into this game, it was just another game like usual, but the past month I was not doing too hot -- I felt like I forgot how to hit. But I recently started heating up, I found a couple of things in my swing that I tweaked and brought into today. So I was just feeling confident and everything just happened the way it happened and it's pretty awesome."
Rizer raised his average 47 points with the milestone performance and sports a .300/.380/.513 slash line with an .809 OPS, 14 RBIs and 13 runs scored through his first 24 Minor League games. It was the IronBirds' first cycle since July 7, 2007 when Jedidiah Stephen accomplished the feat in a 10-5 loss to Auburn.
And when the 22-year-old came to the plate in the eighth inning, he was fully aware that just a triple separated him from history. And nothing was going to get in his way from going for the three-bagger. So when right-hander Derek Craft threw him a 1-1 fastball over the middle of the plate, Rizer had one thing on his mind -- regardless of what teammate Zach Watson, who was on first base, was going to do.
Gameday box score
"Everyone in the dugout was saying, 'You better be going for the triple,' and when I got up there I was just looking for something I could drive into the gap," Rizer said. "I got the heater there and hit a hard line drive into right-center and I was going for it. We had a runner at first and I could see the third-base coach trying to stop him, but I just kept running as fast as I could, I wasn't going to stop. I was thinking third the whole time -- you gotta go for it, it's once in a lifetime.
"Luckily, everything happened the way it did," he added with a chuckle.
Andrew Daschbach plated Rizer four pitches later with a double to deep center, and the O's seventh-round pick in last month's Draft was met with a thunderous greeting when he returned to the dugout.
"I was just so excited and pumped up, and my teammates were losing it," he said. "It's pretty awesome to be part of the team's history, go down as a person who'll be remembered forever. I'll be able to tell my kids, tell my family, I'm one of the guys who had a cycle for the IronBirds. It's special."
The TCU product launched an 0-2 curveball from left-hander Josh Maciejewski (2-2) over the wall in right field in the first inning for his second Minor League dinger.
In the third and fourth, Rizer slapped base hits to right -- driving in Watson in the fourth -- before hammering a double down the line in left off right-hander Marcus Evey in the sixth. He advanced to third on a passed ball and scored two batters later on a single by Ian Evans.
Dalton Hoiles also went yard for the IronBirds and finished 3-for-5 with a pair of RBIs and two runs scored. Evans, Watson and Joseph Ortiz all chipped in multi-hit efforts, with Watson driving in three runs and scoring twice and Ortiz contributing an RBI and two runs scored.
Ryan Conroy (3-2) worked around a pair of hits and struck out four over five innings before righty Malachi Emond and southpawYelin Rodriguez completed the shutout. Both worked two frames and combined to yield three hits.
Rob Terranova is a contributor to MiLB.com. Follow him on Twitter, @RobTnova24.