Fisher Cats' Berti slugs his way to cycle
Blue Jays infielder matches career high with seventh homer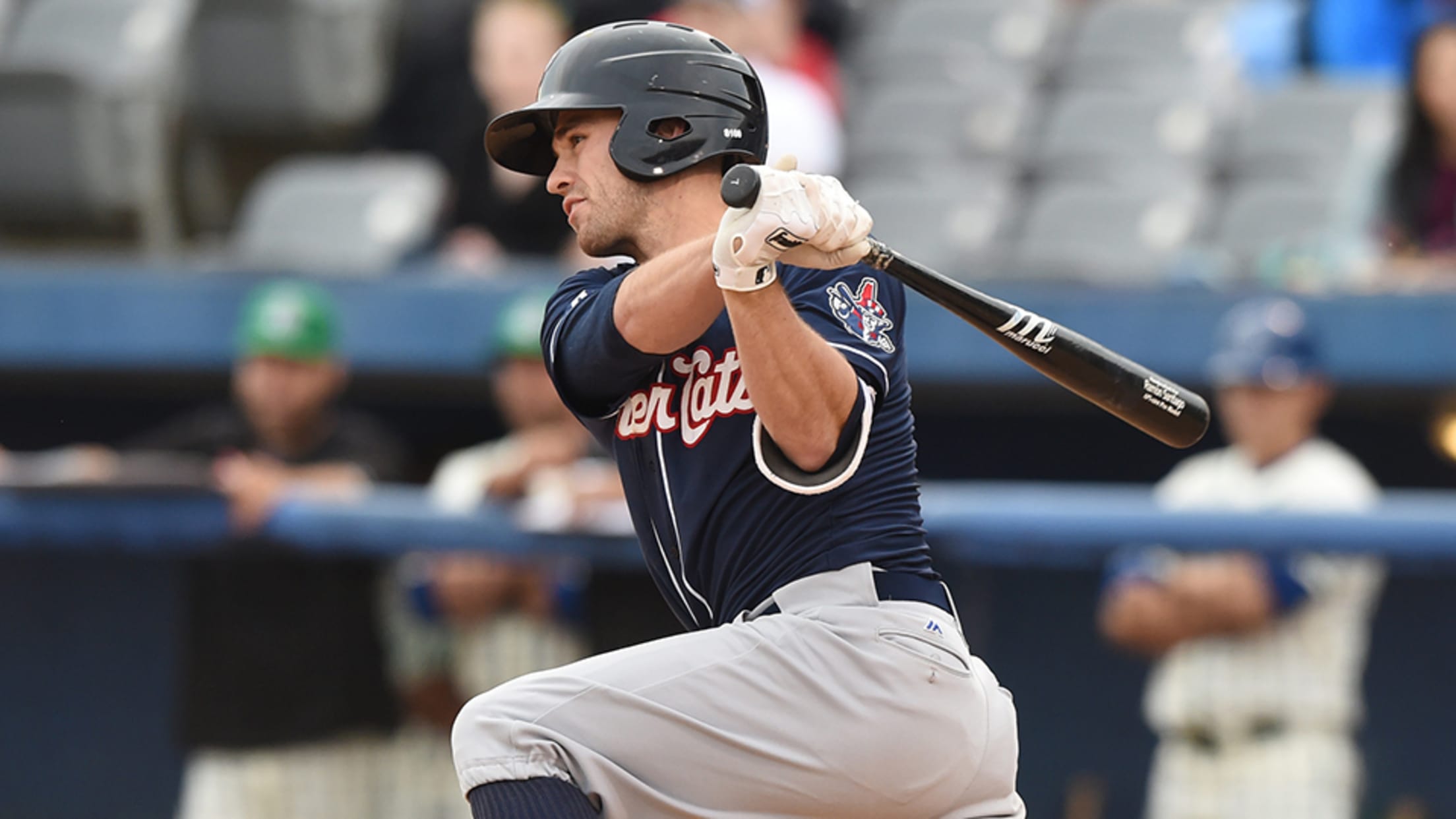 Jon Berti has recorded three consecutive multi-hit games for the Fisher Cats. (Kevin Pataky/MiLB.com)
Going into Jon Berti's last-bat on Tuesday night, Double-A New Hampshire hitting coach Hunter Mense had a hunch that he was going to make some history. In fact, Mense had an inkling where his pupil was going to put the ball over the wall. "When I was coming up to the
Going into Jon Berti's last-bat on Tuesday night, Double-A New Hampshire hitting coach Hunter Mense had a hunch that he was going to make some history. In fact, Mense had an inkling where his pupil was going to put the ball over the wall.
"When I was coming up to the plate in my last at-bat, he said I was going to hit it to right-center," Berti said.
The Blue Jays infielder homered over the right-center field wall in the ninth inning to complete New Hampshire's second cycle of the season as the Fisher Cats cruised to an 8-4 victory over Portland at Hadlock Field.
Berti followed 21st-ranked Blue Jays prospectJonathan Davis, who on June 26 became the first player in team history to hit for the cycle.
On Sunday, Berti actually had his first opportunity of the week to hit for the cycle, but he fell a triple shy against Binghamton. To finish the milestone this time, let alone get another shot at it, made the night more special for the eight-year veteran.
"I came close on Sunday and I've definitely flirted with it a few times throughout my career," Berti said. "But for it to happen tonight is definitely fun to finally accomplish it. ... It was definitely fun to experience the first one with Jonathan Davis, being on the team and seeing it firsthand. The year he had here was phenomenal and I know he's continued to do well up in Buffalo. We have a bunch of great players on this team and it's fun to be a part of."
Gameday box score
When he strode to the plate for the final time, Berti understood what was at stake, although it wasn't going to change his approach. While it was the triple that eluded him on Sunday, the homer had been the problem in years past when it came to finishing off the milestone.
With 29 roundtrippers through 782 games coming into Tuesday, he isn't someone who looks to go yard.
"I was definitely aware of [the cycle] and I was trying to get a pitch that I was able to do some damage with early in the count, but [Jordan Weems] made some good pitches and put me down in the count, 1-2. From there, I wasn't thinking about it at all, I was just trying to battle," Berti said. "But fortunately, he was able to put something out over the plate that I could do something with."
Leading off the game against Teddy Stankiewicz, the Bowling Green product flied to center on the first pitch of the evening. Two innings later, Berti ripped a single back up the middle off the right-hander before scoring on a two-run homer by Blue Jays No. 2 prospect Bo Bichette.
Patrick Cantwell led off the fifth with a triple and scored when the 28-year-old smoked Stankiewicz's 3-1 offering into left field for a double. Facing right-handed reliever Adam Lau in the seventh, Berti laced the second pitch into right field and legged out his fifth triple of the season.
Berti fell behind Weems, 1-2, in the ninth but stayed in "compete mode" and sent the fifth pitch toward the right-center field wall. He struck it well but didn't know if it had enough juice to clear the fence. The loud roar from the New Hampshire dugout got the message across.
"There are a bunch of white signs out there and I couldn't really see it go over," Berti said. "The dugout erupted, so I knew right then, which was probably the best part of it. We have such good talent here and so many good players here, so it's been a fun time. Anytime you're winning, it's fun."
The homer was his seventh of the year, matching the career high he set in 2014, his first season with the Fisher Cats. With a season-high four hits, the 2011 18th-round pick raised his Eastern League average 11 points to .298 and his OPS to .849. And with a playoff berth already secured, Berti said the next couple of weeks should be thrilling for the club.
Bouncing between the Blue Jays and Indians this season, he's found a home with a talented roster in New Hampshire.
"It was cool to accomplish it, especially with the team we have, the group of guys and the coaching staff," he said. "It's been such a fun year for me, ever since I got here. To share it with them was awesome, especially a few days after we clinch a spot in the playoffs and are fighting for a No. 1 spot in the division. We're just trying to do what we can to stay hot and get rolling into the playoffs and get some momentum."
Hitting behind Berti, Bichette homered, doubled twice, drove in three runs and scored twice. In 40 games since the Eastern League All-Star Game, the 20-year-old is batting .325/.379/.512 with 24 extra-base hits.
"It's been really fun watching [Bichette] continue to develop as a hitter," Berti said. "He's been so consistent since I've gotten here, he's been putting good at-bats together. Between him, Cavan Biggio, Harold Ramirez and Forrest Wall, [he] has definitely started to come along. We have so many young players that I can go on and on about."
New Hampshire starter Jon Harris (11-5) allowed three runs on four hits and two walks over five innings for the win, striking out three.
Andrew Battifarano is a contributor to MiLB.com. Follow him on Twitter, @AndrewAtBatt.