Davis records Fisher Cats' first cycle
Blue Jays No. 28 prospect makes team history in first four at-bats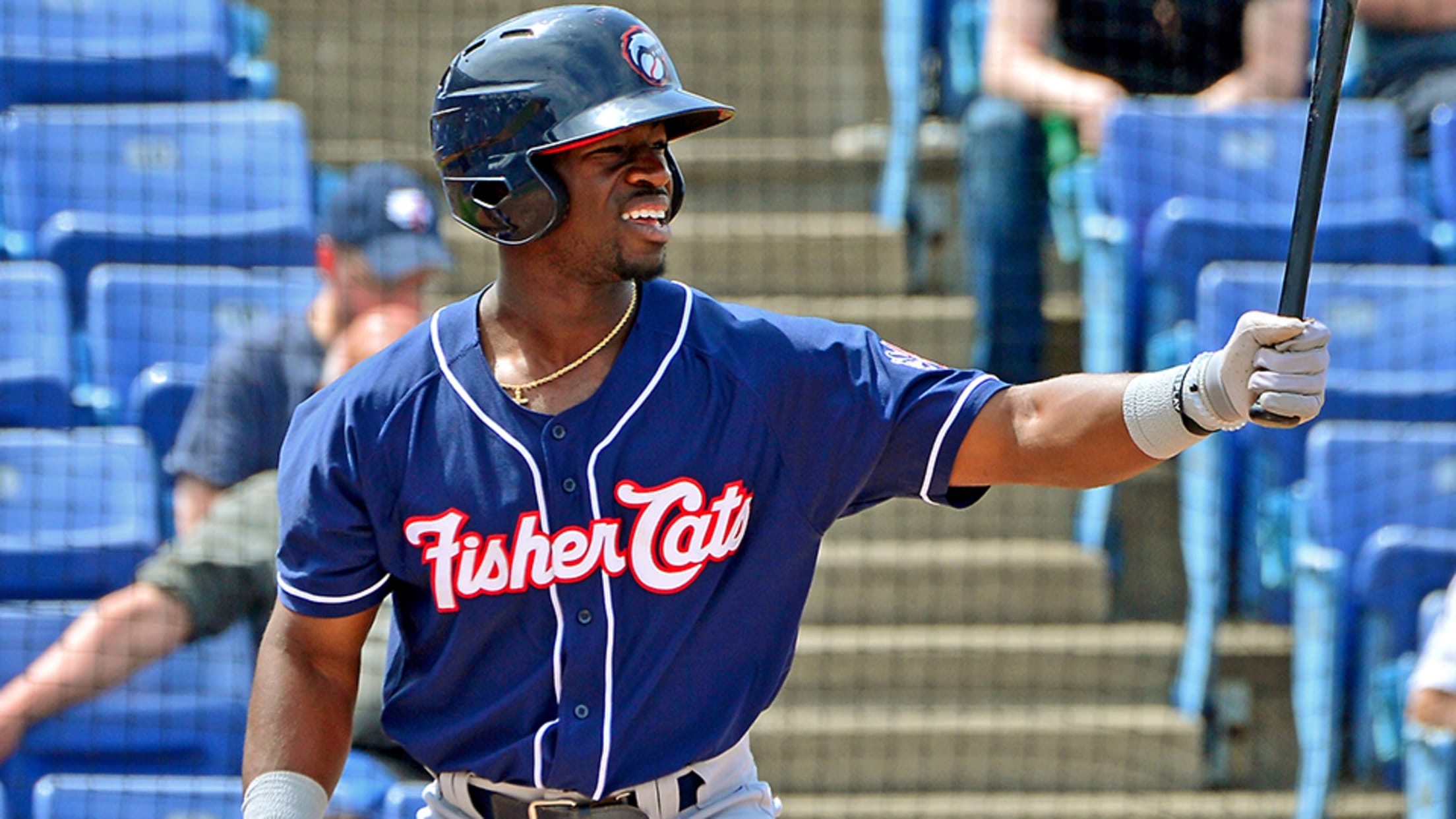 Jonathan Davis leads the Eastern League with 86 hits and 63 runs scored this season. (Rick Nelson/MiLB.com)
After Double-A New Hampshire's Jonathan Davis went hitless for the first time in nearly two weeks against Portland left-hander Dedgar Jimenez on Monday night, he promised his wife, Hannah, the hits would come when the Fisher Cats faced a similar southpaw in Kyle Hart on Tuesday.The Blue Jays No. 28
After Double-A New Hampshire's Jonathan Davis went hitless for the first time in nearly two weeks against Portland left-hander Dedgar Jimenez on Monday night, he promised his wife, Hannah, the hits would come when the Fisher Cats faced a similar southpaw in Kyle Hart on Tuesday.
The Blue Jays No. 28 prospect not only stayed true to his word, but he also strung together the first cycle in club history.
"I'm just honored to be able to be the first one to do it and to represent the Blue Jays and my family," Davis said. "It's amazing."
Davis knocked a leadoff triple in the sixth inning of the Fisher Cats' 10-3 victory over the Sea Dogs at Northeast Delta Dental Stadium to complete the feat. The 26-year-old drove in three runs and scored three times on a 4-for-5 night at the plate, raising his average to .307.
"I really just focused on staying the other way," he said. "I kind of knew that he couldn't blow his fastball by me, so I just tried to stay back and drive the ball the other way. It worked in my favor tonight. [My wife and I] kind of laughed about it, because I said I was going to get hits."
The Central Arkansas product said the predictions he bounced off his wife stem from his comfort against lefties -- a luxury illustrated by his .410 average in 248 at-bats against southpaws.
Davis took over the Eastern League lead in hits with 86 this season after teammate Bo Bichette, Toronto's No. 2 prospect, moved past top Blue Jays prospect Vladimir Guerrero Jr. on Monday.
"Hopefully, I can play with those guys for a long time and be able to do some more special things," Davis said. "I believe any time we go out we can score a lot of runs. This is a great team with a great staff, just the atmosphere in the clubhouse is amazing. Going to the ballpark every day is fun and we just go out there to win."
The circuit's other cycle this season also came courtesy of Binghamton's Jeff McNeil at Portland's expense on May 13.
Davis surpassed his 2017 season total by roping his 21st double of the season with one out in the first inning. The 26-year-old advanced to third base when Portland center fielder Tate Matheny misplayed the ball in the outfield and scored the game's first run on Bichette's sacrifice fly to center.
After Juan Kelly bashed a two-run shot with two outs in the second, Connor Panas singled to right and Jon Berti walked ahead of Davis' three-run blast to center. It was the third long ball of the season for the 5-foot-8, 190-pound outfielder, who has hit double digits in home runs the past two seasons.
"If you look in the future or down the road, I'm not going to be a power guy," Davis said. "I can hit the ball with power, but I feel like my role is going to be getting on base and scoring runs, which I'm doing a pretty good job of this year."
Gameday box score
A 15th-round pick in the 2013 Draft, Davis singled up the middle with two outs in the fourth before rounding out the cycle with his third three-bagger of the year in the sixth. Unlike his first three hits, Davis went to the opposite field for the triple -- a knock which Fisher Cats manager John Schneider referred to during a short pep talk with the player he affectionately calls "OG Bobby Johnson."
"Before I got to the plate ... he told me, 'Bobby, go out there and get that triple.' I was thinking right off the bat, 'Go three,'" Davis said. "I started running, I saw it kind of kicked away from the wall, and so when that happened, I felt I had it all the way. "
He scored his league-leading 63rd run of the season on 19th-ranked Blue Jays prospect Cavan Biggio's groundout to shortstop and bounced out to the second in his final at-bat in the eighth.
The Camden, Arkansas native has batted in the leadoff spot for much of the year, hitting in the No. 2 spot for just the third time. Davis said he was a bit surprised when he found out he'd be hitting in that spot Tuesday.
"I just think it's one of those things where you really don't worry about it," Davis said. "[My manager] has a reason for doing anything he does. He's a great guy and an even better manager, so I really don't question anything he does, I just go out and have fun and play the game."
Berti batted in that spot in the first 15 games he played for the club since being acquired from the Indians for cash in a June 9 trade. The 28-year-old veteran hit leadoff Tuesday and belted his first homer on the circuit.
Gerard Gilberto is a contributor to MiLB.com. Follow and interact with him on Twitter, @GerardGilberto4.