Lewis slugs way to career night for Nuts
Top Seattle prospect racks up two homers, four hits, five RBIs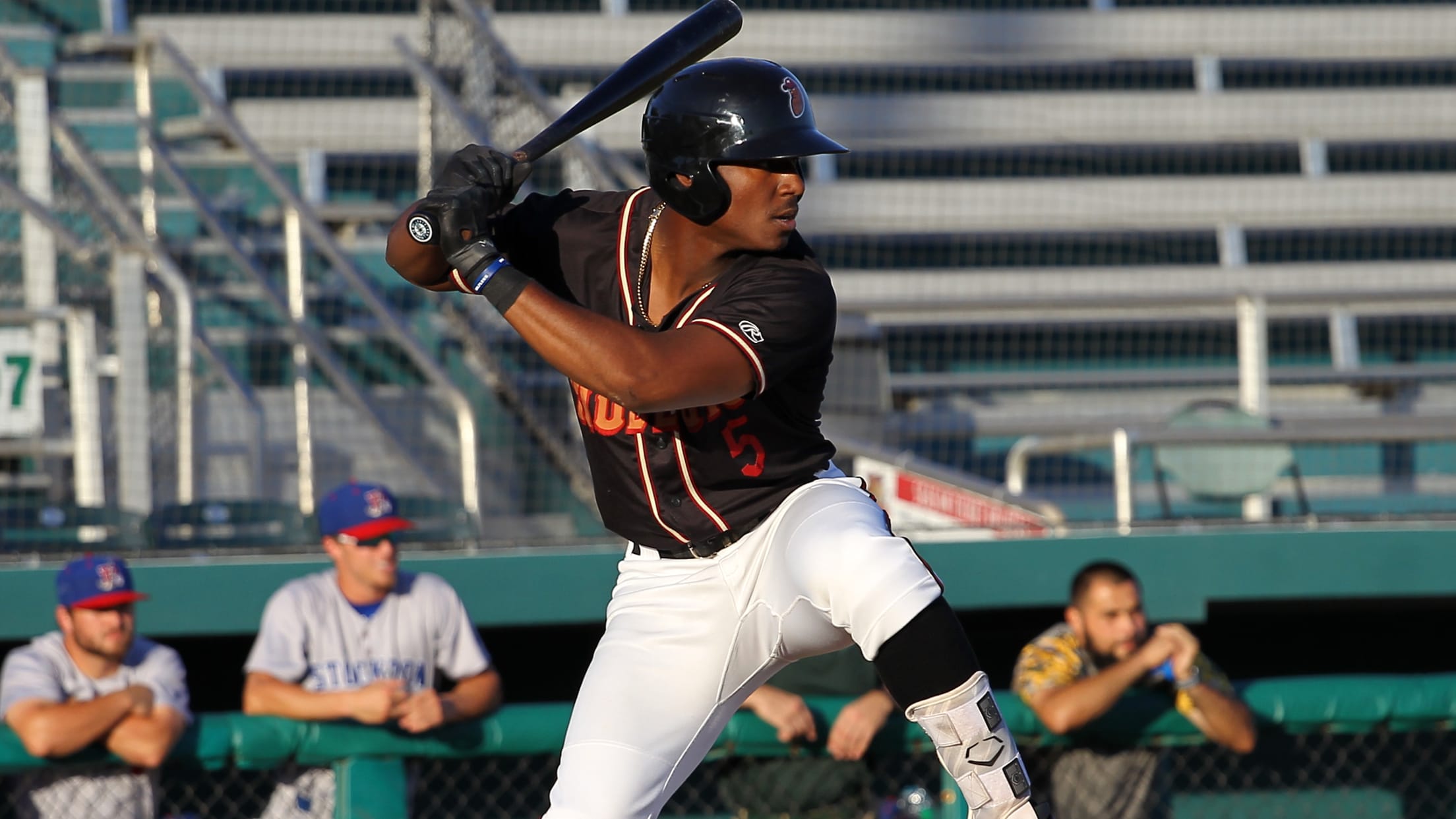 Kyle Lewis came into the game hitting .250 and left with a .302 average. (Ben Sandstrom/MiLB.com)
Kyle Lewis might not be superstitious about the No. 13 from now on.In his 13th game of the season, Seattle's top prospect picked up four hits for the first time in his career, matching career highs with two homers and five RBIs in Class A Advanced Modesto's 12-10 win over
Kyle Lewis might not be superstitious about the No. 13 from now on.
In his 13th game of the season, Seattle's top prospect picked up four hits for the first time in his career, matching career highs with two homers and five RBIs in Class A Advanced Modesto's 12-10 win over Stockton at Banner Island Ballpark. He scored three times.
Gameday box score
"There's a lot of communication with him we've had since he's been here," said Modesto hitting coach Joe Thurston. "He likes communicating and talking about baseball. He's always looking for more information, looking for new things and ways to get better."
Lewis' start to the season was delayed more than a month after an old knee injury flared up. Although he had not hit safely in only two of the games, his average coming into Monday's game was .250 and he had only gotten more than one hit in two of them.
"The more simple he makes it, the better off he is," said Thurston. "I think he's just starting to realize that, and the results are starting to show."
The tide changed quickly on Memorial Day. Baseball's No. 63 prospect started off with a single to right field in the first inning, then flew out to right in the third. He belted his first homer of the season -- a three-run shot to right-center -- in the fourth and went yard again in his next at-bat in the sixth, skying a two-run long ball to center. He led off the ninth with a line-drive single to center to cap his best career night at the plate.
"The fact that he is just starting to trust his plan a lot more has helped," said Thurston. "He's going up there with a plan to get himself ready to hit and watching the game, watching at-bats. He's looking at film and just starting to notice that simplifying things is what helps him."
There was a lot of slugging going on both sides of the box score as the teams combined for 10 home runs. That fell one long ball short of the California League record, recorded three times. Bakersfield racked up seven long balls and Reno four on Aug. 26, 1962. Stockton blasted seven and Lancaster four on June 5, 2013 and Lancaster went yard eight times and High Desert three on May 31, 2015.
"We got some pitches we could drive and didn't miss them," said Thurston. "When guys stay focused, they all want to be the guy who does the job. But when you get a guy who is doing it, they see that and want to keep the line moving. I think that's really what was working for us today."
Nick Zammarelli III collected two homers and five RBIs on a three-hit night for the Nuts.
"Sometimes he tries to do too much because he sees the ball really well," said Thurston. "He thinks sometimes, just because you see the ball really well, you think you can put everything in play. He's started swinging at pitches that are is. He did a good job of staying committed to the plan and not trying to do too much. He did a good job with the hard contact."
Modesto's Luis Liberato, Seattle's No. 17 prospect, and Kevin Santa also went yard. Skye Bolt, Collin Theroux, Edwin Diaz and Luke Persico teed off for Stockton.
Marisa Ingemi is a contributor to MiLB.com. Follow her on Twitter @Marisa_Ingemi.