Quakes' Peters takes MadBum to school
Dodgers prospect homers twice in same inning off Giants ace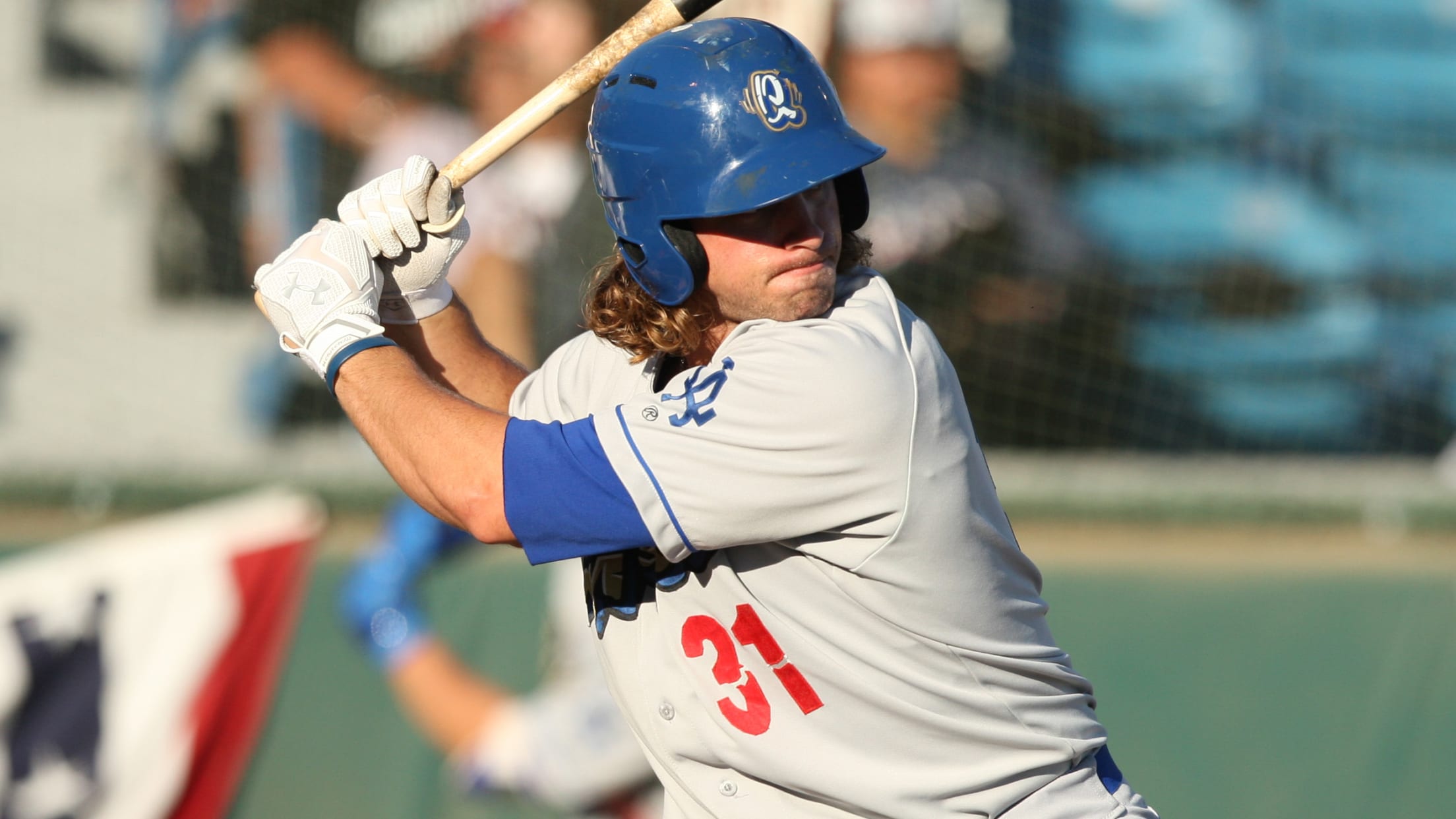 DJ Peters has eight extra-base hits in his last four games for Rancho Cucamonga. (Tim Cattera/MiLB.com)
In time, DJ Peters and Madison Bumgarner may face each other in a Major League ballpark. Nobody will blame the Giants ace for pitching around him.The Dodgers' No. 18 prospect hit a pair of homers off Bumgarner in the fourth inning of Class A Advanced Rancho Cucamonga's 14-1 win over
In time, DJ Peters and Madison Bumgarner may face each other in a Major League ballpark. Nobody will blame the Giants ace for pitching around him.
The Dodgers' No. 18 prospect hit a pair of homers off Bumgarner in the fourth inning of Class A Advanced Rancho Cucamonga's 14-1 win over San Jose on Wednesday.
"First off, it's Madison Bumgarner and he's one of the best pitchers of the game," Peters said. "He's a three-time World Series champion and basically single-handedly won the Giants the World Series in 2014. Whenever you face a guy like that, you want to enjoy the moment and gauge the situation you're in and the atmosphere. My whole mind-set was to just have fun because I got to face one of the best pitchers in the game of baseball."
Peters faced Bumgarner, who is rehabbing a shoulder and rib injury stemming from a dirt bike accident in April, for the first time in the opening inning and fouled out.
In the fourth, the 21-year-old got ahead of the 2014 World Series MVP, 2-0, then sent a solo shot 474 feet to left field. The homer was a no-doubter, but Peters didn't take any time to admire his work.
"The type of player that I am, I hit the ball and just put my head down and started to run," he said. "With that one, I knew right when I hit it. But out of respect for the game, the other team and the pitcher on the mound, I put my head down and started to run. That's how I am, no matter if it's a World Series champion on the mound or someone who just signed two days ago."
Peters' California League-leading 17th homer started a big inning by Rancho Cucamonga, which scored five more runs and batted around to give the 2016 fourth-round pick another crack at the four-time All-Star.
Gameday box score
He didn't disappoint.
Peters got the count to 2-1 and again took the southpaw deep to left, becoming the first player ever to hit two homers in the same inning against Bumgarner.
"It was kind of surreal," he added. "I knew that I hit it hard and it was on a line. I thought it was going to hit off the wall, but I must have had just enough backspin to get over the wall. When I was rounding third base, all my teammates were smiling at me and it was really cool."
Peters has been one of the Minor Leagues' hottest hitters over the past two weeks. The California native recorded his first career three-homer game Sunday, is riding a 10-game hitting streak and has nine RBIs in his last four contests.
Peters wasn't the only Quake to go deep off "MadBum." Ibandel Isabel and Dodgers No. 17 prospect Drew Jackson also teed off against the three-time World Series champion.
The 2007 first-round pick allowing nine runs on four hits and a walk while striking out five in four innings.
Michael Leboff is a contributor to MiLB.com.