Midseason farm system grades: AL
Angels, Tigers, Rays, Blue Jays receive top marks for first half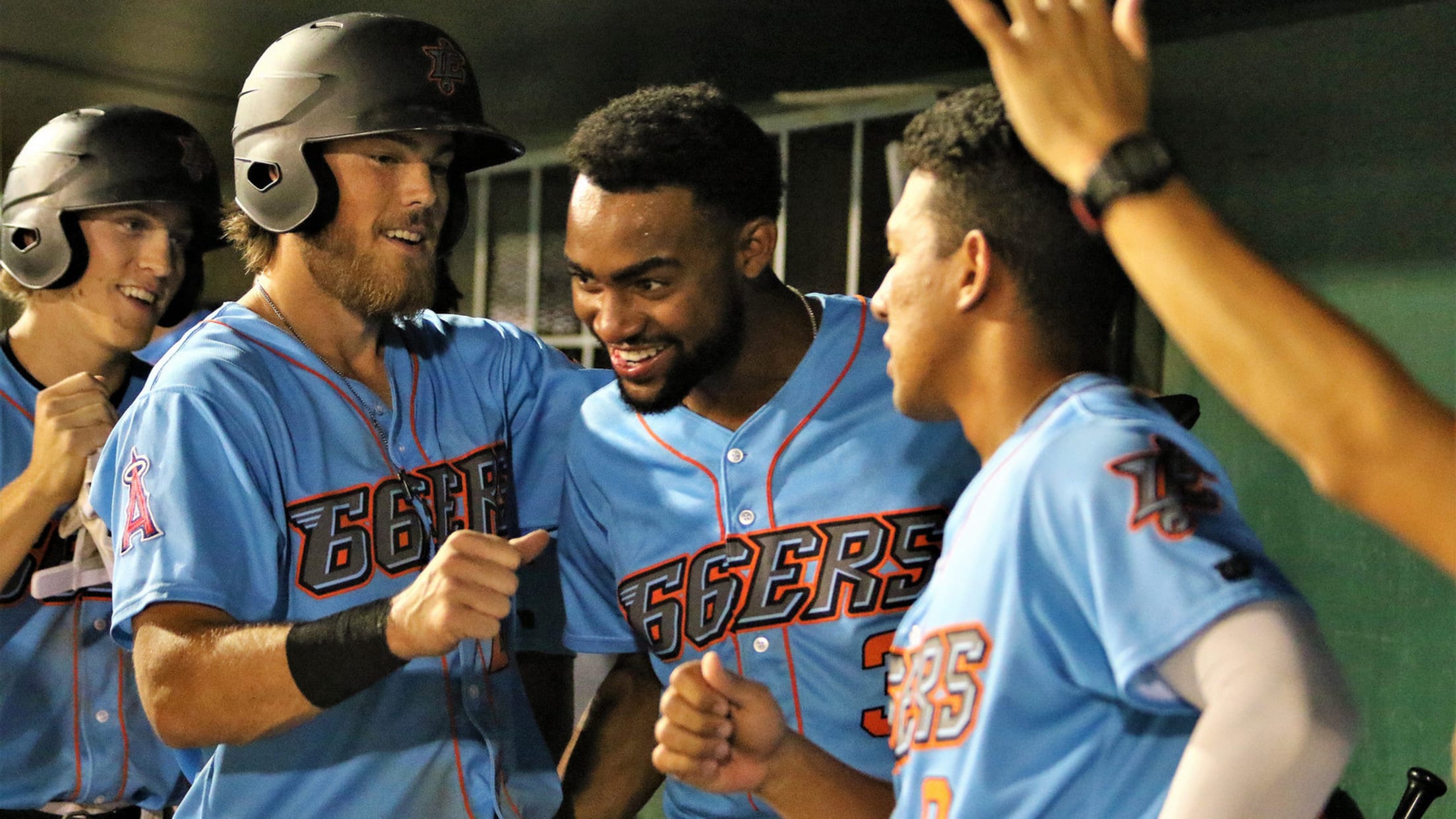 Brandon Marsh, Jo Adell and Jahmai Jones have given the Angels plenty to celebrate early in 2018. (Jerry Espinoza/MiLB.com)
With about two months left in the Minor League schedule, the MiLB.com staff hands out grades to all 30 farm systems based on their prospect and team performance so far. The American League systems make up the first installment in the series, followed by the National League tomorrow. Sam Dykstra
With about two months left in the Minor League schedule, the MiLB.com staff hands out grades to all 30 farm systems based on their prospect and team performance so far. The American League systems make up the first installment in the series, followed by the National League tomorrow. Sam Dykstra provides the grades here for AL East, Chris Tripodi analyzes the AL Central and Josh Jackson breaks out the red pen for the AL West.

American League East
Baltimore Orioles
Grade: C-
The Orioles placed 24th on MiLB.com's Farm System Rankings before the season and haven't done much to change that perception. Austin Hays, previously the top prospect in system, has dropped out of MLB.com's top-100 rankings altogether after struggling with Double-A Bowie. (He hasn't played since late May due to an ankle injury.) Hunter Harvey and Cody Sedlock, both first-rounders in the last five years, are also on the disabled list with shoulder issues. There is some good news in that No. 82 overall prospect Ryan Mountcastle seems to have figured out Double-A and was recently named an Eastern League All-Star. Also, Zac Lowther -- the No. 74 overall pick in last year's Draft -- has been a revelation and was Toolshed's midseason leader for the MiLBY Top Starting Pitcher Award, thanks to his 1.42 ERA and 81 strikeouts between Class A Delmarva and Class A Advanced Frederick, and No. 28 O's prospect Ryan McKenna was on his way to being Carolina League MVP before a promotion to Bowie. But those are just three names, and with the system collectively putting together a .499 winning percentage (19th-best in baseball), Baltimore's Major League woes can't be fixed by the farm alone.
Boston Red Sox
Grade: F
Positive news from the Red Sox system has been difficult to find since spring. Michael Chavis was suspended 80 games after testing positive for a banned performance-enhancer. Jay Groome didn't pitch at all during the regular season before undergoing Tommy John surgery in May. Tanner Houck, the club's 2017 first-rounder, has the highest WHIP (1.70) among qualified Carolina League pitchers. Bryan Mata has struggled to find the strike zone. Sam Travis still hasn't made the leap with Triple-A Pawtucket, forcing the Red Sox to trade for Steve Pearce to be the right-handed bat the club needed after the departure of Hanley Ramirez. Jalen Beeks (102 strikeouts in 77 1/3 innings at Pawtucket) was the biggest bright spot of the first half, but was lit up in his Major League debut, and it might be a while before he gets another start in The Show. The Sox deserve some credit for developing 2016 10th-rounder Santiago Espinal into a player that could be flipped one-for-one for a Major Leaguer in Pearce. For grade purposes, this column won't even get into the fact that 2018 picks Triston Casas (thumb) and Nick Decker (wrist) have already suffered significant injuries, but they do speak to the type of year the Sox are having in the lower levels. Add in that Boston affiliates have the game's worst collective winning percentage at .429 -- the Braves rank 29th at .445 -- and it's tough to give the system a passing grade.


New York Yankees
Grade: B+
This is all about feeding the Major League club. Remember that Gleyber Torres opened the season at Triple-A Scranton/Wilkes-Barre, and now might be the frontrunner to win AL Rookie of the Year with Shohei Ohtani on the shelf. Jonathan Loaisiga, in his first season on the 40-man roster, is also carving out a spot for himself in the Major League rotation with three solid starts since debuting last month. Miguel Andújar and Domingo Germán were technically prospects to begin the season and have since graduated after taking on big roles for the AL East division leader. At the lower levels, pitching has been impressive with Trevor Stephan, Nick Nelson and Garrett Whitlock all making names for themselves. There are a couple things holding New York from the A grade. The club still has four top-100 prospects, but Justus Sheffield is the only one of the bunch that's had a standout season. Estevan Florial struggled to make consistent contact before undergoing hamate surgery in May, and Chance Adams and Albert Abreu have been so-so at Scranton/Wilkes-Barre and Class A Advanced Tampa, respectively. From a team standpoint, Yanks affiliates are middle-of-the-road with a .504 winning percentage, 17th-best in the Minors. But the whole point is to develop Major League help from within, and there's no doubt that's happened with pinstriped prospects in 2018.

Tampa Bay Rays
Grade: A-
There are individual clubs that would love to do what Tampa Bay affiliates have done collectively so far in 2018. Rays farm clubs own a .582 winning percentage -- easily the best in the game, beating the Astros handily at .556. There have also been individual success stories. Willy Adames and Jake Bauers finally made their Major League debuts after proving their readiness at Triple-A Durham, and Bauers in particular has already provided his share of big moments with the Rays. Brendan McKay was plugging along in his attempt to be a two-way star before an oblique injury placed him on the DL. (He's expected to miss only three weeks.) Jesús Sánchez and Lucius Fox have been two of the more exciting players in the Florida State League with Class A Advanced Charlotte, and Nathaniel Lowe and Brandon Lowe (no relation) have been two of the best hitters in the Minors. Catcher Ronaldo Hernandez has been a breakout star at Class A Bowling Green with his above-average offensive skills and plus work behind the plate, while 17-year-old Wander Franco is off to a promising start in the Appalachian League. The only thing holding Tampa Bay back here is a lack of top pitching depth; Brent Honeywell Jr.'s Tommy John surgery did them no favors here. After McKay, the next top pitching prospect is Austin Franklin at No. 13 in the system. But overall, it's been a positive year so far.


Toronto Blue Jays
Grade: A-
Vladimir Guerrero Jr.'s dominance is most noteworthy, but there are plenty of other reasons to be high on the Blue Jays. Bo Bichette has solidified his place as a top-10 prospect with Double-A New Hampshire, and Danny Jansen continues to be one of the game's best catching prospects at Triple-A Buffalo. Kevin Smith would be the standout hitter in almost any other system with his .338 average, .986 OPS and solid defensive work in the infield at Class A Lansing and Class A Advanced Dunedin. On the pitching side, T.J. Zeuch and Sean Reid-Foley are holding their own at the upper levels, while Ryan Borucki earned a Major League call-up last month. It's not all good news, however; Anthony Alford has produced just a .638 OPS with Buffalo and Nate Pearson still hasn't returned after taking a liner off his forearm in his FSL debut on May 7. But on the whole, Jays affiliates rank fourth with a .554 winning percentage, showing they're more than just Vlad. (Though for the record, Vlad would be plenty.)

AL Central
Chicago White Sox
Grade: B+
Outfielders Eloy Jiménez and Luis Robert both got off to late starts this season but received recent promotions anyway; Jimenez's numbers do the talking, while Robert has adjusted well in his stateside debut, when healthy. Dylan Cease led the Carolina League in strikeouts in his first taste of Class A Advanced to earn a promotion to Double-A Birmingham. Outfielders Micker Adolfo and Luis Alexander Basabe each made strides with their approach at Winston-Salem, and Basabe's power surge led to a promotion to the Barons. On the lower rungs of the system, right-handers Tyler Johnson, Lincoln Henzman and José Ruiz all impressed to climb the ladder. Control issues have plagued both Michael Kopech and Alec Hansen, while a re-torn Achilles has Jake Burger's future in question. Although Chicago's affiliates at the higher levels have struggled, both Winston-Salem and Class A Kannapolis are thriving, which speaks to this system's depth in addition to its high-end talent, some of which is nearly Major League-ready.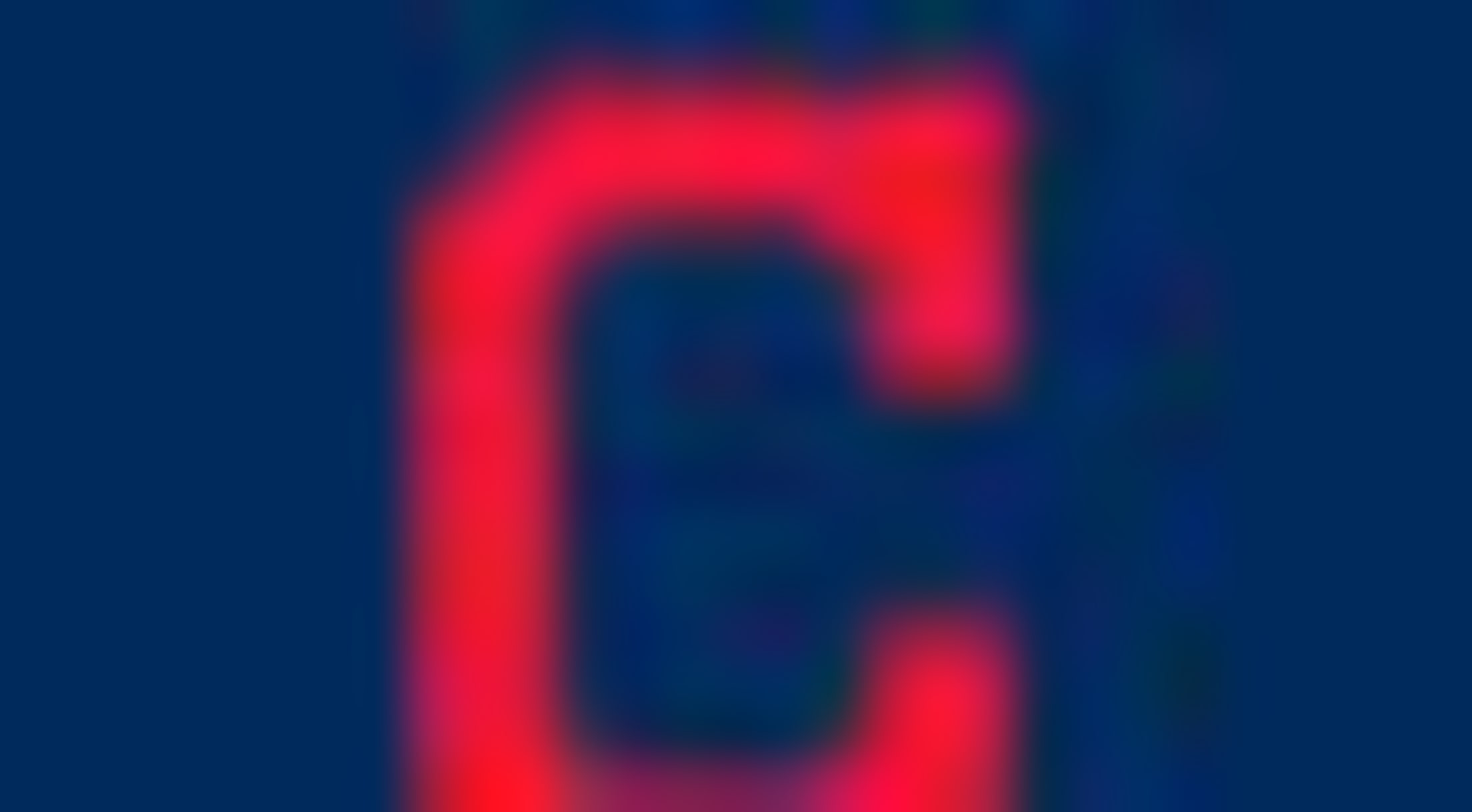 Cleveland Indians
Grade: C+
Bieber Fever has energized Cleveland's farm system in 2018. Shane Bieber forced his way to the Majors and has held his own while jumping from No. 9 to No. 3 in the Indians system and into MLB.com's top 100 prospects. Regression to the mean finally hit top prospect Francisco Mejía, who went bonkers in June after a brutal start had his batting average sitting at .189 at the end of May, while right-handers James Karinchak and Eli Morgan earned quick promotions to Class A Advanced in May. On the flip side, Bobby Bradley isn't showing much of a hit tool at Double-A Akron, and Willi Castro is struggling in his first taste of the upper Minors. Triston McKenzie has been uneven since returning from forearm tightness in June, and Yu Chang has experienced a power outage at Triple-A Columbus. Combined with a system-wide record under .500, it's easy to see why Bieber's emergence is easily the highlight for Cleveland's system this season.
Detroit Tigers
Grade: A-
International League home run leader Christin Stewart cut his strikeout rate by five percent to earn a bump into MLB.com's top 100 and went from Detroit's No. 10 prospect to No. 5 -- quite a feat considering the impressive arms in the organization. Right-hander Alex Faedo became the fourth player from the 2017 Draft to reach Double-A after making 12 starts at Class A Lakeland, and Matt Manning took Faedo's place with the Flying Tigers after exhibiting much-improved control in June. Daz Cameron has hit the ground running with Double-A Erie after a quick 58-game stop in Lakeland, and each of Detroit's full-season affiliates is over .500 with the exception of the SeaWolves. It wasn't all great in the Motor City, as catching prospect Jake Rogers struggled out of the gate (though he rebounded in June) and left-hander Gregory Soto has dealt with serious control issues, but the positives far outweigh any negatives in the Tigers system.
Kansas City Royals
Grade: C-
Kansas City's top hitting prospects have performed well this season, led by No. 1 prospect Khalil Lee; the 20-year-old outfielder improved every aspect of his game except power at Class A Advanced Wilmington to earn a promotion to Double-A Northwest Arkansas. Outfielder Seuly Matias leads the Minor Leagues in home runs and the South Atlantic League in slugging percentage and OPS in a breakout season, while shortstop Nicky Lopez recently hit for the cycle and ranked among the Texas League leaders in batting average before a promotion to Triple-A Omaha. The Royals' best pitching prospects, Scott Blewett and Foster Griffin, have both struggled with the Naturals, and second-ranked prospect Nick Pratto is hitting a first-full-season wall at Class A Lexington. There have been a few encouraging signs this season, but with a system-wide record well below .500 and no top prospects close to the Majors or in the top 100, things aren't looking up for the Royals in the Minors (or Majors) this season.
Minnesota Twins
Grade: B+
Minnesota's Class A affiliate in Cedar Rapids dominated the Midwest League in the first half. Top prospect Royce Lewis is showing power gains despite playing through an injury and third-ranked Alex Kirilloff led the circuit in several hitting categories and jumped into MLB.com's top 70 prospects before earning a promotion to Class A Advanced Fort Myers, where he enjoyed a four-hit game in his second contest. Right-hander Brusdar Graterol parlayed an impressive full-season debut into a spot in the top 100 and a promotion of his own, and Brent Rooker has improved every month at Double-A Chattanooga and enjoyed a monster June. Left-hander Lewis Thorpe and right-hander Kohl Stewart have made strides in both their strikeout and walk rates despite brutal batted-ball luck, which has made their muted overall numbers misleading. Struggling starter Stephen Gonsalves has already walked more batters in 10 starts at Triple-A Rochester than he did all of last season, while Lewin Diaz and Akil Baddoo are floundering in new environments. With all of their affiliates hovering around .500 except Fort Myers, which is well below that mark, the Twins earn a solid grade this season, even if it isn't quite an elite one.
AL West
Seattle MarinersGrade: D+
The Mariners entered the season ranked by MiLB.com as the, um,
30th-best farm system in baseball
. There's been no vast overhaul since then, but there has been enough good news to keep Seattle a few ticks out of failing range. Top prospect
Kyle Lewis
, who missed the start of the year after arthroscopic surgery in February, got back to Class A Advanced Modesto for May 12 and played well enough to make it into the California League All-Star Game a little more than a month later. He was joined at that showcase by other ranked M's prospects, including
Evan White
, who homered. While the system is still particularly weak in pitching, a few hurlers on that Nuts club put together an excellent first half, including
Wyatt Mills
,
Darren McCaughan
and
Seth Elledge
. Class A Clinton (39-31) was the organization's winningest affiliate through the first half, but only Double-A Arkansas (35-35) clinched a playoff berth.
Texas RangersGrade: C
Leody Taveras
, one of the system's two crown jewels, has hit consistently but unspectacularly with Class A Advanced Down East. The center fielder doesn't turn 20 until September, so holding his own at that level is no small accomplishment.
Willie Calhoun
, the Rangers' No. 2 prospect, had 16 home runs through June 24 in the Pacific Coast League last year, but six through the same date this year. His value as a Major Leaguer will depend unduly on his bat, so it will be a relief for Texas fans if he starts driving balls out of the yard again in the second half. Down in the Carolina League, the Wood Ducks' pitching staff has been fantastic -- a real boon for a system that's lost arms like
Cole Ragans
,
Kyle Cody
and
Joe Palumbo
for all or almost all of the year.
Jonathan Hernández
was especially dominant for Down East, striking out 77 over 57 1/3 inning while posting a 2.20 ERA across 10 starts before heading to Double-A Frisco. The stateside emergence of
Julio Pablo Martinez
will boost the Rangers system in July and August, but his debut came a little too late to help with the grade here.
Oakland AthleticsGrade: C+
Jesus Luzardo
has had a remarkable first half, blazing through the Class A Advanced California League in three starts and continuing to excel in the Double-A Texas League at age 20. If the A's had another prospect or two who was delivering on such high potential as well as Luzardo, they'd have a grade good enough to please any parent. As things are,
A.J. Puk
(Tommy John surgery) is missing the year,
Franklin Barreto
had been not much better than fine before he graduated as a prospect and
Jorge Mateo
has struggled to get on base for Nashville.
Lazaro Armenteros
had a nice May in the Midwest League but hit the disabled list at the beginning of June.
Sean Murphy
, at least, has been an additional bright spot, but it's Luzardo's breakout that buoys this organization's first-half mark.
Houston AstrosGrade: B+
Things are looking pretty good for the Houston farm system -- not great, but good.
Kyle Tucker
followed a head-turning spring camp with a strong campaign at the Triple-A level.
Forrest Whitley
was suspended for the first 50 games of the season, but returned with three straight scoreless starts for Double-A Corpus Christi at the beginning of June. He hit a bump in his fourth outing, but 24 strikeouts over 16 1/3 innings in those games suggest he's ready for a strong second half.
Yordan Alvarez
has been an offensive standout on that Hooks team, which also graduated Minors stolen base leader
Myles Straw
to Fresno. The biggest downside has been the undisclosed injury to
J.B. Bukauskas
, the 15th overall pick of last year's Draft, who was limited to two rough starts before suffering an injury, but second-rounder
Corbin Martin
has shown signs of giving that Draft class a star with his climb to Double-A.
Los Angeles AngelsGrade: A
While it's true that Shohei Ohtani was lost to an elbow injury shortly after he outgrew his prospect status, it's also true that the addition of Ohtani didn't single-handedly overhaul the Angels system. It's been steadily improving over the last couple years, and several of its brightest youngsters -- especially those from recent Drafts -- have wowed this year.
Jo Adell
has been absolutely sensational, and
Jahmai Jones
and
Brandon Marsh
have both been buzz-worthy.
Griffin Canning
has pitched far better than anybody anticipated, already reaching Triple-A.
Kevin Maitan
got off to a quick start in Rookie ball, though he has since cooled.
David Fletcher
,
Jaime Barria
and
Michael Hermosillo
have all made big league contributions, and
Matt Thaiss
,
Taylor Ward
and
Jose Suarez
might not be too far behind. Aside from the injury to Ohtani -- which still might not hold him back from returning as a hitter soon -- the Halos' farm system could scarcely have asked for a better first half.